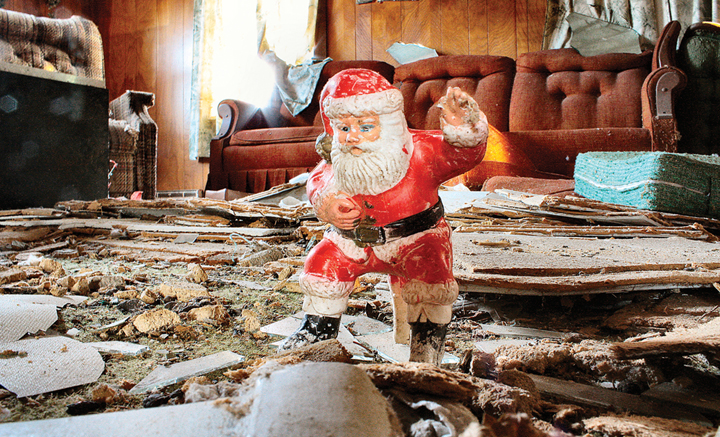 This holiday season give that hard-to-shop-for person on your shopping list the gift of weirdness with a 2017 subscription, one of our Wicked New Hoodie, Back Issues, Books, a Special Issue, Skull Cap, T-Shirt or any of our other great stocking stuffers. All available through our Web Site or Amazon Store.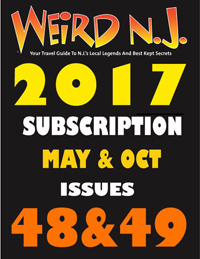 That right folks, order a subscription to Weird NJ and issues #48 and #49 will be sent right to your door in MAY and in OCTOBER of 2017.
We collect stories about New Jersey. That's what we've been doing for the last 23 years. We like stories that make New Jersey the atypical place that it is. Maybe not weird to some, but we've always felt the magazine should represent everything New Jersey is distinctive for in an offbeat and wonderful way. We think that's what gives Weird NJ magazine the timeless and decidedly "Jersey" quality that it has. We still have many avenues to travel with this project we call a magazine and we have you, the readers, to thank for keeping us on the darker roads, in the tick-infested swamps, crawling under floorboards and through musty tombs, and dodging cave crickets in dark tunnels to find new stories to entertain you.
The Wicked NEW WNJ Hoodie for 2016!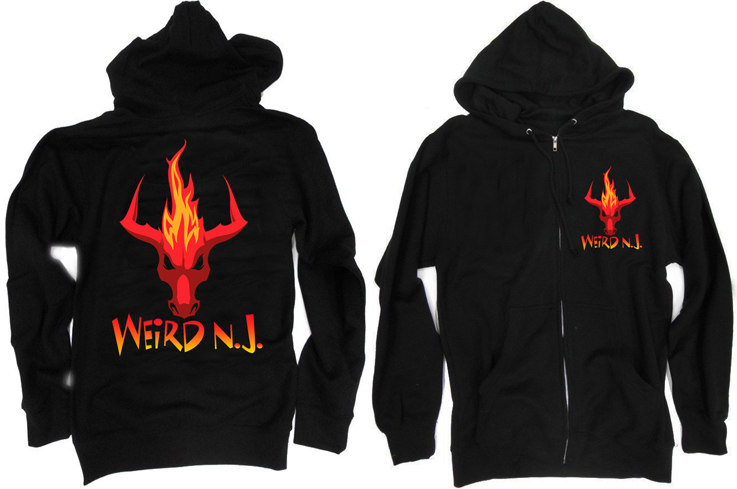 Don't be caught dead on a chill autumn night this year without having the brand new Weird NJ hoodie on your body. This black medium weight cotton/poly blend zippered sweatshirt is both toasty warm and way cool at the same time.
The hoodie features the Weird NJ logo and our new flamin' Jersey Devil design on the back and on the front breast. Let everybody everywhere know that you're down with the Garden State's #1 son, ol' JD. Own it! Sizes: L/XL/2XL/3XL.
Also available through our Amazon store.
Home State Hauntings is a 106 pages, fully illustrated, soft bound special issue of Weird NJ, beautifully photographed and designed by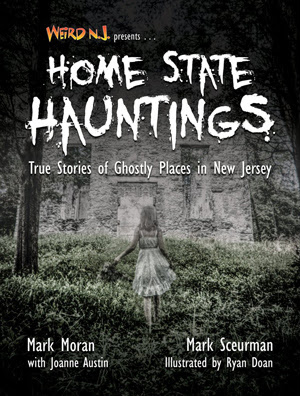 Paul Michael Kane with spine-tingling illustrations by Ryan Doan. Here, for the first time, we have compiled the most chilling tales ever told of supernatural encounters in New Jersey in this special issue of Weird NJ. Home State Hauntings is a collection of ghostly stories as recounted by those who have lived them; in our graveyards, on our roadways, in our institutions and yes, even in their own homes. These are the stories of otherwise regular citizens of the Garden State––our neighbors, friends, family and coworkers. But they tell us they have had experiences that are incredible, yet somehow credible––unbelievable, yet we are compelled to believe them.  While we don't always know whether or not to believe all the ghostly tales we hear, we certainly get the sense that the people telling these tales wholeheartedly believe them. Will you? Also available through our Amazon store.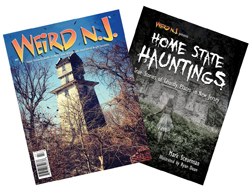 Home State Hauntings is now available on newsstands throughout the state, or you can order through our Web Site and Amazon Store. It can also be purchased along with the latest regular issue of the magazine for one low price in our 2016Autumn Package Deal.
That's right, the new issue of Weird NJ, #47, which just might be the BEST ISSUE EVER, is now in stores throughout the state! Be the first person on your block to read about all local legends and best kept secrets in New Jersey that we've unearthed over the past six months. How can it be possible, you may well ask, that after 47 issues of a magazine there are still interesting, unexpected and downright weird things to discover and write about in a state as small as this? The answer to that question is simple, THIS IS NEW JERSEY! Go to this LINK to find a store near you that carries Weird NJ. You can also purchase the new issue through our WEB SITE or AMAZON STORE.
In this special issue of Weird NJ we examine some of the evils that men (and women) have done unto each other in our fair state's history – the truly bizarre, deplorable, and all too often downright senseless deeds that our residents have perpetrated against one another. But we'll not only delve into the unusual crimes motivated by passion, lust and greed, but also atrocities that are so heinous that they would almost seem incomprehensible in our supposedly civilized society. Continue Reading…
A package deal so great it's almost criminal! Our new "True Crime Files," PLUS "Death On The Devil's Teeth"
The Official Weird NJ Skull Cap
Here's a great way to keep your cranium warm in any weather: The Official Weird NJ Skull Cap! We only m
ade 100 of these knit beanies so grab them while you can. Stay warm and weird this winter! One size fits any skull (skull not included).  Also available through our Amazon store.
Our New Weirdwear Is here!
This new design was crafted by Squindo. His fine art has been on gallery walls from Van Eaton Galleries, Gasoline Gallery and Gallery 1988 in LA to east coast galleries like The Parlor, Crybaby, Kustom Kulture and East Atlanta Gallery and Spacejunk in France, and now, for the second time, his art appears on our shirts! It's an honor for us here at WNJ.
All shirts are Fruit Of The Loom Heavy Weight 100% cotton and come in sizes from small to XXL.
Also available through our Amazon store.
The story of one man's journey along New Jersey's most revered and polluted river.
Also available through our Amazon store.
Weird NJ Signed by the Authors! Greetings friends and fellow travelers. Here it is– twenty years in the making, hundreds of pictures taken, thousands of miles traveled, and tens of thousands of emails read–Weird NJ: THE BOOK! We don't think that we need to tell you how proud we are of this, but suffice it to say, if we were not 100% satisfied with the final outcome, you never would have seen it. The book is a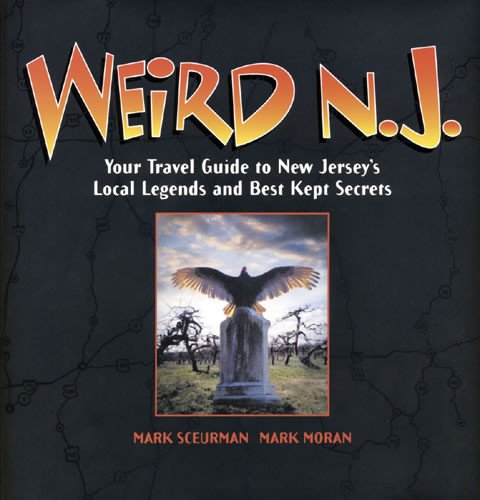 compilation of our travels over the past decade, a journal of adventures and a compendium of all that is weird in the state of New Jersey. There are old stories you may have read in previous issues of the magazine, many of which have been updated and added to. There are new stories that have never before been published in Weird NJ, or anywhere else to that matter. There are legends and lore that are brought into focus and put into perspective. It's chocked full of the strange sites, crazy characters, odd roadside attractions and ancient artifacts that you've come to expect from Weird NJ. In short, if it's weird and it's in New Jersey, it's most likely in this book! So join us now on our continuing adventure to seek out and document all the weird and wondrous things that this great state we are proud to call home has to offer. It is without a doubt the weirdest state of all, and we should know – we wrote the book! -Mark and Mark, Your Travel Guides to Weird NJ
Also available through our Amazon store.