Here are just a few of our favorite holiday season sights that have been seen around the state in years of yore…
HO HO HO…Look deeply into Santa's eyes…HO HO HO!
Displayed annually for many years at the private home of the Camuso family on Burnett Hill Road in Livingston, this massive collection of Christmas decorations is now part of a seasonal township display. There are robotic figures, cartoon characters, wooden soldiers, a giant tree and all other manner of holiday ephemera. Mr. Camuso passed away a few years ago and bequeathed the collection to the town, which presents it each year at Memorial Park on South Livingston Avenue.
100,000 Points of Light in Clifton
Our house is covered literally…leaving an opening for the door with over 100,000 lights and life-sized animated display figures! Most people think it is pretty darn weird! Please stop by and check it out! –Mark Carfora, 76 Arthur Street, Clifton

 Pitman Billboard Says "Keep the Saturn in Saturnalia"
WNJ reader DWS reports that, "In Pitman, a rivalry has been going on since 2011 between religious people who want to "Keep Christ in Christmas" and the Freedom From Religion Foundation who reminds people to 'Keep Saturn in Saturnalia'. Where lats year the FFRF simply hung a banner at the 'Welcome to Pitman' sign, this year they escalated matters by purchasing a billboard at West Holly Avenue and Lambs Road." Read the FULL STORY…

Sat·ur·na·li·a [sat-er-ney-lee-uh, -neyl-yuh]
1. The festival of Saturn, celebrated in December in ancient Rome as a time of unrestrained merrymaking.
2. Unrestrained revelry; orgy.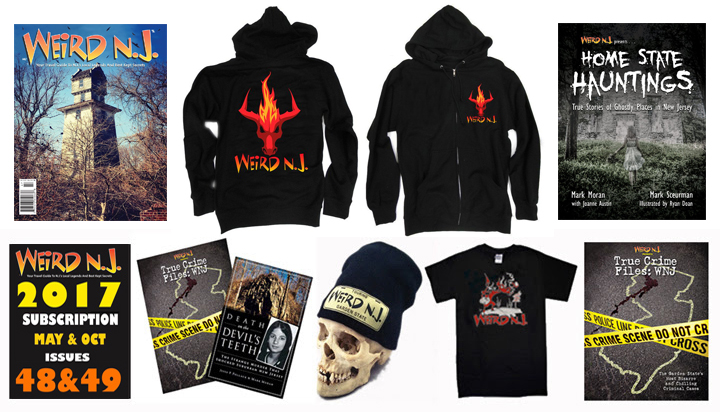 This holiday season give that hard-to-shop-for person on your shopping list the gift of weirdness with a 2017 subscription, one of our Wicked New Hoodie, a Special Issue, Skull Cap, T-Shirt or any of our other great stocking stuffers. All available through our Web Site or Amazon Store.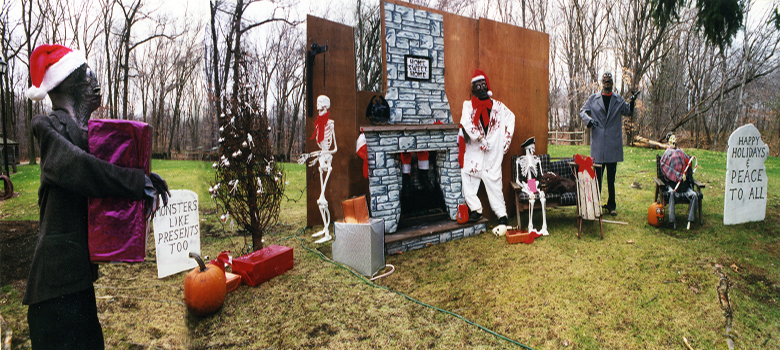 Holiday Horrors in Kendall Park
Check out New Road in South Brunswick between Rt. 27 and Rt.1. You already know about the Rocking Horse House at New and Sturgis Rd, but if you pass it going towards Rt. 1 there is something even stranger. The second house past the fire station on the right is 141 New Rd. They have a sick Christmas display – skeletons and other grotesque figures dressed in Santa costumes! I caught sight of a sign but only read the word "Haunted" before I passed. It is definitely a Christmas display, not Halloween.  –Lisa Burns
Monsters Like Presents, Too!
Tom and Carolyn Dardani sure know how to dress up the home for the holidays. And why not? Their home in Monmouth Junction is known affectionately as "The Halloween House." The Dardanis run the annual Dardani Haunted Trail in nearby Woodlot Park. The event is run by over 200 volunteers during the Halloween season. This is a picture of a display the Dardanis did a few years ago. Who knows what will be lurking on their lawn this holiday!
GHOSTS OF CHRISTMAS PAST: Holiday Displays from Days of Yore

GONE BUT NOT FORGOTTEN:

Away in a Manger in Belleville
This holiday season don't forget to stop by Charlie Auriemma's Christmas display on Mt. Prospect St. in Belleville. Charlie, an electrical contractor by trade, decorates his side yard each year with a manger scene complete with live sheep, calves, and even a camel. There is also a Santa's workshop where robotic elves toil away powered by an electrical on/off switch that you control!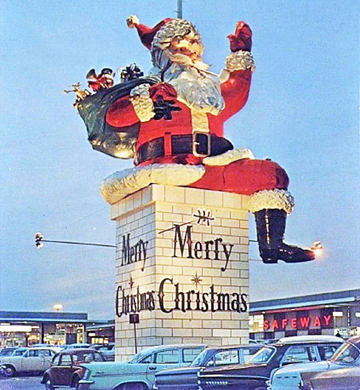 For your "Gone But Not Forgotten" Holiday story, please don't forget The Garden State Plaza, Paramus, Santa and his chimney! He was the sign of Christmas to come at the Garden State Plaza for years. –Robert Seth Vorisek

GONE BUT NOT FORGOTTEN:

Still Dreaming of a Pink Christmas in Metuchen
Gracie Knox, the "Pink Lady of Metuchen" has been enjoying her pink paradise for over 70 years. Weird NJ visited Ms. Knox Gracie she invited us into her century-old home, where we sat ensconced in pink pile carpet and pink plastic-covered furniture. On that day she was preparing her outfit and convertible Cadillac El Dorado (one of her two luxury pink and white rides) for the town's annual Memorial Day parade. Christmas is the time when Gracie's Sheridan Road estate really shines though—shiny pink, of course! Gracie died in 2009 and her house was torn down a few years ago.
GONE BUT NOT FORGOTTEN:

Mahwah, Where You'll Never Have a Blue Christmas
This is one site everyone will have to check out. A fellow in Mahwah who makes his living as an Elvis impersonator puts on an of a Christmas House. It is rumored that so much energy is used for his Christmas lights (which cover every square inch of available horizontal and vertical space) that he has worked out a special deal with PSE&G.
The seasonal light display has become so popular that local cops are now posted in the area to direct traffic in and out of the complex where he lives, which is modeled after Graceland. Needless to say, the light display is orchestrated by recordings of elvis singing Christmas carols.
Neighbors attempting to keep up with him have tried their own garish displays but have not managed to outshine him. His display is unmistakably the loudest, in every respect.  –Jennifer Watts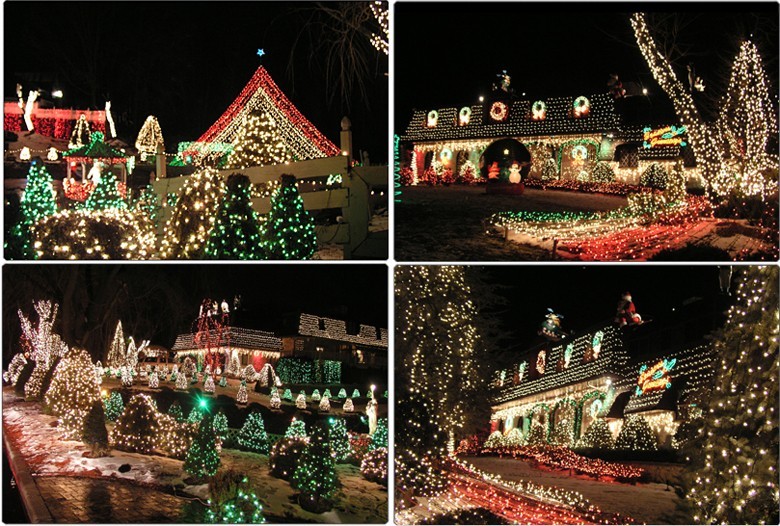 Very close to Franklin Lakes, this house is on Victoria Lane off Campgaw Road in Mahwah.  We've been going there for at least ten years.  I understand his bill is over $2000. On some nights the Mahwah Fire Department collects donations simply by holding their helmets out to the line of slow passing cars. –RL Dean
There is a house in Mahwah, on the corner of Victoria Lane and Garden Court (off of Campgaw Road), that goes all out every Christmas. The house and property is covered in lights and there are also several lifesize figures on the roof––including Elvis Presley and Marilyn Monroe.  There is a constant caravan of cars driving through the neighborhood between Christmas and New Years…. stopping to snap pictures and catch a glimpse of this weird winter wonderland. –John Arehart
Elvis Has Left the Lights Off
The "Elvis" house has not been lit up for the last 2 years. I drove down Victoria Lane in Mahwah last Friday and the entire street had no decorated houses. I guess the recession has hit hard on that neighborhood too. –Teepag
GONE BUT NOT FORGOTTEN:

The Robot Elves and Giant Claus of the Fountains of Wayne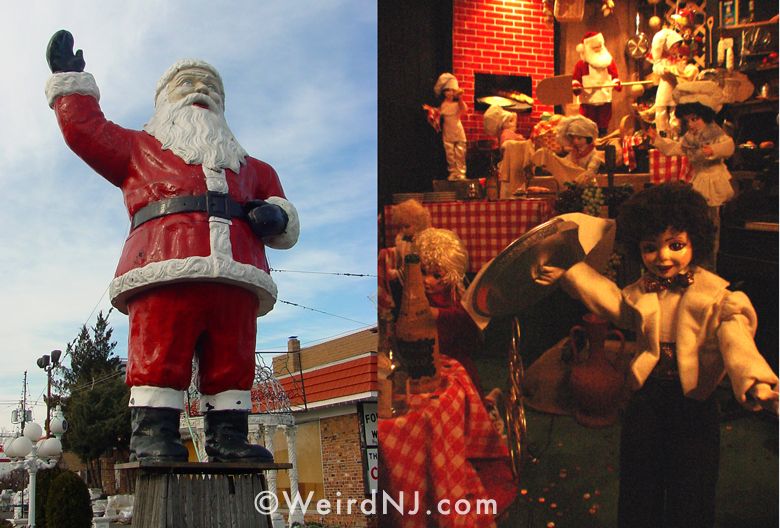 Dear Weird NJ: I've been visiting Totowa on business about once a month since August. While there last week I saw something that was really weird to me. I stopped at the Fountains of Wayne aka Christmas Emporium on Route 46 for something to do on my lunch hour. As I was shopping, I saw that they had a Christmas Animitronics Display upstairs. Of course, I had to go up and take a peek.
They have various vignettes set up such as Santa's Pizzeria, Santa at the Jersey Shore, Santa in the Rain Forest, etc. The display looks like it was set up in the 50's and has never been changed. Each vignette is full of the animated dolls that are all moving in the same hypnotic way. They look like they are possessed and were truly creepy. You really need to see it. Then when I told someone about it, they told me to go up 46 to Fairfield Gardens and see the Ice Caverns. Off I went. This one was a bit newer, but there was one Santa that looked like a blow up sex doll. –Vivaletta
Do you have a story of a weird holiday display that you'd like to share? If you do then please e-mail us at: Editor@WeirdNJ.com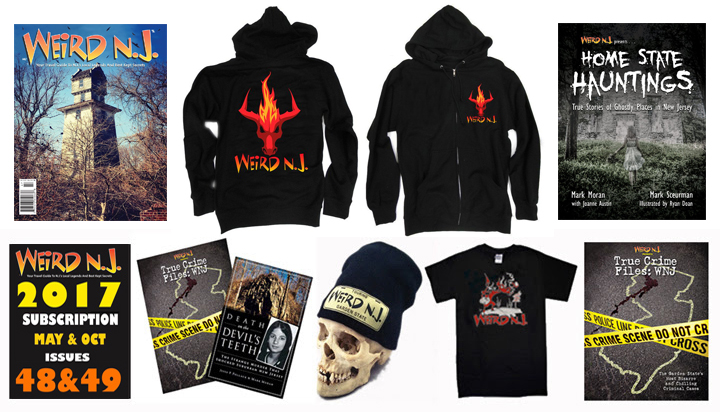 This holiday season give that hard-to-shop-for person on your shopping list the gift of weirdness with a 2017 subscription, one of our Wicked New Hoodie, a Special Issue, Skull Cap, T-Shirt or any of our other great stocking stuffers. All available through our Web Site or Amazon Store.