Dear Weird NJ:
Recently, while traveling along the White Horse Pike in Atco, I passed this odd looking outdoor market that looked like a haphazard arrangement of trailers, religious statuary and crosses, American flags, and signs proclaiming "GOD IS HERE." As I slowly drove past, my attention was drawn to a weird display located right at edge of the road. I had to stop at a line of traffic at a red light right beneath the figure, so I had a chance to quickly jump out of my car and take a couple of photos of it on my cell phone. It was a skinny corpse-like female mannequin in faded and threadbare Santa suit, filthy red fuzzy cap and a ragged white beard. The severely weathered figure leaned to one side and appeared as if it might topple to the roadway if a good wind blew. One of "Santa's" detached hands rested by his/her feet, which were clad in a pair of black high heal pumps. The figure sat on a deteriorated cane chair perched on small, elevated metal platform, which was suspended from a flagpole.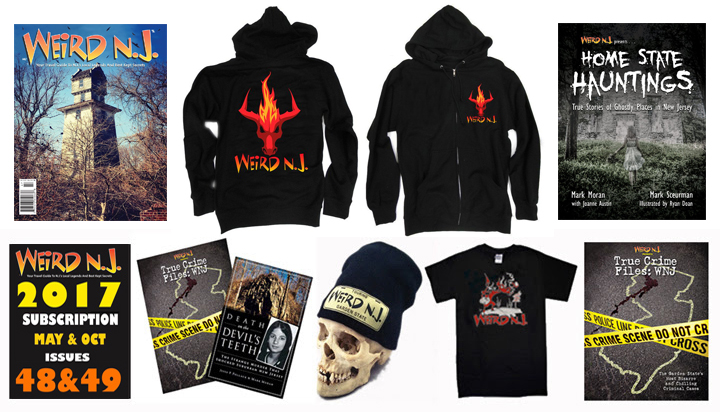 This holiday season give that hard-to-shop-for person on your shopping list the gift of weirdness with a 2017 subscription, one of our Wicked New Hoodie, a Special Issue, Skull Cap, T-Shirt or any of our other great stocking stuffers. All available through our Web Site or Amazon Store.
I was stopped right at the end of the driveway that was the entrance to the compound where a street sign was posted that read "God's Way." I was perplexed by the sight, to say the least, but fortunately snapped out of my confusion just as the light change and I was able to catch the name of the complex as I rolled on past a sign that said "James Lombardo's Business Center."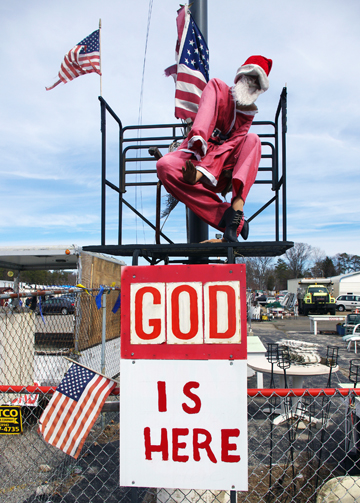 I was curious about the place, so when I got home I did a little research on it and discovered that it's a 13-acre facility that has been operated by a man named James Lombardo for the past 47 years. Billing itself as "God's Co-Op," the property seems to be an amalgamation of a used car lot, flea market, and outdoor rummage sale for bicycles, children's toys and all sort of other stuff.
According to Lombardo's Facebook page, "God's Co-op is a non-denominational, honorable workforce for GOD, Country and Humankind. We are a merchandise exchange coalition who buy, sell, trade and take donations for the promotion of God will among GOD's people. We are all in this together – come."
There is another post on the page that says, "NEW JERSEY POWER BROKERS HAVE USED LOCAL GOV. SUPER0IR COURT & FEDERAL COURT AND EMINENT DOMAIN! I AM LIVING ONLY BY GOD'S WILL! ALL MY BUSINESS INCOME GOT BLOCKED BY HEATHEN CODES! I AM BLESSED WITH GOD…" I'm not really sure what this is in reference to, but I would have to assume that Mr. Lombardo has perhaps run afoul of local zoning laws at some point. But you can ask Mr. Lombardo about this yourself if you'd like, because according to their web site God's Co-Op invites people to book the facility for events! –Ann Onymous