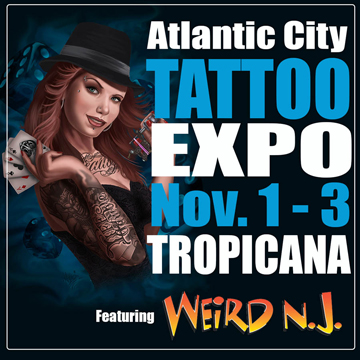 Weird NJ publishers Mark Sceurman and Mark Moran will be part of the festivities at this year's Atlantic City Tattoo Expo, which returns to the Tropicana Casino and Resort for an amazing weekend meeting of the marked November 1st thru the 3rd.
Better known as "Drawin' the Wild Card," the expo has planted roots in one of Atlantic City's most entertaining gaming venues, now calling the Tropicana home.
The 2013 Expo will feature tattooist and ink aficionados from around the planet as they converge on Atlantic City to leave their mark.  This year's event will highlight art and ink as we celebrate the artist and the canvas that adorn them. The Atlantic City Tattoo Expo will feature something for everyone, live entertainment, tattoo contest, seminars, parties and meet and greets.  4,000 plus attendees are expected to assemble over the week at the Tropicana, invading this game space for the love of Art and Entertainment.
While the main focus of the expo (www.actattooexpo.com) is the opportunity to meet (and get tattooed by) over 60-plus tattoo artists from around the globe, the expo also offers a chance to check out unique exhibitors including a variety of clothing, jewelry and novelty vendors. The event also promises to astonish and amaze with its circus antics, pin up contest and tattoo contests.  If that wasn't enough adult film starlets, Bonnie Rotten, Teagan Presley and Britney Shannon will be causing mischief all weekend long, as well as meeting fans and talking tattoos while highlighting the weekend's festivities.
The 2013 event will play host to a wide range of tattoo "reality" personalities including Ink Master Contestants James Vaughn, Sarah Miller, and Lalo Yundo. Chris Torres the notorious bad boy from NY Ink will be in attendance as well Tattoo Nightmare artist Tommy Helm and Jasmine Rodriguez laying down ink all weekend long…  The 2013 expo offers a unique opportunity to meet as well as get tattooed by these off the wall reality TV tattoo personalities at the Tropicana all weekend long.
The Atlantic City Tattoo Expo is open to the public and held on the 4th Floor exhibition space at the Tropicana Casino & Resort Atlantic City, Friday, November 1st, 5pm-10pm; Saturday, November 2nd, 11am-10pm and Sunday, November 3rd, 11am-5pm.  Admission is $20 for a one-day pass, $35 for a two-day pass and $40 for a three-day pass.  An adult must accompany anyone under the age of 18. Kids under 12 get in free with a parent or guardian.
To learn more about the expo weekend visit www.actattooexpo.com