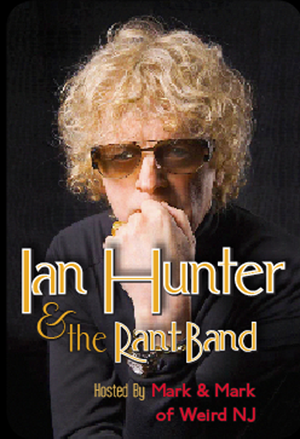 Friday November 23rd, Weird NJ publishers Mark Sceurman and Mark Moran will be your host as we welcome legendary rocker Ian Hunter & the Rant Band to the Tabernacle in Mt. Tabor. Hunter's musical career has spanned five decades, from his early days as the leader of Mott the Hoople, to his 20th solo studio album When I'm President which was just released this past September.
Very special guest performer for the show will be Willie Nile.
"At The Tabernacle" is a concert series that stages world-class folk/rock concert performances in its intimate, Victorian-era Tabernacle building. The historic wooden Tabernacle is an extended octagon structure located in the center of Mt. Tabor, New Jersey.
For more information on this unique venue visit http://www.atthetabernacle.com/index.html