ATTENTION! Due to the inclement weather forecast today, Smithville Artwalk #12 has been POSTPONED until tomorrow, Sunday April 23rd. Hope to see you then!  Weird NJ is happy to once again be taking part in the ARTWALK taking place at Historic Smithville on Sunday, April 23nd, which is hosted by our friends at Underground.
The ARTWALK is a biannual gathering of 75 artists celebrating pop and lowbrow art in all forms. But, it's not just an art show!  Each event features music, entertainment, contests or special guests. Founded and hosted by Underground since 2011, Smithville Artwalk has become the largest assemblage of proudly off beat artists on the Jersey Shore.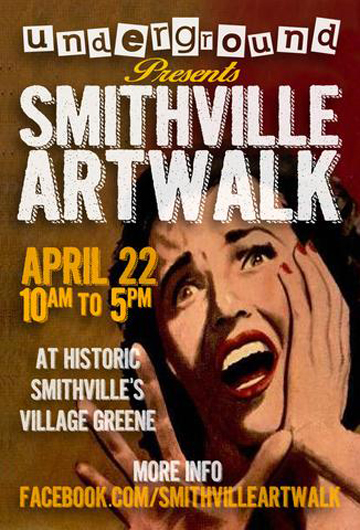 DATE: APRIL 22, 2017  HOURS: 10AM TO 5PM  Rain Date: TBD
At Historic Smithville's Village Greene!
FREE ADMISSION
For up to the minute info, follow our Facebook page at Facebook.com/SmithvilleArtwalk
And don't forget to like and follow Underground at: