Exploring Abandoned Nike Missile Bases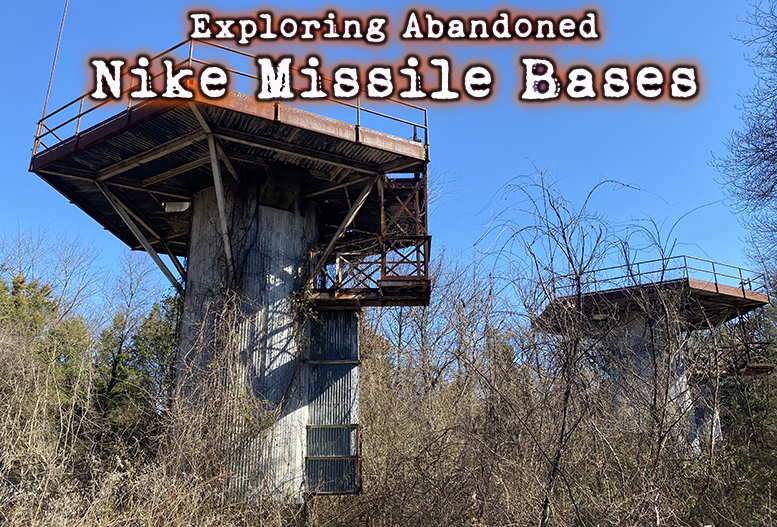 Nuclear Jersey: Nike Missile Bases and the Cold War Fought Right in Your Own Backyard
It might surprise a lot of New Jersey residents today to know that during the Cold War many of our sleepy suburban communities played a crucial strategic role in America's last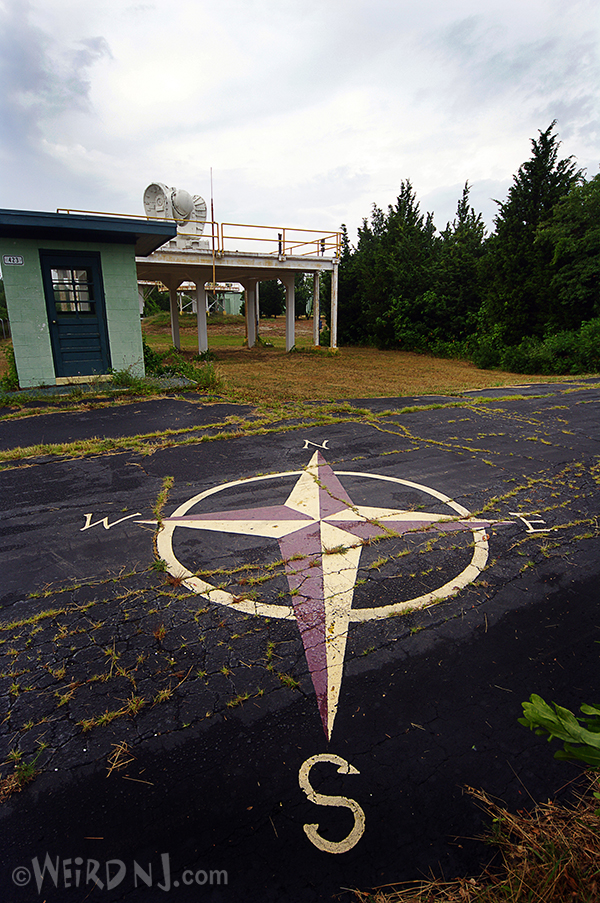 line of defense. During the 1960s and 70s, when tensions between the U.S. and U.S.S.R. were at their peak, Nike Missile Bases dotted the Garden State landscape.
The bases, which were located in Middletown, Old Bridge, S. Plainfield, Livingston, East Hanover, Wayne, and Mahwah, formed a semi-circular arc around New York City that continued, with other bases into upstate New York. The missiles, some with nuclear warheads, would be guided by radar, and were designed to intercept and destroy incoming Soviet air squadrons bound for the Big Apple. There were also several bases located in southern New Jersey in the towns of Marlton, Pittman, Lumberton, Swedesboro, and Berlin-Clementon, whose job it was to protect Philadelphia from attack.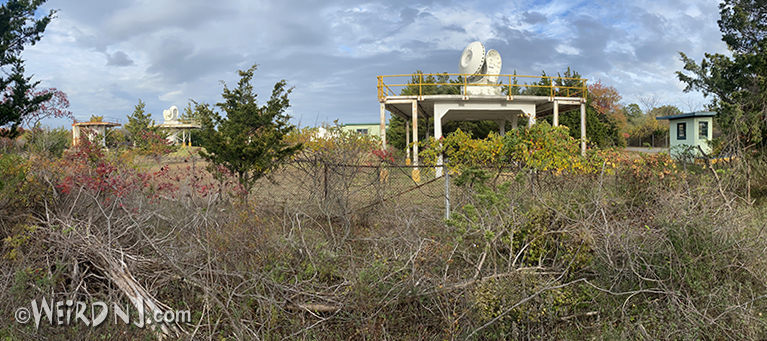 For many years these weapons stood ever vigilant, on their launch pads, or in underground missile magazines, sometimes just yards away from unsuspecting residential neighborhoods. While in operation these government installations were heavily guarded and completely off limits to the public.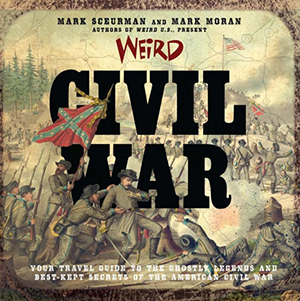 Though most have been abandoned or redeveloped, one base in Livingston, has been preserved and opened to the public as Riker Hill Park. Part of the Essex County Parks Department, the old barracks and command center have been leased to local artists and crafts people to be used as studio space.
Weird NJ Cold War Correspondent Donald Bender explains the history of the Nike program this way:
"Named for the mythical Greek goddess of victory, the Nike program begun during the last months of the Second World War. The main advantage over conventional anti-aircraft artillery was that the Nike missile could be continuously guided to intercept an attacking aircraft in spite of any evasive maneuvers taken by the pilot.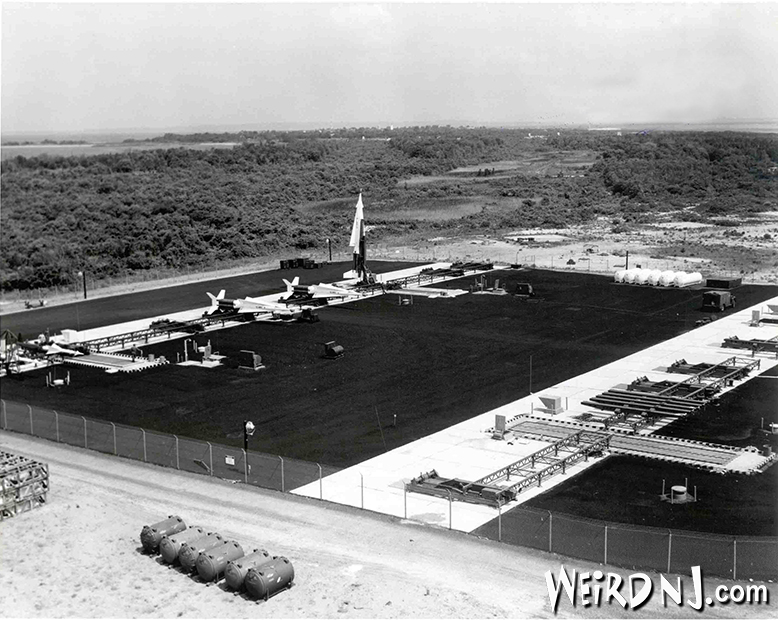 The mission of Nike within the continental U.S was to act as a "last ditch" line of air defense for selected areas. Armed with supersonic, radar-guided missiles, the bases served as a last line of defense created to shoot down Soviet bombers armed with nuclear bombs before they reached their intended targets. The Nike system would have been utilized in the event that the Air Force's long-range fighter-interceptor aircraft had failed to destroy any attacking bombers at a greater distance from their intended targets.
Due to the relatively short range of the original Nike missile, the Nike "Ajax", many bases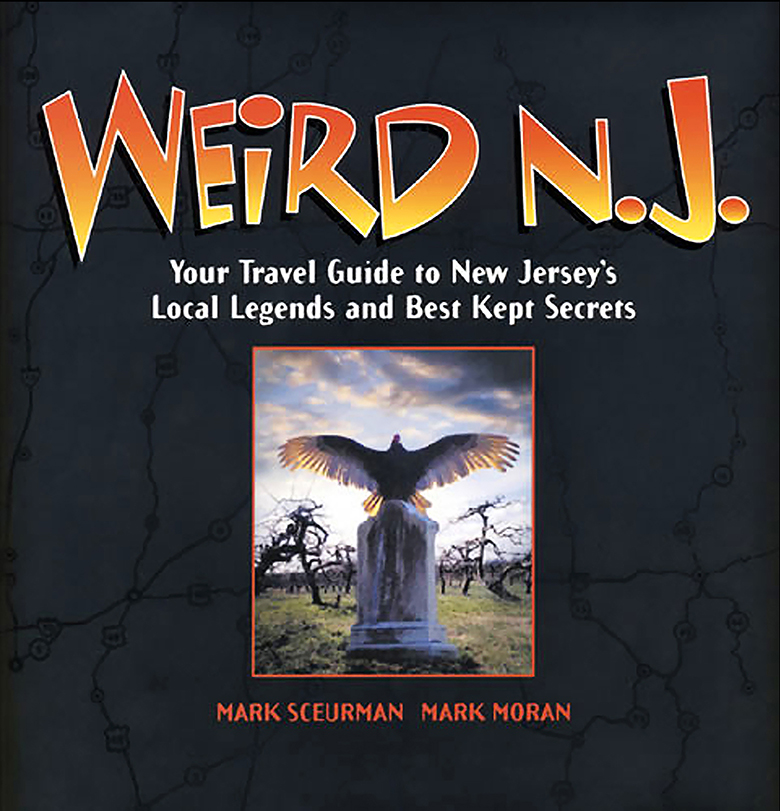 were located relatively close to the center of the areas they protected.  Frequently they were located within heavily populated areas (such as New Jersey's suburbs).
A nuclear missile site in a cornfield in New Jersey? Many individuals find such a notion hard to imagine today, yet for roughly two decades, from 1954 through 1974, South Jersey alone was the home to no fewer than five U.S. Army "Nike" missile installations. These missile sites made it clear that in an era of long-range aircraft and nuclear weapons, the front lines of the Cold War were often located no farther away than one's own backyard. Or the local corn or soybean fields.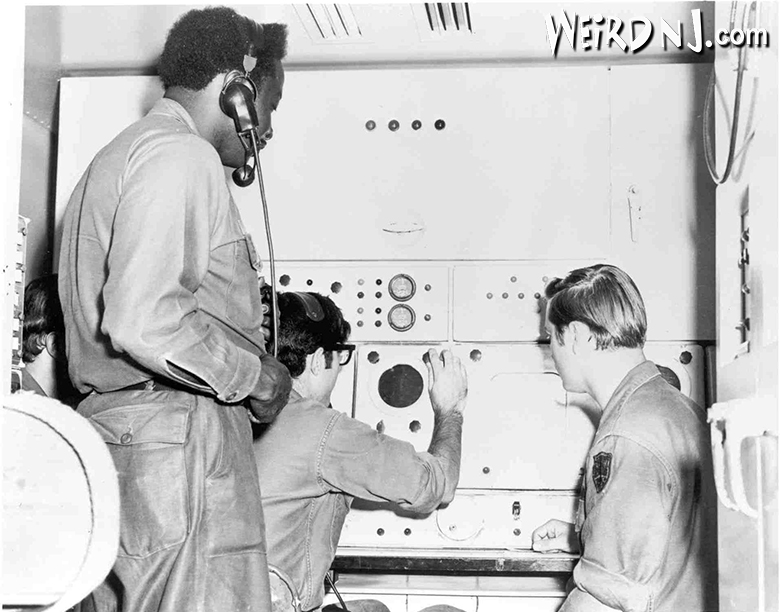 Beginning in the late 1960s, the total number of operational Nike bases within the continental U.S. was steadily reduced, almost on an annual basis. During 1974, the nationwide Nike air defense system was inactivated. Army Air Defense Command (ARADCOM) which administered this system was closed down shortly thereafter."
Weird NJ was fortunate enough to have the opportunity to interview the one-time commander of the Livingston/East Hanover Nike facility, Colonel Joseph Evangelist (U.S. Army, Retired). Though he was very open and candid about his time spent in service, there are apparently still some questions that the Army does not want answered.
WNJ: Col. Evangelist, what was the climate like during the Cuban missile crisis? When you were down in the bunker, or in the radar room, did you think we were on the brink?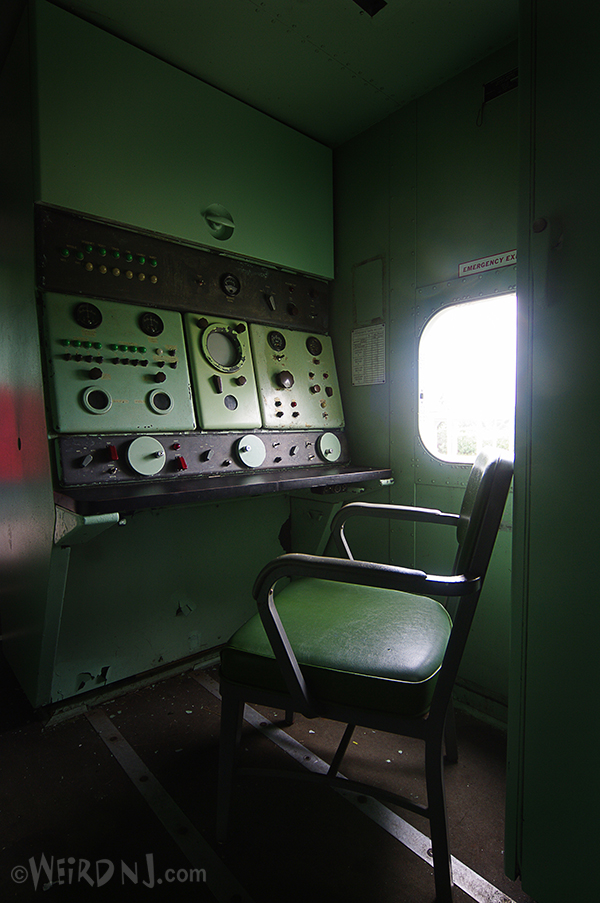 Col. Evangelist: Oh, I think everybody did. We were at the highest state of alert that you could be at. We were at a five-minute state of alert. We were ready to fire at any given time, and we stayed on that, as I remember it, approximately 30 days, around the clock.
How much of an arsenal did they have down in East Hanover?
Well, when it was a dual site of Nike Ajax/Hercules, it had six magazine rooms, or 'kits' as we called them. Each kit had four launchers.
Where were the missiles kept?
They were underground in the pits, and they had like eight to ten-foot-thick walls, and they had their own self-generated power.
How big were the actual missiles?
The Ajax was a smaller missile, about 27-feet I think, and they carried only high explosive warheads in the nose and center body.
I'm sure there was a lot of security at the base, but it was surrounded by regular suburban neighborhoods. Did you ever have any problem with people snooping around or curiosity seekers trying to come over the fences?
Well, sometimes we had some problems with kids.  You know, kids will be kids type of thing. The security was very tight, but more so in the launch area where the missiles were. Down there we had a three fence lines to get through to where the missiles were. We had security dogs that patrolled the area during the hours of darkness.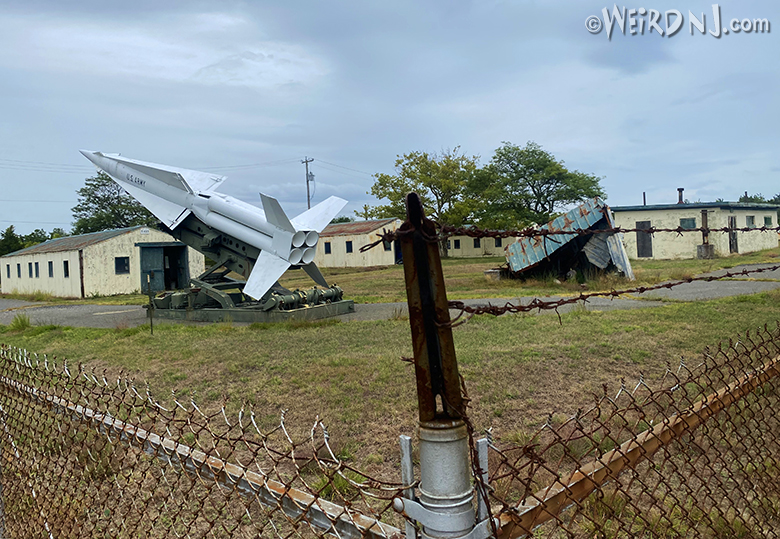 I was over at the East Hanover base just recently and saw all the abandoned houses. It's just a ghost town. All the doors and windows are broken or fallen off. It's kind of eerie. Were these the quarters for the soldiers?
The officers and enlisted people on the base, and their dependents. It was very nice.
Did you ever experience any resistance from the community, as far as people being sensitive about having these installations in their backyards?
Oh yeah, that's why we would open up the fire control area, but not the missile area, once a month and give people unclassified tours and briefings to try to educate them. People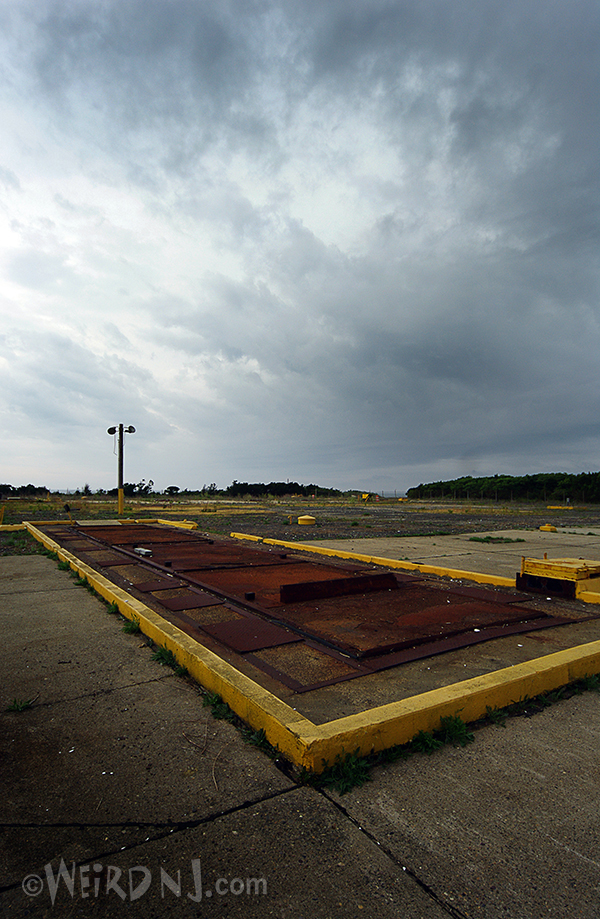 assumed that we had nuclear there, and that we were going to have an explosion on the ground. So people were concerned, there's no question about it.
What became of the underground bunkers where the missile were stored?
Well, measures were taken to insure that they wouldn't cave in, then the openings were welded shut. As I've said, the walls of those things were 8 to 10-feet -thick, so I suppose that they're still down there…You have to remember, the Hercules missiles had a nuclear capability…they weren't designed to just take out one aircraft. If you used a nuclear warhead it would be because there was more than one there and you had one missile to take out a fleet.
But these missiles didn't really have nuclear warheads, did they?
I can't say anything on that.
I see.
Today, weeds and wildflowers push their way up through cracks in the concrete launch pads. Tangled vines climb the rusty steel radar towers of the remaining abandoned facilities. But once upon a time, in a day when death and destruction might rain down from the heavens at any time, these bases allowed NJ's bedroom communities to sleep a little easier at night.
Photos by Mark Moran and Rusty Tagliareni.
Explore the history of the Nike missile program and take a tour with Weird NJ of the radar control and launcher areas of a base, and its underground missile magazine.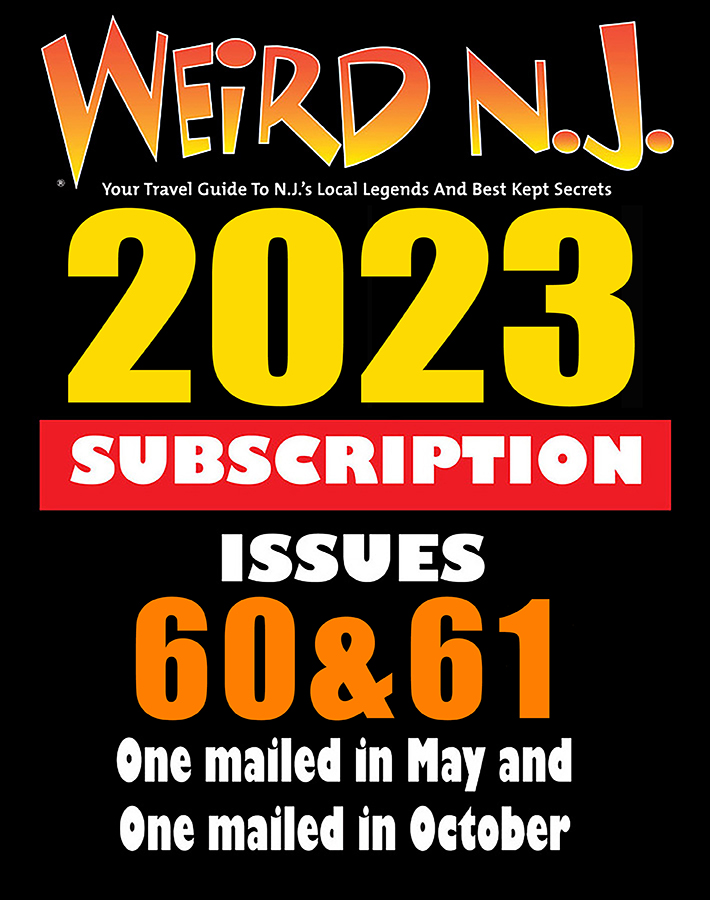 The preceding article is an excerpt from Weird NJ magazine, "Your Travel Guide to New Jersey's Local Legends and Best Kept Secrets," which is available on newsstands throughout the state and on the web at www.WeirdNJ.com.  All contents ©Weird NJ and may not be reproduced by any means without permission.
Visit our SHOP for all of your Weird NJ needs: Magazines, Books, Posters, Shirts, Patches, Stickers, Magnets, Air Fresheners. Show the world your Jersey pride some of our Jersey-centric goodies!

Now you can have all of your favorite Weird NJ icons on all kinds of cool new Weird Wear, Men's Wear, Women's Wear, Kids, Tee Shirts, Sweatshirts, Long Sleeve Tees, Hoodies, Tanks Tops,  Tie Dyes,  Hats, Mugs & Backpacks! All are available in all sizes and a variety of colors. Visit WEIRD NJ MERCH CENTRAL. Represent New Jersey!