Lucy The Elephant, Margate
Real Estate speculator James V. Lafferty began building Lucy the Elephant in 1881, in an effort to lure the potential property buyers to Margate, a tiny shore town just south of Atlantic City.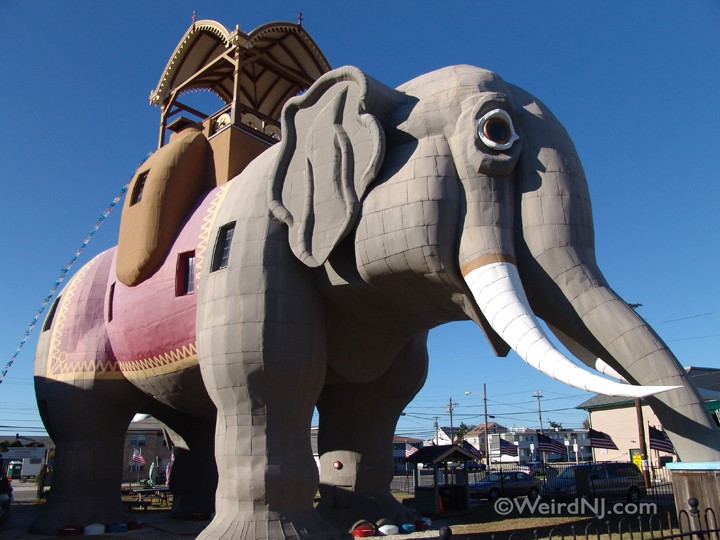 Lucy was truly a magnificent creature, what with her observation deck and thirty six foot long trunk. She began attracting the curious almost immediately. People came from far and wide to gander at and venture within the humongous sheet metal and timber beast.
Unfortunately for Lucy, her fifteen minutes of fame ended rather quickly. By 1887, a mere six years after her construction, Lucy had lost most of her appeal as a tourist trap. She was converted into a tavern for a few years and then a rentable summer cottage. For most of her existence, she simply stood, overlooking the ocean while slowly deteriorating.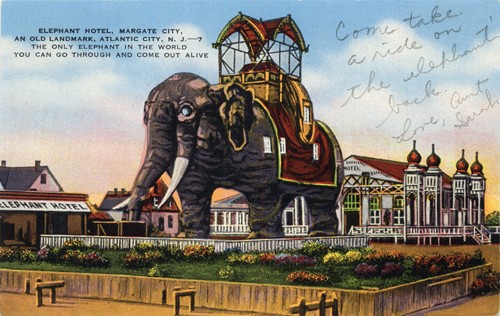 That all changed in 1966, when locals, who had long rallied to save the infamous pachyderm, succeeded in getting the state to certify Lucy the Elephant as a landmark. Federal authorities soon followed suit and she became a nationally protected site as well. In 1970 she was moved, repainted and repaired and repainted, and today houses a museum.
Come with us for a tour through Lucy the Elephant on Weird NJ TV.

This Internet story is only a small excerpt of the information we have published on this subject. For the full story we suggest you refer to past issues of Weird NJ Magazine.  To keep up to date on this story and all the other weird goings on in the state subscribe to Weird NJ and we'll deliver it to your door. If your local book seller, newsstand or convenience store doesn't carry Weird NJ, just tell them to call us toll free at 1-866-WEIRDNJ and we'll be happy to stock your favorite store for you.