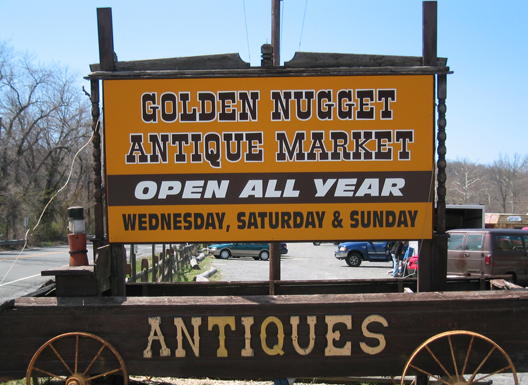 Upcoming Outing! Sunday, June 26th
  Mark and Mark from Weird NJ will be hanging out at one of NJ's greatest flea markets, the
Golden Nugget Flea Market
in Lambertville, NJ. We'll be bringing all kinds of Weird stuff; like the
BRAND NEW ISSUE OF THE MAGAZINE #58
, Plus
Books, Posters, Shirts, Patches, Stickers, Magnets
,
hard to find issues
of the
magazine
, and other
cool stuff
! 
Golden Nugget Flea Market is a 50-year-old Lambertville institution that's open year round. Since 1967, the Golden Nugget has been a "gold mine" for finding antiques, collectibles, art and more. The Golden Nugget is located at 1850 River Road / Route 29. Weird NJ can be found at Tables 325 & 326. Step right up!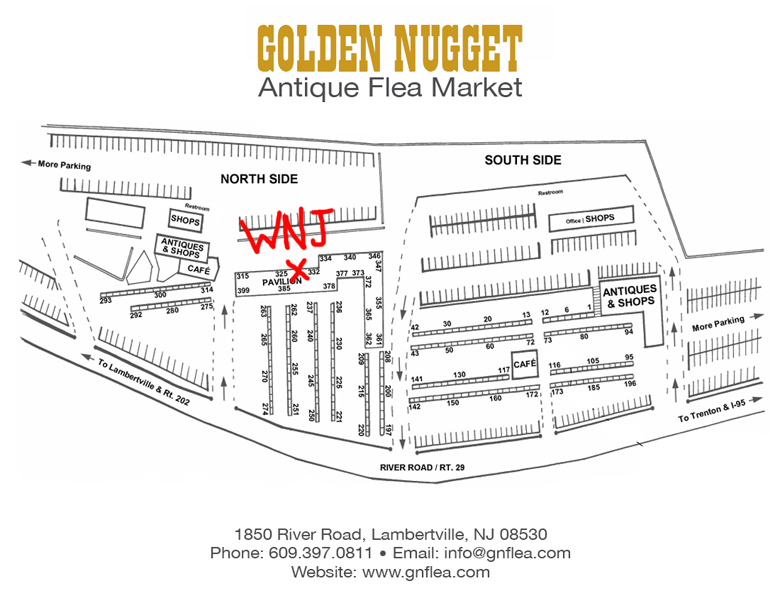 So Why is There a Flea Market Called the Golden Nugget Located in Central Jersey Anyway?
You might well ask. And there's actually an interesting story behind that! It's named for James W. Marshall of Lambertville, the man who set the whole world heading westward with his discovery of gold along the American River in northern California in 1848, which started the great Gold Rush of '49.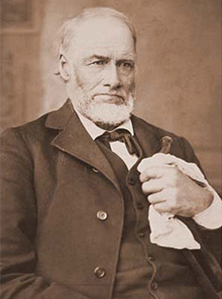 In July of 1845, Marshall arrived at the Sacramento River Settlement run by John Sutter. Sutter gave him employment as a carpenter, a trade that Marshall was originally introduced to by his father in Lambertville. Marshall soon owned livestock and several hundred acres of land. In early 1846, he joined forces with John C. Fremont and his California Battalion to stage the Bear Flag Revolt, a premature bid to seize control of California that ended with the start of the Mexican-American War.
After a year, Marshall returned to the Sacramento Valley to find that his cattle had been stolen. Forced by financial necessity to sell his ranch, Marshall formed a partnership with John Sutter to construct a sawmill along the American River. On January 24, 1848, while checking to see that the tailrace of the mill had been flushed clean of silt and debris, Marshall looked down through the clear water and saw gold. And the rest, as they say, is history.  Marshall did become quite wealthy from his find, but ultimately died penniless. Ironically, while he was living out his last days in poverty in California, gold was discovered in his old home town of Lambertville, NJ in 1880. The former home of James Marshall is still located in Lambertville at 62 Bridge Street.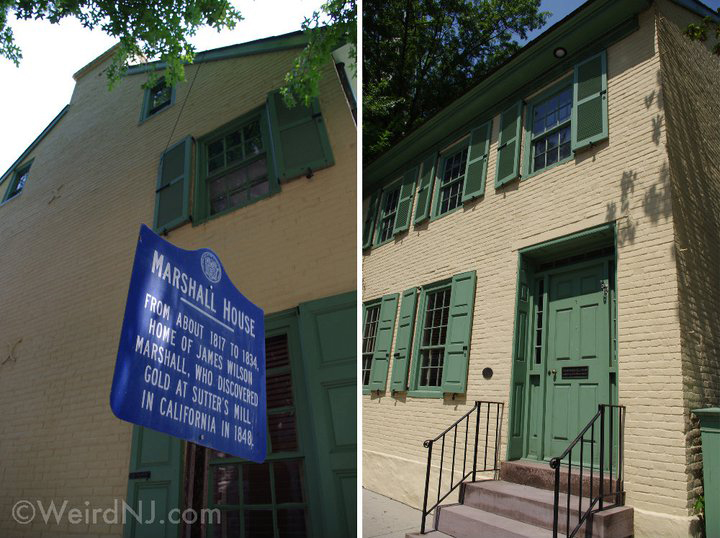 Visit our SHOP for all of your Weird NJ needs: Magazines, Books, Posters, Shirts, Patches, Hats, Stickers, Magnets. Show the world your Jersey pride some of our Jersey-centric goodies!

Now you can have all of your favorite Weird NJ icons on all kinds of cool new Weird Wear, like Tee Shirts, Girls Tees, Sweatshirts, Long Sleeve Tees, Hoodies, Unisex Tanks, Kids Tees, Tie Dyes or Onesies! All are available in all sizes and a variety of colors. Represent!