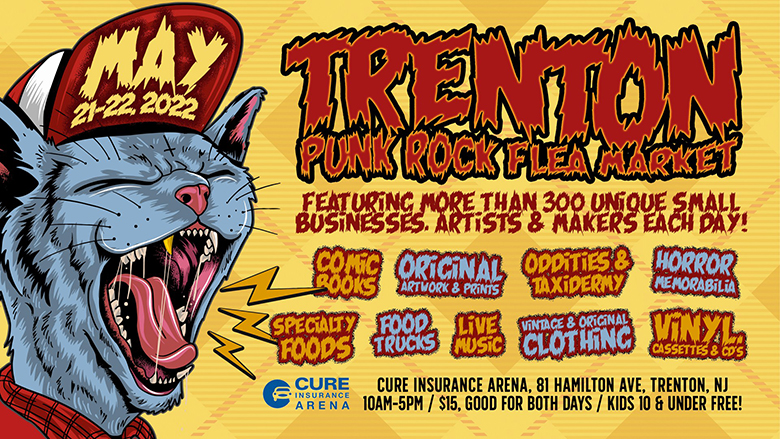 Weird NJ will once again be taking part in the Trenton Punk Rock Flea Market on SATURDAY ONLY, May 21st, and we'll be bringing the brand new issue of Weird NJ magazine, #58, plus all kinds of other cool merch like; books, T-shirts, stickers, patches and posters.
Here's All the Info from the Good Folks at T.P.R.F.M…
The TPRFM returns for our first event of 2022 and the first event in our new indoor home at the Cure Insurance Arena on South Broad Street in Trenton! For the first time since 2019, we are indoors and we are officially BIGGER, BADDER & BETTER THAN EVER!
Featuring more than 300+ different small businesses, artists & makers each day with indoor AND outdoor vendors, live music, food trucks and more!
– $15 at the door (good for both days)!
– Punx 10 & under are always free!
– Parking located at in Cure Arena parking lot (81 Hamilton Ave)
– Rain or Shine. Market is indoors AND outdoors.
We're back and we're officially bigger and badder than ever! Now in our new indoor home at the Cure Insurance Arena in Trenton, we're now featuring more than 300+ small businesses, artists and makers per day. More than ever!
For the first time since 2019, the TPRFM is back with a full roster of a dozen food trucks per day, a full schedule of live music as well as the RETURN OF THE BLACK SWAG BAGS AND much more as we celebrate this monumental moment for the TPRFM!
Just point Waze or your Uber driver to 81 Hamilton Avenue in Trenton… just two blocks from the Roebling Wire Works and a 10 minute walk from both the Trenton Train Station. We're also right around the corner from the Riverline Light Rail for easy access from South Jersey and Philly! Bike racks are available for those who choose to ride over!
FOOD TRUCK LIST:
SATURDAY MAY 21, 2022:
– TBA
SUNDAY MAY 22, 2022:
– TBA
WHAT IS THE TPRFM?
The TPRFM is a family-friendly, cultural celebration and DIY craft show that occurs multiple times a year in Trenton and features more than 3000+ different DIY vendors and food trucks each day. All are welcome and encouraged to attend. We celebrate inclusiveness, individuality, the arts, music, family, friendships, small businesses, DIY culture and most importantly… community.
THE TPRFM IS A SAFE SPACE FOR ALL. WE CELEBRATE DIVERSITY AND WE BELIEVE THAT BLACK LIVES MATTER. Please check your prejudices and hatred at the door. It is not welcome here.
WHERE DO I PARK?
Parking is located at in the Cure Insurance Arena parking lot located on Hamilton Ave directly across the street from Cure Insurance Arena, just a stones throw from the TPRFM. Uber/Lyft riders should direct their drivers to 81 Hamilton Ave, Trenton, NJ.