Dec. 9: No T. P. R. F.M. for W.N.J.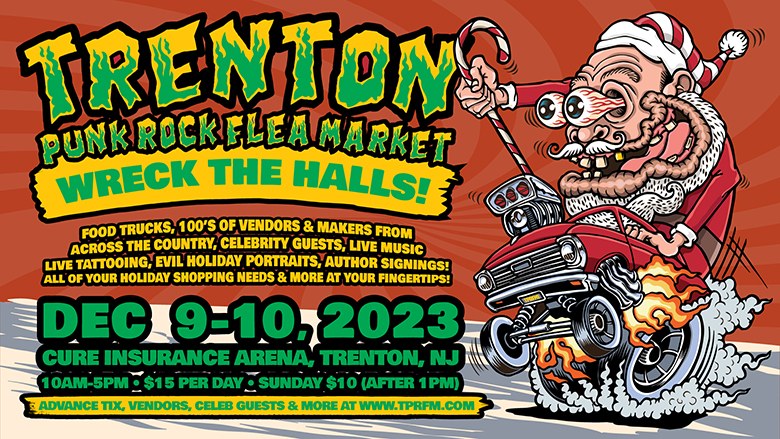 We regret to have to announce that due to circumstances beyond our control, Weird NJ will not be attending the Trenton Punk Rock Flea Market this Saturday, December 9th. For the first time COVID has found its way into Weird NJ, so instead of  punk rocking at the flea market, we'll be quarantining at home. We hope you will all still attend and enjoy this wonderful event. And we look forward to seeing you at the next T.P.R.F.M. taking place in April of 2024.
Get all the details about from the T.P.R.F.M. Facebook Event.
Since we won't be seeing you in person before the Holidays we are offering a SHOP WIDE DISCOUNT for everything in the Weird NJ Online Store. For a limited time you can get all of your Weird NJ needs: Magazines, Books, Posters, Shirts, Patches, Stickers, Magnets, Air Fresheners and more.
Just enter the CODE: WNJ2023 at checkout and automatically receive a 15% discount on your total order! This is a limited time offer and may end at any time without prior notice.
WHAT IS THE TPRFM?
The TPRFM is a family-friendly, cultural celebration and DIY craft show that occurs multiple times a year in Trenton and features more than 300+ different DIY vendors and food trucks each day. All are welcome and encouraged to attend. We celebrate inclusiveness, individuality, the arts, music, family, friendships, small businesses, DIY culture and most importantly… community.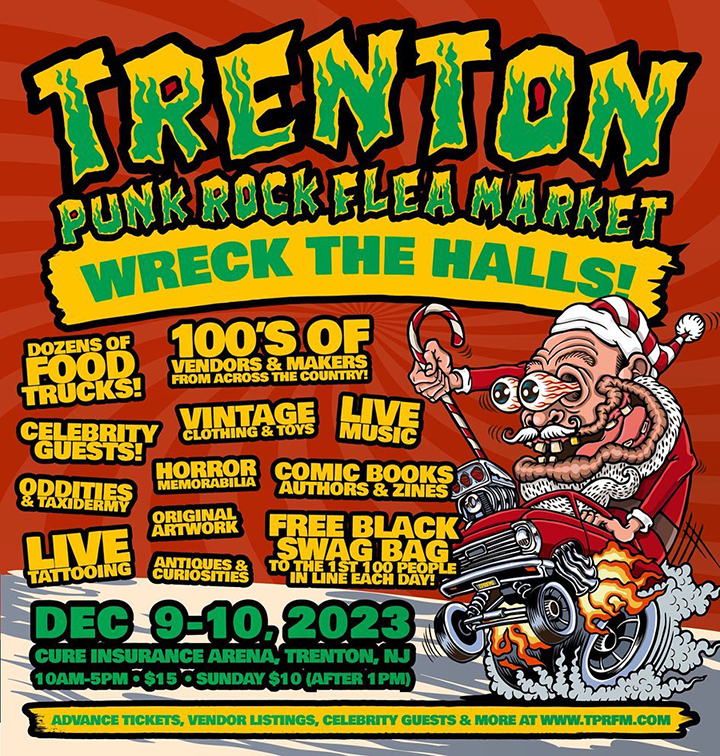 The annual WRECK THE HALLS HOLIDAY SHOPPING EXTRAVAGANZA where we pack the Cure Arena with nearly 500 vendors from up to 25 states as they prepare like a network of happy little elves making the most unique, inspired and kick ass holiday gifts this side of the Delaware!
Join us for new vendors each day, dozens of food trucks, celebrity guests, live music, live tattooing and more fun than you can shake a faux hawk at!
WHERE DO I PARK?
Parking is located at in the Cure Insurance Arena parking lot located on Hamilton Ave directly across the street from Cure Insurance Arena, just a stones throw from the TPRFM. Uber/Lyft riders should direct their drivers to 81 Hamilton Ave, Trenton, NJ.
Here's All the Info from the Good Folks at T.P.R.F.M…
The Trenton Punk Rock Flea Market is a DIY craft fair and Cultural celebration which occurs up to five times per year and features a carefully curated collection of more than 500+ unique vendors hailing from more than 25+ states (and Canada) that sell everything from Vintage Clothing & Toys, Original Artwork, Vinyl & Cassettes, Oddities & Taxidermy, Handmade Jewelry, Unique Collectibles, Horror Memorabilia, Interesting Curiosities, Antiques & Collectibles, Comics, Original Artwork, Cosplay Contests & more. This talented tally of creative folks are our life's blood, and we pride ourselves in providing a low-cost, first-class retail platform for local artisans and makers that allows them to bring high-quality goods direct to a large customer base.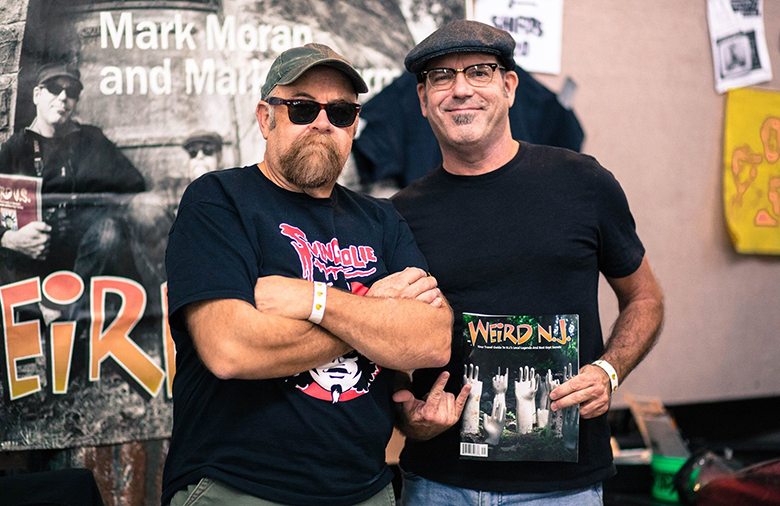 Named "One of the Best Flea Markets in America" by Huffington Post, the legendary Trenton Punk Rock Flea Market embraces a life-long love of punk rock and hardcore, DIY ethics, the arts, tattoos, copious amounts of coffee, the occasional Gin and Tonic, a well-timed beer and a solid, well-styled quiff. The mission of founder Joseph Kuzemka was to create an experience in his hometown that is unlike any other, bringing together vendors that touch upon the aforementioned themes while adding the component of gourmet food truck cuisine in a safe, family-friendly shopping environment. Be sure to save the date and join us for the next edition of the Trenton Punk Rock Flea Market!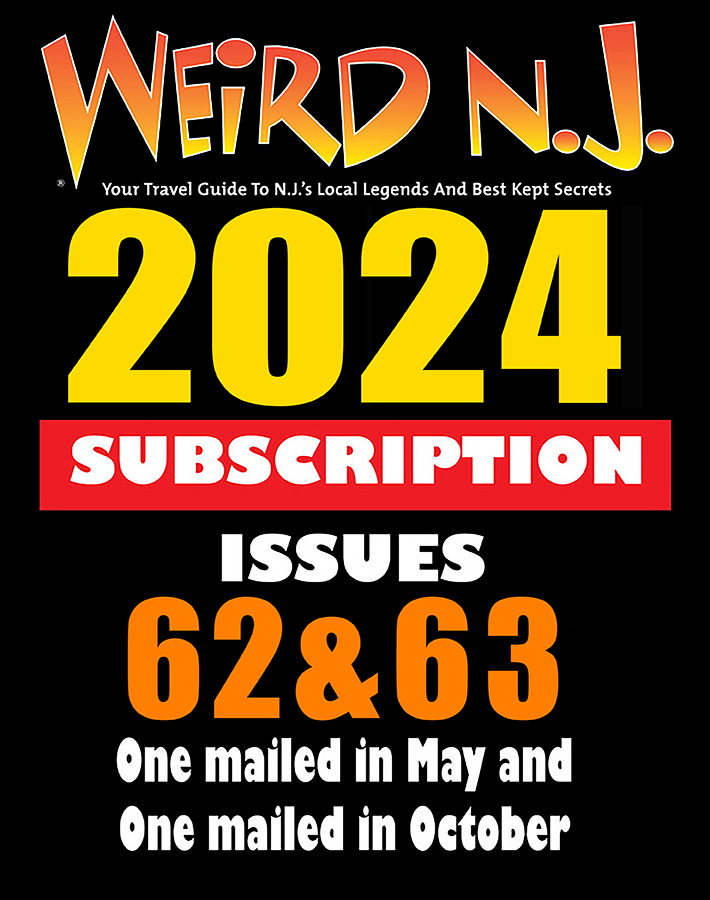 Weird NJ magazine, "Your Travel Guide to New Jersey's Local Legends and Best Kept Secrets," which is available on newsstands throughout the state and on the web at www.WeirdNJ.com.  All contents ©Weird NJ and may not be reproduced by any means without permission.
Visit our SHOP for all of your Weird NJ needs: Magazines, Books, Posters, Shirts, Patches, Stickers, Magnets, Air Fresheners. Show the world your Jersey pride some of our Jersey-centric goodies!

Now you can have all of your favorite Weird NJ icons on all kinds of cool new Weird Wear, Men's Wear, Women's Wear, Kids, Tee Shirts, Sweatshirts, Long Sleeve Tees, Hoodies, Tanks Tops,  Tie Dyes,  Hats, Mugs & Backpacks! All are available in all sizes and a variety of colors. Visit WEIRD NJ MERCH CENTRAL. Represent New Jersey!