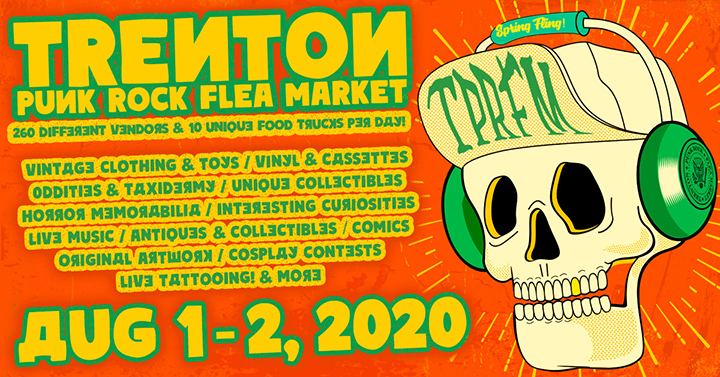 Weird NJ will be joining in all the festivities at the Trenton Punk Rock Flea Market on Saturday and Sunday, August 1 & 2, and we'll be bringing all sorts of Weird NJ merch, like magazines, books, posters, t-shirts, stickers, patches, magnets, air fresheners, and more T-shirts! 
ENTRY FEE: $5 (good for both days!)
$5 at the Door (good for both days)! No Tickets Required!
– Punx 10 & under are always free!
– Free parking at 645 S. Broad St! See below for more info!
– Rain or Shine. Market is indoors.
Awaken from your long, winter slumber and join us in NJ's Capital City as the legendary Trenton Punk Rock Flea Market returns on May 30 & 31, 2020 from 10am-5pm for our most anticipated event of the year as we present our annual SPRING FLING Flea Market featuring 260+ different vendor tables from up to 25+ states and 10 of the area's finest food trucks with DIFFERENT VENDORS & FOOD TRUCKS EACH DAY at the Historic Roebling Wire Works in Trenton, NJ.
Additional highlights include Live Music on Two Stages, a Beer Garden, Cosplay Contests, Game Show Night for Prizes w/ Tony Goggles, Live Tattooing w/ Brand New Tattoo & Gallery, Haircut & Beard Trims w/ Shear Revival Grooming & Beauty Co., Live Axe Throwing, a Friday Night Pre-Party & Saturday Night After Party at Millhill Basement, and our FREE Black Swag Bags to the first 250 people in line EACH DAY!
We are a family-friendly, cultural celebration that occurs multiple times a year in Trenton. All are welcome and encouraged to attend. We celebrate inclusiveness, individuality, the arts, music, family, friendships, small businesses, DIY culture and most importantly… community. Please check your prejudices and hatred at the door. It's not welcome here.
SATURDAY FOOD TRUCKS
Buzzetta's Festival Foods
El Tlaloc
Good Food = Good Mood
Gyros To Go
House of Cupcakes
JimmyDawn's
Manny's Restaurant and Delicatessen
Savory Leaf Cafe (ALL vegan)
The Little Sicilian Catering And Food Truck
The Tot Cart (vegan, gf friendly)
SUNDAY FOOD TRUCKS
Cas' Pierogi & Kielbasa Food Truck
Cone Appetit
El Lechon De Negron
Have A Ball.
Lady and the Shallot (ALL vegan and gf)
LATIN BITES
PaperMill – Home of the Spurrito (vegan, gf friendly)
Shore Shake (vegan, gf friendly)
The Chilly Banana (vegan, gf friendly)
The Tot Cart (vegan, gf friendly)
Wanna Pizza This?
LIVE TATTOOING W/ BRAND NEW TATTOO
The amazing crew at Brand New Tattoo & Gallery are back again with TWO DAYS of live tattooing! $60 gets your choice from their custom flash that will be designed specifically for the TPRFM! First come, first served, kids. No appointments! So get there early and snap up an appt at their booth while there's still time!
Get a TPRFM-related tattoo and receive FREE LIFETIME ENTRY to the TPRFM!
MEET & GREET W/ MARK & MARK FROM WEIRD NJ
Our friends Mark Sceurman and Mark Moran, publishers of the Jersey-centric magazine, Weird NJ will be in attendance with a slew of great Weird NJ merch and will also be available for book signings, photo ops and more! Let's get weird!
TPRFM LIVE MUSIC STAGES
The TPRFM proudly features live, local music on two stages including one in our Food Truck Food Court and another inside our Beer Garden… both of which are slam packed with killer tunes from some of the region's finest up and coming musicians! Stay tuned for set times and band announcements!
THE TPRFM BLACK SWAG BAGS
The first 250 punk in line EACH DAY receive a FREE, coveted TPRFM Black Swag Bag that's jam packed with vendor-donated items such as stickers & buttons, enamel pins, CD's, music download codes, original art & handmade items, valuable vendor coupons that can be used at the TPRFM and more!
All bag holders receive 10% off the TPRFM Merch Booth. Items vary per bag. Different bags each day!
FREE PARKING is located at 645 S. Broad St, just a stones throw from the TPRFM. Uber/Lyft riders should direct their drivers to 675 S. Clinton Ave, Trenton, NJ. We're literally just a 4-5 block walk from the Trenton Train Station and are very easily accessible from NJ Turnpike, Route 1, Route 295, and Route 129. We're also a hop, skip and a jump from the Riverline stop for those traveling from Philly or South Jersey.  For exact directions from your location, please use this link: http://bit.ly/GJ4LJg
DO NOT park in the Roebling Market parking lot (lot next to TPRFM). You will be towed if you park there… and no, we're not responsible if you get towed. We're not kidding.
We hope to see you all there!