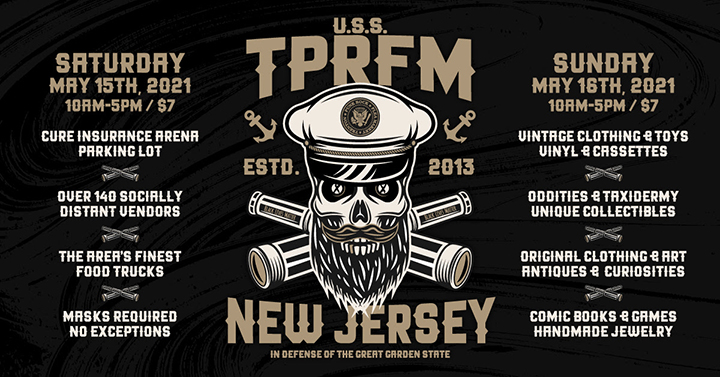 Weird NJ will once again be taking part in the Trenton Punk Rock Flea Market on SATURDAY ONLY, May 15th, and we'll be bringing the brand new issue of the magazine, #56, plus all sorts of Weird NJ merch, like magazines, books, posters, t-shirts, stickers, patches, magnets, and more T-shirts! 
Here's All the Info from the Good Folks at T.P.R.F.M…
WE'RE BACK FOR 2021… AND WE'RE STILL OUTDOORS, MASK REQUIRED AND CHOCK FULL OF BAD ATTITUDE!
Spring is upon us and ain't no Covid gonna keep us down this year! We're excited to share that WE. ARE. BACK. for our next SOCIALLY DISTANT & MASK REQUIRED EVENT on May 15-16, 2021 from 10am-5pm in the parking lot of the CURE Insurance Arena on South Broad Street in Trenton… just two blocks from the Roebling Wire Works!
This event will feature two days of the same high quality vendors you've come to know and love from the TPRFM, the area's finest food trucks and plenty of smiles as we all begin to awaken from our Covid-included slumber. We can't thank all of you for the love and support you've shown us during this crazy time we find ourselves in and we can't wait to high-five all y'all from 6' apart on May 15-16, 2021!
We have temporarily suspended the Black Swag Bag promotion, live music and contests due to Covid-19.
DIFFERENT VENDORS & FOOD TRUCKS EACH DAY!
FULL FOOD TRUCK LIST COMING SOON!
COVID-RELATED SAFETY MEASURES BEING TAKEN BY THE TPRFM:
• Masks required for all vendors, staff and patrons!
• 10'x18′ outdoor, vendor booths for more room for vendors to remain socially distant w/ booths being 10′ apart from each other
• Hand sanitizing stations throughout the event
• High touch areas disinfected regularly
• Demarcation lines in all areas where a line may form to help you remain socially distant
• Sneeze guards have been installed at all of our staffed areas
• Our merchandise booth is now fully contactless for ease of purchase
• Less vendors and less food trucks to maintain a better, safer experience for everyone
• Following all State mandates with regards to gathering limits and restrictions
We are a family-friendly, cultural celebration that occurs multiple times a year in Trenton. All are welcome and encouraged to attend. We celebrate inclusiveness, individuality, the arts, music, family, friendships, small businesses, DIY culture and most importantly… community. Please check your prejudices and hatred at the door. It's not welcome here.
FREE PARKING is located at in the Cure Insurance Arena parking lot located on Hamilton Ave directly across the street from Cure Insurance Arena, just a stones throw from the TPRFM. Uber/Lyft riders should direct their drivers to 81 Hamilton Ave, Trenton, NJ.
– $7 at the Door (good for both days)! MASKS ARE REQUIRED!
– Punx 10 & under are always free!
– Free parking at in Cure Arena parking lot!
– Rain or Shine. Market is OUTDOORS.