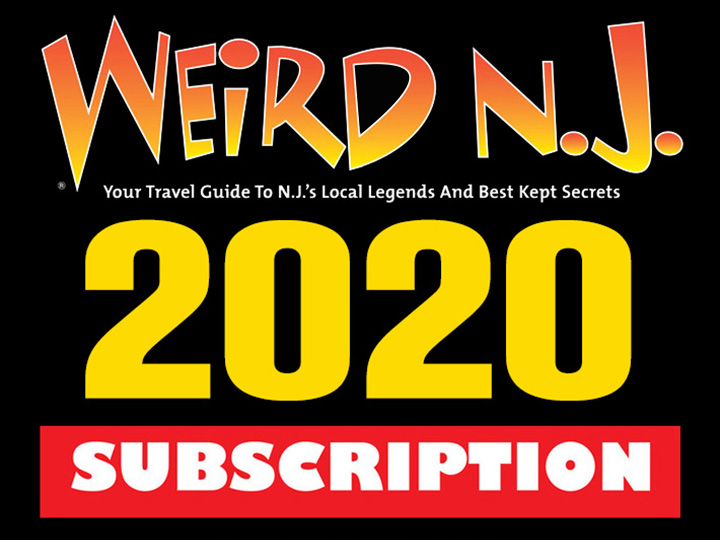 Subscribe to your favorite magazine for 2020!
That's right, Weird NJ issues #54 and #55 can be delivered right to your door in May and October of 2020. (Current and recent issues can be purchased HERE.)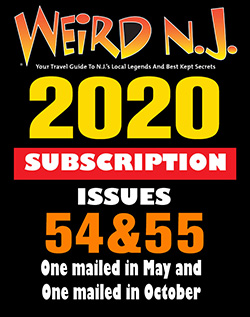 IMPORTANT MESSAGE FROM WEIRD NJ CONCERNING CORONAVIRUS
Well friends, we are all living through some weird days, indeed. The coronavirus has impacted the daily lives of almost all of us, and has made many of those things we have come to count on an uncertainty. It has also taken a toll on just about every business, and Weird NJ is no exception. Many of the stores that distribute our magazine are currently closed and we have no idea when they might reopen. With the spring issue just around the corner this presented us with some tough choices to make concerning the printing of issue #54. The bottom line is that if we don't have open shops to sell the magazine then there is simply no point in printing the same number issues that we would normally publish. Given the current uncertainty of our distribution outlets, we have decided cut back the print run to a limited amount of magazines this time around. This means that the only way to guarantee you get your copy is to SUBSCRIBE NOW.
We'd like to assure all of you who have already placed a subscription order that you will receive your issue in the mail as soon as it's ready. WORD TO THE WEIRD: THIS ISSUE WILL SELL OUT – and once it's gone, it's gone forever (which is a real shame, as it is possibly the best issue we have ever produced). But if you order yours today we can guarantee that you will get your copy delivered right to your door. That's right, no need to risk going out to that mall where you might usually pick it up –– it's most likely closed anyway.
Hopefully life in New Jersey and elsewhere will return to normal soon, but until then please, stay safe and healthy. Stay indoors and spend some quality quarantine time with some good reading material – Weird NJ #54. Take good care of yourselves friends, we will get through this together – JERSEY STRONG!
IF YOU ARE PURCHASING A SUBSCRIPTION FOR SOMEONE ELSE: Please make sure the "Billing," and "Ship To" boxes are filled out correctly. We do not send notices or gift cards. It's up to you to alert your weird friend or relative of your generous gift of weirdness.
Issues will be mailed around MAY and then again in OCTOBER of 2020. This order does not include any issues that are currently available. Current and recent issues can be purchased HERE.
Now you can have all of your favorite Weird NJ icons on all kinds of cool new Weird Wear, like Tee Shirts, Girls Tees, Sweatshirts, Long Sleeve Tees, Hoodies, Unisex Tanks, Kids Tees, Tie Dyes or Onesies! All are available in all sizes and a variety of colors. Show the world your Jersey pride in some of these Jersey-centric goodies. Represent! (Theme song by Ricky Bustamante)