Weird Ghosts: True Tales of the Eeriest Legends and Hair-Raising Hauntings Across America
Back from the dead! 13 years ago we released a book entitled Weird Hauntings that sold out very quickly. Since then the tome has been out of print. But now all the original stories from Weird Hauntings have been resurrected in our brand new hardcover book Weird Ghosts: True Tales of the Eeriest Legends and Hair-Raising Hauntings Across America. Now in a modern square format, featuring more photographs and illustrations and a fresh new design.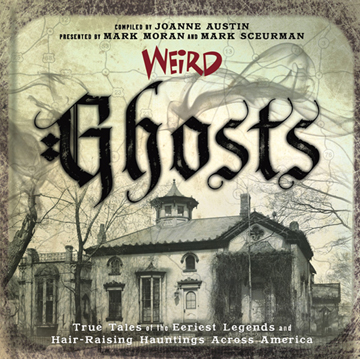 Prepare to be scared! Compiled by Joanne Austin, Mark Moran and Mark Sceurman, this fully illustrated, award-winning collection of ghost stories will send shivers down your spine. If you're fascinated by haunted houses, ghostly graveyards, historic haunts, institutional apparitions, or spirited saloons, this spooky and spine-tingling collection of supernatural stories from across the US will tantalize your paranormal palate. Some of these hot spots are open to the public (and we include their address and website information), while others are private residences with no visitors allowed. In this bone-chilling volume, witnesses tell terrifyingly true tales of cursed roads, ghoulish schools, eerie eateries, and more—so expect to be frightened out of your wits!
Order yours for just $19.99 though our Web Site or Amazon Store and we'll have Mark and Mark autograph the book for you.
A Paranormal Package Deal!
If this special limited time package offer if you order the new Weird Ghosts hardcover book we'll include our Home State Hauntings magazine, featuring true stories of ghostly places in New Jersey. We'll even throw in a Weird NJ bumper sticker if you want to play some tricks on Mischief Night, Goosey Night, Cabbage night, or whatever you call it in your town. This is a Limited Time Offer, so get haunted NOW! You can order you this spectral Paranormal Package Deal exclusively through our Web Site or Amazon Store for just $24.95.