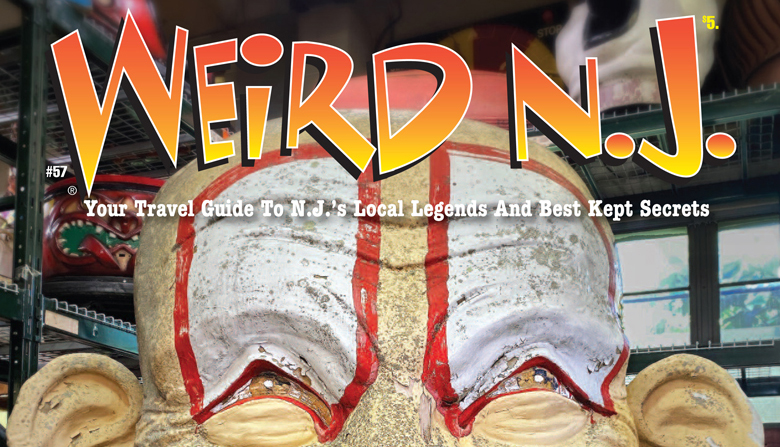 Trying to find a place to pick up the latest issue of Weird NJ magazine in your town or a town near you?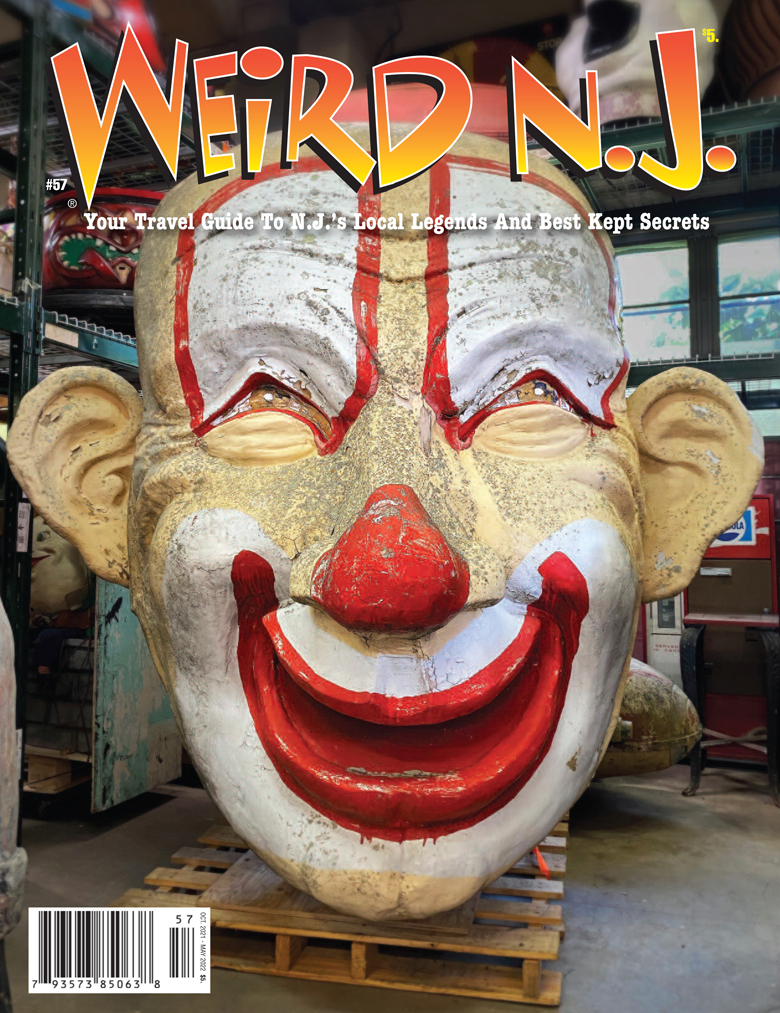 The list below is an index of stores that carry Weird NJ, listed by the name of the town they are located in.
If you'd like to know if your favorite outlet has the magazine, we suggest calling them to ask if they've been stocked.
If your store doesn't carry Weird NJ and would like to they can contact us to start an account by emailing Editor@WeirdNJ.com.
Also available through our Amazon Store.
| | |
| --- | --- |
| Adelphia | Cumberland Farms |
| Allamuchy | Seven Eleven |
| Allentown | Pete's Deli & Grocery |
| Andover | Byram General Store |
| Andover | Cranberry Market |
| Asbury Park | Paranormal Books |
| Asbury Park | Groovy Graveyard, 658 Cookman Ave. |
| Asbury Park | Welsh Farms |
| Atlantic Highlands | Mike's Dairy & Deli |
| Avenel | Krauszers |
| Avenel | Sunny Mart Food Store & Deli |
| Barnegat | Country Farms |
| Barnegat | Barnegat Food Market |
| Barnegat | Country Farm |
| Barnegat | Andy's |
| Barnegat | Quick Food Mart |
| Barnegat Light | White's Market |
| Bayonne | Goldys |
| Bayonne | News Thing |
| Bayonne | Seven Eleven |
| Bayonne | Corner Store |
| Bayonne | Newmans |
| Bayonne | GS News |
| Bayonne | Sound City |
| Bayonne | Pyramid |
| Bayonne | Nathans |
| Bayville | Bayville Coastal |
| Bayville | Bayville News |
| Bayville | Country Food Market |
| Beach Haven | 7-Eleven |
| Belford | First Stop |
| Belford | Jersey Pride |
| Belle Mead | Krauszers |
| Belleville | Teamo |
| Belleville | Krauszers |
| Belleville | Garden State News |
| Belleville | Bruce Shoppers Gxp |
| Belmar | Sunrise Food Market |
| Belmar | Paper Back Exchange |
| Bergenfield | Shoppers Express |
| Bergenfield | Deli Mart |
| Berkeley Heights | Krauszers |
| Berlin | Ed's Magazine Stand |
| Bernards Twp. | 7–11 |
| Bernardsville | The Bookworm |
| Bernardsville | Bernardsville Food Store |
| Beverly | Sunny Food Market |
| Blairstown | Blairstown Museum |
| Blairstown | Voodoo Farm, 3 Timothy Lane |
| Bloomfield | Bob's Sweet Shop |
| Bloomfield | Krauszers 300 Broad St. |
| Bloomfield | Krauszers 1263  Broad St. |
| Bloomfield | Sub Mart |
| Bloomfield | Quick Mart |
| Bloomingdale | Kwik Shop Deli |
| Bloomingdale | Walker's Deli |
| Bogota | Welsh Farms |
| Boonton | Country Farm |
| Boonton | Darress Theatre |
| Boonton | William's Stationary |
| Boonton | Sam's Deli |
| Boonton | Bobby's News |
| Bordentown | Randy Now's Man Cave |
| Bordentown | The Record Collector |
| Bound Brook | Krauszers |
| Bradley Beach | Quik Stop |
| Bradley Beach | Bradley Beach Pharmacy |
| Brick | Newsstand |
| Brick | Quick Mart |
| Brick | Quick Stop |
| Brick | Welsh Farms 88 |
| Brick | Country Farms |
| Brick | Bricktown Convenience Store |
| Brick | Lucky Convenience Store |
| Brick | In & Go Food Store |
| Brick | Krauszers |
| Brick | Minit Mart |
| Brick | Black Sheep Thrift Shop |
| Brick | Barnes & Noble (732) 255-6600 |
| Bridgewater | Stop & Go |
| Bridgewater | Speedy Mart |
| Bridgewater | Barnes & Noble (908) 526-7425 |
| Brielle | Quick Pick |
| Brielle | Pat's Deli |
| Budd Lake | Seven Eleven |
| Budd Lake | Minute Mart |
| Budd Lake | Qwik Mart |
| Butler | Soul Journey |
| Butler | Butler News |
| Caldwell | News Plus |
| Caldwell | Shoppers Exp |
| Cape May | Cape Atlantic Book Co. |
| Carteret | Quick & Easy |
| Cedar Grove | The Deli Place |
| Cedar Grove | Time Warp Comics |
| Cedar Grove | Krausers |
| Cherry Hill | Barnes & Noble (856) 486-1492 |
| Chester | Krauszers |
| Clark | Barnes & Noble (732) 574-1818 |
| Clark | O Johnnie's |
| Clark | Clark Lunch Box |
| Clarksburg | S&S Deli |
| Cliffisde Park | Garden State News |
| Cliffside Pk. | Things From England |
| Cliffwood Beach | Krauszers |
| Clifton | Village Stationary |
| Clifton | Athenia Food Mart |
| Clifton | Vassells |
| Clifton | Greeting P2 |
| Clifton | Cp's |
| Clifton | Seven Eleven Clifton Ave. |
| Clifton | Krauszers 7st street |
| Clifton | Marina's Convenience Store |
| Clifton | Dave's |
| Clifton | Barnes & Noble (973) 779-5500 |
| Clinton | Krauszers |
| Closter | Garden St. Dairy |
| Colonia | Welsh Farms |
| Colonia | Pantry One Food Mart |
| Colonia | E Z Chek Food Store |
| Columbus | Farmer's Market |
| Cream Ridge | Home Town Food Market |
| Cranford | Krauszers |
| Cresskill | Welsh Farms |
| Denville | Jay Cees |
| Denville | Krauszers |
| Denville | United Card & Smoke Shop |
| Deptford | Barnes & Noble (856) 232-3123 |
| Dover | Krauszers |
| Dumont | Rushmore |
| Dunellen | Kwick Mart |
| East Brunswick | Barnes & Noble (732) 432-0100 |
| East Hanover | Mini Mart |
| Rutherford | Seven Eleven |
| East Rutherford | Leprachan |
| East Rutherford | Pantry |
| Easton PA | Barnes & Noble (610) 515-0376 |
| Eatontown | Jersey Shore Deli |
| Eatontown | Welsh Farms 107 |
| Eatontown | Barnes & Noble (732) 460-9474 |
| Edison | Quick Buy |
| Edison | Quick Stop |
| Edison | BNR Inc |
| Edison | Bonhamtown Deli |
| Edison | Ez Quick Food Mart |
| Edison (Menlo Park Mall) | Barnes & Noble (732) 548-4179 |
| Elmwood Park | Music Connection |
| Elmwood Park | Krauszers |
| Emerson | Emerson Stationary |
| Englishtown | Englishtown Liquors |
| Englishtown | Krauszers |
| Fair Haven | Krauszers |
| Fairfield | Hippie Shop |
| Fairfield | LA Cocina |
| Fairfield | Mori Deli |
| Fairlawn | Quick Stop |
| Fairlawn | Marlot News |
| Fairlawn | Kens Magic |
| Fairlawn | National News |
| Fairlawn | Seven Eleven |
| Fairlawn | Krauszers |
| Fairlawn | Jokers Child |
| Fairless Hills, PA | Barnes & Noble (215) 269-0442 |
| Fanwood | ShoppersXpress |
| Farmingdale | Country Farm |
| Farmingdale | Welsh Farms |
| Farmingdale | B-Reel Video @ Collingswood Flea Market |
| Fischer Blvd | Home Town Food Market |
| Flanders | Seven Eleven |
| Flanders | Country Farm |
| Flemington | Act 2 Books 20 Turntable Junction |
| Florham Park | Speedy Mart |
| Fords | Pit Stop |
| Fords | Country Farms |
| Forked River | Hometown Market |
| Fort Lee | Garden State News |
| Franklin | Corner Deli |
| Franklin | Webbs News |
| Franklin | The Vapor Room 33 Munsonhurst Rd. |
| Freehold | Krauszers |
| Freehold | Esquire Smoke Shop |
| Freehold | Penny Pantry |
| Freehold | Barnes & Noble (732) 409-2929 |
| Garfield | Krauszers |
| Garfield | Quik Stop |
| Glassboro (Rowan Univ.) | Barnes & Noble (856) 881-5960 |
| Glen Rock | Bergen News |
| Glen Rock | Rock Swet Shop |
| Green Brook | 7–11 245 Rt. 22 E |
| Green Brook | 7–11 15 Rt. 22 E |
| Hackensack | Seven Eleven |
| Hackensack | Barnes & Noble (201) 488-8037 |
| Hackettstown | Express Food Mart |
| Hackettstown | Family Food Market |
| Hackettstown | Speedy Mart |
| Hackettstown | Sunrise Deli |
| Hamburg | Marketplace Deli |
| Hamburg | Bob's Collectables |
| Hamilton | Barnes & Noble  (609) 581-2523 |
| Hardwick | Voodoo Farm, 3 Timothy Lane |
| Harrison | Polski |
| Hasbrouck Heights | Mini Mart |
| Haskell | Quick Stop |
| Haskell | 7–11 |
| Haskell | King's Deli Mart |
| Haskell | Lucky 7 |
| Haworth | Minit Mart |
| Hawthorne | Dec's |
| Hawthorne | Simply Elegent |
| Hawthorne | Tonys Stationary |
| Hawthorne | Well Read 425 Lafayette Ave. |
| Hazlet | Airport Blimpie |
| Hazlet | Quick Food |
| Hazlet | Airport Blimpie |
| Hazlet | Raritan Food |
| Highland Park | Krauszers |
| Highland Park | BBBig Food |
| Highland Park | Nanni's |
| Highlands | Katz Luncheonette |
| Highlands | Welsch Farms |
| Hillsborough | Krauszers |
| Hillsdale | Seven Eleven |
| Ho Ho Kus | Krauszers |
| Hoboken | Dipar |
| Hoboken | Hoboken News |
| Hoboken | Tunes |
| Holmdel | Village Pharmacy |
| Holmdel | Barnes & Noble (732) 275-0620 |
| Hopatcong | E.T. Deli |
| Hopatcong | Lake Vu Deli |
| Howell | K Foods |
| Howell | Country Farms |
| Howell | Jenna Jay Convenience Rt 9 |
| Howell | Lucky Convenience Store |
| Howell | Pantry One |
| Howell | Barnes & Noble (732) 730-2838 |
| Howell | The Record Store |
| Ironia | Honeyland Farms |
| Iselin | Country Farm |
| Jackson | Minit Stop |
| Jackson | Country Farm |
| Jackson | Lucky 7 |
| Jackson | Chill & Fill |
| Jackson | Qwick Stop |
| Jackson | 19 Express |
| Jackson | Krauszers |
| Jersey City | Mini Mart |
| Jersey City | Supersounds |
| Jersey City | Garden State News |
| Keansburg | Bevaqua |
| Kearny | Krauszers |
| Kearny | Quick Mart |
| Kendall Park | Stop & Go |
| Kenilworth | Go Fast |
| Kenilworth | Grab n Go |
| Kenilworth | Krauszers |
| Kenilworth | Quick Mart |
| Kenvil | Krausters |
| Keyport | Choice Food |
| Keyport | Country Farms |
| Lake Como | 7–11 |
| Lake Como | Welsh Farms |
| Lake Hiawatha | Gene's 3 |
| Lake Hiawatha | Krauszers |
| Lakehurst | Lucky 7 |
| Lakewood | Hometown Market |
| Lakewood | Stop & Go |
| Lakewood | Lucky 2 Convenience |
| Lakewood | Singin |
| Lakewood | Welsh Farms |
| Landing | Seven Eleven |
| Landing | Landing Market |
| Lanoka Harbor | Noble's Smoke Shop |
| Laurence Harbor | Krauszers |
| Lavalette | Quick Stop |
| Lawrenceville | Comic Relief |
| Ledgewood | In/Out Deli |
| Ledgewood | Barnes & Noble (973) 252-9300 |
| Leonardo | Qwick Stop |
| Liberty Corner | Krauszers |
| Lincoln Park | Corner Store |
| Lincroft | Jersey Pride |
| Lincroft | Brookdale Community College |
| Linden | 7 Star News |
| Linden | Metro |
| Linden | Smoke Shop |
| Linden | City Hall Deli |
| Little Falls | D & Y Convienence |
| Little Falls | Krauszers |
| Little Falls | Valley Spa |
| Little Ferry | Seven Eleven |
| Little Silver | Pharmacy |
| Lincroft | Jersey Pride |
| Livingston | Seven Eleven |
| Livingston | Livingston Mart |
| Livingston | Quick Mart |
| Livingston | Barnes & Noble (973) 758-1310 |
| Lodi | Cardy's Sugar Bowl |
| Lodi | Seven Eleven |
| Lodi | 7 Circle |
| Long Branch | M & S Grocery |
| Long Branch | West End Pharmacy |
| Long Branch | M & S Grocery |
| Lyndhurst | Sweetest Sounds |
| Lyndhurst | Corner Store |
| Lyndhurst | A&S Convenience |
| Lyndhurst | Seven Eleven |
| Madison | Garden State News |
| Madison | Whole Deli |
| Madison | Dewey's Comic City |
| Mahwah | Seven Eleven |
| Manahawkin | McKinley Convenience LLC |
| Manahawkin | Bay Avenue Farms |
| Manahawkin | News Stand |
| Manahawkin | Bay Ave. Food |
| Manalapan | All American |
| Manalapan | Soda King Convenience |
| Manalapan | Battleground |
| Manalapan | All American |
| Manasquan | Lofidelic Records |
| Manasquan | Welsh Farms |
| Manchester | The Newsstand |
| Manville | Stop & Go |
| Maplewood | TARA |
| Marlton | Barnes & Noble (856) 596-7058 |
| Matawan | Krauszers |
| Matawan | Kwik Shop |
| Matawan | The Geekery |
| Matawan | Kwik Stop |
| Mays Landing | Country Farms |
| Mays Landing | Books A Million |
| Maywood | Krauszers |
| Maywood | Moon Doggie Coffee 108 W. Pleasant Ave. |
| Maywood | Coronet Varieties |
| Medford | Medford News |
| Menlo Park Mall (Edison) | Barnes & Noble (732) 548-4179 |
| Metuchen | Daily Delight |
| Metuchen | Corner Deli |
| Metuchen | Krauszers |
| Metuchen | Welsh Farms |
| Metuchen | Metuchen News |
| Metuchen | Metuchen Food Market |
| Millburn | Unmasked Collectibles |
| Milltown | Anny's Food Mart 219 Riva Ave. |
| Milltown |   |
| Milltown | Food Mart |
| Milltown | Convenience |
| Millville | Bogarts Ink |
| Mine Hill | L & L Store & Deli |
| Monmouth | Andy Kay's |
| Montclair | News Plus |
| Montclair | Krauszers 150 Valley Road |
| Montclair | Grove Convenience |
| Montclair | Plaza Convenience Plus |
| Montclair | Montclair Books |
| Montvale | Seven Eleven |
| Moonachie | Quick Mart |
| Moorestown | Barnes & Noble (856) 608-1622 |
| Morris Plains | Seven Eleven |
| Morris Plains | Gene's 2 |
| Morris Plains | Quick Stop |
| Morris Plains | Barnes & Noble (973) 644-9482 |
| Morristown | Another 24 |
| Morristown | Gold's |
| Mount Holly | Jersey Made |
| Mt. Laurel | Mansonville News |
| N. Plainfield | JC Comics |
| Nanuet | G & G |
| Neptune | Krauszers |
| Neptune | Plaza Convenience Plus |
| Neptune | Little Brown Jug |
| Neptune | Hometown Market |
| New Brunswick | Cook College |
| New Brunswick | Butler Food |
| New Brunswick | Lazy Shopper |
| New Brunswick | Cook College |
| New Egypt | Marketplace-Scott's Market |
| New Hope, PA | Farleys Book Shop |
| New Milford | Seven Eleven |
| New Milford | Jets Stationary |
| Newark | Quick Mart |
| Newark | Jimax |
| Newton | Café Senendipity |
| Newton | Black Dog Books |
| Newton | Krauszers |
| Newton | G&S Deli |
| North Arlington | Paradox Comics |
| North Arlington | Schuyler Foods |
| North Brunswick | Krauszers – Rt.130 & Wood Ave. |
| North Haldon | Krauszers |
| Nutley | Quick Buy |
| Nutley | Nutley Newstand |
| Nutley | Nutley News |
| Nutley | Comic Explosion |
| Nutley | Agostino's |
| Oakhurst | Adler Pharmacy |
| Oakhurst | Krauszers |
| Oakhurst | American |
| Ocean Township | BG Barber Shop |
| Ocean Township | Krauszers |
| Ocean Township | American Way Deli |
| Ogdensburg | Sam's Convienence Store |
| Ogdensburg | O-Burg Mini Mart |
| Old Bridge | Blimpie |
| Old Bridge | Krauszers |
| Old Bridge | Double D |
| Old Bridge | Jersey Pride |
| Old Bridge | K-Rte. 527 |
| Old Bridge | Pik-it Deli |
| Old Bridge | Choice Food Store |
| Old Bridge | Crystal Express Deli |
| Old Bridge | Blimpie |
| Old Bridge | K- Rte. 527 |
| Orange | Forzannis |
| Ortley Beach | Summerwind |
| Palmyra | Fresh Farm Market |
| Palmyra | Rogers News |
| Paramus | Barnes & Noble (201) 445-4589 |
| Paramus | Books A Million |
| Paramus | Whole Foods |
| Park Ridge | Krauszers |
| Parlin | Krauszers |
| Parsippany | Baldwin News |
| Parsippany | Cycle Craft |
| Parsippany | General Store |
| Parsippany | Krauszers- Halsey |
| Parsippany | Krauszers-Parsip Rd |
| Parsippany | News Plus |
| Parsippany | Quick Stop |
| Parsippany | Village Deli |
| Passaic | Marinos |
| Passaic | Pur International – 52 Main Ave. |
| Perth Amboy | Krauszers |
| Pine Brook | Seven Eleven |
| Piscataway | Krauszers |
| Point Pleasant | Stop 'n Go |
| Point Pleasant | Welsh Farms |
| Point Pleasant | Nobles Smoke Shop |
| Point Pleasant | Country Farm |
| Point Pleasant Beach | Borden's Stationary – 601 Arnold Ave. |
| Pompton Lakes | Food Mart & Deli |
| Pompton Lakes | Flipside |
| Pompton Lakes | Krauszers |
| Pompton Plains | Krauszers |
| Port Reading | Sunny Mart Food Store & Deli |
| Port Reading | Krauszers |
| Princeton | Palmer Square News Kiosk |
| Princeton | Barnes & Noble (609) 897-9250 |
| Rahway | Garden State News |
| Rahway | News & Food |
| Rahway | Krauszers |
| Rahway | Jay's Convenience Store |
| Ramsey | The Store |
| Randolph | Randolph News |
| Randolph | Country Farm |
| Randolph | Krauszers |
| Red Bank | Welsh Farms |
| Red Bank | Mike's Dairy & Deli |
| Red Bank | Chris's Deli |
| Red Bank | Jay and Silent Bob's Secret Stash |
| Red Bank | Mike's Deil |
| Red Bank | Welsh Farms |
| Ridgewood | Book Finds |
| Ridgewood | Whole foods |
| Ridgewood | Book Ends |
| Ringwood | Lucky 7 |
| River Edge | Run Cards & Gifts |
| Riverdale | Riverdale Deli |
| Rochelle Park | Seven Eleven |
| Rochelle Park | Super K |
| Rockaway | Seven Eleven |
| Rockaway | Ritchie's Music |
| Rockaway | Books A Million |
| Rockaway | Ray & Judys Book Stop |
| Roseland | Variety Shelf |
| Roselle | One Stop |
| Roselle Park | Park Stationary |
| Roselle Park | Seven Eleven |
| Roselle Park | Super K |
| Roselle Park | One Stop |
| Rowan Univ. (Glassboro) | Barnes & Noble (856) 881-5960 |
| Rutherford | Rutherford Music |
| Rutherford | 7-11  110 Jackson Ave. |
| Rutherford | Manner Sweet Shop |
| Rutherford | Addison Shop |
| S. Amboy (Bordentown Rd.) | Krauszers |
| S. Amboy (Broadway) | Krauszers |
| S. Plainfield | Pauls Stationary |
| S. River | Newsworthy (Type o) |
| Sayreville | Krauszers |
| Sayreville | EZ Chek Food Store |
| Sayreville | Stop 'n Go |
| Scotch Plains | Wallis |
| Scotch Plains | Quick Stop |
| Scotch Plains | Comics |
| Sea Bright | Andy Kay's |
| Sea Isle City | Darymples |
| Sea Girt | Country Farms |
| Seaside Park | Park Market |
| Seaside Park | White Oak |
| Seaside Park | Ebby's Deli |
| Secaucus | AAA |
| Secaucus | Krauszers |
| Secaucus | Teamo |
| Secaucus | Optimo |
| Smithville | Underground |
| Somerset | Speedy Mart |
| Somerset | Krauszers |
| Somerville | DownTown |
| Somerville | Luck Spot |
| Somerville | McAlvey News (Somerville News) |
| South Amboy | Reddy's Convenience Store |
| South Amboy | One Stop Shop Deli & Groceries |
| South Belmar | HA-HA Mart |
| South Orange | Garden State News |
| South River | Krauszers |
| South River | Crestwood Liquors |
| South River | Mr. Palmer |
| Sparta | Sparta Books |
| Spotswood | Minit Mart |
| Spring Lake | Exxon |
| Springfield | Welsh Farms |
| Springfield | Krauszers |
| Springfield | Seven Eleven |
| Springfield | Barnes & Noble (973) 376-8544 |
| Stanhope | Speedy Mart |
| Stirling | Speedy Mart |
| Stockholm | US Bagel & Deli |
| Succasuna | Citgo Qwick Mart |
| Suffern | M & M |
| Summit | Seven Eleven |
| Summit | Scottis Records |
| Sussex | Catch 23 Deli |
| Sussex | Daredevil Deli |
| Sussex | Ratti's News |
| Sussex | Quick Stop Deli |
| Teaneck | Rocklins |
| Tenafly | Womwraths Book Shop |
| Toms River | Krauszers |
| Toms River | Home Food Market |
| Toms River | Market & Deli |
| Toms River | Country Farms |
| Toms River | News Plus |
| Toms River | Quick Stop |
| Totowa | Union Food |
| Union | Blimpie |
| Union | Price Rite |
| Union | Kean University |
| Union | Clockwork Comics & Cards |
| Union | Magie Mart |
| Union | Union Store |
| Union | Price Rite |
| Union | Amazine Heroes |
| Union Beach | Lucky 7 |
| Union Beach | Mike's Deli |
| Vauxhall | Mr. Mikes |
| Verona | Krauszers |
| Verona | Henry's |
| Vineland | Books A Million |
| Voorhees | Tunes |
| Voorhees | Voorhees News |
| Warren | Krauszers |
| W. Long Branch | Monmouth University Books |
| W. Long Branch | Convenience |
| West Nyack, NY | Barnes & Noble (845) 348-4701 |
| Waldwick | Seven Eleven |
| Watchung | Speedy Mart |
| Wayne | Stationary 23 |
| Wayne | Sound Exchange Records |
| Wayne | Supermart |
| Wayne | T Bowl |
| Wayne | Speedy Mart |
| Wayne | Zapp Comics |
| West Belmar | Quick Stop Grocery |
| West Caldwell | seven-11 |
| West Long Branch | Welsh Farms |
| West Long Branch | Monmouth University Books |
| West Long Branch | M&S Convenience Store |
| West Orange | Pleasant Valley |
| West Orange | Whole Foods |
| West Orange | Krauszers |
| Westfeild | Krauszers |
| Westfield | Mini-Mart |
| Westwood | 5 Corners |
| Westwood | Music Merchant |
| Wharton | Central News & Food |
| Whipany | Fat Moose |
| Whiting | Krauszers |
| Wood Ridge | Seven Eleven |
| Woodbridge | Krauszers |
| Woodbridge | News & Treats |
| Woodbridge | Woodbridge News Ink |
| Woodland Park | Barnes & Noble (973) 812-0180 |
| Woodland Park | Town Deli |