Doing Time at Newark Street Jail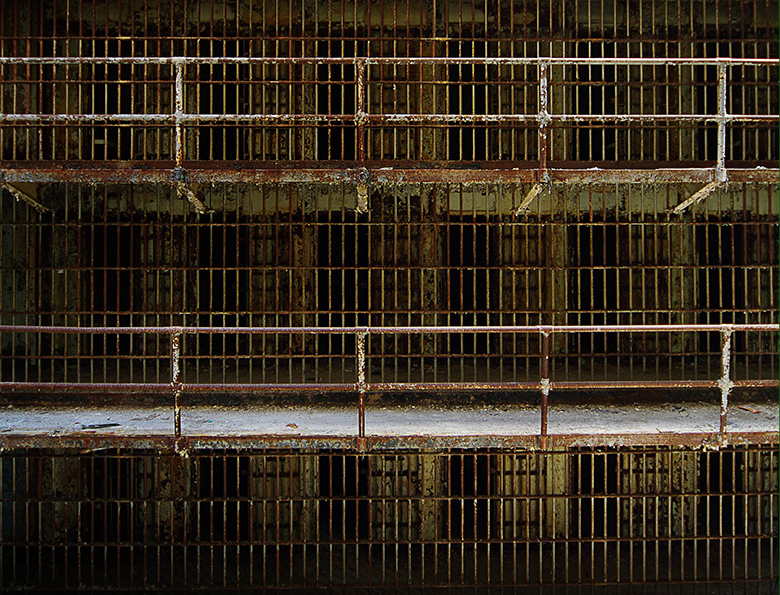 Story and photos by Rusty Tagliareni
From Weird NJ's Special Issue Forsaken: Abandoned In And Around New Jersey
The Newark Street Jail has enjoyed a long history as the city jail of Newark since its construction along the bank of the then newly completed Morris Canal in 1837. It was erected to replace the former city jail, which had burnt to the ground August 15, 1835.  The only remains of the original jail are sealed away beneath what is now Newark's Grace Episcopal Church. The new location separated the jail from the courthouse by several blocks, whereas the old building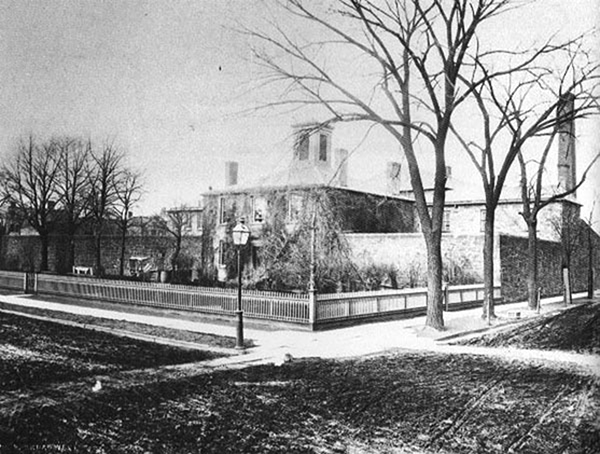 had housed both functions.
Built of brick and local brownstone, the initial structure was little more than a two-story square, attached to a single wing of cells, and did not see further renovation until the 1890s when several additions were made to the base structure.  1907 saw the largest expansion to the jail, with 112 new cells added and all the older blocks equipped with running water and toilets.  The aging prison continued to see service as a jail until 1970, when it was abandoned in favor of a newer and larger facility.  By this point it had expanded to contain more than 300 cells within its brownstone walls.
For a short time after closing as a jail the complex served to house the Essex County Narcotics Bureau. When they relocated in 1989 the jail was left empty and forgotten.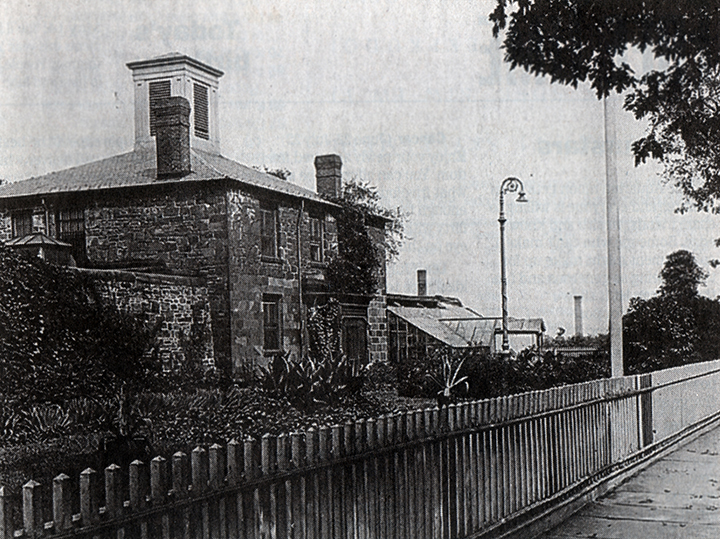 In the subsequent decades of disuse, the jail has seen both tremendous decay and verdant new growth.  I made this trek on my birthday in early July, and I can scarcely think of a better way to spend the day than in the city under the unyielding summer sun.  The long empty building, like many such structures in urban areas, has a reputation as a home for squatters and illicit activity so for safety's sake I was accompanied by several colleagues.
This goes against my general preference – to my mind, the intimacy one finds when they are alone in a place is a necessary component of understanding its essence.  Like some feral and skittish creature, it must be pursued with quiet patience, every unnecessary sound and movement driving it deeper into hiding.  That said, the members of the group were very self-reliant, and their presence did not negatively affect my exploration in the end.  'Photogenic' is the term that first comes to my mind, but upon reflection it seems a flat and unappealing adjective to describe the volumes that this crumbling edifice spoke to me, unprovoked, through my camera's lens.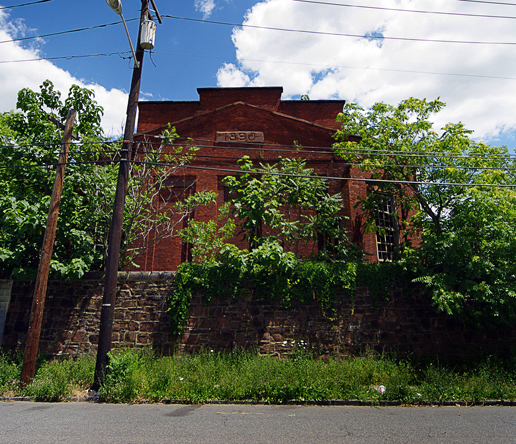 One often takes for granted that cities are sterile places, as if their souls are made of asphalt and brick, and thick concrete blood will spill forth to clot any wound.  In truth though, the urban landscape is just a thin skin over something much more primal, and without constant maintenance, nature is quick to reclaim what has been taken.  The Newark Street Jail could serve as a textbook illustration of this principle at work – aside from a small, foot-worn path, its entire premises are completely overgrown with entangling vines and thick underbrush.
I was happy to stick to the footpath, which led to a side entrance on one of the cellblocks.  The first step through the door is a jolt; The transition from the claustrophobic green overgrowth to the immense colorless interior feels more like stepping out of, rather than in to, a new place.  Indeed, even after my eyes adjusted, it took a few moments for my mind to comprehend where I was.  We had entered beneath a wall of cellblocks four tiers high.  Far above, light spilled through holes in the rot-pocked wooden ceiling.  Where it reached the floor, it shimmered off embossed decorative ceiling panels that had let loose their moorings.  Their brothers that remained above were tenuously suspended, like rust-filigreed guillotine blades over our heads.
A gallery of photos from inside the Newark Street Jail by Rusty Tagliareni. Click on Thumbnails for full size images.
I spent little time on the individual cells, as each is identical in size and shape, with a small bed along one wall, a toilet in the rear, and a sliding, barred door.  Though the doors were seized, one could follow how the doors on all four levels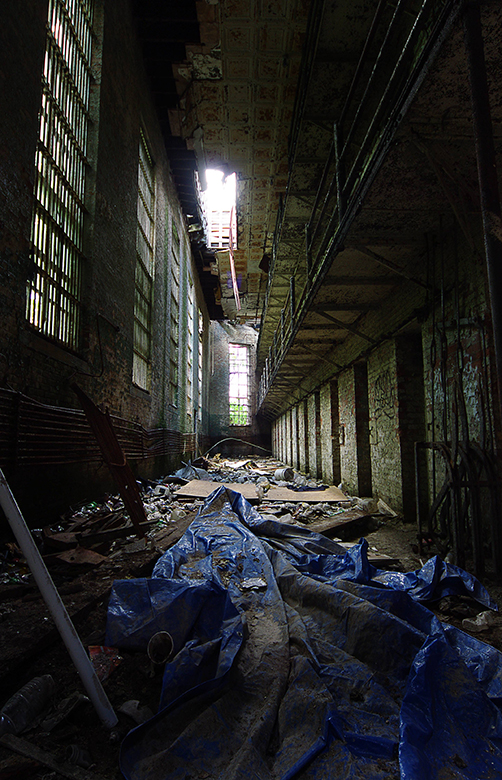 were controlled mechanically, via a series of levers on the ground floor.  A bit of experimenting allowed me to confirm that the floor panels would support my weight, and I wandered to the far wing of cells.
The most visually arresting sights of the jail awaited me in this last area.  To one side was another wall of cells, again four stories high, but the opposite wall was once home to a series of tall, arched windows.  Their outsides were steel framed and barred to prevent any possibility of escape, but the inner faces were constructed of a grid of glass panels in a wooden frame.  Time has taken little toll on the steel or brick, but the wooden frames have fared badly – when the wood no longer had the strength to hold the massive window in the wall, it gave way, but most did not fall far.
Nearly every window had tipped backward in its frame to rest against the highest tier of cells, forming a series of archways from which dangle countless panes of glass.  The floor is littered with the remains of those that have already fallen, and the sunlight piercing the ceiling reveals a subtle beauty here, as it is captured and refracted in every direction by these fixed, dangling, and shattered squares of glass.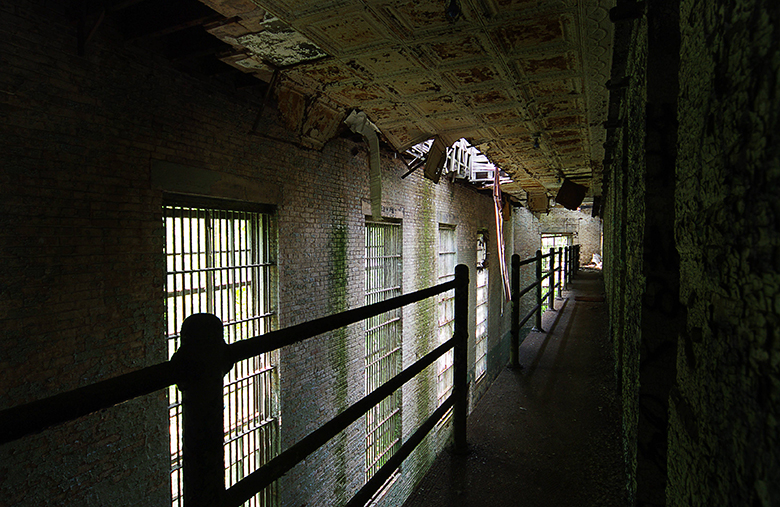 Below: A gallery of photos from inside the Newark Street Jail by @kieran_usa. Click on Thumbnails for full size images.
Above: A gallery of photos from inside the Newark Street Jail by @kieran_usa. Click on Thumbnails for full size images.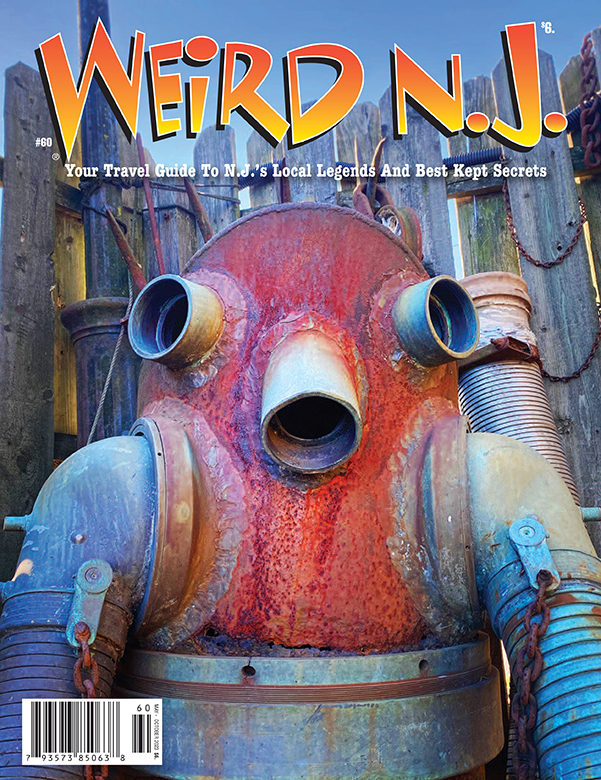 The preceding article is an excerpt from Weird NJ magazine, "Your Travel Guide to New Jersey's Local Legends and Best Kept Secrets," which is available on newsstands throughout the state and on the web at www.WeirdNJ.com.  All contents ©Weird NJ and may not be reproduced by any means without permission.
Visit our SHOP for all of your Weird NJ needs: Magazines, Books, Posters, Shirts, Patches, Stickers, Magnets, Air Fresheners. Show the world your Jersey pride some of our Jersey-centric goodies!

Now you can have all of your favorite Weird NJ icons on all kinds of cool new Weird Wear, Men's Wear, Women's Wear, Kids, Tee Shirts, Sweatshirts, Long Sleeve Tees, Hoodies, Tanks Tops,  Hats, Mugs & Backpacks! All are available in all sizes and a variety of colors. Visit WEIRD NJ MERCH CENTRAL. Represent New Jersey!