Round Valley Reservoir – NJ's Bermuda Triangle

This past Christmas Eve it made news when three individuals had to be rescued from sinking into the waist-deep mud of the partially drained Round Valley Reservoir. Fortunately, they made it out alive. Not all have been so lucky.
The Round Valley Reservoir in Clinton Township, Hunterdon County, was formed in 1960 when the New Jersey Water Authority constructed two large dams and flooded a large valley, which had formerly been occupied by a farming community. The reservoir is named after the naturally formed circular valley surrounded by Cushetunk Mountain. Reaching depths of 180 feet, the 2,350-acre reservoir is renowned for its clear blue waters, and being the southernmost body of water that contains naturally reproducing lake trout. The lake is perhaps best known however, for what lies beneath the surface of its pristine waters.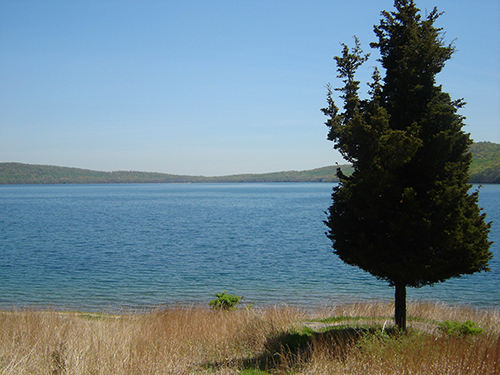 While the state park which include the reservoir can boast a wilderness area for camping, swimming and SCUBA diving facilities, a boat ramp and hiking and biking trails, the reservoir itself has come to be called the Bermuda Triangle of New Jersey, for the over 26 cases of people who have disappeared there since 1971, some with no apparent explanation. While assumed drown, the bodies of six of those lost have never been found.
The longest standing unsolved disappearance dates back to May 4, 1973, when two men, one from North Arlington and the other from Jersey City, were fishing on the lake in a 12-foot aluminum boat, which was later found capsized. Two yellow life jackets, a wooden oar and a broken fishing rod and reel were discovered nearby.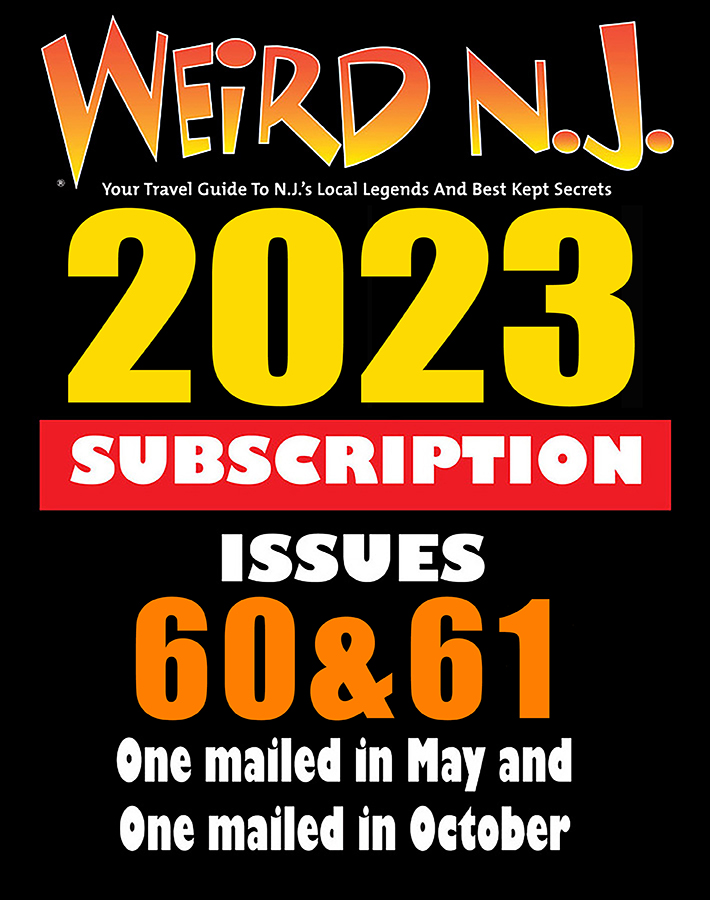 In March of 1977, two Trenton men, Craig Stier, 18, and Andrew Fasanella, 20, were last seen paddling their canoe along the north shoreline of the reservoir. The canoe and their camping gear was found washed ashore four days later.
In March, 1989, two more men, John Kubu, and Albert Lawson, failed to return from a fishing trip on Round Valley. Their 13-foot aluminum boat and various personal items were later found on the shoreline. Lawson's body was recovered several months later that year – Kubu's body has yet to be found.
An Associated Press article by Wayne Parry chronicled an investigation, which took place at Round Valley in 2006, when officials conducted a search for some of the unrecovered bodies that remain in the lake to this day. It read…
"Round Valley Reservoir is a watery place where people disappear, never to be seen again. The description held true Wednesday after a 4 1/2-hour search of the sprawling Round Valley Reservoir failed to turn up any trace of six missing boaters and fishermen,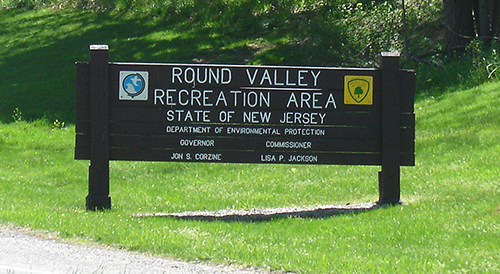 some of whom were last seen in 1973… A team of 30 state police, FBI and Bergen County Sheriff's officers fanned out on foot and in boats across the 180-foot-deep reservoir, looking for skeletal remains, clothing or other signs of the missing victims, all of whom are presumed drowned… On two boats (during the search), specially trained cadaver-sniffing dogs were brought in to sniff for the telltale gases that decaying bodies emit. The next step will be to search sections of the reservoir with a special underwater robotic camera…"
At the end of the search no human remains had been found. The death toll continues to mount. But what is it about this picturesque and seemingly tranquil body of water that makes it so deadly? Weird NJ readers offer some legends of the lake and propose some possible reasons for the unusually high mortality rate at Round Valley Reservoir…
Pulled Down in the Depths of Round Valley Reservoir
I live about two minutes from the Round Valley Reservoir and in my 10+ years living in the area and have encountered so many different accounts of strange happenings it makes me think that something weird is going on. I once heard a story about how upon theopening of RVR in 1968 many people would drive up there and "park" with their sweethearts. Well, within the first week of its opening there were multiple eyewitness accounts of strange lights hovering above the reservoir. Recently, I was telling all these strange happenings to two young boys I know. When I told them about the strange hovering lights they got kinda weird and told me about a recent trip there one night when they spotted a strange green light hovering and bobbing above the water. At first they thought it was a boat light, but scratched that idea when it rose higher and drifted into the trees behind them. They promptly ran until it was out of sight.
RVR is 180 feet deep. The famous Jacques Cousteau supposedly paid a visit to the reservoir with his mini-sub and claimed that it was one of the weirdest places he'd ever seen. There was a small town that existed somewhere at the bottom of the reservoir. Many of the houses and buildings are still reputed to be there. A lot of debris is said to be around, barbed wire, wood, dead trees, etc. Several structures were relocated when the reservoir was being constructed, and are still functioning within the community.
It seems that the missing body count at RVR is quite steady at around 8 bodies. It's said that within the first year of its opening about 8 people drowned and were missing. Rarely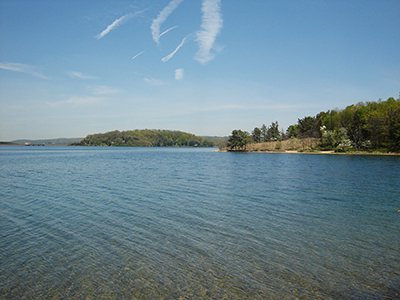 does the count drop any lower than six and if it's that low it doesn't stay that way for more than a few weeks. Several rescue squad members (my sister and mother included) say the story pretty much goes like this: If one body comes up, then another one is going down soon. I can attest to this as one summer (93 or 94) my sister responded to a DOA call at the reservoir. A gentleman in a boat without a motor had his anchor stuck on a larger object. He requested a tow from a powerboat and up popped a missing drowned fisherman fully clothed; his 1990 fishing license was still attached to his vest and get this, his sunglasses were still on. Well, guess what happens next––three days later two canoeists are paddling around together when one decides to cool off and jumps in. He never came up! He jumped in and never resurfaced. He's still missing to this day.
What's going on up there? Aliens in the reservoir? Is something pulling people under? Just people getting stuck in debris? Who knows, but any way you look at it its weird. –Brent Franklin
Death in Drowned Valley
I worked at Round Valley recreation area from 1985 to 1994 in the maintenance crew for the State Park Service. The town consisted of several farms that were established years before the reservoir was developed. Before the filling of the reservoir, the National Guard came in to do tank maneuvers. This probably wiped out a lot of the structures that existed. Since the reservoir is pretty deep, (up to 180 feet), most structures and trees were not disturbed. This is where the weird stuff starts.
Over the years, there have been numerous drownings. Storms come up quick and can catch you by surprise. There are still unrecovered bodies in the water. Once in awhile, one will surface, surprisingly, still clothed, as I have seen. When a person drowns in the reservoir, the body will get caught in the underwater trees, brush and structures not leveled when the reservoir was built. Just before I left to a promotion at another park, a victim's body surfaced after approximately four years. He still had his pants, boots, shirt, ballcap and glasses on!
The water's temperature is cold down deep and this preserves the flesh to a certain extent. This body still had flesh on its thighs. The water is murky the deeper one dives; this hampers all rescue attempts. Round Valley (or Death Valley, as we called it) has its share of suicides also, two of which I'm aware of. One was by hanging and the other by self-inflicted gunshot.  –Bob Parichuk
An audio story told by Mark Moran with sound collage by Clay Pigeon. One of a series of Waking Weird episodes which can be heard broadcast live every Monday at 8:39 am (EST) at WFMU FM and WFMU.org. Hear the program archives at www.wfmu.org/playlists/WA. Hear more audio stories HERE.
Panoramic Photo by Douglas Gorton / irealm.org. Other photos by Deathworm.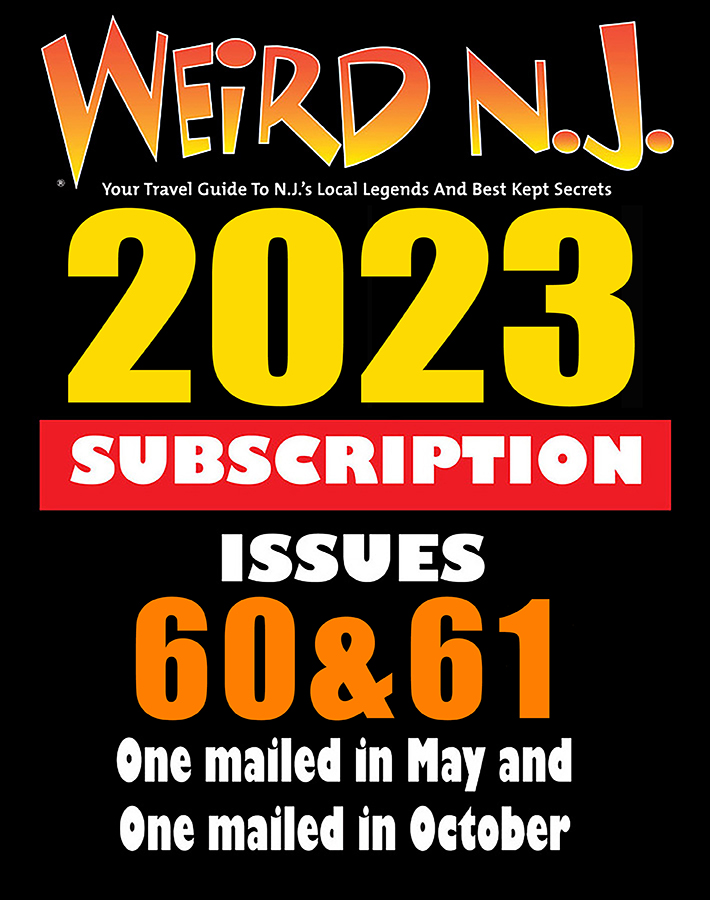 The preceding article is an excerpt from Weird NJ magazine, "Your Travel Guide to New Jersey's Local Legends and Best Kept Secrets," which is available on newsstands throughout the state and on the web at www.WeirdNJ.com.  All contents ©Weird NJ and may not be reproduced by any means without permission.
Visit our SHOP for all of your Weird NJ needs: Magazines, Books, Posters, Shirts, Patches, Stickers, Magnets, Air Fresheners. Show the world your Jersey pride some of our Jersey-centric goodies!

Now you can have all of your favorite Weird NJ icons on all kinds of cool new Weird Wear, Men's Wear, Women's Wear, Kids, Tee Shirts, Sweatshirts, Long Sleeve Tees, Hoodies, Tanks Tops,  Tie Dyes,  Hats, Mugs & Backpacks! All are available in all sizes and a variety of colors. Visit WEIRD NJ MERCH CENTRAL. Represent New Jersey!