Tripod Rock and the Standing Stones of Pyramid Mountain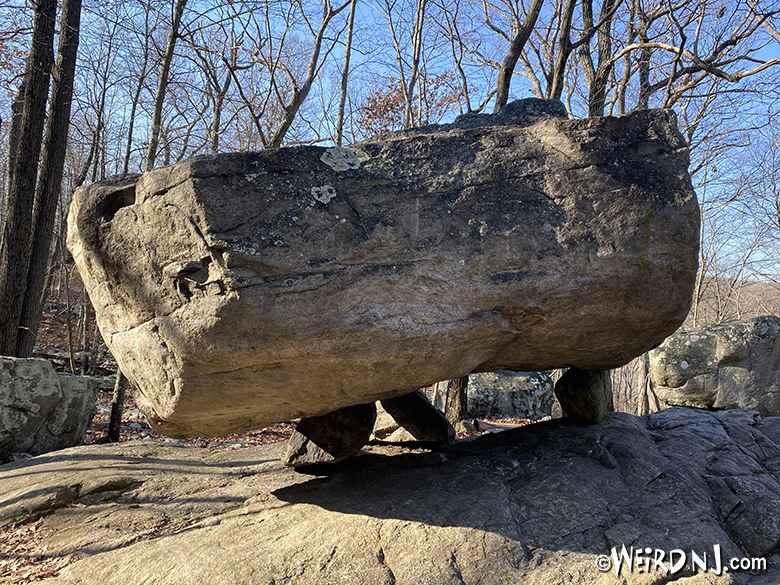 Although the question of how these stone structures were originally formed has been debated countless times, the fact remains they are awesome sites to behold. While some believe them to have been set in place prehistoric inhabitants of the region, others theorize that these formations are nothing more than "glacial erratics."
"They are found only on high ridges of exposed bedrock, never in valleys," explains Mark Boyer of Ogdensburg. "They usually appear in conspicuous clusters with other large boulders, often forming equilateral triangles or three equidistant stones in a straight line, often in a true north/south alignment. Were these ancient trail markers or astronomical indicator stones? No one knows for sure, but certainly they were placed there for a reason."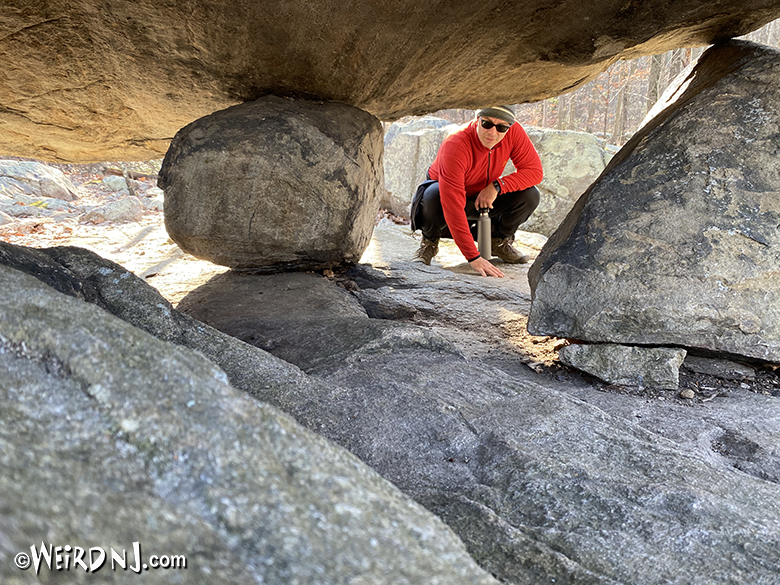 If prehistoric cultures did construct them, they remain a testament to the ingenuity of primitive man. If they were formed by glacial movements 40,000 years ago during an Ice Age, they seem just as wondrous in the fact that they still remain as they have for eons.
These dolmens, or perched rocks, are found all over the world. If not for that fact, we could easily dismiss the theory that ancient man built them. Too many though, show evidence that some ancient civilization did have a hand in their placement. Some are found with drilled holes in them, others line up with the rising and setting of the sun, which is the case of the Kinnelon's Tripod Rock, which has two directional sightings.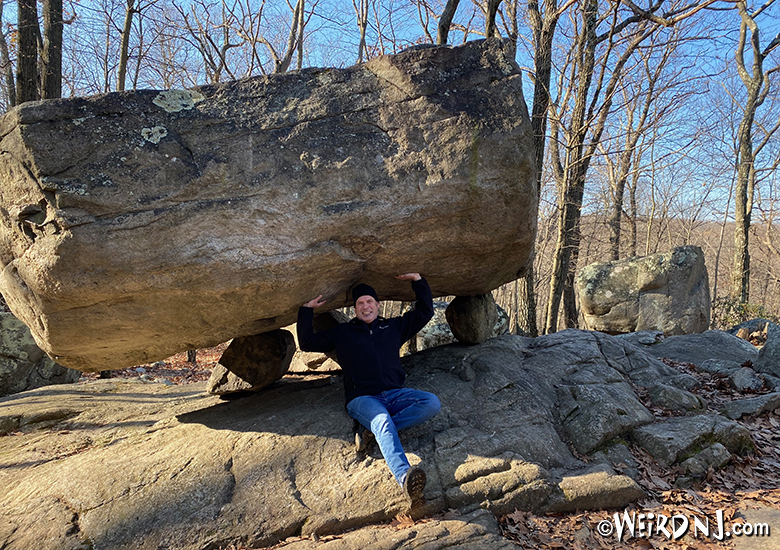 People from the Morris County region call Tripod Rock "The Morris Stonehenge," because they feel the place may possess mystical powers similar to those associated with the Celtic monoliths constructed by the Druids. Located high atop Pyramid Mountain, near the Kinnelon/Montville border, Tripod Rock is a massive boulder which is balanced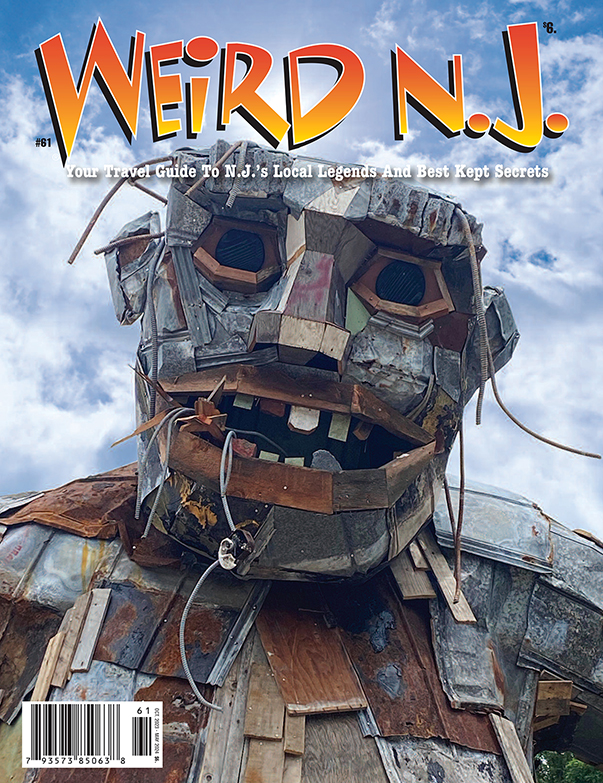 precariously upon three smaller stones. The formation seems to defy gravity, and looks as if it might just topple over and tumble down the mountain at any moment.
When looking in the northern direction, you can see two placed stones 39 feet beyond the dolmen.  These three formations line up with a V shaped formed between two hills three-quarters of a mile away. The alignment of the sun on the summer solstice falls directly between the V.  Looking west you can see a monolith (a standing stone) 45-feet from the dolmen, which lines up with the peak of a hill one-half mile in the distance.
Other remarkable standing stones found along the trails of Pyramid Mountain are Whale Head Rock, a large free-standing perched stone which resemblances the head of breaching leviathan, and Bear Rock, a massive vertically standing stone which leans against another prone rock.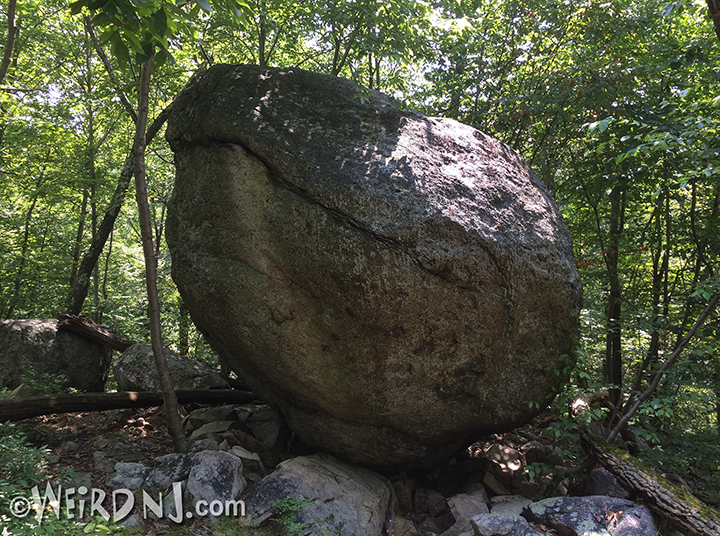 Whale Head Rock
Were these balanced rocks and standing stones really erected by prehistoric cultures as places of worship, or perhaps even worshiped themselves simply by virtue of their awesome stature?  It is a riddle as old as the hills on which they stand.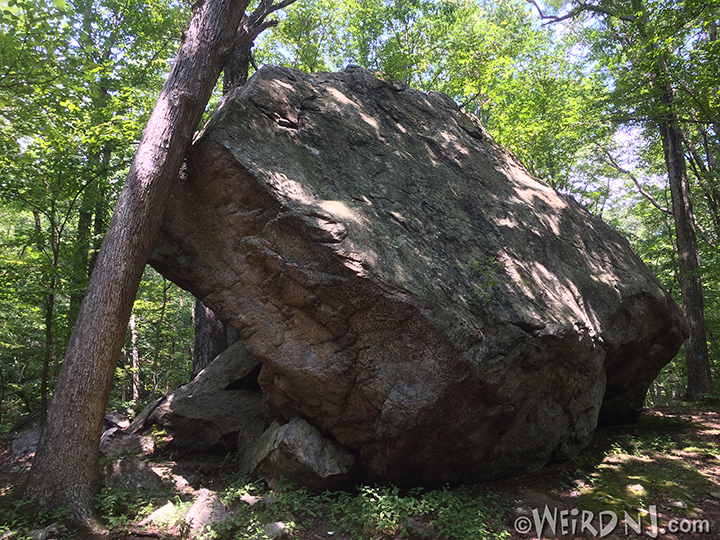 Bear Rock
Tripod Rock is part of Pyramid Mountain Natural Historical Area, a State maintained park. Thanks to the conservation efforts of many local residents, geologists and archeologists, the area has been spared from development. Put on your hiking boots for this trip, it's about two miles into the woods, on a slow incline. Maps of Pyramid Mountain trails can be found at the beginning of the trailhead.
View this post on Instagram
Photos © Weird NJ / Mark Moran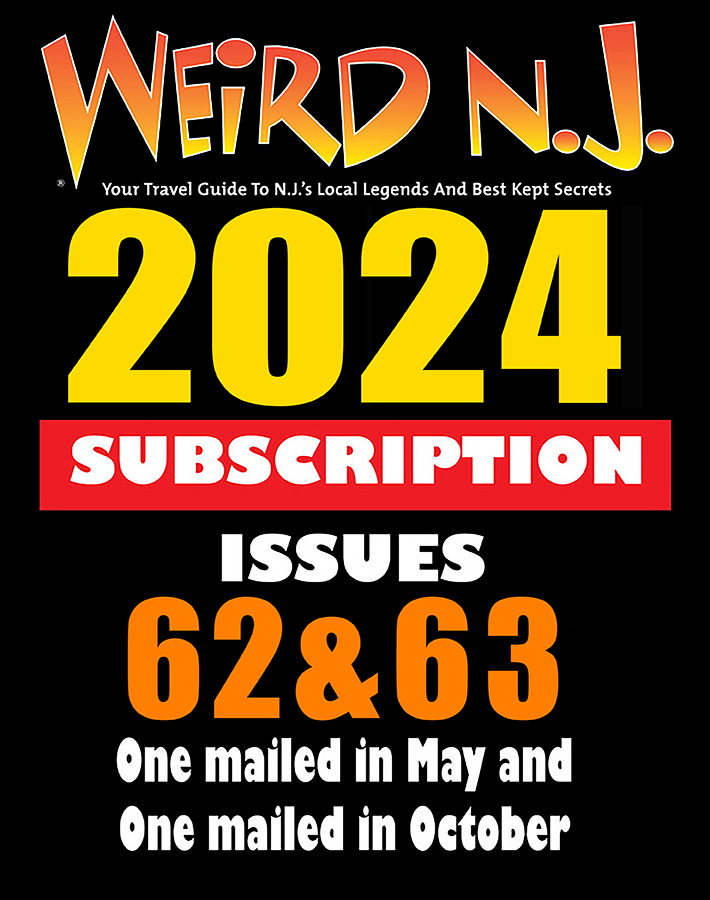 The preceding article is an excerpt from Weird NJ magazine, "Your Travel Guide to New Jersey's Local Legends and Best Kept Secrets," which is available on newsstands throughout the state and on the web at www.WeirdNJ.com.  All contents ©Weird NJ and may not be reproduced by any means without permission.
Visit our SHOP for all of your Weird NJ needs: Magazines, Books, Posters, Shirts, Patches, Stickers, Magnets, Air Fresheners. Show the world your Jersey pride some of our Jersey-centric goodies!

Now you can have all of your favorite Weird NJ icons on all kinds of cool new Weird Wear, Men's Wear, Women's Wear, Kids, Tee Shirts, Sweatshirts, Long Sleeve Tees, Hoodies, Tanks Tops,  Tie Dyes,  Hats, Mugs & Backpacks! All are available in all sizes and a variety of colors. Visit WEIRD NJ MERCH CENTRAL. Represent New Jersey!