September eleventh of this year marks the 21st anniversary of the terrorist attacks that brought down the Twin Towers in 2001. The outpouring of emotion and patriotism has inspired many monuments since then, both official government memorials and private tributes, to be erected around our state in remembrance. Here are just a few examples of homemade New Jersey homages, past and present, that prove that the World Trade Center and those who lost their lives on 9/11 will not be forgotten.

A Somerville Salute
I noticed a sort of tribute to the World Trade Center on top of a building on the way to picking up my friend from work at the Somerville train station.  I am unsure of how long it's been there as it is very easy to go unnoticed. This is on North Bridge Street in Somerville across from a cemetery. Hope you don't have this one yet. –Randy Casais

A Tinton Falls Tribute
This eight foot tall replica of the Twin Towers stands in front of Fire Company No. 1 in Tinton Falls at the corner of Tinton and Sycamore Avenues. Unfortunately, due to a tragedy of their own, these buildings are no longer the towers that they once were. Originally constructed by local volunteer fireman Jared Stevens in his garage, this replica was once a very faithful reproduction of the real World Trade Center buildings, with elaborate details including thousands of window, painstakingly painted and drilled out, that would be illuminated from within at night by bulbs and mirrors. The radio/television towers that top the structure also lit up with aircraft warning lights.
Unfortunately the original reproductions blew over in a storm a couple of years back and were severely damaged and had to be removed. Since then, these featureless plywood replacement replicas had been placed on the firehouse lawn until the creator of the destroyed towers can replace them with a more permanent memorial.
Like many towns within commuting distance of New York City, Tinton Falls lost some of its residents on 9/11 and even if this Twin Towers replica is not what it once was, that has not stopped locals from remembering loved ones that were lost that day by leaving tributes of flowers, photos and personal messages, at the base of these towers.
UPDATE: This photo was taken last year and we are happy to report that the memorial has since been restored to its former glory.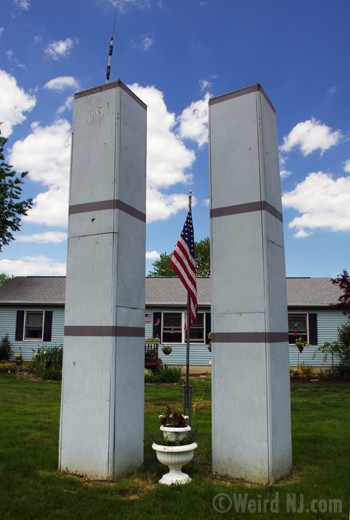 Memorialized in Monroe
Hey guys, I was wondering if you're familiar with the front yard memorial of the Twin Towers in the Jamesburg area? The house is on Mounts Mills Rd, just off of Rt. 522 (Buckelew Ave) halfway between Englishtown and Jamesburg, in Monroe. The towers are quite tall, I'd guesstimate around 10 feet each, not including the radio tower. There's a flagpole flying the Stars and Stripes just behind them. They look like they're sided with gray enameled metal panels, maybe from air conditioning units? The memorial looks like it's been there awhile (it looks like it was built to last), and seems to be well maintained. I spotted the memorial while chasing yard sales in the area––it was hard to miss. Obviously the owner of the house doesn't want ANYONE to forget what happened on 9/11, not for a minute. –Frank B.
A Message from the Towers' Creator
I am the creator and owner of the house in NJ with the 13.5-foot tall replicas of the Twin Towers on the front lawn. It is located in Monroe Township. I was very happy to see it in your magazine. For your info, they are 1:100 scale, first raised on December 16, 2001. They have flashing aircraft warning lights on each corner, and each tower flashes independent of the other. It's located on Mounts Mills Road just off of Route 522. We were writing to you to let you know that we are planning to take down our replica of the Twin Towers from our front lawn after the 10th anniversary of September 11th.
Thank you, Ken & Rene Kokoska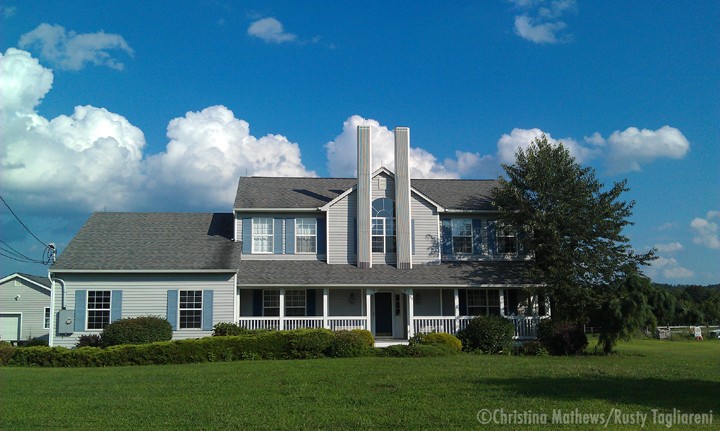 "We noticed this house on the way to the Sussex County Fair last summer and quickly made a U-turn in the middle of the road to snap this photo," Weird NJ correspondent Christina Mathews told us about this architectural tribute to the Twin Towers located on Plains Road in Augusta.