Big Rusty – South Jersey's Giant Troll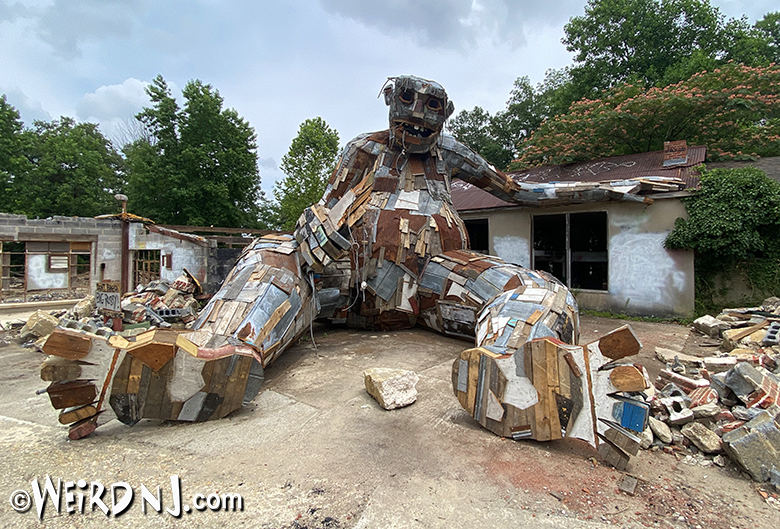 Big Rusty – A Giant Troll with a Taste for the Abandoned
If you walk down an old dirt road into a Burlington County forest, near the banks of the South Branch of the Rancocas River, you might catch a glimpse of something truly monstrous. The trail takes you through a dense stand of 20-foot-tall bamboo before opening up into the vast expanse of  a cracked parking lot. A hundred yards away, across the sunbaked concrete, you'll see an abandoned building in ruins. This sight alone might be enough to entice a curious explorer to investigate further. But wait, there is something else in this picture – resting up against the building sits a 20-foot-tall giant that seems to devouring it!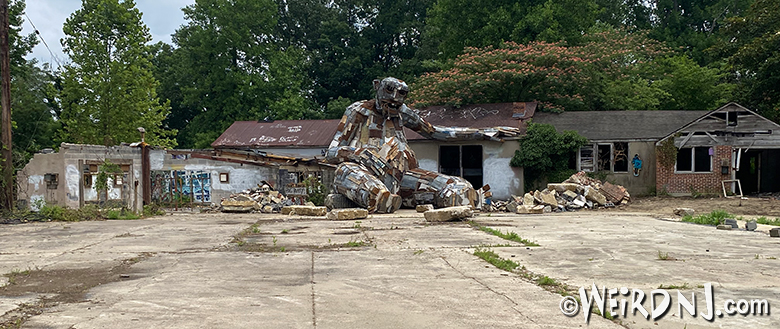 The gargantuan colossus appears to be minding its own busy, happily chomping on scraps of the partially demolished structure. Stranger still, it seems to be clad in an armor made from the exact same materials which it is consuming; sheet metal, wood shingles and other detritus. But fear not, fellow travelers, for this behemoth brut means us humans no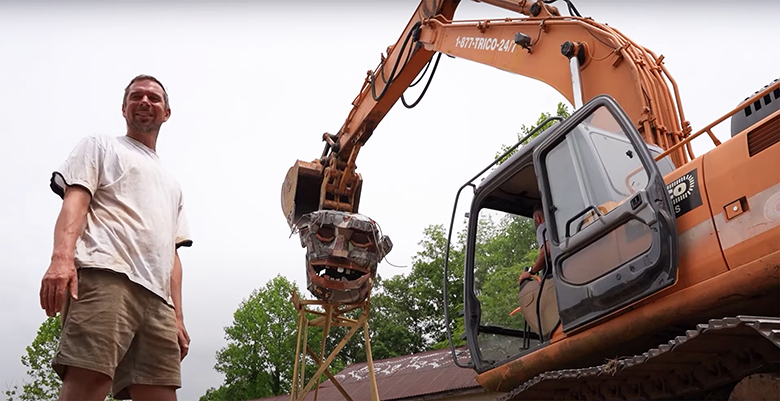 harm and has not come as the destroyer of worlds. Quite to the contrary, he actually comes bearing a message of sustainability, community engagement, and unlimited imagination.
This past summer, artist Thomas Dambo, a native of Denmark, launched his U.S. tour, "Way of the Bird King," with the creation of one of his large-scale public art installations here in New Jersey. On June 28 he unveiling of newly built "Big Rusty" at an abandoned factory located in Hainesport. The tour will take Dambo's passion for recycling, sustainability, and community engagement on the road for his largest sculpture project to date.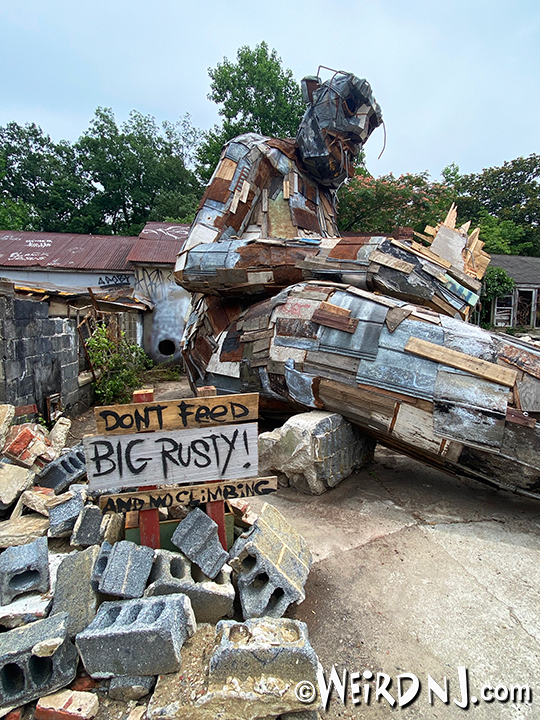 Unlike the many trolls Dambo has created before him, which were whimsical wooden characters meticulously planned out prior to their construction, Big Rusty would be cobbled together using nothing by materials found at the long-abandoned Hainesport location. Dambo doesn't ever consider him a "troll," describing him as more of a "monster." Thomas knew he wanted to portray his monster in the act of eating the already partially demolished building, but didn't know exactly what material he would have available to work with until he arrived at the site. When he laid eyes on the location though, he couldn't have been more pleased at the wide array of his raw material at his disposal with which to arrange his artistic palette, calling it the "Perfect bank of great materials."
It is often said that, "You are what you eat," and in Big Rusty's case, that adage is the literally truth. The gargantuan ogre is fabricated entirely from recycled materials scavenged from the dilapidated factory; shards of wooden beams, cinderblocks, rusted metal from the building's corrugated steel roof, electrical wiring conduit, rebar, sheet of graffiti-scrawled plywood and galvanized steel.
Before becoming one of the world's leading recycle artist, Dambo led a multifaceted life that allowed him to express his creativity via music, street art, and scenic design. After graduating from the Kolding Design School with a master's

degree in interactive design, he began his current journey of using recycled materials to create colorful art installations, building the foundation for his artwork today. He is known internationally for his larger-than-life troll sculptures that are a part of his project "The Trail of a Thousand Trolls" which are all made from recycled wood and usually situated in scenic natural environments.
With 87 sculptures all over the world, the trolls have begun to have a life of their own, popping up in Denmark, USA, France, Germany, China, South Korea, Chile, and have interacted with millions through in-person visits, shared photos, and international media coverage.
Way of the Bird King tour will see Thomas and his team of 22 troll builders, along with local volunteers, building 10 massive troll sculptures made of recycled materials, in ten locations starting on the East Coast in New Jersey and concluding on the West Coast in Seattle, WA in September.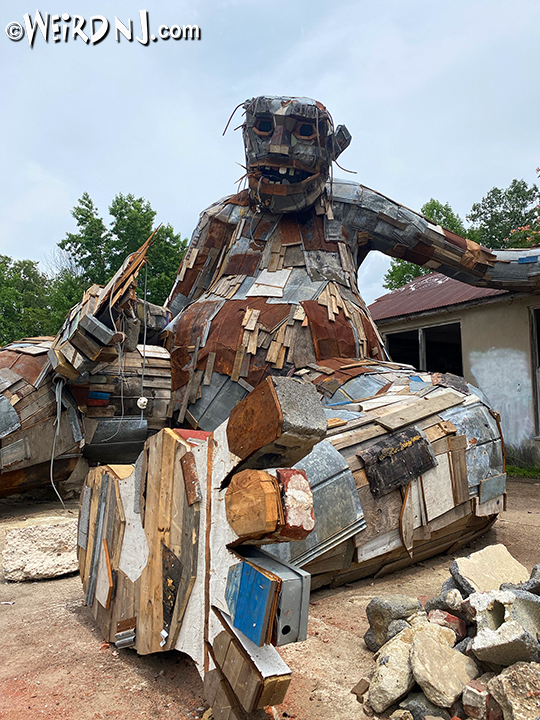 "It has always been a dream of mine to go on a coast-to-coast road trip, especially since my days as a rapper touring around Denmark in a big bus," says Dambo. "So, in a way, this feels like my big American breakthrough. My hope is that these sculptures will not only showcase the beauty of repurposed materials but also inspire people to reconnect with nature, spark their imagination, and foster a greater sense of environmental responsibility."
With a focus on understanding the impact of humans on life in watersheds and animal habitats, the project includes a companion story focused on the restoration and preservation in an approachable, fun way. It provides opportunities for youth and adults alike to learn, support, and interact to make a difference in protecting our environment. Interactivity turns into co-creation when Thomas recruits thousands of volunteers to help create his visions.
The day after the unveiling of Big Rusty in Hainsport, Dambo and his merry band of troll builders boarded their RV and hit the road for their next project in Vermont, with more stops planned in Michigan, Colorado, Oregon and Washington State. All along the way Thomas will be building more trolls and hosting talks and birdhouse workshops. Thomas' vision is to create art that inspires people to go explore, have adventures in nature, and demonstrates that trash can be turned into something beautiful.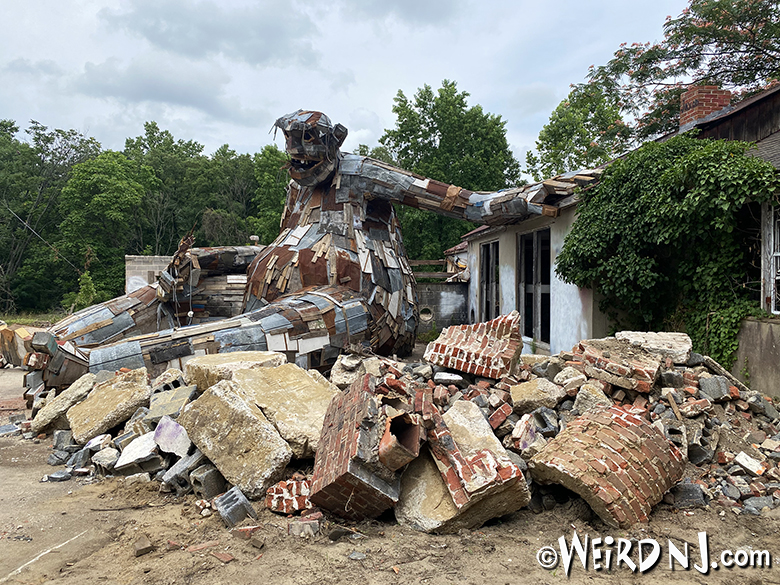 At the time of this writing, it is uncertain what might become of Big Rusty, as the ruined building he's been chowing down on remains slated for demolition. But Rusty has at least one friend in high places in Hainesport – the township's mayor, Jerry Clouse, who says the town is delighted to have the sculpture there, adding, "We're on the world stage here, and I love it!"
It remains to be seen whether Mayor Clouse intends to salvage Big Rusty, or if instead Thomas Dambo's monster ends up returning to the scrape heap from whence it came.

The preceding article is an excerpt from Weird NJ magazine, "Your Travel Guide to New Jersey's Local Legends and Best Kept Secrets," which is available on newsstands throughout the state and on the web at www.WeirdNJ.com.  All contents ©Weird NJ and may not be reproduced by any means without permission.
Visit our SHOP for all of your Weird NJ needs: Magazines, Books, Posters, Shirts, Patches, Stickers, Magnets, Air Fresheners. Show the world your Jersey pride some of our Jersey-centric goodies!

Now you can have all of your favorite Weird NJ icons on all kinds of cool new Weird Wear, Men's Wear, Women's Wear, Kids, Tee Shirts, Sweatshirts, Long Sleeve Tees, Hoodies, Tanks Tops,  Tie Dyes,  Hats, Mugs & Backpacks! All are available in all sizes and a variety of colors. Visit WEIRD NJ MERCH CENTRAL. Represent New Jersey!