Foxcroft (a.k.a. Van Slyke or Ramapo Castle)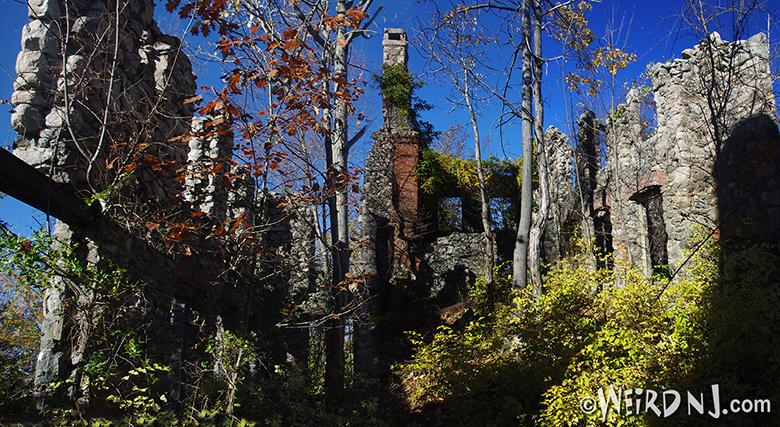 Story and photos by Mark Moran and Rusty Tagliareni
Perched atop an Fox mountain in Wanaque, high above Ramapo Lake, sit the remains of a mansion often referred to as the Van Slyke's Castle or the Ramapo Castle. The ruins are a pale shadow of a once grand estate originally known as Foxcroft. When we visited these ruins in autumn, it could not have presented itself in a more picturesque manor. Crisp fall winds rose up from the lake, whirling and whistling among the stonework as they passed. Yellow leaves slowly tumbled to earth, covering the forest floor and ruins in golden light.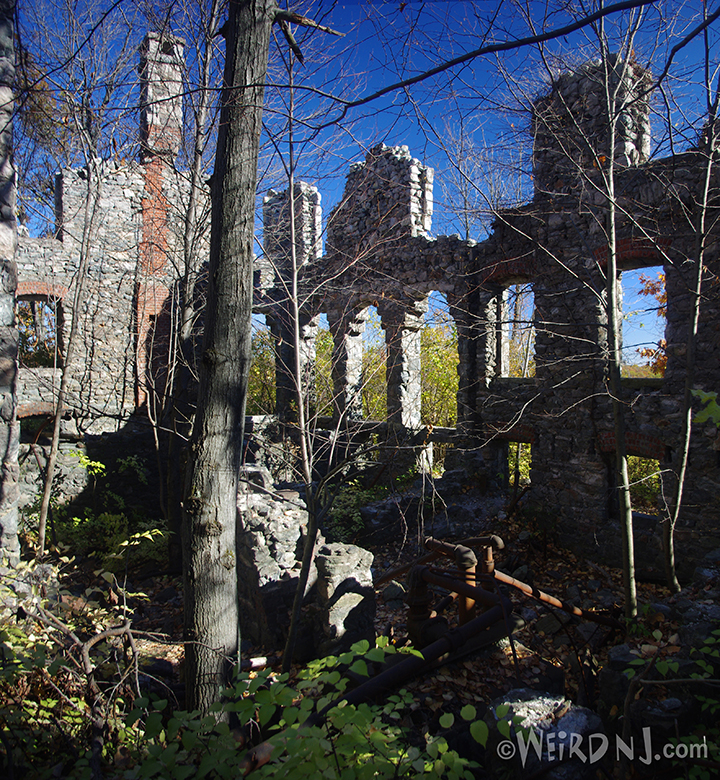 If one heads up the mountain in search of Foxcroft today, they will find little more than foundations and partial stone walls, but a century ago it was a rustic manor with few peers on this side of the Atlantic.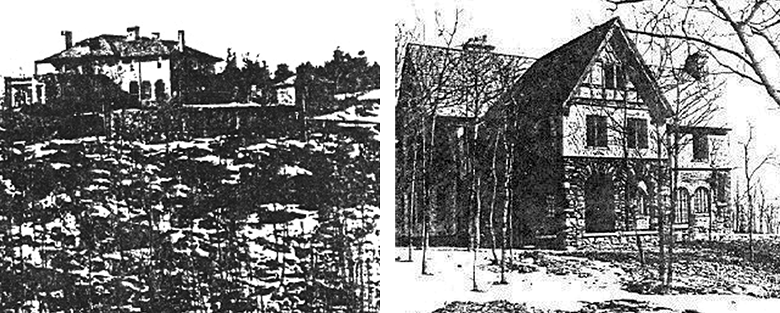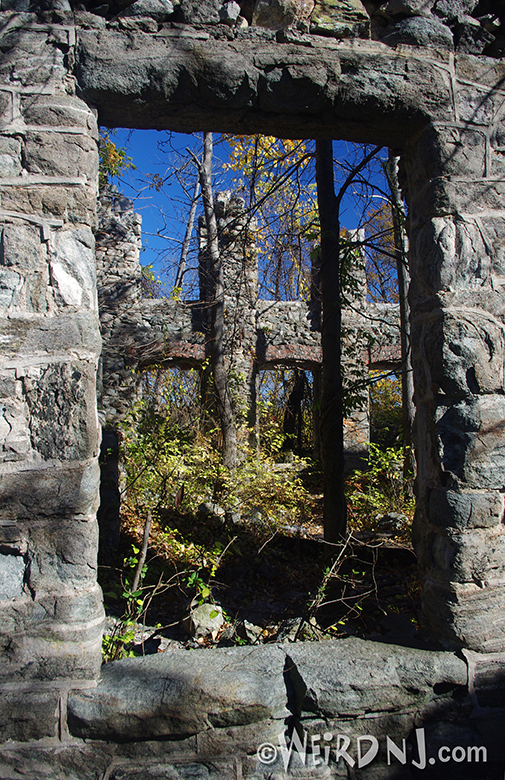 The story of these mountaintop ruins is also the story of a woman named Ruth A. Coles. Miss Coles was a nurse by trade, a career that has never afforded the means to build nor inhabit mansions. Her finances improved substantially, however, as a consequence of her romance and eventual marriage to her employer, Mr. Charles E. Halliwell, a successful industrialist.
The wedded bliss was to be short lived. Barely a year later, in 1907, Halliwell passed away, leaving his wife a substantial fortune of $1.5 million, which translates to nearly $34 million in today's currency. As was customary at that time, Ruth remarried only a couple years later in 1909 to William Porter, a close friend of her recently-deceased husband. At the time of the wedding, Porter was already constructing a grand manor on Fox Mountain, which he named "Foxcroft".
A few years later, he was killed in a car crash and Ruth once again found herself widowed. In 1913, she married her third and last husband, Warren C. Van Slyke, whom she would also survive after his death in 1925.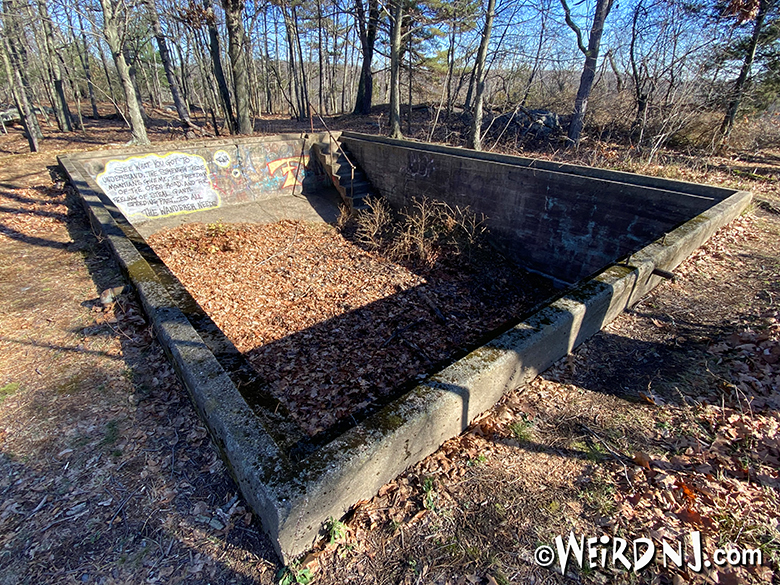 The thrice-widowed Ruth spent the remainder of her life alone atop her mountain, huddled away in Foxcroft's protective stone walls. After her death in 1940, at the age of 63, the house passed to her nearest relatives, who quickly sold it. From the early 1950's on, the house sat empty after it was contested in a turbulent divorce.
Photo Gallery by Rusty Tagliareni
Eventually vandals found their way to the vacant Foxcroft estate, and it, like Ruth's many husbands, was finally forced to give up the ghost in 1959, when it was set ablaze by arsonists. Its burnt-out stone skeleton still stands among the trees on the mountaintop, a monument to Ruth A. Coles, who spent so many years of her life here.

The preceding article is an excerpt from Weird NJ magazine, "Your Travel Guide to New Jersey's Local Legends and Best Kept Secrets," which is available on newsstands throughout the state and on the web at www.WeirdNJ.com.  All contents ©Weird NJ and may not be reproduced by any means without permission.
Visit our SHOP for all of your Weird NJ needs: Magazines, Books, Posters, Shirts, Patches, Stickers, Magnets, Air Fresheners. Show the world your Jersey pride some of our Jersey-centric goodies!

Now you can have all of your favorite Weird NJ icons on all kinds of cool new Weird Wear, Men's Wear, Women's Wear, Kids, Tee Shirts, Sweatshirts, Long Sleeve Tees, Hoodies, Tanks Tops,  Tie Dyes,  Hats, Mugs & Backpacks! All are available in all sizes and a variety of colors. Visit WEIRD NJ MERCH CENTRAL. Represent New Jersey!