Weird Travels on Essex Road, Tinton Falls/Neptune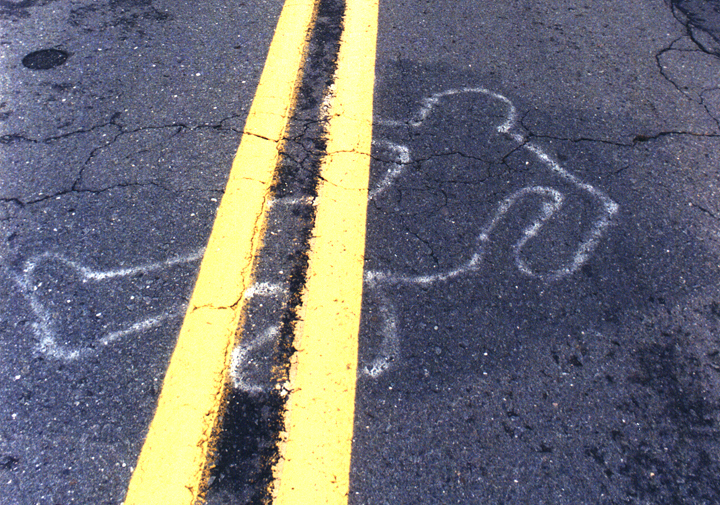 There is a strange and lonely road that runs through Tinton Falls and Neptune called Essex Road. Like many of the roads less traveled throughout New Jersey, Essex Road's lore includes tales of ghosts, Satanists and unseen cannibals lurking in the woods, laying in wait to attack any motorist unlucky enough to wander onto their turf. Unlike other such legendary streets though, Essex Road at one time had an added attraction to enhance its mystique – body outlines on the pavement which are drawn or laid out in tape on the black top to mark the places of the fallen victims. In recent years development has encroached on this once lonely stretch of road through the woods, but old legends such as the ones told of Essex Road die hard. Weird NJ readers share their experiences on this bizarre byway…
Former Road Residents Plagued by Albino Rumors
Essex Road is an isolated, unlit road, partially bordered on both sides by marshland, and cut into the wooded outskirts of town. It's only about one-half mile long, partially running parallel to the Parkway, with some industrial buildings at one end.
Picture driving down this desolate road at night, as you turn off the headlights and observe your path being illuminated by the blue-green glow of the mist covering the road in the moonlight. As you approach the end, you notice a lone dirt road projecting into the woods, a driveway of a house, by an unmarked mailbox. Curiosity makes you turn into this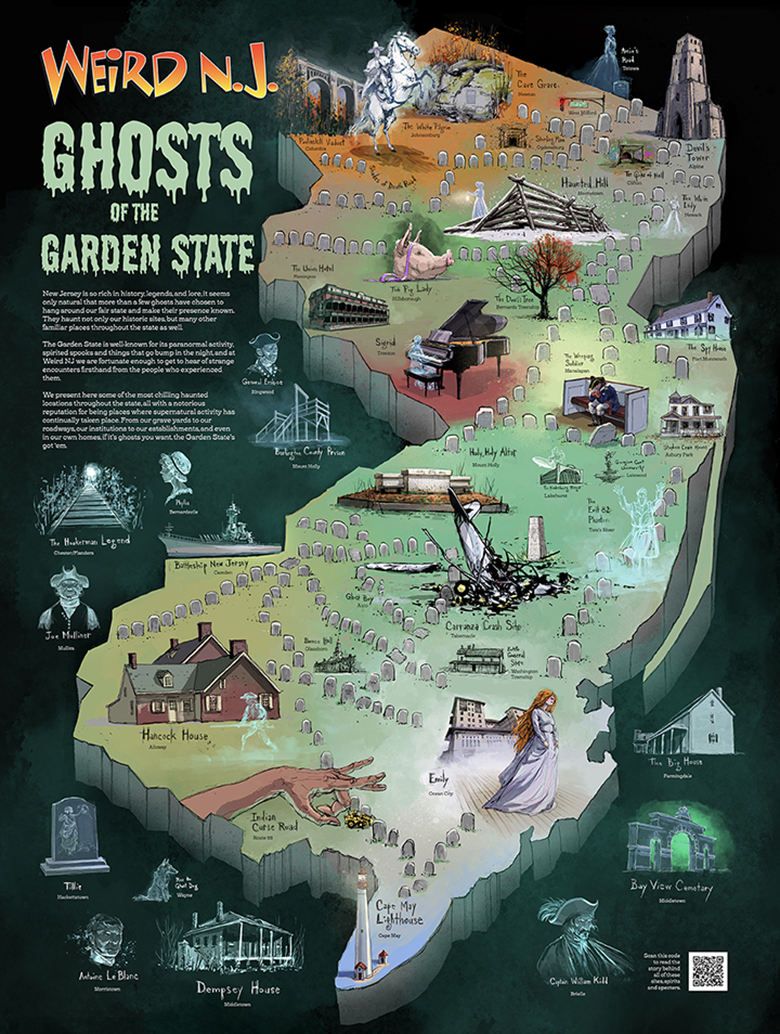 driveway, which is only wide enough for one car. You can't turn around for there is dense woodland on either side. Then up ahead, there it is: you can just make it out: The silhouette of a big old house––the kind that you might find while peering through the Spanish moss-draped trees in the backwoods of Louisiana. Suddenly, you see the lights of the house turn on, and out come running all these people with clubs and guns. You're now surrounded by the "Albinos."
Well, this was always the perfect setting to scare the pants off of your friends on a Saturday night. This is an urban myth that was circulated through the halls of Neptune High School back in the '60s and '70s. If you weren't riding the "circuit" in Asbury Park on a Saturday night (which can no longer be done, because the sewer treatment plant now blocks the end of Ocean Avenue), you were being chased by the "Albinos."
The previous story is true, with two exceptions. The "Albinos" were just a normal elderly couple who had lived on the spooky, desolate Essex Road for years, and just wanted to be left alone. But they were constantly plagued by this urban myth. The mysterious glowing mist was explained by my Neptune High School chemistry teacher, Mr. George Monahan. It was just swamp gas mixed with humid atmospheric conditions, and the added moonlight gave the appearance that it was glowing and blue-green in color.
Fast-forward to 2014. The elderly couple's house has now been replaced by Seabrook Village, a senior assisted living facility. I hope that they got a generous price for their land, because this place is huge. The other end of Essex Road, that had a few industrial buildings, has now been augmented by the addition of the Asbury Park Press Building, and most recently the Jersey Shore Outlet Center. –Dr. A. J. DeVivo
Body Outlines On Essex Road
Essex Road has a bunch of Satanic stuff written on the asphalt and no matter how many times that it is repaved, the symbols keep reappearing. There are stories of kids being killed by cars, and their body outlines can still be seen on the road. I saw this stuff myself, not knowing what it was, until I stopped and looked, then it hit me!   –Doug
Murderous Albinos of Essex Road
While working in Freehold, my cousin and her friend told me about Essex Road in Neptune. They said that in the late 1800's, families of albinos lived along the road deep in the woods. People used to come from all over just to get a look at them. I guess they got fed up and began murdering curious onlookers and putting the bodies in a slaughterhouse.
At a local gas station we asked the attendant where Essex Road was and he said, "So, you want to see the albinos."   –Jennifer B.
Fear Run on Essex Road

I remember Essex Road used to be a true "road to nowhere," that is now the site of developments. Some friends and I had a scary experience there back in the summer of 1983. We had all heard the tales of albinos that used to live back there who would terrorize people, so we felt it was due time to check it out. We drove down the unpaved road in a convertible Volkswagen bug. It was truly creepy out there – so much so that only my friend and I decided to venture further on foot. The other person that was with us decided to wait in the car. We made our way down toward the first of what looked like run-down, very small houses. I remember it was eerily quiet as we cautiously approached the mini- house to see what we would find. As we got within maybe 20 or 30 feet of the house, flames shot out of two of the broken windows! My friend and I turned around and ran back towards the car, scared as hell. I think we both dove back into the convertible and got out of there as fast as we could. We refer to our getaway from the house as our "fear run." –Ghoul Runnings
Attacks on Essex Road
Albino families supposedly lived namelessly in the woods behind Essex Road. When development started in the woods, an accidental death of one of the albinos caused a war between the workers and the albino family. Another tale tells of a romance between an albino girl and an "outsider" which was ended quickly and painfully by the girl's father. Also, Satanists supposedly practice secret rites in these woods.
Cars have been forced off the road by unseen forces and slammed into barriers and trees. Misty forms appearing in the middle of Essex Road startling drivers into stopping or veering off the road. If you went around the hard curve on the road two little girls who supposedly died in a car crash there are said to appear, in warning.
When I was in high school, it was common to drive down this spooky road. People were dared to get out of the car and go into the woods, but no one ever did. There were pentagrams and other symbols painted on the street, though the presence of ritual magic users was never noticed.
Essex Road has a very strange effect on many people. In reality the road is only about a two minute long drive, but when you drive down at night the drive seems infinite, as though you'd never get off the strange road. –Joi C.
Photos ©Weird NJ / Mark Moran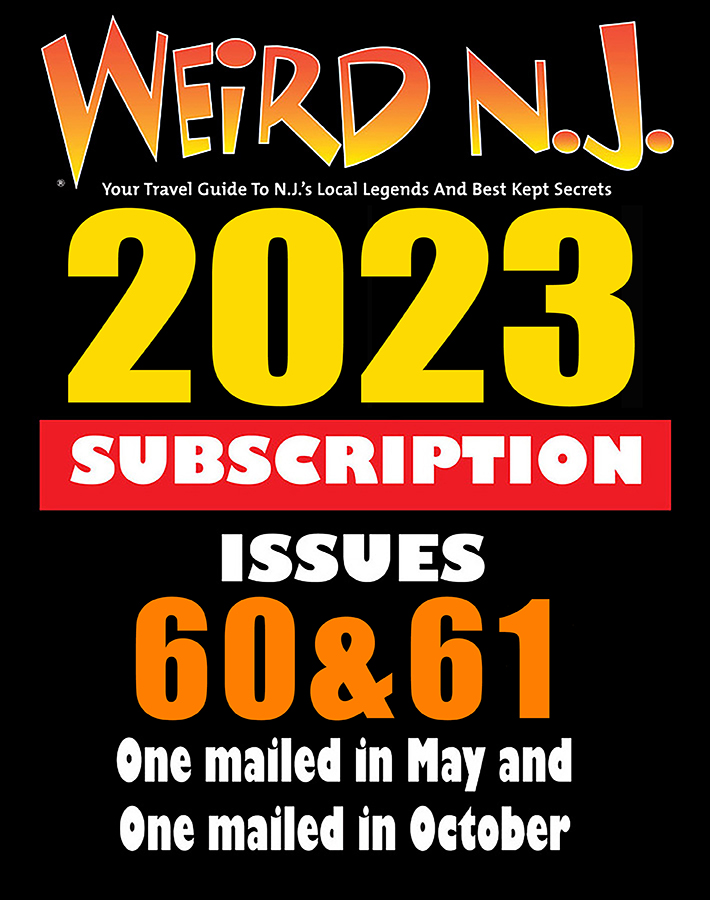 The preceding article is an excerpt from Weird NJ magazine, "Your Travel Guide to New Jersey's Local Legends and Best Kept Secrets," which is available on newsstands throughout the state and on the web at www.WeirdNJ.com.  All contents ©Weird NJ and may not be reproduced by any means without permission.
Visit our SHOP for all of your Weird NJ needs: Magazines, Books, Posters, Shirts, Patches, Stickers, Magnets, Air Fresheners. Show the world your Jersey pride some of our Jersey-centric goodies!

Now you can have all of your favorite Weird NJ icons on all kinds of cool new Weird Wear, Men's Wear, Women's Wear, Kids, Tee Shirts, Sweatshirts, Long Sleeve Tees, Hoodies, Tanks Tops,  Tie Dyes,  Hats, Mugs & Backpacks! All are available in all sizes and a variety of colors. Visit WEIRD NJ MERCH CENTRAL. Represent New Jersey!