Halloween in Weird NJ
Folks here in New Jersey sure do know how to get into the Halloween spirit, and often do so with elaborate seasonal displays. Here are just a few of our favorite properties, personalized for the holiday, from this year and Halloweens past…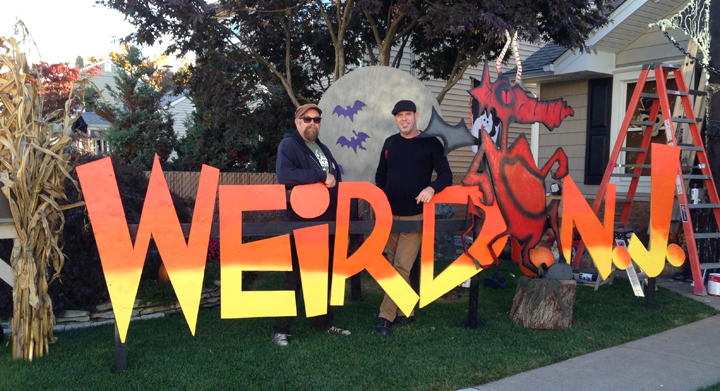 102 Monroe Street in the Haskell section of Wanaque. Weird NJ lawn display created by Kim-Marie Dakake.
Folks here in New Jersey sure do know how to get into the Halloween spirit, and often do so with elaborate seasonal displays. Here are just a few of our favorite properties, personalized for the holiday, from the past and present… Do you know of  any haunted houses decorated somewhere in the state this October? If so, please write in and let us know what kind of creepy fun YOUR neighbors are up to! You can contact us at Editor@WeirdNJ.com. You can also add your photos to the expanding online pool of Weird NJ images by tagging us on Twitter #WeirdNJ, Instagram #WeirdNJInsta and Facebook @WeirdNJ.
In Clifton it's Halloween All Year Round!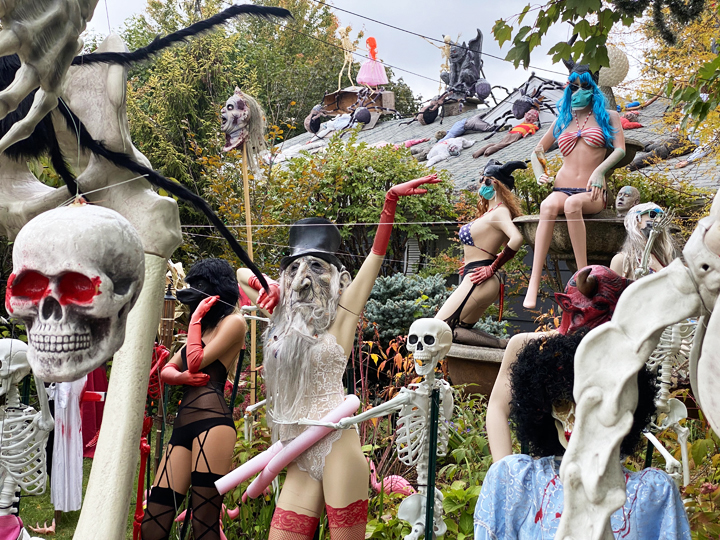 2023 Update: Clifton dentist's extensive Halloween display on Grove Street vandalized, taken down. Read about it HERE.
One of our favorite Halloween House designers is a Clifton dentist named Dr. Wayne Gangi, who moved to his Grove Street home in 1999. It took him a year to renovate it to make it suitable for an office. Once he did, he soon realized that he was on a great corner for putting up displays. The first one was a Halloween themed display, which featured a table with three witches around it. He says that those three little witches received such great reviews that he decided to create a more elaborate display with every year that passed.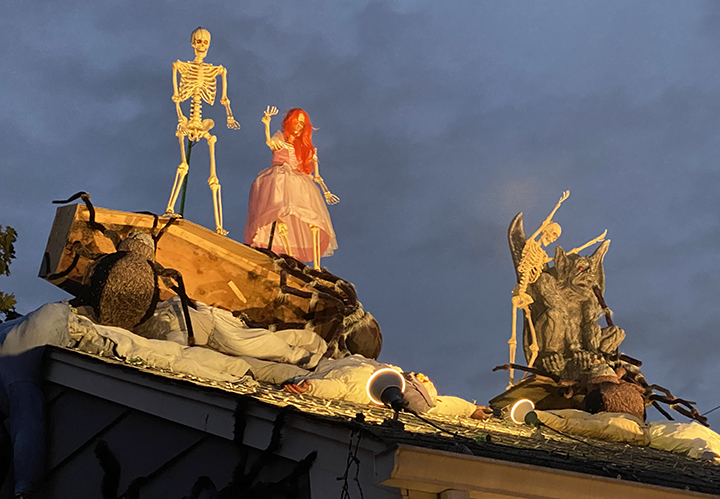 Before long his increasingly elaborate Halloween displays, which included dummies dressed as Dracula and Frankenstein's monster, began drawing huge crowds, often to the chagrin of the local police department, who complained about the traffic problems they caused.
"That's right, unfortunately it draws a big crowd." Wayne admitted to Weird NJ. "This past Halloween they calculated that there were between five and ten thousand people hanging around. I gave out close to 3,000 candies––the adult size from Costco. There were 22 police officers here and 17 police cars," he told us proudly.
Isn't that a bit ironic, a dentist giving out candy? We asked. "Just because you're a dentist doesn't mean you can't have candy. I'm all for it!"
In 2013 Clifton police started issuing traffic tickets to the large crowds who come to see the extravaganza of creepy decorations. Then Wayne was compelled by the City to take down that year's Halloween display, telling him to remove his decorations from city-owned trees where he had hooked his cables to hang the mannequins. After doing so he instead hung signs on the property saying "Clifton Politics Cancel Halloween" and "Call the Mayor."
All of that animosity seems to be in the past now though, and Wayne is back doing what he loves best – creating new displays and provoking reactions from all that encounter them.
A 3-minute video we shot at the #GroveStreetGraveYard for The Asbury Park Press with our friend Brian Johnston.

New Jersey's Great Pumpkin Project
There's a relatively recent holiday tradition that's takes place simultaneously around the entire state through the month of October. It's called the Great Pumpkin Project and it's the creation of a mysterious semi-anonymous man named Adam.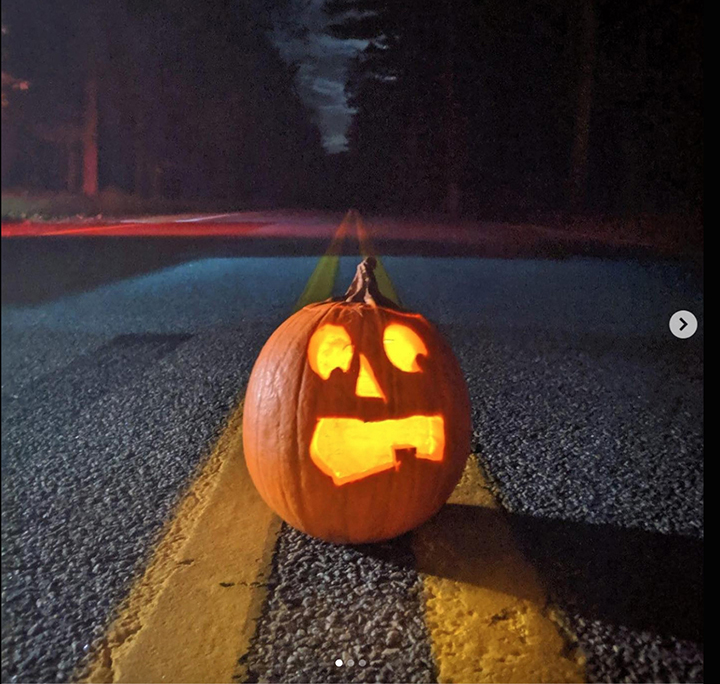 Every year since 2015 the Project has been placing Jack-O-Lanterns in conspicuous locations around the state, many of which should be familiar to Weird NJ readers, like: The Devil's Tree, Shades of Death Road, the Church of the Mystic Light, Clinton Road, the Deserted Village, and lots of others.
And the best part is that anyone can get involved! All you have to do to is go to www.TheGreatPumpkinProject.com and print out this year's tag. Add the tag to a pumpkin, take a photo of it, and send your submission to GreatPumpkinProject@gmail.com.
Your pumpkin picture could be featured on one of the Great Pumpkin Project's daily Instagram posts at @greatpumpkinproject. (The photos featured here were all taken directly from their feed.)
From the Project's Mission Statement: "The Great Pumpkin Project is a movement to bring back the spirit of…All Hallows' Eve. Every night in the month of October, a lit Jack-O-Lantern is placed in a spot that looks in need of its presence: On an abandon railroad bridge, at the gates of a cemetery, at the foot of a covered bridge. Anywhere that looks as if it screams Halloween spirit. Jacks can also be placed in highly visible areas, so that the spirit of the high holiday can be felt by anyone who sees it. The project's purpose – to Preserve The Eve Of All Hallows'. To make sure that the feelings we felt as kids in the month of October live on forever. One lit Jack, for 31 nights. Hail The Harvest!"
Halloween Horrors from Years Past…
Things Are Getting Stranger in Fair Lawn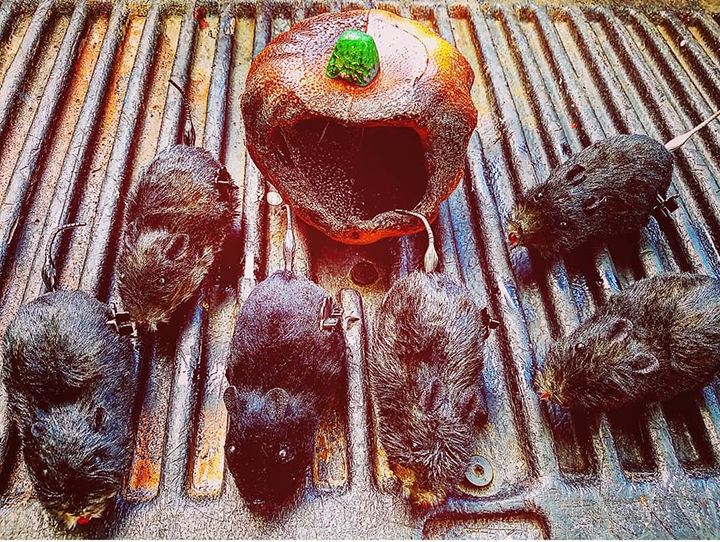 Dave and Tara Carota are huge fans of this Netflix series "Stranger Things" and are celebrating the show this Halloween by decorating their home at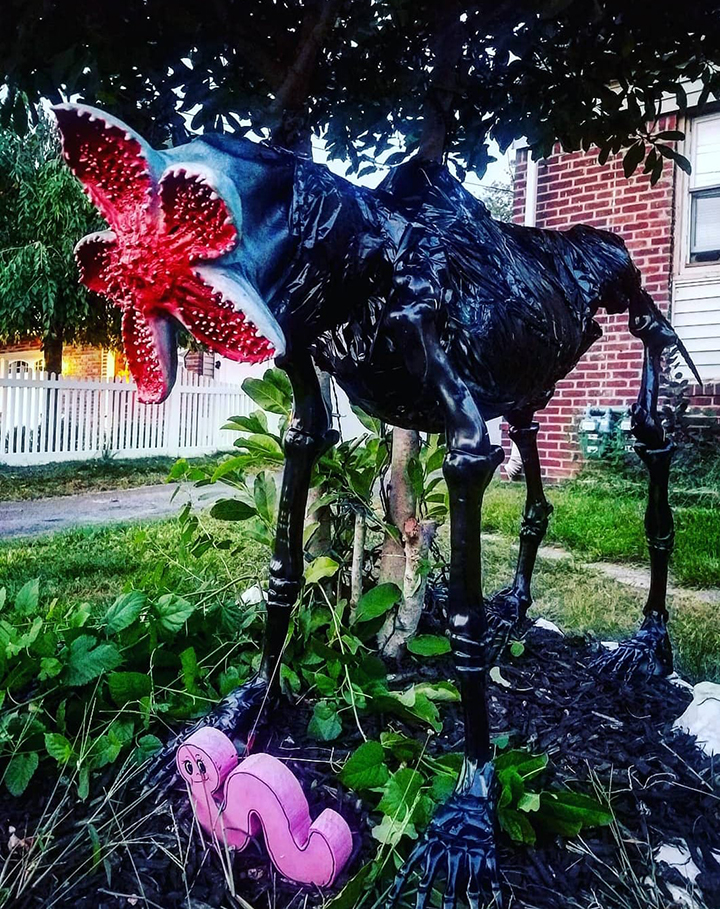 the corner of 11th and Henderson in Fair Lawn with a Stranger Things Halloween display for all see it. Here Dave explains his inspiration:
"My wife Tara and I are huge fans of Stranger Things. As children of the 1980s, we fell in love with the nostalgia…. and we were hooked and reeled in by the adventures. For us, it was like the best of all that
we loved when growing up, all in one place, we watched all the seasons as they were released and can easily, without hesitation binge watch them all again, and again … which seemingly just makes each one even better than the first time, of last time we saw them. I see they're filming season 4 down in Georgia and we are super excited to see what happens next.
"The Stranger Things display pulls mostly from the 1st and 2nd seasons but does have references to season three out there as well. In anticipation of season four being released before next Halloween, we plan to save all the decorations, monsters, characters, lighting and props and continue this tradition for as long as the Duffer brothers keep filming the series.
"Each year we will plan to add a little more of whatever new main characters, or new monsters, or signature nostalgia that shows up in each season. I heard a rumor there will be a season 5 so we are essentially set to keep this going at least 2 more years.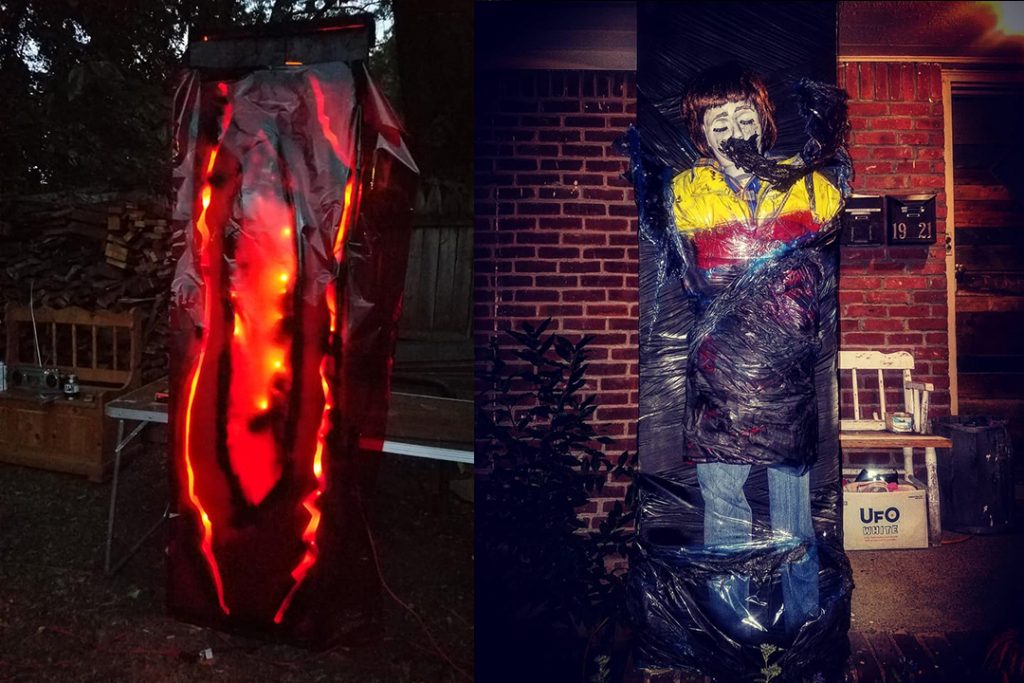 "Feel free to visit between now and Halloween, take photos if you like and share them on our Facebook group for the display at HERE.  It's been a huge amount of fun making all this stuff, playing with lighting ideas each night and seeing all the families come down out street just to stand out there and check it all out with giant smiles on their faces. Some people pull over and talk to us if we are outside, some stop and take pictures. We can usually hear them from the street, and to be sitting down eating dinner with my family and suddenly hear loud gasps followed by, "Oh my God, that is so cool!"… Or, "Holy crap, this is amazing!" or the kids saying their whoas and wows as the timers blast fog out from behind the Mind Flayer…. it's all so much fun to be a part of, to have created, and to have brought to the neighborhood when most of this year has been so bleak otherwise. I hope everyone enjoys it, as much as we've enjoyed creating it. Have a happy and safe Halloween!"
2021 Stranger Things UPDATE: "We've added a little more this season. We managed to get our hands on a grandfather clock that resembles the one seen at the end of the recently released season 4 teaser online….and it actually works! So, we thought that was a fun, creepy addition, paying tribute to what we know so far. Also, I don't want to send any spoilers, but I'm fairly certain I'll also be able to recreate the stained-glass door that Steve Harrington throws a brick through in the abandoned Victor Creel home. We'll see.  And we're still adding bits here and there, keeping a couple surprises up my sleeve for closer to the big day. We had a lot of fun talking to your other fans last year, as they came by after reading about us on your site.  Thanks again for last year." –Dave & Tara Carota
2022 Stranger Things House UPDATE: "We've added multiple Stranger Things Season 4 props this year, including a levitating Max Mayfield, Eddie Munson, Dead Chrissy Cunningham, moved the grandfather clock front and center, added Kid 11 from Season 4 flashbacks to what happened prior to Season One's storyline, and I've got a Vecna and Demobats under construction as we speak. Thanks for featuring our haunt for a third year!" –Dave & Tara Carota
Halloween Hijinks in Hasbrouck Heights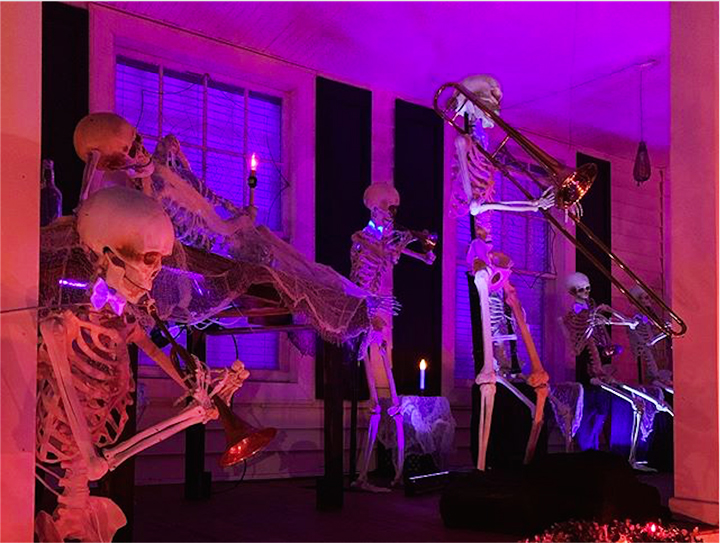 Alex Alonso began decorating his property on Kipp Ave. in Hasbrouck Heights for Halloween since he and wife purchased the house six years ago. Alex's neighbor (who he says is the world's best) even allows the Alonsos to use their front lawn to expand the display onto their yard as well. They've changed up the theme of the display each holiday season for the past four years. They've done a pirate theme, a cemetery theme and a Wild West theme so far. This is year's motif is a Prohibition Era/Roaring 20s theme.
You can see more photos of the Alonsos' display at Alex's Instagram @iamalex87.
Summit Ave Cemetery Scares in Hawthorne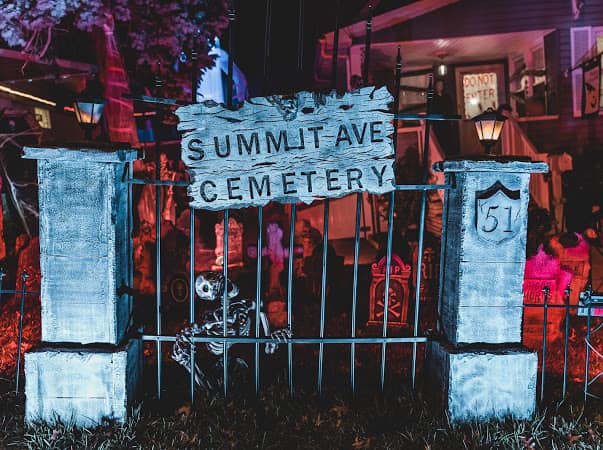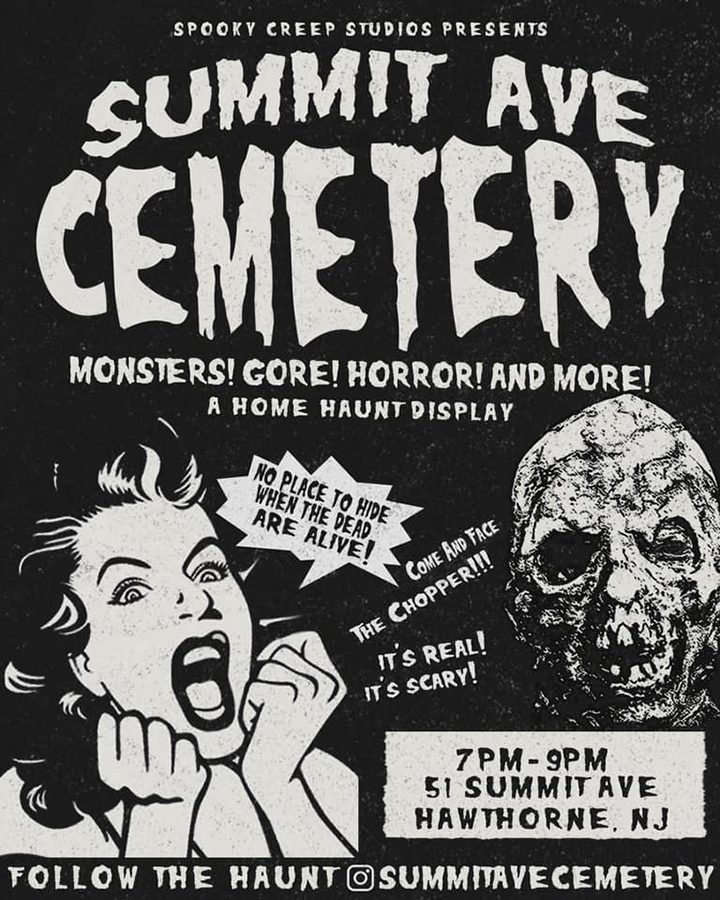 Summit Ave. Cemetery is an annual Halloween display/home haunt in Hawthorne New Jersey. They may be small, but they sure pack a lot of unique and detailed home made props into their yard. And they plan to expand always bigger and better each year. Creator of the display Sal Latrenta tells all about his project:
 "I've always been a fan of Horror. Halloween is always a way to express that love and obsession out into the world. This year I created and built a sizable amount of my props ranging from big things like tombstones, corpsing, and coffins to smaller objects like replacing plastic teeth on our skeletons with actual human teeth. Other than my love for Halloween, Summit Ave Cemetery was a way to bring in more crowds, families and trick or treaters to our very secluded part of town. After using social platforms to generate some attention, this idea became a reality and people actually started showing up. It was then I knew I had to make this a major place for people to come, visit, and enjoy every year and I intend to deliver that to them. Plans to expand and a walk through maze are already in the works for next year. We Hope to Scare You. Happy Haunting" 
Photos courtesy Danny LaVarco. See more on their Facebook and Instagram Pages.
Animation Galore with Less Gore in Bloomfield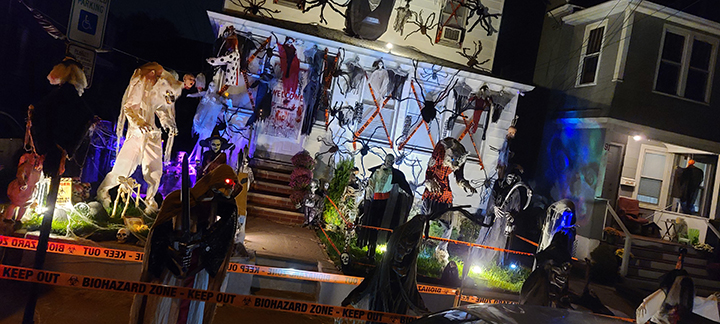 Andrew Alsheskie's display this at 93 Walnut Street in Bloomfield features animated decoration placed meticulously to give viewers a fright with a theme purpose not often seen at Halloween houses. He recommends checking the display out if you enjoy the festivities of the holiday without the excess blood, gore, or faux-murder scenes. Display operation hours are 6pm–10pm nightly.
The 13 Skeletons of Bridgewater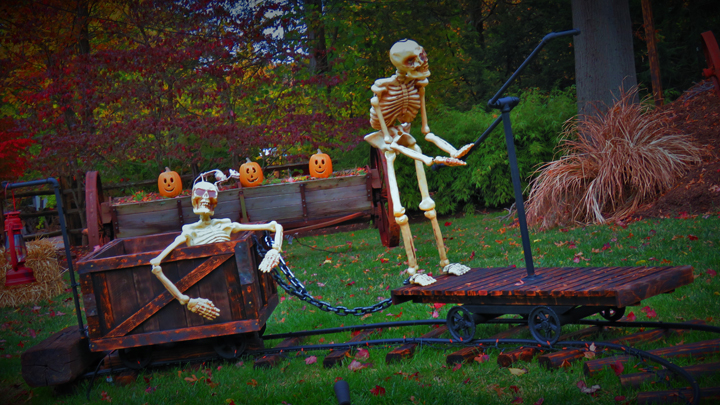 You can't miss it, but make no bones about it, it's something you should not pass by without pivoting your skull for a second look, or more. It's The 13 Skeletons Halloween display, set out in a PG-10 manner since 2006 by the fun loving Jim Adams and his family on the front lawn of their home.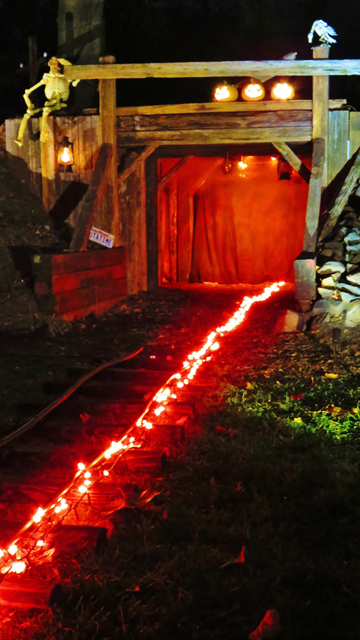 A moment does not pass where a car isn't pulling up gawking in delight at the light-hearted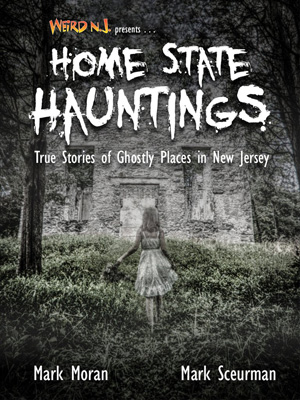 arrangement of skeletal remains. Those that stop to get out and see it closer all say they have been coming to see it for years. The Skeletons work this sideshow each year, and although the theme changes from time to time, a constant is that the 13 Skeletons come out in stop actionmotion where the cars passing will see a different position each day or night they travel past.
Each skeletal resident was selected for duty at the local Party City and appears to be composed of a fully health department compliant polyethylene. The Skeletons do a slow motion dance, coming up from the ground performing their antics. Jim puts it this way: "They play through the night only to freeze in the daylight."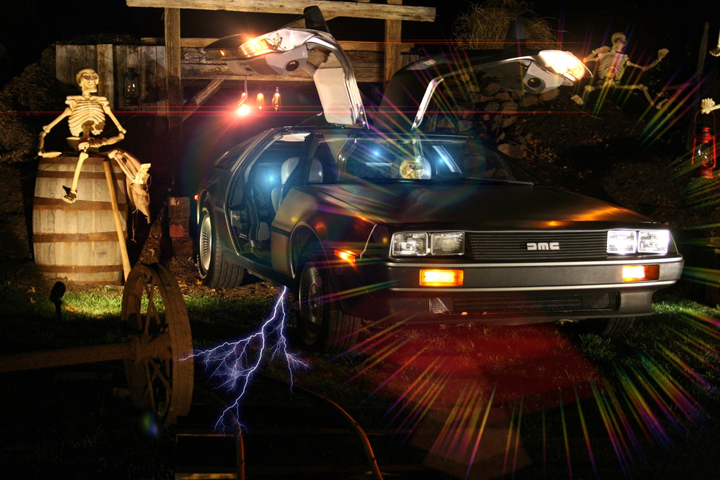 Last year the display centered around a circus theme, this year it's "Back To The Future," giving a nod to the date October 20th––the day Marty Mcfly traveled forward in time to in the first sequel to the original 1989 film.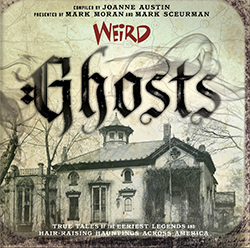 There was even an actual Delorean included in the display, which has since gone back to the past. As weird coincidence would have it, the 13 Skeletons and the Delorean had been frolicking just a hop skip and a jump away from the infamous former Delorean "dealership" where the road came to an end for the Delorean empire all those years ago. Jim was totally unaware of the connection, yet I teased Adams:
"So, did you know John Delorean…do you know his whereabouts? He did live in Bedminster just a few miles away, and the dealership is just up that way!"
"Are you sure?" Adams chuckled with a hearty good sported laugh shaking his head, "No!"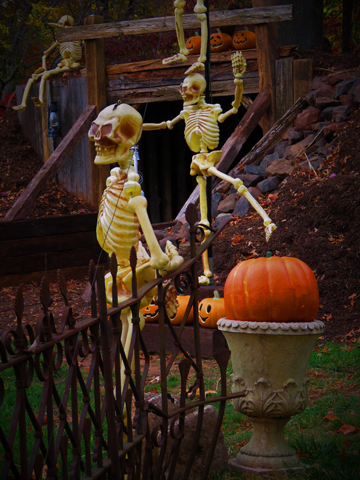 The thing that Jim seems to enjoy most about his 13 Skeletons are the people the display draws "from all walks of life and from all over," who he loves to interact with, he says. Many visitors have a story or a joke to share, and in return Adams is a real comedian. He has an unending supply of Skeleton puns, such as the display at times is manned by a "skeleton crew" (rimshot). One year a lady wanted one of Jim's annual tee shirts, which he gladly obliged to give her. The next day there were three pumpkin pies sitting in the center ring of the circus themed display.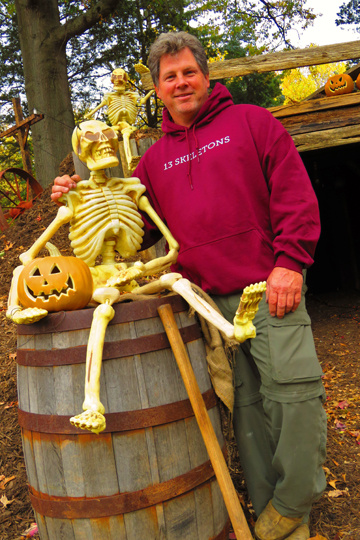 Jim told me the tale of the night a skull went missing. The following day a van pulled up, a driver got out, carefully placed the skull back into its place, and sped off. Says Adams, "seeing that just made me feel good. The follow through to come back and make it right renews my faith in people." The gift he gives NJ in return is not lost on me, what he offers in setting this up each year is a priceless treasure of childhood and seasonal memories for all. Set up with more sweat and effort than cost, it uses minimal power but yields maximum joy to both Adams and his family and of course all who come to see it. The mine theme displayed this year is constructed of 160 wooden pallets and a lot of moss, and as always, pumpkins, skeletons, and lots of fun. As Jim says, "your imagination is all you need." For a good time and some friendly frights, I whole-heartedly agree with him. –By Rich Robinson.
Bordentown is Halloweentown!

Just when you think you have seen it all and nothing can top it, a viable contender of weirdness will inevitably throw its bizarre brand of oddness into the mix, giving the established WEIRD a run for top banana.
Alice in Wonderland was the theme of the annual Thompson Street Halloween effort this season in Bordentown, and it is indeed worthy of seeing––but even then you may not believe it…So, take some pictures!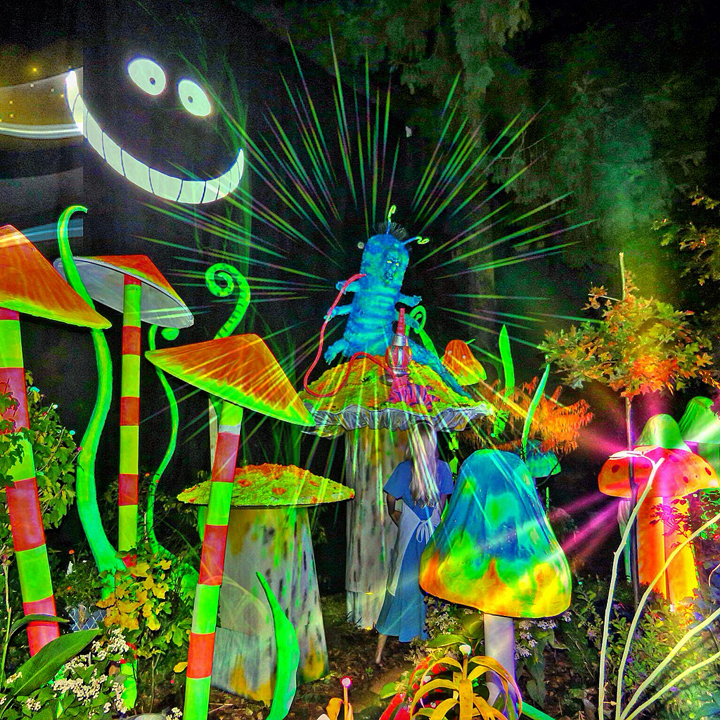 The residents of the community all get together starting in August each year and plan a theme with each home on the street participating in the season's festivities.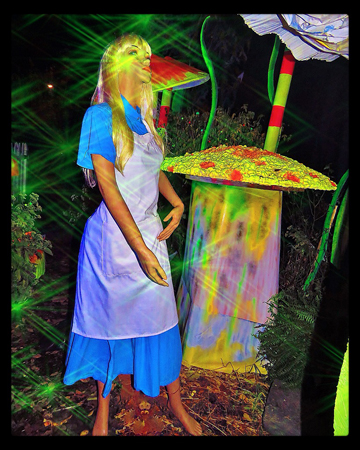 The one-way street begins with each home showing displays of the Alice In Wonderland theme, such as a tea service and large playing cards. It's a block long close quarters enchanted experience, very popular to those in the know.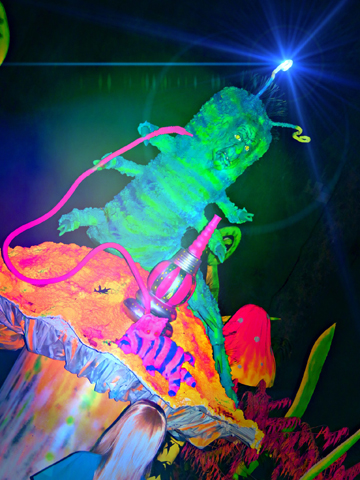 The not to be missed massive colorful Alice In Wonderland masterpiece a few houses in is the artistry of the Frank Rios household. Rios has festooned the decorations with neon colored props bathed in fog and black lights with its main character, Alice, staring up intently at the Caterpillar as he soapboxes wisdom atop a psychedelic mushroom with his hookah. Astounding, in a word, incredible in another, and I could go on, but just try to see this thing, you will be glad you did.
This yearly event includes the Pumpkin Man of Bordentown as the last display on the street corner where a rather large quantity of hand carved pumpkins cast a warm glow through the yard of his home.
Totally inspired by the enclave over on Thompson Street, the neighbors across town on Brooks Avenue came up with a theme of their very own, working this year with several UFO craft, landing, crashing, invading and to top it all off at the "dead end" with an Alien Autopsy tent! Two energetic residents of the street, Neil and Jen, outdid themselves with the UFO Crash on their front lawn. It includes a long glowing trail of embers emanating from the largely intact wreckage. There are four beings observing the crash while one appears housetop looking sternly down at the crew.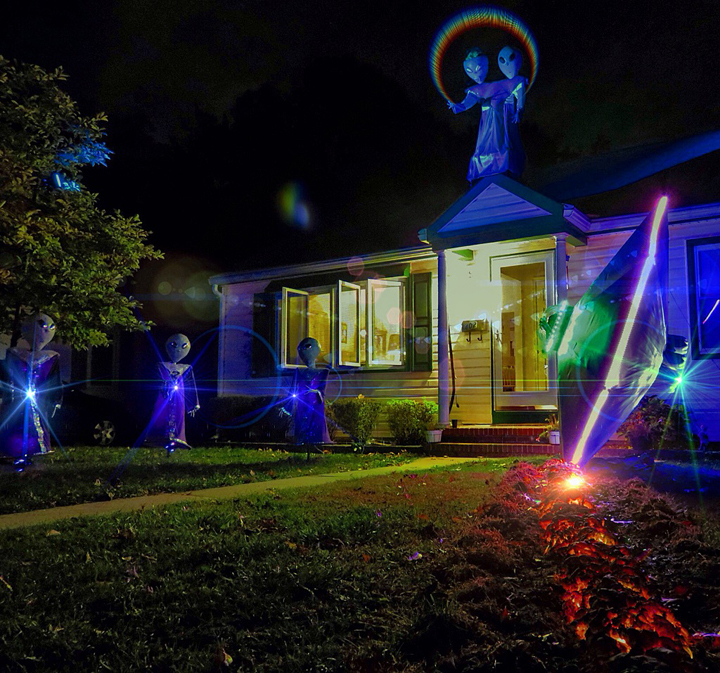 Halloween has truly been invaded by the Interstellar Travelers on Brooks Avenue this year. Many thanks and "props" go to the communal spirit that the fine people of Bordentown, NJ choose to share with all who come to enjoy it. They are all great New Jersey neighbors indeed. Alice in Wonderland on Thompson street is to be intact for another week, and I'm sure the adventurous traveler will be treated to the invasion from outer space at least until All Hallows Eve. –By Rich Robinson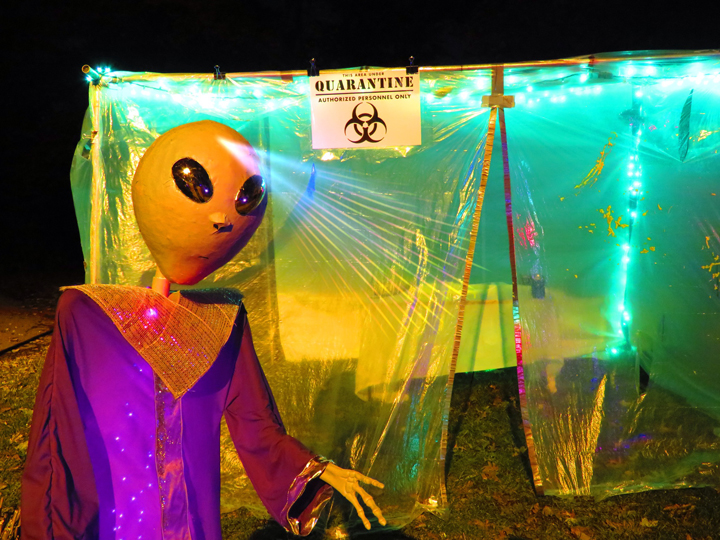 Nightmare on Main Ave. in Wood-Ridge
"Here are some photos of a creepy house on Main Ave. in Wood-Ridge. It is a small street but I do not know the house number – you can't miss it!"  –Pat De Rose, Wayne NJ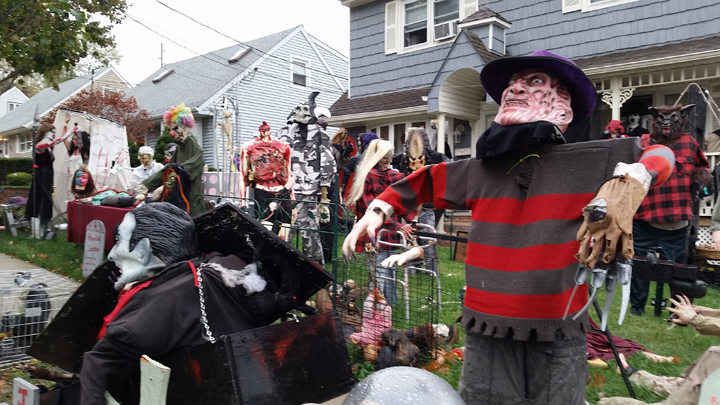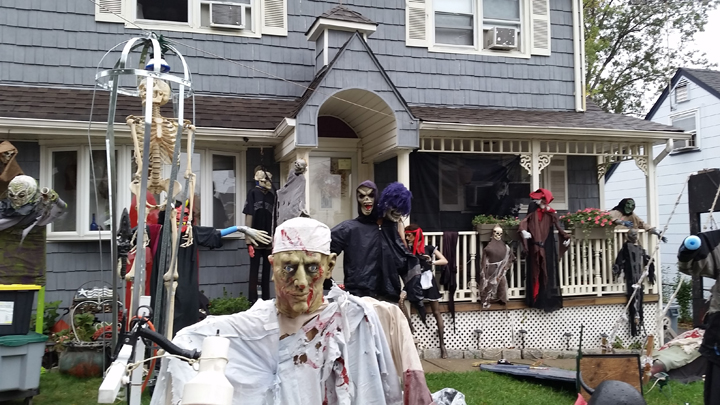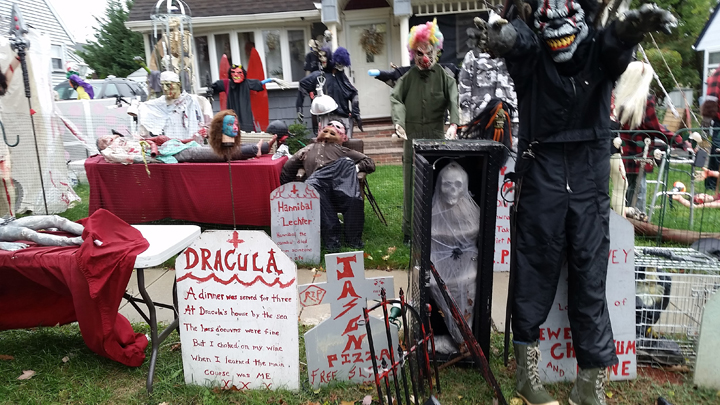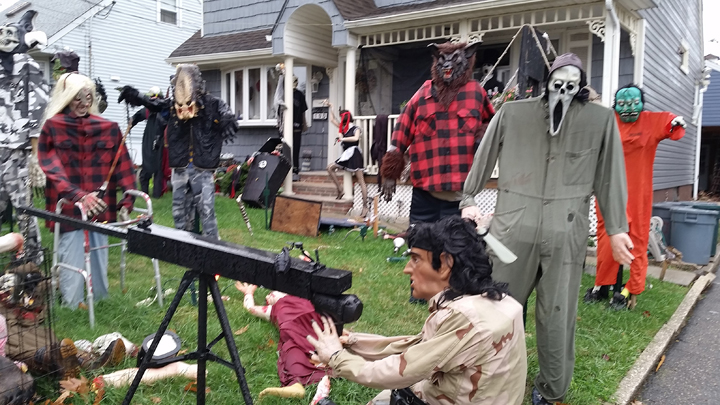 Terror in Toms River
"Hello! My husband and I do an awesome Halloween display at our home in Toms River. We even made the cover of the Asbury Park Press a few years back. We'd love for you to check it out. Thanks!" –Donna and Alex Rosano, 2033 Brookewood, Drive, Toms River.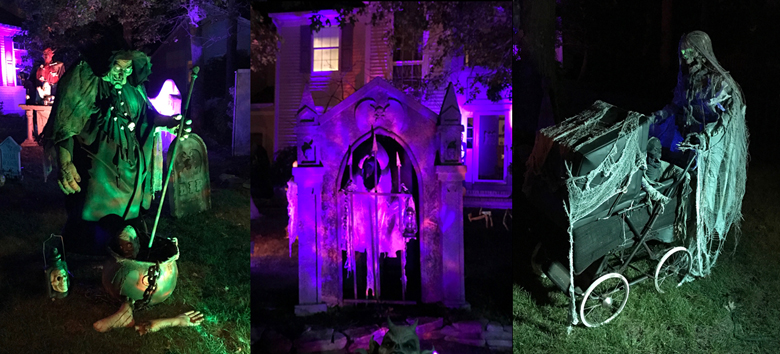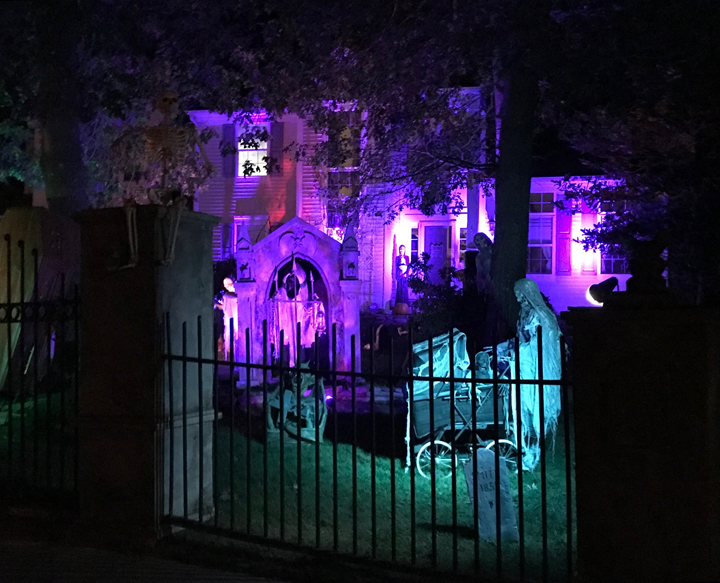 The Hawthorne House of Horrors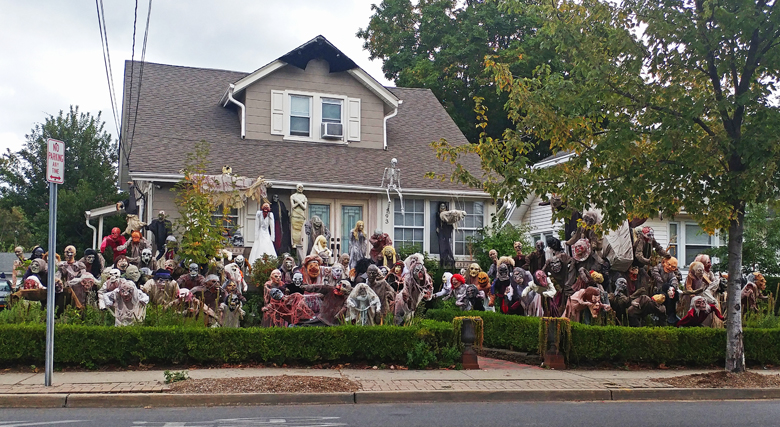 Dear Weird NJ, I posted this picture on Twitter this afternoon. This house is located at 193 Lafayette Ave, in Hawthorne, NJ. –Kurt Schuster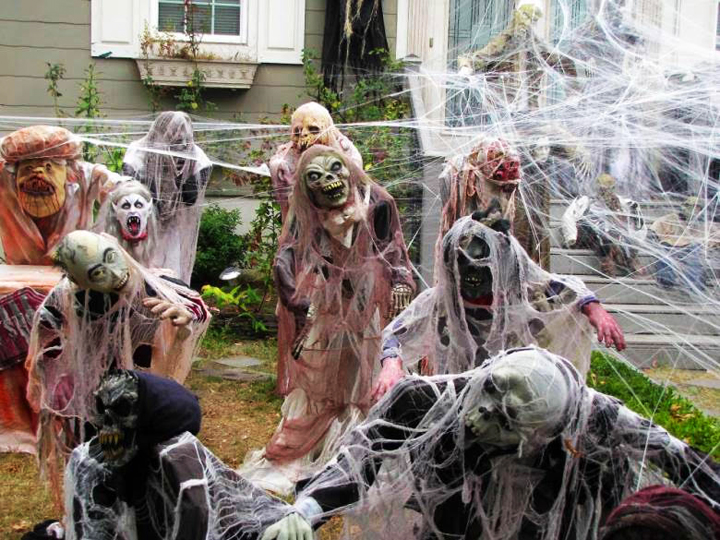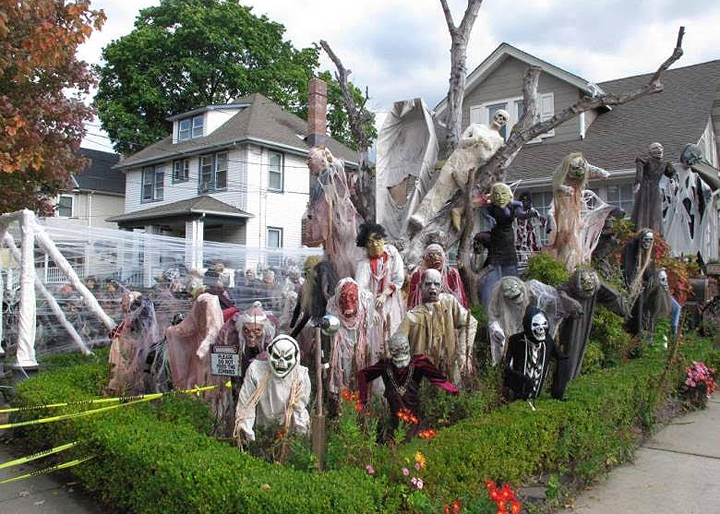 Have you ever visited the Zombie House in Hawthorne?   It is at 191 Lafayette Avenue.  Every year for Halloween, they set up life size zombies, ghouls, ghosts, etc. on their lawn.  They must have over 50 of the life size figures.   They also light them up at night, and for Halloween also have a few live zombies mixed in for fun.  They start setting up in mid-late September, and it's a real traffic stopper.  I've attached a few pictures, but it does not do it justice.  It is definitely worth a visit, and probably a good story as well.  Where does one store zombies in the off season? –Ed Sciano 
"I've lived in Hawthorne for my entire life (I'm 52). I always enjoyed his Halloween display.  I don't know why but as of yesterday, Oct 18th all the decorations were removed.  I know over the years there were a few complaints about traffic and his displays were too graphic. Look forward to every issue and special edition you put out."  –Wayne V.

The preceding article is an excerpt from Weird NJ magazine, "Your Travel Guide to New Jersey's Local Legends and Best Kept Secrets," which is available on newsstands throughout the state and on the web at www.WeirdNJ.com.  All contents ©Weird NJ and may not be reproduced by any means without permission.
Visit our SHOP for all of your Weird NJ needs: Magazines, Books, Posters, Shirts, Patches, Stickers, Magnets, Air Fresheners. Show the world your Jersey pride some of our Jersey-centric goodies!

Now you can have all of your favorite Weird NJ icons on all kinds of cool new Weird Wear, Men's Wear, Women's Wear, Kids, Tee Shirts, Sweatshirts, Long Sleeve Tees, Hoodies, Tanks Tops,  Tie Dyes,  Hats, Mugs & Backpacks! All are available in all sizes and a variety of colors. Visit WEIRD NJ MERCH CENTRAL. Represent New Jersey!