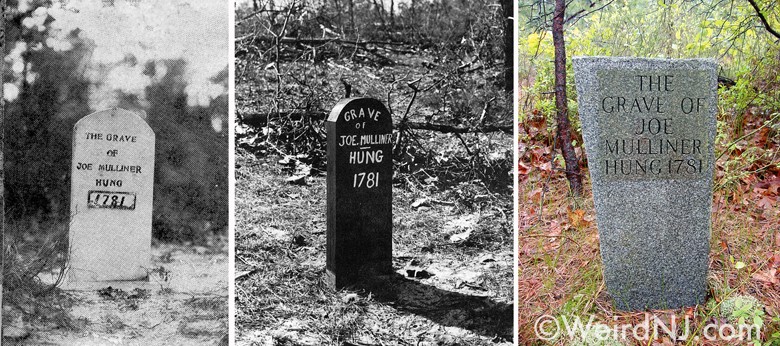 Often referred to as "The Robin Hood Of The Pine Barrens," Joe Mulliner was a Tory outlaw who was forced to flee his home in 1779 to avoid arrest, then went on a crime spree throughout the Pine Barrens of Southern New Jersey, burning farmhouses, kidnapping, and holding up stagecoaches. But he often left poorer folks alone and preyed on the rich. He was captured in the Indian Cabin Mill Inn in Nesco after a night of drinking, dancing and debauchery. Convicted of high treason on August 8, 1781, he was sentence to be hanged the same day at Gallow's Hill. Afterward, his body was delivered by wagon, along the very route that he had terrorized, to his wife at Sweetwater, where he was buried along a high bank overlooking the Mullica River and the Cold Spring Swamp. His final resting place is a lonely grave in the pines marked by the stone seen here at the right, the most recent monument in a long line of stones, the previous markers having all been stolen over the years.
–––––––––––––––––––––––––––––––––––––––––––
This Internet story is only an excerpt of the information we have published on this subject. For the full story we suggest you refer to past issues of Weird NJ Magazine.  To keep up to date on this story and all the other weird goings on in the state subscribe to Weird NJ and we'll deliver it to your door. If your local book seller, newsstand or convenience store doesn't carry Weird NJ, just tell them to call us toll free at 1-866-WEIRDNJ and we'll be happy to stock your favorite store for you.