EXCLUSIVE: Matawan Man-Eater Mural Artist Reveals Identity!
Now, for the first time anywhere, the artist responsible for the Matawan Man-Eater Mural tells his story in an exclusive interview with Weird NJ.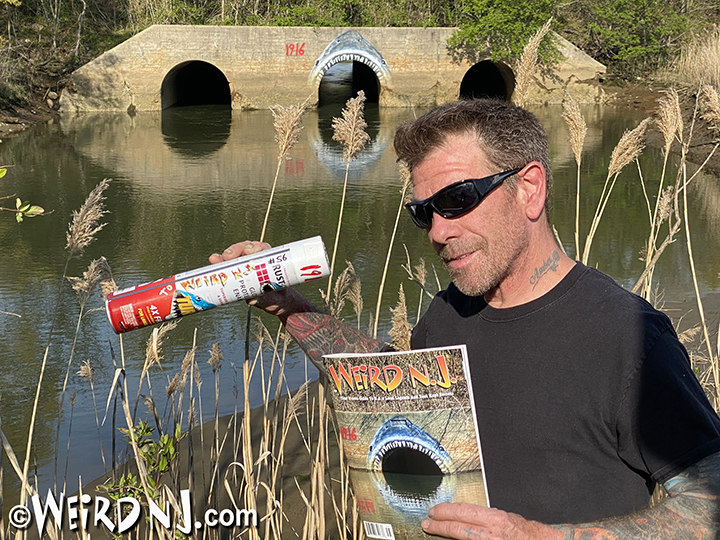 If the image of these toothy shark jaws look familiar to you it's probably because at some point you, like just about everyone else, has been terrified by either the book or movie "Jaws". And the story that inspired this mural by a heretofore unknown artist is actually the exact same incident that inspired New Jersey author Peter Benchley to write that harrowing novel in 1974.
Nearly 60 years before Peter Benchley's novel "Jaws," a real-life man-eater lurked the waters of the New Jersey coast, eventually making its way to Matawan on July 12, 1916. This arched railroad trestle found along the New Jersey Southern Railroad line (Central Railroad of New Jersey) spans the narrow muddy waters of the Matawan Creek, just yards away from the location where two young men lost their lives, and another lost his leg to the marauding killer shark. (Read the full story HERE)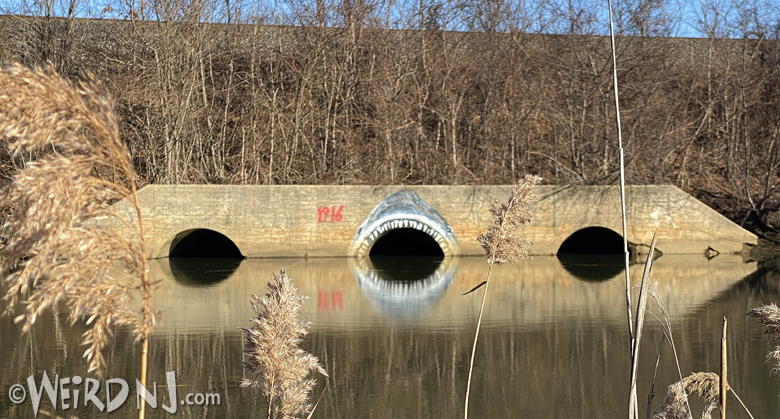 Now, for the first time anywhere, the artist responsible for the Matawan Man-Eater Mural tells his story in an exclusive interview with Weird NJ.
He has kept his identity a secret for more than year since painting the shark jaws for fear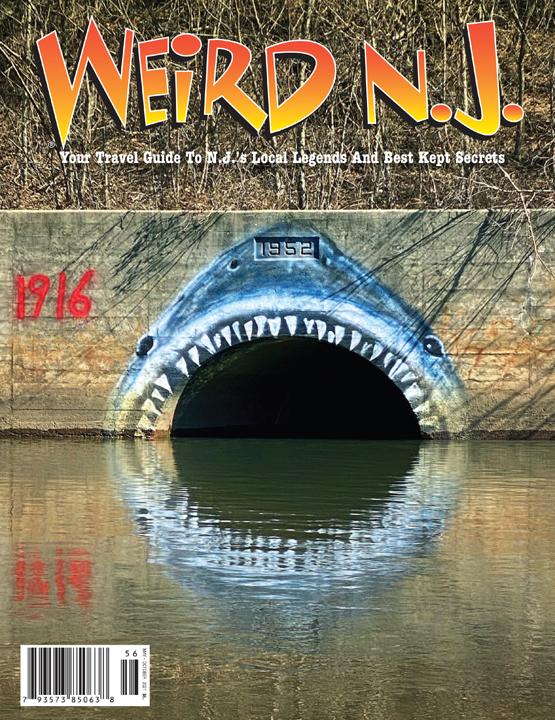 of the possible repercussions, legal or otherwise, that his mural might bring. But the artist, who wishes to be known simply as Tattoo Bob is now ready to take credit for his eye-catching work, which has gone viral on social media platforms since being featured on the cover of Weird NJ issue #56.
Surprisingly, Tattoo Bob, a construction worker by trade, is not a tattoo artist, as the moniker might suggest. Actually, he doesn't really even consider himself an 'artist' at all. As he puts it, "I just have tattoos. My Instagram is TattooBobTV." So how did this mystery man come to create what has become on of New Jersey's most recognizable images in recent memory? Weird NJ met with Bob at along the banks of Matawan Creek to find out.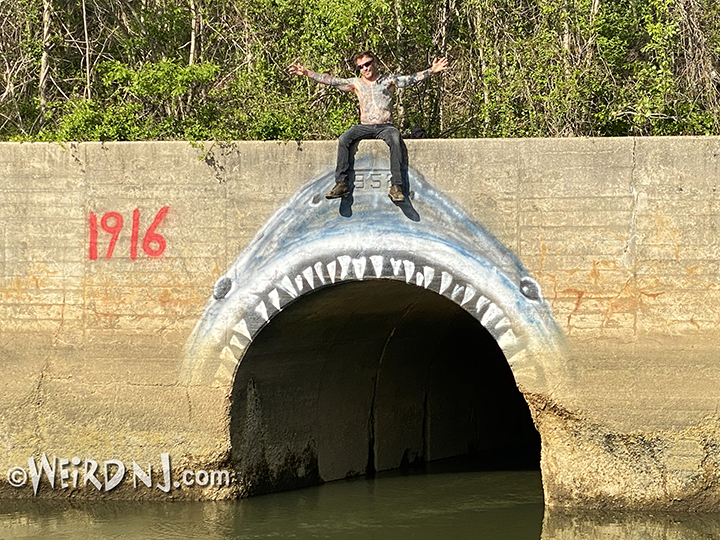 Tattoo Bob: I had this idea in 2016. I always drove by here and I saw that bridge and the tunnel, and I knew about the local history. And I was like, damn, that just looks like the perfect thing for a shark's mouth. It's so amazing that that's actually where it [the shark attacks] happened. It's only about 100 yards away. I came a month before at dead low tide and I sat on top of the bridge. I took a tape measure and I measured down so I got the depth of the thing. Then I measured the circumference of the circle and I actually laid it out on my yard. I didn't want to be out here hand-painting each tooth individually. So, stencil was the quickest way. I made several different stencils of all the teeth and had them numbered and ready to go.
I staged everything – had the ladder waiting here, I had my stencils on the bridge like a month before. I had a backpack with my cans of spray paint: two cans of white, two cans of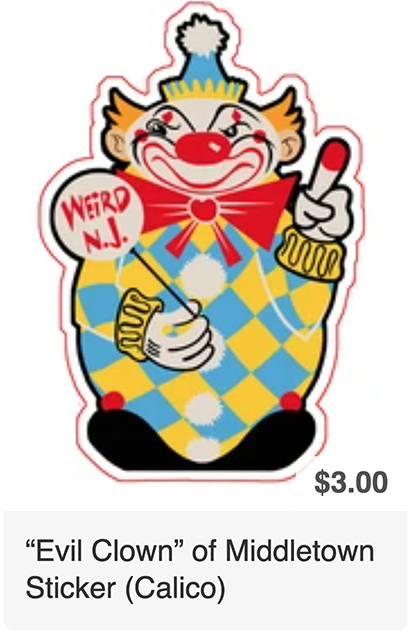 black, a can of gray, a can of blue, and one can of red. This was like a military operation. I planned to do it several times. I tried it on a Sunday at one o'clock in the afternoon and I didn't even get in the water – just sat here for about an hour just watching cars go by. And I chickened out. But on July 22, 2020 at 3:40am – that was the deadest low tide, actually the historical lowest tide of the year. I got dropped off at this location right here. Once I got in the water, I'm carrying my ladder, and it's getting deeper. I wore the stencils around my neck like a neckless. The concrete ledge at the base of the tunnel is only about two foot wide. So, the ladder was vertically straight up.
Weird NJ: How do you paint in the dark? We wondered.
I have no idea. No idea. And it wasn't even a full moon at that time. I put a headlight on but it was too bright. I shut it off because I didn't want to draw attention. It was completely pitch black, just the natural light. It wasn't sketched out or outlined or nothing. I got to work on the left side. I took the big Hot Shot can of black and did the black outline real quick. Then I did my teeth with white, the white outline, I did the outline of the eyes. And then I started doing the blue and I faded it with the black. Then I moved the ladder to the middle and did the same process there, then the right side. When all that was done, I took all my empty cans and put them in a safe place. I went back out and I did the "1916" last with the red.
So, this was all done in complete darkness. How long did the actual painting take to do? Were you done before the sun came up?
I got dropped off on the side of the road, walked here, painted it, and called to be picked up 35 minutes later.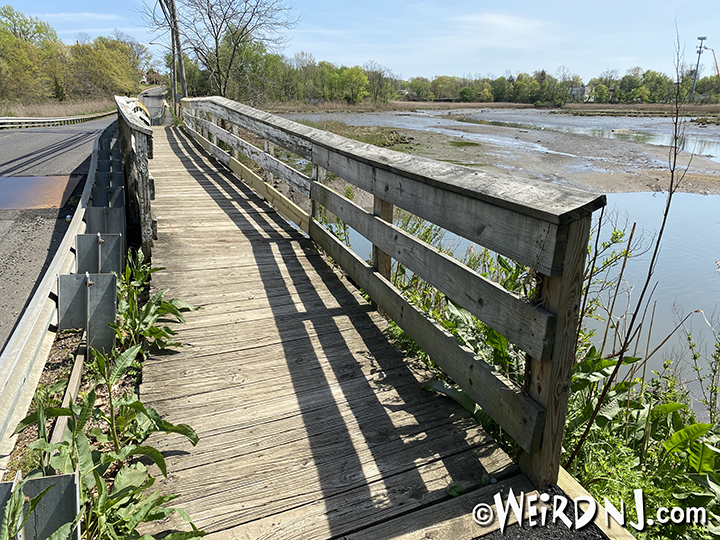 That's unbelievable! We would have assumed it took several days.
35 minutes. And to me, every minute felt like an hour. I'm standing in shark-infested water in total darkness on a ladder with spray cans. I'm 20 feet in the air, wearing rubber waders. And I was just so scared that it felt like hours, but it only took 35 minutes. And then the sun started rising, and the first train of the day came by, I was already on my way home. I woke up the next morning and came here at 8:30am and I saw it for the first time. I could not believe I painted it.
That's right, you actually never even saw it until later on, because it was still dark when you left.
Yeah, there was no way for me to step back and visualize it. So, it could have actually been terrible. There was no chance to fix it or anything. I just did it and did the best I could. It was spontaneous, spur of the moment. And I think it came out kind of good.
When you did this, you did try to remain anonymous. Was there ever any fear of repercussions from the town or New Jersey Transit?
Yes, I mean, it's wise of you to be discreet. But it's like local folklore and legend around the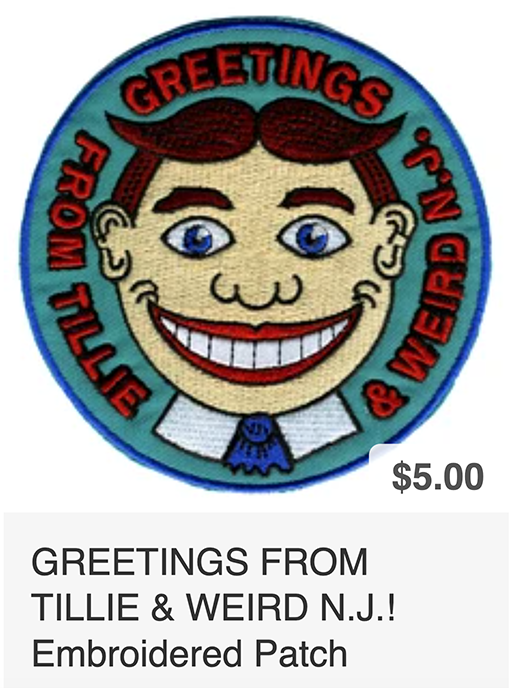 town and people love it. I think the shark should be Matawan's mascot, like to promote tourism to our town. This is one of the most historical things – it's known around the world. And people should definitely know it. And I feel that I did a tasteful representation of an iconic image which people can drive by every day and say, 'Wow, that's actually where it happened'.
Can you remember the first time after it was completed, that somebody actually mentioned it to you – brought it up in conversation?
Immediately the next day. So many people were texting me saying they stopped by the bridge, you got to see what someone did. And it was just like a trickle effect. They're were just telling me as regular gossip. And it was just so amazing. And then I started looking on Facebook and it was just spreading like wildfire.
How have you managed to keep your identity a secret for so long? In the age of the Internet secrets are hard to keep. And if one person knows it, they find it difficult to keep it to themself.
It's been burning inside of me. Only a very select few people actually knew that I did it. They were totally against me even doing this interview. But at this point in my life, I'll take credit for it. Just to help make people a little more aware of it and educate more and more people. Lives were lost here. And that's basically the only reason I'm doing it.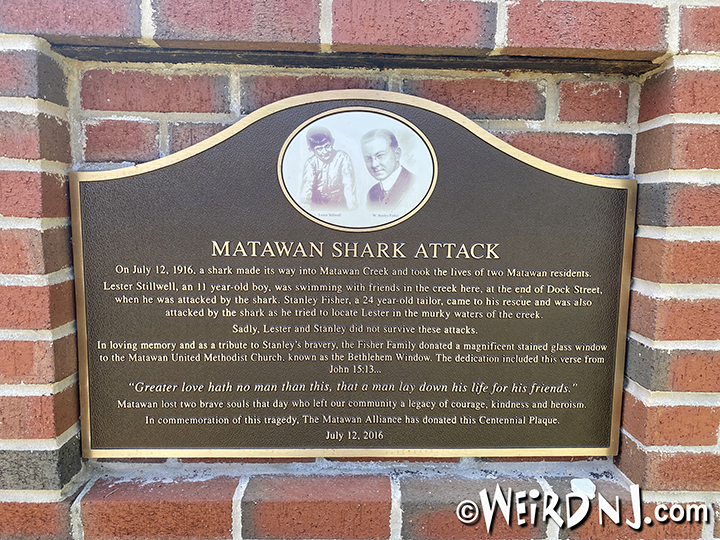 When was the first time you realized that your mural was featured on the cover of Weird NJ magazine?
My youngest son called me and said, 'Dad, you're freaking on the cover! We're in Weird New Jersey!' And he sent me the picture and sent me the link and I was just blown away. I smiled so hard from ear to ear, I couldn't believe it, because I've grown up with Weird New Jersey, it's an iconic local magazine. I'm honored and proud to actually live in this town, and the state of New Jersey, and to be part of that. This photo is definitely a visual display of art. And I definitely feel honored that you guys took it. And the way that you guys approached it on the cover was amazing.
But the main thing that I'm really proud and respectful for your company and your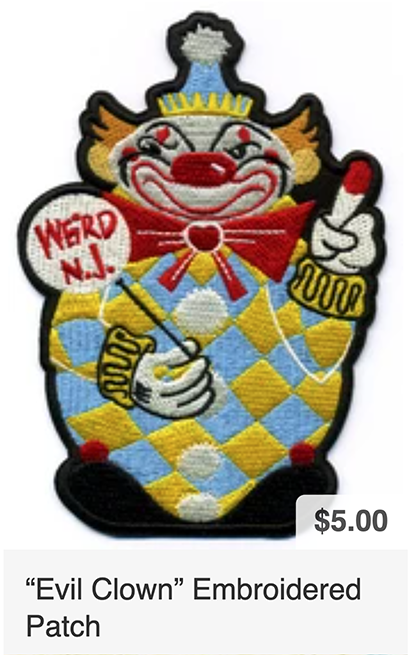 magazine, for the way that you actually went into detail and described the history. If you guys turned it into something totally different, that I would have kind of been a little upset about. But the story could not have been written any better. It explains all the history. And that's the main thing, that's why I did it. So, for you to use your platform to educate people on that – and I know that you guys have awesome cult following. And people will come here and actually learn a lesson. So, education about something so iconic, and it's so accessible to so many people.
The temptation to out yourself must have been quite great these past months.
Oh, it was killing me, even up until yesterday it was. But I finally feel somewhat of a sigh of relief by explaining my story. Me doing this, that may be a good thing to get off my chest. But there may be repercussions, we'll see. But I'm willing to deal with that. I think the consequences and any penalties will be outweighed by the reasons I had for doing it. Anyway, what's the worst they could do – maybe a couple hours of community service? No problem. I'm definitely involved with the environment, and cleanups, and I volunteer a lot for my community and everything. So again, I did it for the right reasons. Not saying that other people when they do graffiti is for the wrong reasons. It's basically people expressing their art. And again, I'm not a graffiti artist, just an older guy, and I just did it because I drove by every day. And that's what I saw, that's my interpretation of what I thought every time I drove by.
The town has started embracing its history and there are not one, but two memorials to the shark attack – not including your unofficial one. Has there been any fallout? Has anybody turned their nose up at what you've done?
Not of my knowledge. I've been reading social media I hear only good things about it. And obviously with social media, along with the good there's always going to be bad. But I have not come across any negative replies or comments about it.
The mural has been popping up a lot more on social media, so it seems to be garnered good attention. And now people are coming to take their own photos.
And I anticipated everyone coming here to go kayaking through it and get a selfie with the shark. And that's a good thing. But again, if they go 100 yards further, they can see the actual location [of the attacks]. We're about 1.2 miles from the Bay here, and obviously, sharks come up in here. It's brackish tidal water and bull sharks are one of the only sharks that can actually do that. And they've been coming here for years and there's always gonna be sharks here, you know? They were here 100 years ago, and they're here now. It's their world, their domain.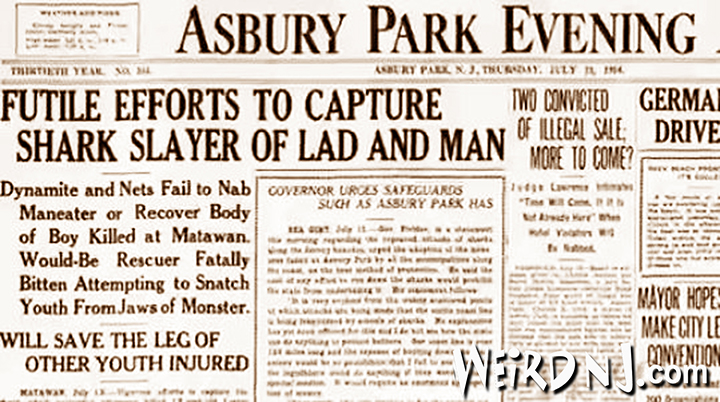 Well, we're glad you contacted us about revealing yourself. Thank you very much for sharing your story with the Weird NJ readers!
All I could think was, we're in Weird New Jersey and all the Weird New Jersey listeners, subscribers and the cult following ­– we embrace everything weird in our towns or communities, because you may never know it, but there are weird stories everywhere around you. That's what makes New Jersey so frickin' weird.
Tattoo Bob Wants to Draw YOU!
One of Tattoo Bob's other true passions in life is creating caricature portraits of folks that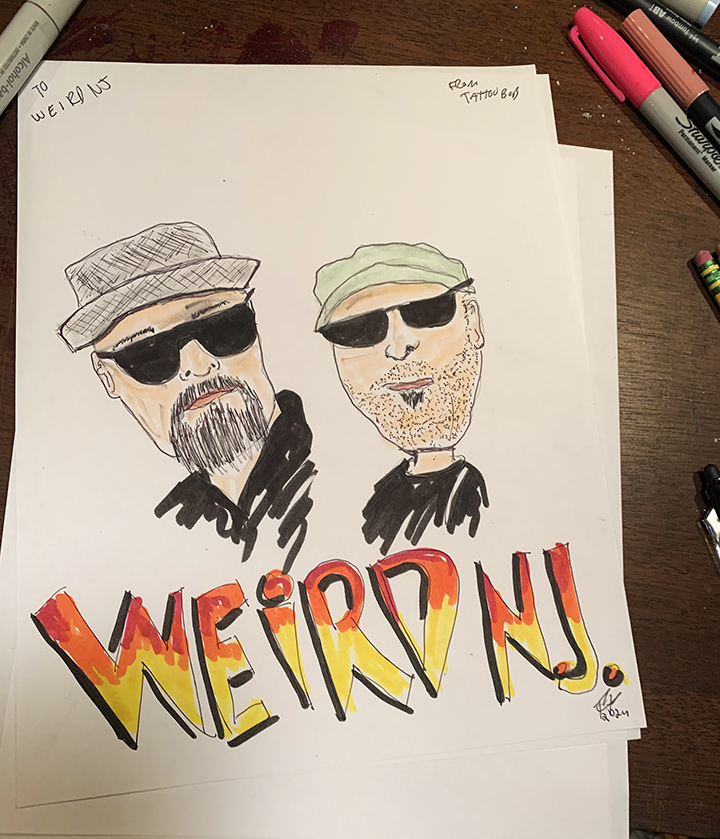 he meets online through his Instagram account, tattoobobtv. "I draw silly cartoons of people. I draw them for free for anyone who follows me," he explains. "I love meeting people and drawing cartoons." "If I could make money by drawing, I'd do it," he admits. "But if not, during these times, just drawing a silly cartoon, I've made hundreds of people smile. And they continually thank me. It's my own style. And basically, it's changed my life. And it's helped so many people. So, it's definitely a good thing." If you'd like to have Tattoo Bob create your likeness, you are invited to follow him on Instagram and send him your photo. He's drawn over 700 people already! Bob, along with Weird NJ, will also be taking part in Rockabilly Day at the New Egypt Flea Market on July 17th from 10 til 4. Come on out and have him draw your portrait.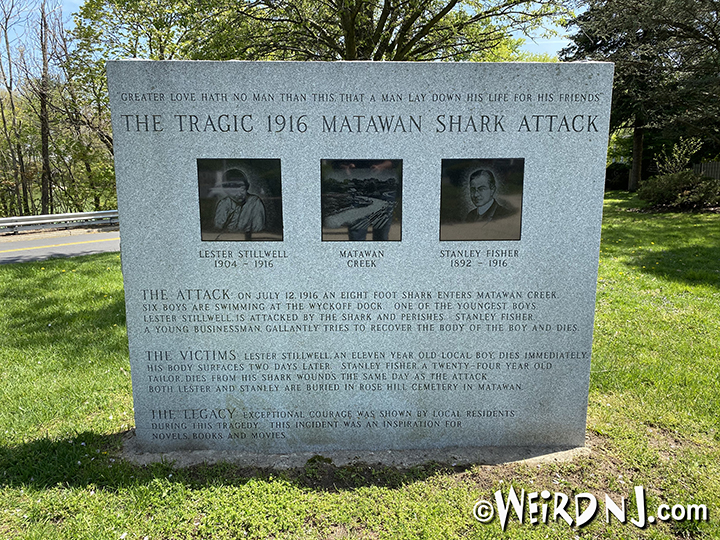 View this post on Instagram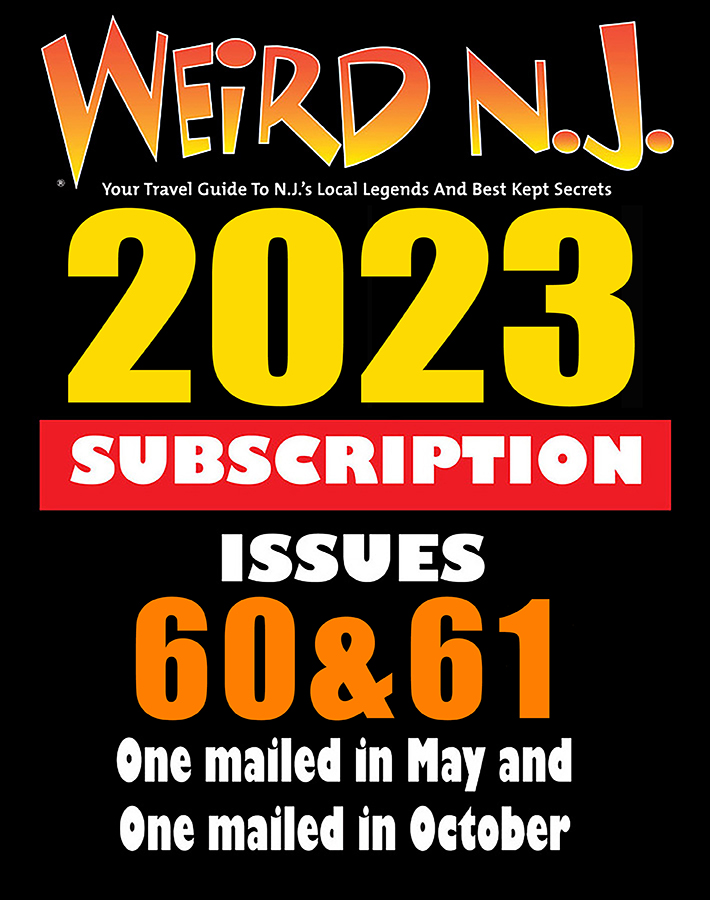 The preceding article is an excerpt from Weird NJ magazine, "Your Travel Guide to New Jersey's Local Legends and Best Kept Secrets," which is available on newsstands throughout the state and on the web at www.WeirdNJ.com.  All contents ©Weird NJ and may not be reproduced by any means without permission.
Visit our SHOP for all of your Weird NJ needs: Magazines, Books, Posters, Shirts, Patches, Stickers, Magnets, Air Fresheners. Show the world your Jersey pride some of our Jersey-centric goodies!

Now you can have all of your favorite Weird NJ icons on all kinds of cool new Weird Wear, Men's Wear, Women's Wear, Kids, Tee Shirts, Sweatshirts, Long Sleeve Tees, Hoodies, Tanks Tops,  Tie Dyes,  Hats, Mugs & Backpacks! All are available in all sizes and a variety of colors. Visit WEIRD NJ MERCH CENTRAL. Represent New Jersey!