Jersey's Junkyard Presidential Candidate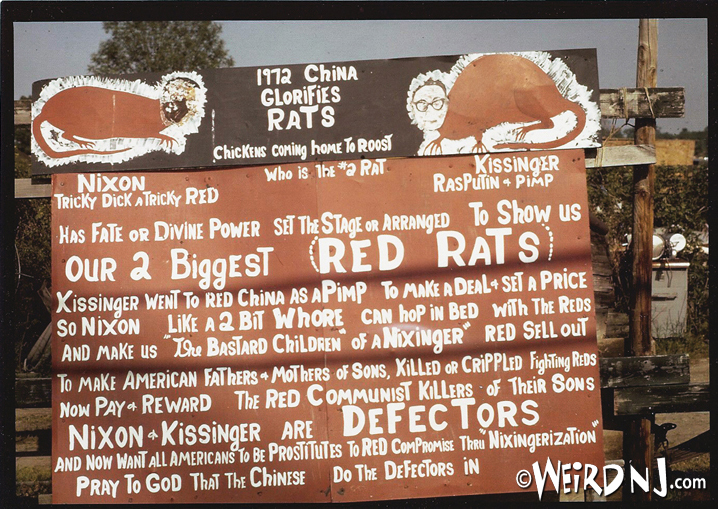 "I am the dissenter. I am the gypsy. I am the patriot. I am all races. I am all religions. I am this land. I am this land's future… Join me, be a freedom fighter. Help me fight in any way you can. Add honor to your name." –From a sign by John Van Jean Mahalchik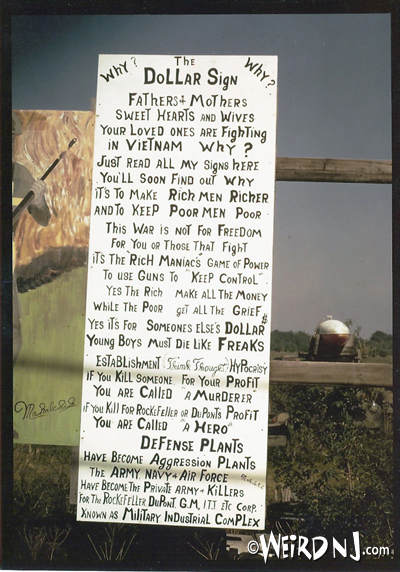 It was one of our state's most unusual sights to be sure; crudely painted sheet metal signs placed along the roadside of Route 206 in the 1960s and 70s, that stretched out for more than the length of three football fields. The messages they bore make the rhetoric of even this year's political campaign seem tame by comparison––and that's
really saying something! The

tirades targeted politicians of the day, "commies", socialists, draft dodgers and the wealthy alike. The display was the work of a former window washer, crop duster, and two-time United States Presidential candidate named John Val Jean Mahalchick.
Mahalchik was born in Pennsylvania in 1918, the son of Russian immigrants, who would serve as pilot in the US Air Force during World War II. After the war he settled on a 50-acre tract of land with an airstrip located in Mount Holly, NJ, where he started a crop dusting business. After a hurricane destroyed his plane in the 1950s, Mahalchik turned his property into a junkyard of military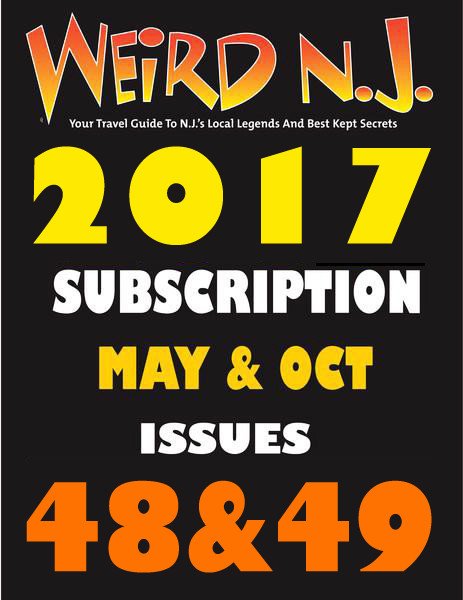 surplus items, perhaps due to his close proximity to both the Army's Fort Dix and McGuire Air Force Base. The property was soon littered with all manner of military paraphernalia: mess kits, shell cartridge containers, airplanes, ordnance, landing crafts, etc. Along with the mountains of surplus equipment, the junkyard contained a hodge-podge collection of rusting old cars, a water tower, buses, a steam locomotive engine…oh, and a giant sheet metal teepee in which Mr. Mahalchik resided.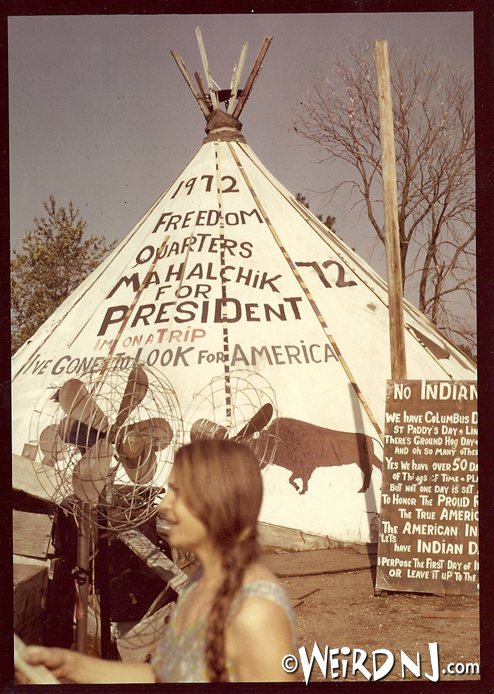 The business soon ran afoul of local authorities for zoning code violations and put Mahalchik, who refused to purchase a permit for any of this, at odds with the powers that be. This prompted him to lash out with a protest campaign of sign writing around 1960, which would continue for the next two decades. He installed hand-lettered signs along the edge of his property facing Rt. 206, which railed against the local and national government for their corruption and greed. The metal placards, some the size of billboards, denounced many politicians by name, and lawyers and the rich in general. Then president Richard Nixon and Secretary of State Henry Kissinger were particular favorites targets of Mahalchik's rants, and their likenesses were depicted with the bodies of rats with the inscription "God Showing You Thru Me – America's 2 Biggest RATS."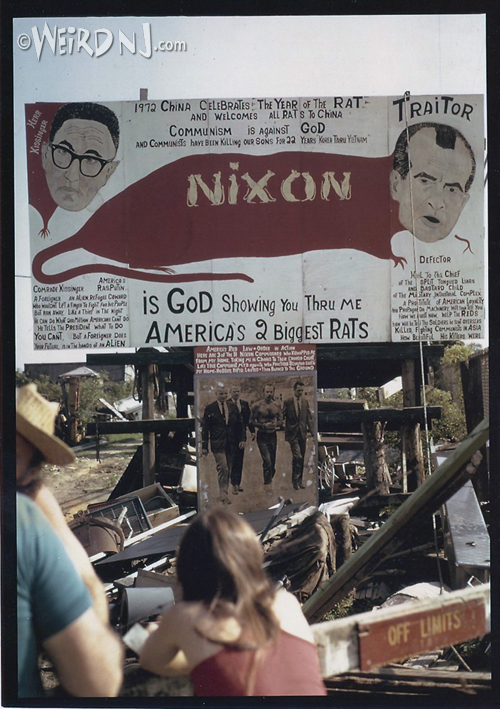 As you might imagine, this drew quite a bit of attentions from curious and dumbfounded motorists passing by on Route 206, many of whom would pull over along the roadside for a closer look. This, along with all of his other eccentricities, made Mahalchik something of a

controversial figure amongst the local citizenry. Despite this, or perhaps because of it, Mahalchik would launch several campaigns for offices in local government, and even made runs for President of the United States, not once but twice, in 1972 and 1976! Some of the photos featured with this article were taken by Irv Homer, a Philadelphia radio talk show personality who was Mahalchik's vice presidential running mate on the America First party ticket. The team garnered 1,743 popular votes, and zero electoral votes in their election bid.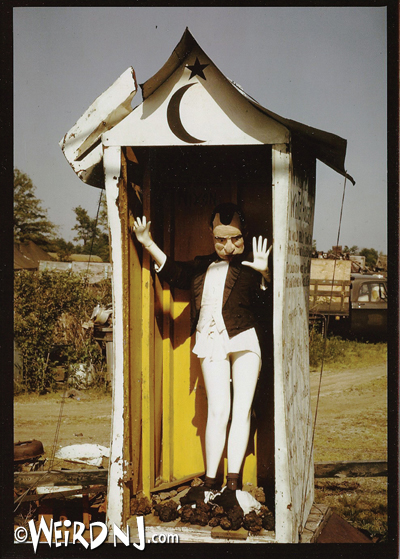 Alas the presidency of John Val Jean Mahalchik was not to be. By the 1980s he had given up on seeking office and stopped creating new signs. By that time the older

billboards were falling from their supports, rusted and illegible. He died heart failure April 27, 1987 at the age of 69. Later that same year the contents of Mahalchik's 50 Acres was auctioned off to the highest bidders.
Visiting the Mahalchik's 50 Acres, Then and Now
I had first visited Mahalchik's Fifty Acres in 1976 when my friend Bill and I had commandeered a vehicle for our first trek through Burlington County in search of roads less traveled. At that time the place was still filled with old army buses, locomotives, parts of airplanes, and thousands of military surplus artifacts. It was a truly amazing everything junkyard.

Signs in front of the place declared Mahalchik's distaste for political authority. There was also a huge billboard that had a picture of Richard Nixon painted on the body of a bloody red rat that said Nixon Traitor.
Not seeing anyone around, we decided to take a little self-guided tour of this very bizarre junkland. Rows of cars from the '20s were lined up next to the upside-down stacks of zeppelin carriages, amphibious military vehicles and a mountain of canteens and metal ammo boxes. All of this stuff surrounded a huge metal teepee in the middle of the property.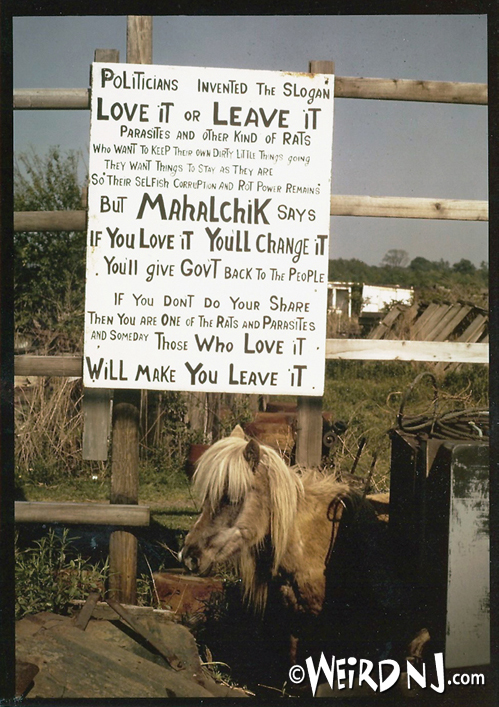 Although we did call out, we didn't see anyone except a few goats that had been wandering the grounds. We decided to head to the diner down the road to see if we could come up with some information on this weird place. From what I recall, the waitress did not have fond words for John Mahalchik, the owner of the property, who had just recently died. We learned that he had ran for various political offices including President of the United States. At the time we visited, all the junk on his land was going up for auction.
Forty years later, on a recent Weird NJ trip that took us down Rt. 206 through Mt. Holly, I realized that I had accidentally stumbled upon the land that the Amazing Everything Junkyard had once occupied, but it was all gone. Stopping the car, we walked through the mud field to find some remnants of what was once a truly weird roadside attraction. All that remains today are a few wooden footlockers and some old tires, which were apparently unworthy of the auction block. –Mark Sceurman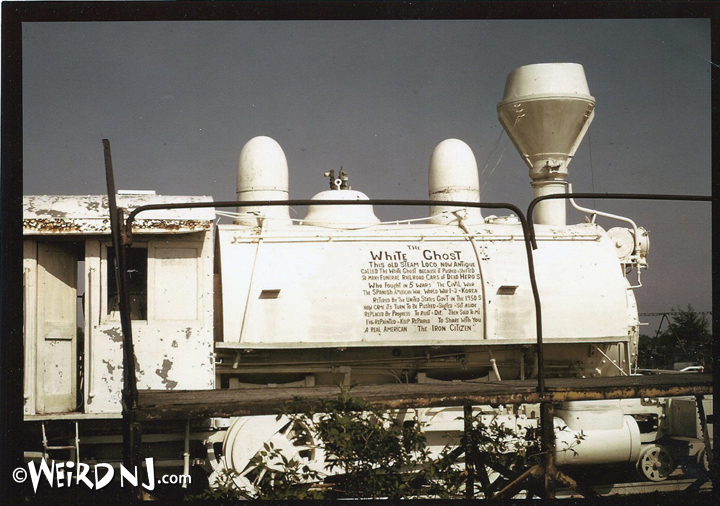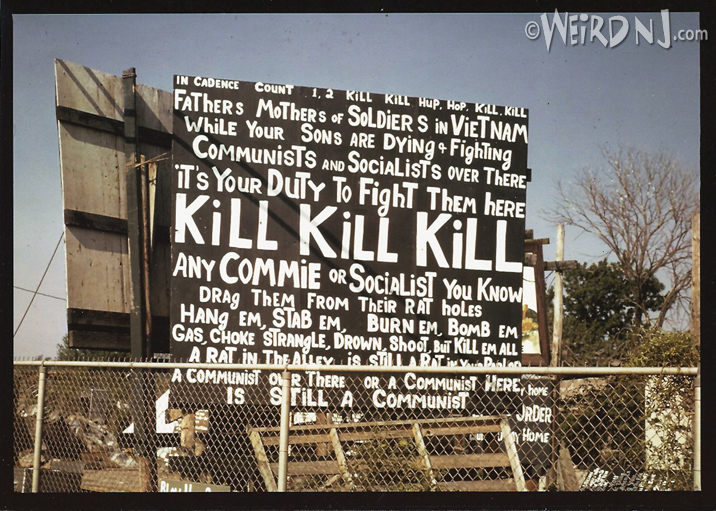 Photos by Irv Homer