All Aboard for Northlandz!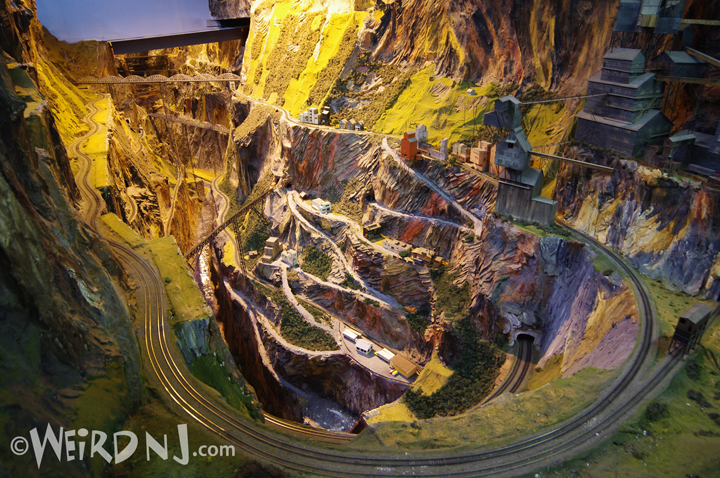 There's a place in New Jersey where mountain gorges descend sharply into turbulent roiling rivers. Through these rocky ravines train tracks cling precariously to the steeply pitched mountainsides. A locomotive passes on its daily rounds on the gravity defying line, winding its way through the treacherous terrain, then disappears into the inky blackness of a narrow tunnel into a mountain. When it emerges it continues to follow its tracks through high remote passes that offer spectacular vistas of small bustling towns and major metropolitan cityscapes alike. It will bear witness to agriculture and industry as it rolls by factories, farms, riverside mills and the deep abysses of open quarries and mines. Along its route it will cross mighty waterways and traverse dizzying chasms over expansive, remarkably complex bridge structures. And it will make the entire journey through this majestic scenic landscape without ever leaving the confines of a single Hunterdon County building known as Norhtlandz.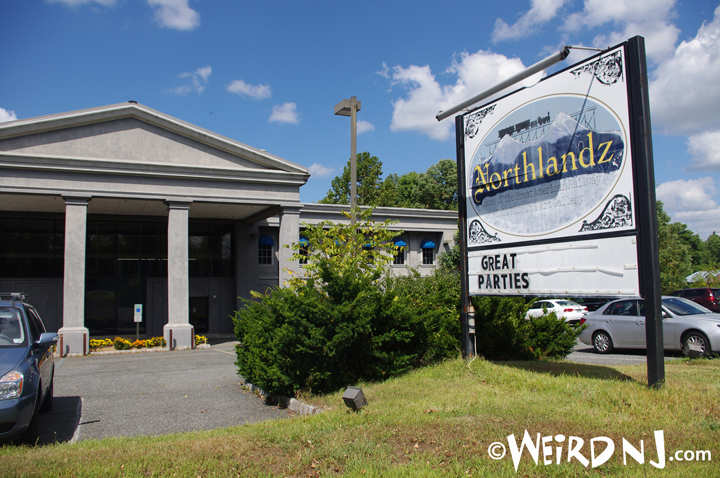 Northlandz, located on Route 202 in Flemington, is a fantastical environment of imaginative topography that makes up the world's largest model train set. The attraction is the brainchild and lifework of a man named Bruce Williams Zaccagnino, or simply Mr. Williams, who, along with his wife Jean, have created a place unlike any other on Earth. The scale model railroad features over 100 trains, which travel on more than 8 miles of track in the 52,000 square foot building. There are 5,000 tiny buildings; rail yards, depots, stations, turntables, and roundhouses. There are 500,000 miniature trees and 400 bridges and trestles made from innumerable tiny pieces of wood, metal and plastic. The massive sculpted mountains are made up of 200,000 pounds of plaster. The building materials used in the display would be enough to construct forty full sized houses.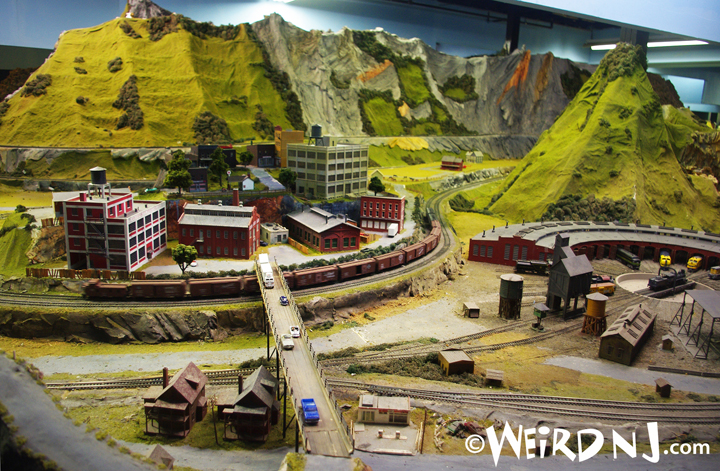 The dream of the Great American Railway at Northlandz began over 40 years ago as the Williams' first home was being built in 1972. Mr. Williams was a highly successful war and strategy computer game designer by day, with such well-known titles as Perfect General and Solitaire's Journey to his credit, which he published through his own independent software company.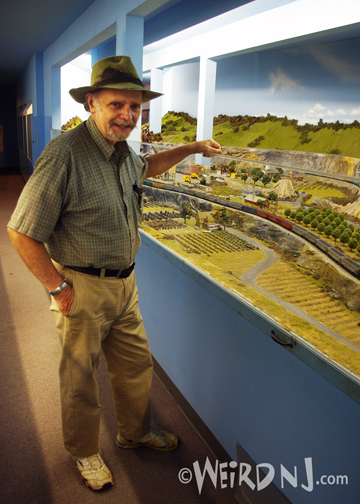 During the evenings Mr. Williams would escape to the basement and began erecting scenes for his passion (some might say obsession) for model railroads. This was the beginning of a labor of love that would eventually become Northlandz. In 1977, after Mr. Williams completed a fourth addition to the basement of his Flemington home, and was persuaded by friends to host an annual train show for a local charity. The weekend show was soon attracting 1,500 visitors, so in 1996 Williams began opening Northlandz on a daily basis.
When Weird NJ visited Northlandz we were greeted by a smiling older gentleman dressed in khaki pants and wide brimmed hat reminiscent of the one worn by Indiana Jones in the Raiders of the Lost Arc movies. This was in fact the creator of Northandz, Mr. Williams himself, who stood in the ticket booth and accepted our admittance. Afterward we took a few steps over to pick out some refreshments at the snack bar, where once again stood Mr. Williams, at our service. According to the brochure, at its busiest Northlandz says that it had 2,100 visitors in a single day. Fortunately for us though, on this particular weekday we seemed to be almost the only people in the immense building.
When you begin your journey through Northlandz you travel down walkways that lead you around the gigantic exhibits––some so big that visitors are encouraged to bring binoculars so that they can see details on the far side of the displays. You are immediately taken aback by the intricate features of every diorama and it can be very tempting to view each one until you're satisfied that you have taken it all in. Here we offer a helpful bit of Weird NJ advice: Move along friend, there will be PLENTY more to see before your trip is done. As you walk on, scene after scene unfolds before your eyes, all with trains chugging through hither and yon.
About 20 minutes into the expedition the common person with only a passing interest in railroads might start to think, "This is certainly incredible, but perhaps I've seen enough trains for one day." Well, dear reader, the journey through Northlandz is not unlike the journey of life itself: It only goes in one direction and there is NO TURNING BACK, as signs posted along the route remind you intermittently. It's a one -ride with no return trip tickets. After about a half hour into the tour all but the most diehard trainspotting foamers have stepped up their walking pace. It is right about at this point that you will notice (either with delight or anxious terror) the marker declaring that you are now 25% of the way through. This means that the entire tour of Northlandz takes an estimated two hours to complete. The visitor's walkway is actually about one mile long in total. We continue chooglin' along at a somewhat accelerated rate.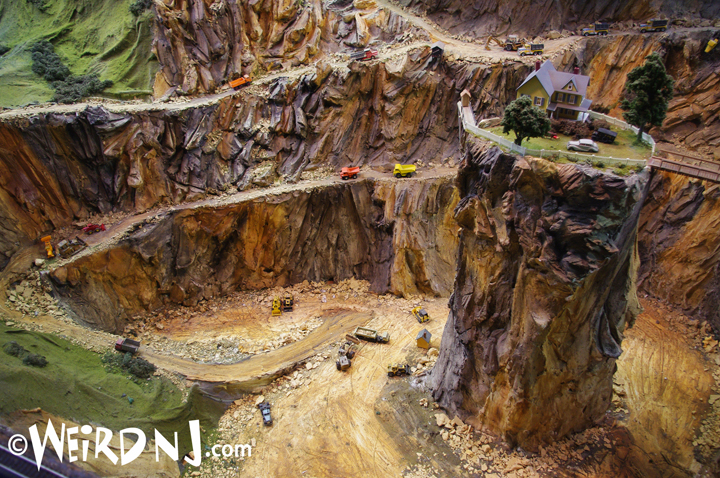 Even after you start to think that you've see enough complicated multi-level train trestles crisscrossing each other willy-nilly at various levels, there are still little surprises that continue to catch your eye along the way, like the little comedic signs posted on some of the displays. One tells the story of the "World's Tallest Outhouse", which is perched on spindly stills at the top of a cliff overhanging the open pit of a rock quarry. Another interesting feature is the control room with its massive panel of knobs, buttons, dials and lighted gauges, that keeps this whole network of rail traffic running all day every day. The console takes up an entire room, and we couldn't help but wonder where would you get something like that, and how many mechanized boards of this kind could possible exist in the world?
At one point an entire city of skyscrapers rises up to a height of about 10 feet before your eyes. There are buildings and people and cars––but oddly enough, not a single train to be seen anywhere! We wouldn't be surprised though if there was a vast unseen subway system running beneath the streets.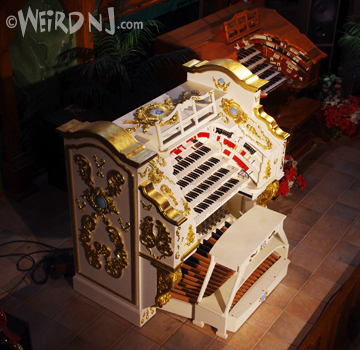 All along the way through the meandering walkways of Northlandz the visitor's ears are taunted by the eerie strains of organ music echoing through the corridors. Then you enter a cavernous, dimly lit chamber and discover where the haunting music is emanating from. It's what appears to be an opera house, complete with theater seating on the floor and even a balcony. Ornately carved wood covers the walls right up the three-story high ceiling, from which an eight-tiered crystal chandelier hangs in the center.
On the stage is an assortment of massive organs, including a 2,000 pipe theater organ with multiple levels of keyboard, pull stops and foot peddles. An enormous white pipe organ with gilded Rococo accents sits center stage, surrounded by bouquets of flowers, looking ostentatious enough to make Liberace blush. Sitting on the organ bench noodling away with his back to the audience of empty seats is Mr. Williams. We began to realize that Mr. Williams was omnipresent throughout Northlandz, traveling unseen from room to room, perhaps through secret passageways known only to himself. Either that, or like in some bizarre episode of the Twilight Zone, there was actually a whole army of cloned Mr. Williams droids performing his multitude of tasks. That might explain how a single man could meticulously construct millions of bits of fake miniaturized scenery such as Northlandz in a single lifetime. The whole scene would have been very Phantom of the Opera-esque, were it not for this phantom's safari attire. We passed through the strange solitary symphony in silent awe and continued on our long trek.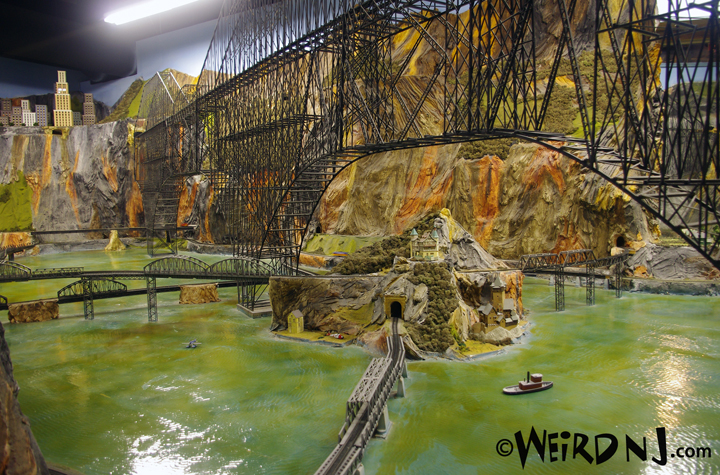 The last stop on the Northlandz tour, as with any commercial attraction, is the gift shop, where Mr. Williams cheerfully stands waiting to ring up your purchase of train-oriented souvenirs. But there's still one final adventure to be had before the Northlandz experience is complete. Visitors are invited to step outside where, at a rail station, an actual train awaits on the tracks to take you for a ride. It's small-scale replica of a 1890s narrow gauge steam train––one like you might see at an amusement park like the Turtle Back Zoo in West Orange, or Storybook Land in Egg Harbor. The train conductor and engineer duties are handled by, you guessed it, Mr. Williams himself. As the train departs the station passengers' expectations of seeing dramatic and breathtaking vistas like the ones they just witnessed inside are soon dashed as the realization sets in that they are just on a train ride through the Hunterdon County woods. There are no awe-inspiring sights of any kind along the 16-acre route, just the natural features of the unremarkable landscape: Trees, rocks, a small creek. It seemed a little disappointing, after having witnessed the fantastical, mind-boggling vision of rail travel we had just marveled at indoors, but a pleasant enough excursion all the same.
The sheer magnitude and scope of Northlandz alone make it a modern marvel of creative accomplishment. Add to that the fact that it was crafted single-handedly by one dedicated individual, and it would seem an almost supernatural feat. Not one to self aggrandize, Mr. Williams humbly says of it, "This is what we do. If you can create your own enthusiasm, you can do anything. If you maintain that enthusiasm you can do it well." And he has done very well indeed. Get yourself a ticket and go ride the rails.
Northlandz is located at 495 US 202 in Flemington, NJ. 908-782-4022. http://www.northlandz.com. They are open every day except Tuesdays.
The preceding article is an excerpt from Weird NJ magazine, "Your Travel Guide to New Jersey's Local Legends and Best Kept Secrets," which is available on newsstands throughout the state and on the web at www.WeirdNJ.com.