Perched high above the border of West Milford and Bloomingdale in Passaic County, one can relax and enjoy the view from the Stone Living Room, the creation of a mysterious race of stone masons that remain anonymous to this day.  When and why these stone chairs and tables were built, we can not say for sure.  Some of the rocks weigh in excess of 400 pounds and must have been lifted and set in place with incredible determination.  Complete with a fireplace and a few cozy couches, the Stone Living Room can accommodate two dozen or more weary travelers after their one mile climb up the mountain.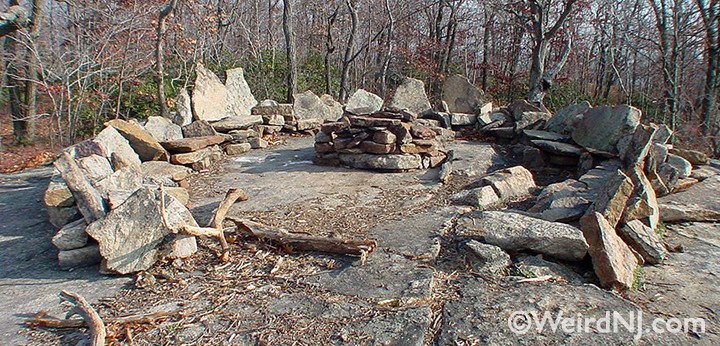 When Weird NJ first visited the site back in 1997, we encountered two other hikers and inquired about the Living Room's possible decorators. "Holy Shit," said one of the men when we showed him the site.  "I hike this trail every day, and I never knew this was here. This is amazing!" Amazing it is, and the view isn't that bad either.
On August 26, 2001 a spiral bound journal was left amongst the rocks of the Living Room in a double bagged plastic pouch complete with pen. Here visitors could sign in and share their thoughts and reflections on the site.  Some even offer a bit of poetry with their fellow travelers.  Though we'd been informed of a previous journal kept at the site, this new one is the only one still present.  Perhaps the former book suffered a fiery fate some cold night on the mountain when kindling was in short supply.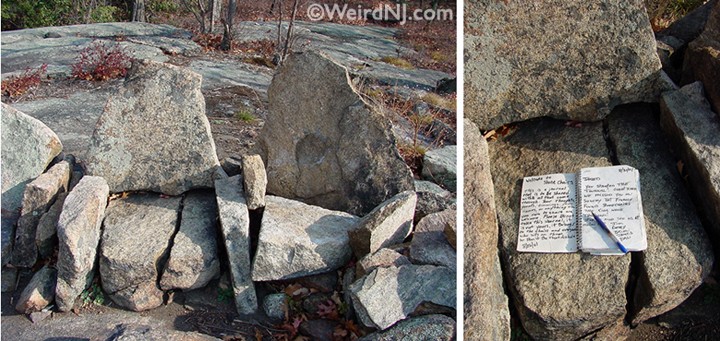 The trail to the Stone Living Room can be found along Glenwild Ave.  Park at the roadside lot by the "Welcome To West Milford" sign.  Cross the street and follow the blue trail  straight up the mountain, bearing right. Don't forget to bring refreshments because you'll need them.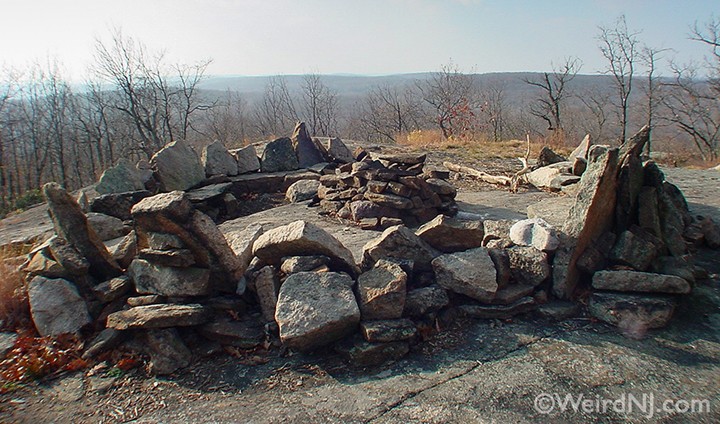 –––––––––––––––––––––––––––––––––––––––––––––––
TThis Internet story is only an excerpt of the information we have published on this subject. For the full story we suggest you refer to past issues of Weird NJ Magazine.  To keep up to date on this story and all the other weird goings on in the state subscribe to Weird NJ and we'll deliver it to your door. If your local book seller, newsstand or convenience store doesn't carry Weird NJ, just tell them to call us toll free at 1-866-WEIRDNJ and we'll be happy to stock your favorite store for you.