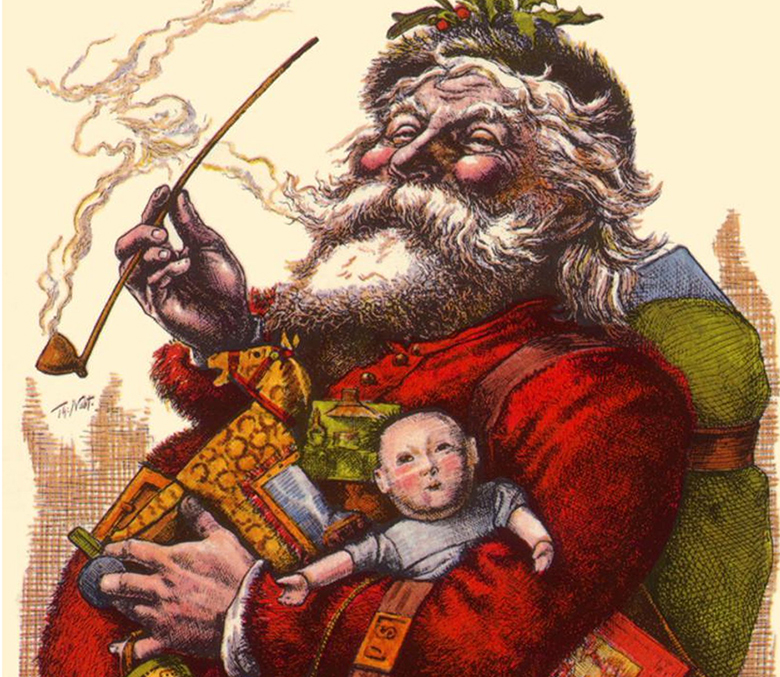 While the image of the  jolly old elf we've all come to know as Santa Claus may live at the North Pole, the father of this version of Father Christmas once lived right here in New Jersey. The character of Santa Claus is based on traditions surrounding the historical Saint Nicholas, the English figure of Father Christmas and the Dutch figure of Sinterklaas.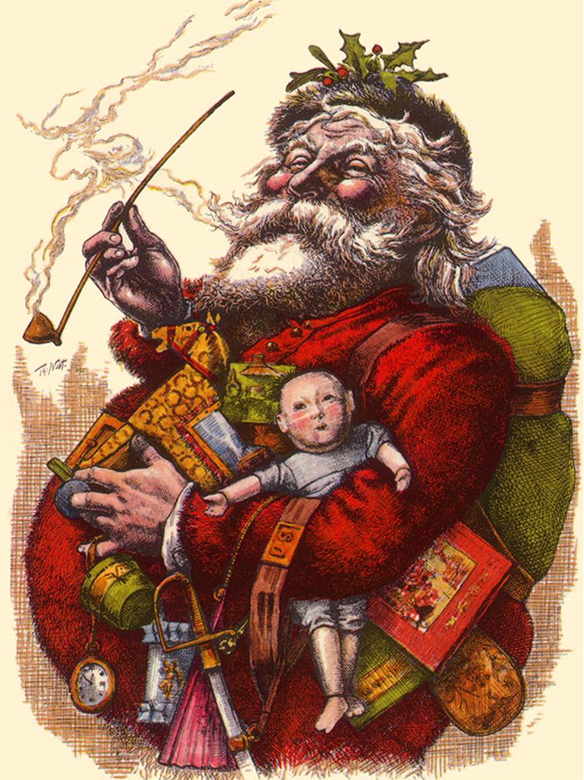 Saint Nicholas, patron saint of children, was a 4th-century Greek Christian bishop in what is today Turkey. Father Christmas dates back as far as 16th century England, when during the reign of Henry VIII he was pictured as a large man in green or scarlet robes lined with fur. He typified the spirit of good cheer at Christmas, bringing peace, joy, good food and wine and revelry.
The modern "ho ho ho" image of Santa Claus, also known as Saint Nick or Kris Kringle, brings children gifts on Christmas Eve of toys and candy or coal or nothing, depending on whether they are "naughty or nice". He is generally depicted as a portly, jolly, white-bearded man, often with spectacles, wearing a red coat with white fur collar and cuffs, white-fur-cuffed red trousers, red hat with white fur, and black leather belt and boots, carrying a bag full of gifts for children.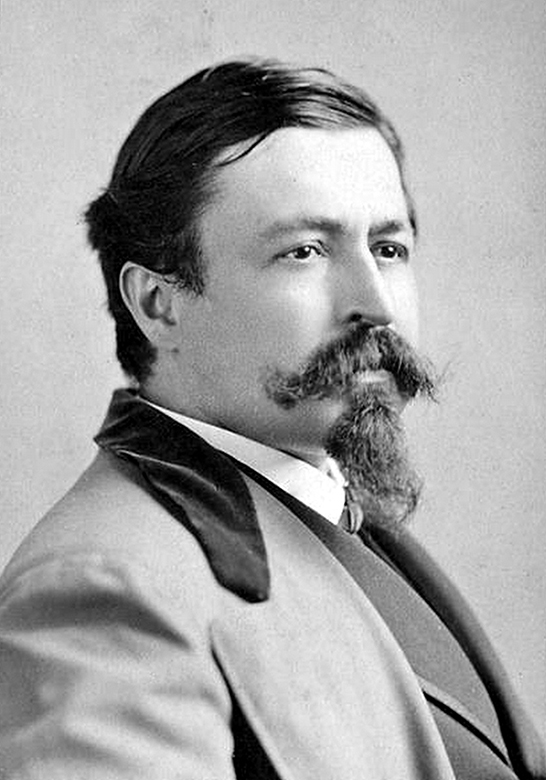 This image became popular in the United States in the 19th century due to the significant influence of the 1823 poem "A Visit from St. Nicholas" and the drawings of a political cartoonist named Thomas Nast (1840 –1902). Nast was a German-born American caricaturist and editorial cartoonist who is considered by many to be the "Father of the American Cartoon". He was a critic of Democratic Representative "Boss" Tweed and the Tammany Hall Democratic party political machine.
Nast became a staff illustrator for the magazine Harper's Weekly in 1862. That same year he drew a cartoon titled "Christmas Eve", in which a wreath frames a scene of a soldier's praying wife and sleeping children at home; a second wreath frames the soldier seated by a campfire, gazing longingly at small pictures of his loved ones. He first drew Santa Claus for Harper's in January 1863.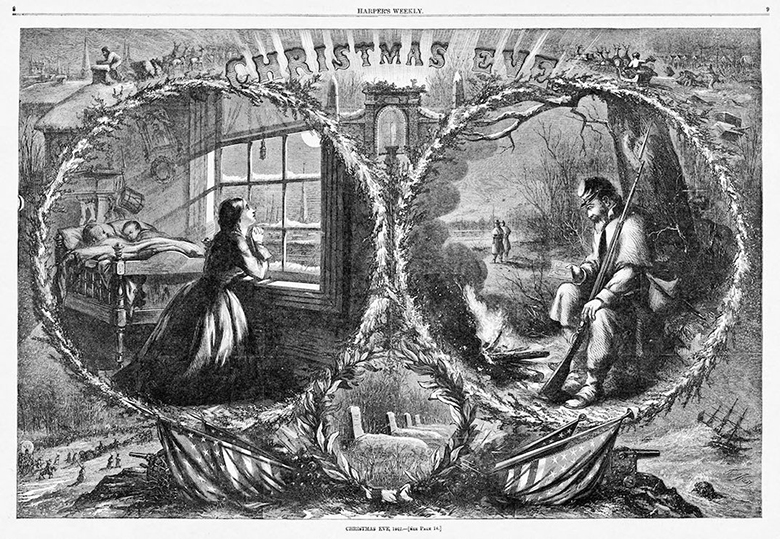 The story that Santa Claus lives at the North Pole may also have been a Nast creation. His Christmas image in a Harper's issue from December 29, 1866 was a collage of engravings titled Santa Claus and His Works, which included the caption "Santa Claussville, N.P."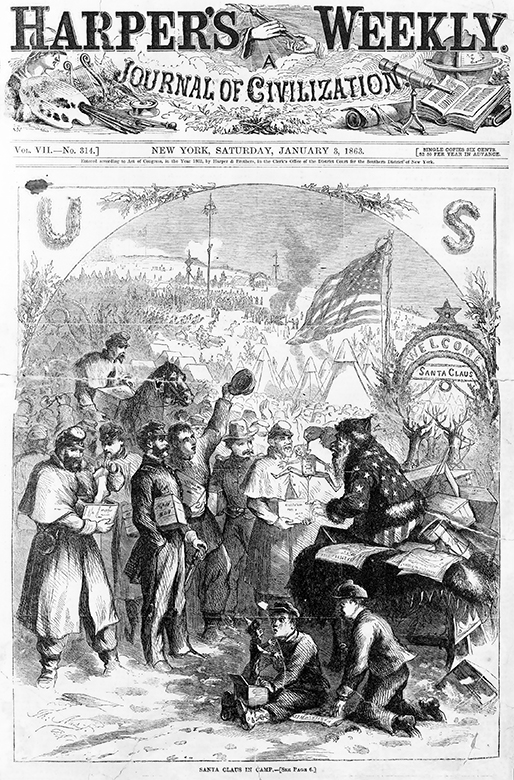 A color collection of Nast's pictures, published in 1869, had a poem also titled "Santa Claus and His Works" by George P. Webster, who wrote that Santa Claus's home was "near the North Pole, in the ice and snow".
Nast and his wife moved to Morristown, NJ in 1872, where they raised a family of five children.
Aside from Santa, Nast's other notable works include the political symbol of the elephant for the Republican Party (GOP). Though not the Democratic donkey, although he did popularize those symbols through his artwork.
In addition to his sentimental work for Harper's, Nast was also known for drawing Civil War battlefields in southern states. These had attracted the attention of President Abraham Lincoln, who referred to Nast as "our best recruiting sergeant". After the war, Nast strongly opposed the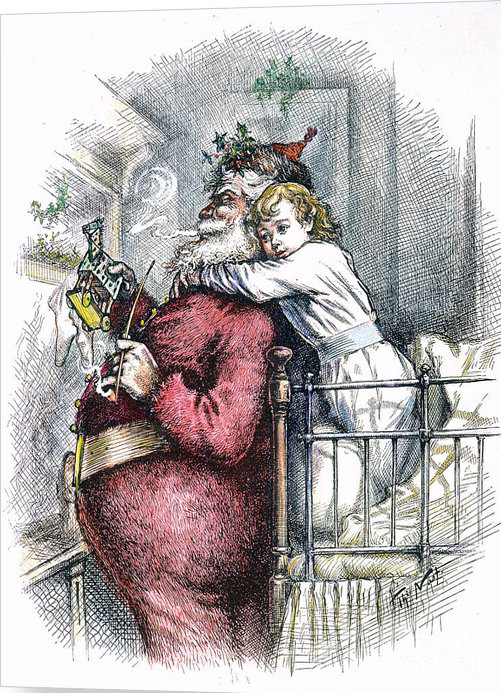 Reconstruction policy of President Andrew Johnson, whom he depicted in a series of scathing cartoons that marked "Nast's great beginning in the field of caricature".
But it is his depiction of Santa Claus that has been maintained for the past 160 years and reinforced through song, radio, television, children's books, family Christmas traditions, films, and advertising.
This story is an excerpt from Weird NJ magazine, "YourTravel Guide to New Jersey's Local Legends and Best Kept Secrets," which is available on newsstands throughout the state and on the web at www.WeirdNJ.com. All contents ©Weird NJ and may not be reproduced by any means without permission.
READ MORE WEIRD NJ CHRISTMAS STORIES HERE.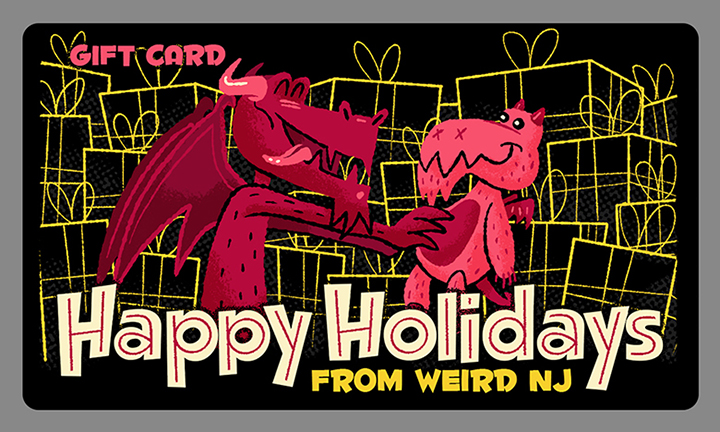 This Holiday Season give the gift of weirdness with a Weird NJ Gift Card in the amount of your choice.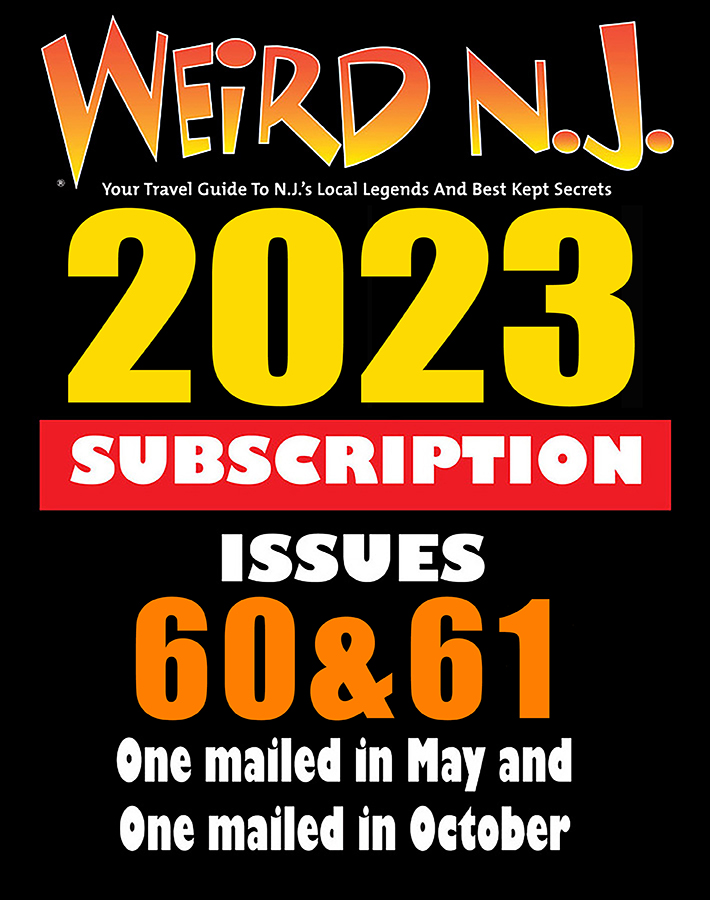 Subscription issues will be mailed in MAY and then again in OCTOBER of 2023. Subscription order do not include any issues that are currently available. Current and recent issues can be purchased HERE.
Visit our SHOP for all of your Weird NJ needs: Magazines, Books, Posters, Shirts, Patches, Hats, Stickers, Magnets, Air Fresheners. Show the world your Jersey pride some of our Jersey-centric goodies!