The Gates of Hell
There is probably no better way to prove one's courage than by walking straight into the gaping maw of Hell, the gates of which can be found in the town of Clifton, Passaic County–or so the legend goes…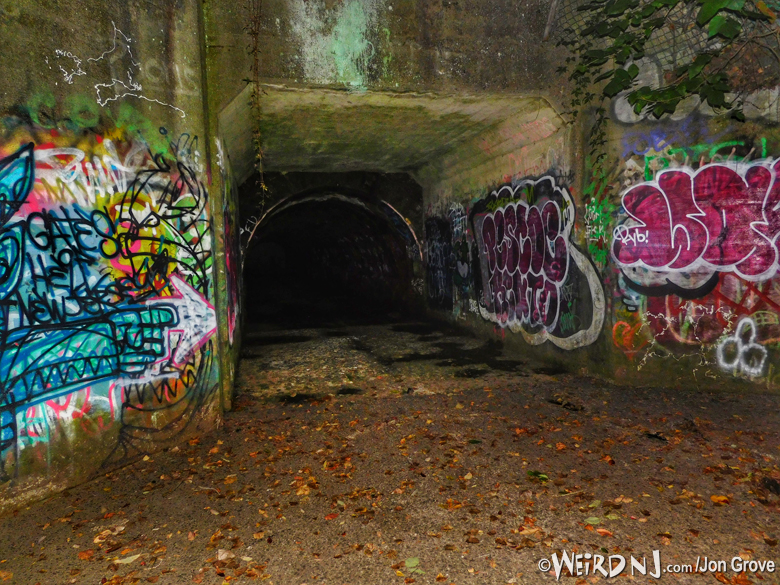 There is probably no better way to prove one's courage than by walking straight into the gaping maw of Hell, the gates of which can be found in the town of Clifton, Passaic County.  This legendary passageway leads to a network of underground tunnels and storm sewers, and some say to the lair of the evil one himself.

You might think that the term "Gates of Hell" would be a common nickname for any dark and foreboding entrance to the underground, yet in all of our years of research we have found no other subterranean passage in the state with the same moniker as this Clifton site.  It is a very old tunnel with an arched stone ceiling about eight feet high.  The light quickly evaporates behind you as you enter and you are soon enveloped in total darkness.  Inside can be an extremely dangerous place even without the presence of Satan.  The tunnel system was built as a drainage run-off for a stream called Weasel Brook, and in times of heavy rain the usual trickle of water through the tunnel can become a raging torrent almost instantly. In addition to those dangers there is also the very real possibility of suffering legal consequences if you visit the Gates of Hell. (See the WARNING from the Clifton Police Department at the bottom of this page.)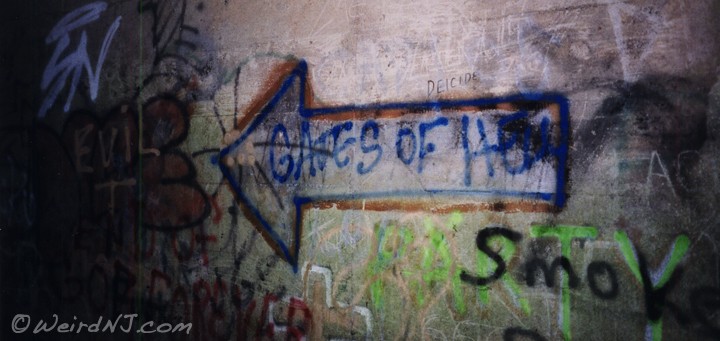 Generations of local teenagers have told stories of what lay deep inside these darkened corridors, and have dared each other to venture forth.  Are their tales an accurate depiction of what lies beyond the murky threshold of the Gates of Hell, or are they more a window into the dark fears which can be found inside us all?  Only those who are brave enough, or fool hearty enough to enter those gates can say for sure.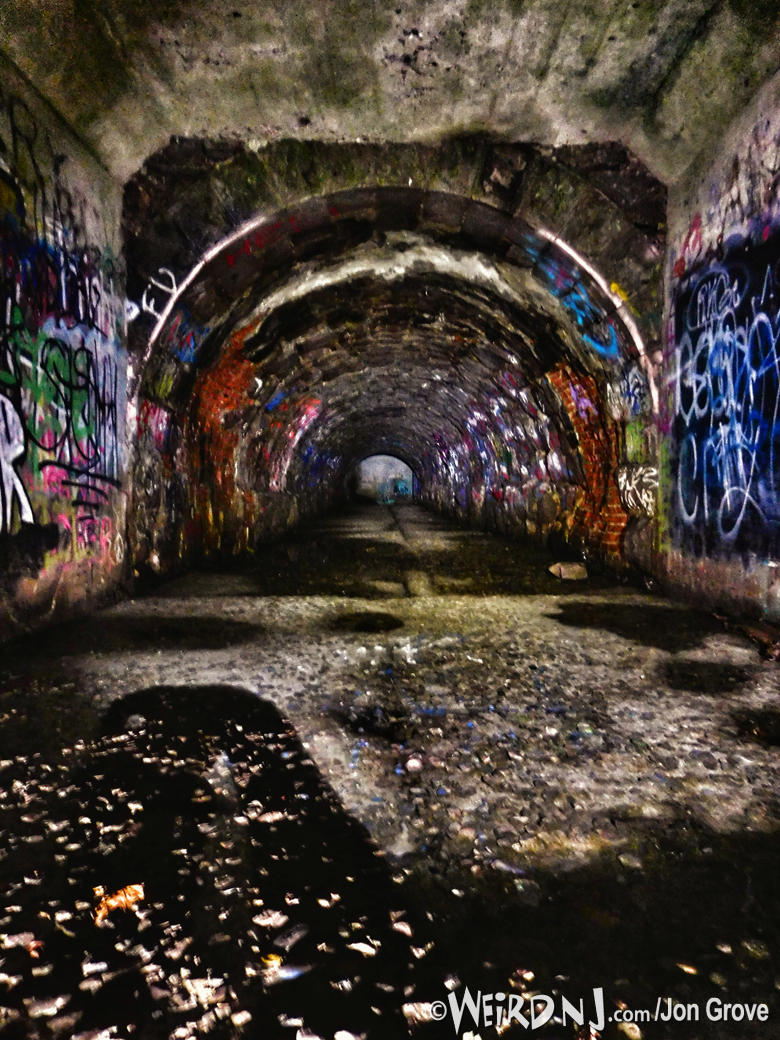 Enter the Gates of Hell
Growing up in Clifton, it wasn't hard to learn of the stories of wrong doings and evil happenings at a spot known as the Gates Of Hell.  My first recollections of this place were from the kids at the local BMX bike jumps. They would tell stories of people entering these tunnels and never returning. Satanic sacrifices, decaying carcasses, upside down crosses, satanic graffiti, anything dealing with the darkness in human nature was down there.  Most chilling to me was a secret room many layers under the ground.  This room was only to be entered if you possessed powers that enabled you to lift axes that weighed thousands of pounds and blocked the door.  Inside this room was a dungeon that housed a human skull, or so it was said.  There were seven layers of tunnels under the ground, and the lower you got the closer you came to meeting the devil.
I always wanted to find this spot to satisfy my own craving of knowledge and wonderment of the unknown, but at that age Clifton seemed as big as the universe and finding them was a bit further than mom would let me ride my bike.
When I was sixteen, I was introduced to the Gates for the first time.  My friend asked me if I had ever been to the Gates of Hell.  After a few dead ends we finally found a route to the tunnels.  It was dark from all of the tree cover, and my stomach began to drop as we climbed down to the level that the tunnel entrances were located on.  I could feel the fear running from my feet straight to my shoulders.  All that I had heard and envisioned for the last half of my life was hitting me at once.
Looking at the entrance was more terrifying than anything else.  Unlike the other tunnels which were round and had streams of water flowing from them, this entrance was square, and had no water flow.  At this point I was ready to leave and go home.  I had seen the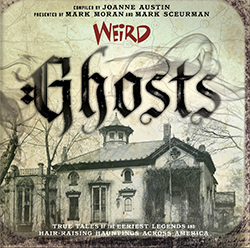 entrance, and I now believed everything I heard just by looking at it. It was pure Evil. But I realized that the only way to conquer the Gates was to enter the tunnels.
Deep inside the dark tunnel we started to hear a strange knocking sound.  This was a shock to the system since it had been totally quiet except for the flow of the water.  That's when we ran and got the hell out of there.  I wasn't sure what we had heard.  My friend swears it was someone whispering some chant deeper in the tunnels. Years later I made several trips back to the Gates of Hell, however after telling my story I could never convince anyone to venture into the tunnels as far as my friend and I did that one summer day.  –Ralph Sinisi
Red Eyed Mike Guards the Gates to Hell
I have explored every inch of Clifton and nowhere is as eerie as the Gates of Hell!  It's said that a spirit, known as Red Eyed Mike, guards the tunnel.  If you knock on the railroad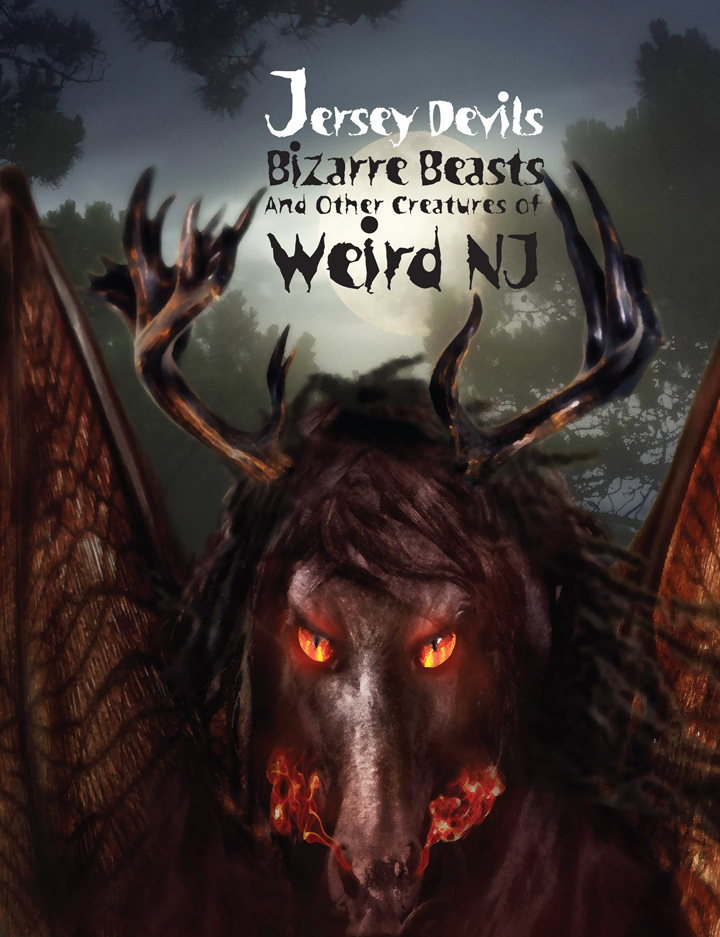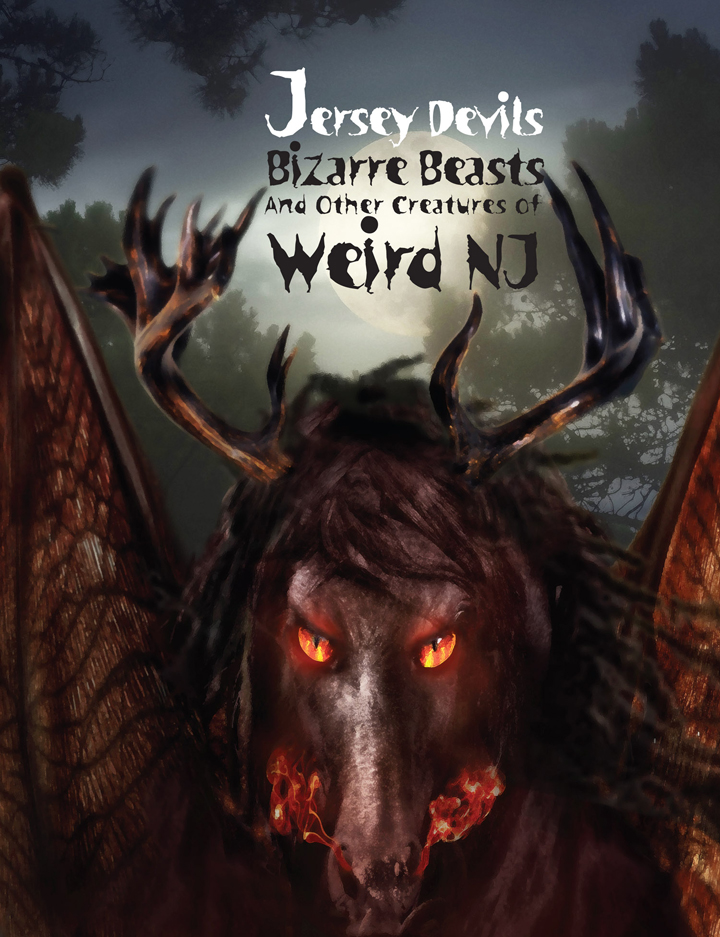 ties above the entrance in groups of three, you will hear a loud horn sound from within the tunnel.  I have heard this horn on occasion, and have seen rocks hurling themselves out of the tunnel with no person visible inside.  I also once witnessed a small human shaped figure run out of the tunnel towards Weasel Brook Park with superhuman speed.  I have been told that this is Red Eyed Mike. –Jeff H.
The Portal to Hell is Down in the Groove
My friends and I have heard some rumors about the Gates of Hell that may be of interest to you.  Besides the glowing skull rumor, there's supposed to be an area within the Gates that has some very disturbing  decor.  There are dead trees planted exactly three feet apart from one another with dead cats and birds tied around their trunks.
Another story I've heard is that at the very end of the Gates is the actual portal to Hell.  There is a groove about 20 feet deep, and about 40 feet across.  At the very center of the groove is a smoothed out granite manhole which is supposed to be one of the portals leading to Hell.  –Richard M.
Gates of Hell video by Weird NJ
Clifton Police Warn Against Visiting the Gates of Hell
Good Afternoon, Mark and Mark – I am currently in charge of Gangs and Street Crimes. Up until two weeks ago, I never actually observed the exact location known as "The Gates of Hell." It was brought up to me by our City Manager with reference to serious issues concerning this location.
Over the years, I have arrested several people that have traveled to this location to observe the place known as the "Gates of Hell." Previous to this past week, I did not arrest these individuals for Defiant Trespass. I arrested them for Weapons Possession. This is to include double edged daggers with curved blades on each side of the dagger, small swords, butterfly knives, and other weapons that I don't even know how the hell to describe. These individuals were from Suffern, NY, Morristown, NJ and other locations that escape me that the moment.
Yesterday we received another phone call that there were individuals at that location. Members of my unit and I responded and found six individuals Trespassing. They were from Cherry Hill and Merchantsville, NJ. They all were arrested for being Defiant Trespassers. One individual was also arrested for Weapons Possession. He had metal knuckles, a large curved ten-inch Bowie type knife, and another six-inch butcher type knife on his side.
When all of the above individuals were asked how they found out about this location they replied Weird NJ. I read your magazine and read your Disclaimer, which is very clear. I am asking you if possible that on your web site something can be added with reference to the "Gates of Hell" indicating that people that go to this site WILL BE ARRESTED for at a minimum DEFIANT TRESPASS. I am not happy about arresting youths or young adults because they were curious where this location could be found. But because of the Criminal Mischief, damage to property and numerous arrests for weapons possession, there will be zero tolerance. If we find them there, they will be arrested.
I am requesting that you help us out, so a youth or young adult will not create a Criminal History.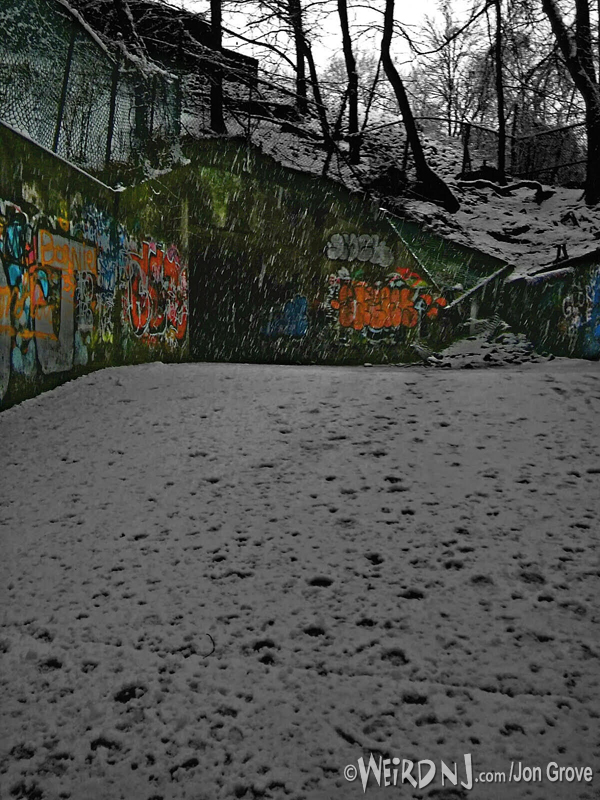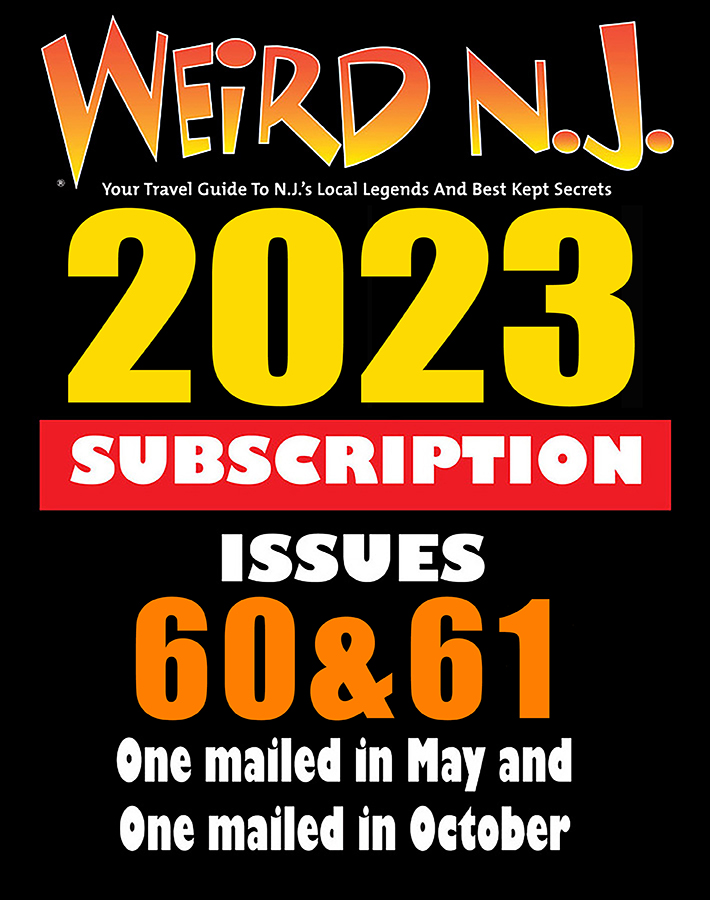 The preceding article is an excerpt from Weird NJ magazine, "Your Travel Guide to New Jersey's Local Legends and Best Kept Secrets," which is available on newsstands throughout the state and on the web at www.WeirdNJ.com.  All contents ©Weird NJ and may not be reproduced by any means without permission.
Visit our SHOP for all of your Weird NJ needs: Magazines, Books, Posters, Shirts, Patches, Stickers, Magnets, Air Fresheners. Show the world your Jersey pride some of our Jersey-centric goodies!

Now you can have all of your favorite Weird NJ icons on all kinds of cool new Weird Wear, Men's Wear, Women's Wear, Kids, Tee Shirts, Sweatshirts, Long Sleeve Tees, Hoodies, Tanks Tops,  Tie Dyes,  Hats, Mugs & Backpacks! All are available in all sizes and a variety of colors. Visit WEIRD NJ MERCH CENTRAL. Represent New Jersey!