D.I.Y.N.J. Part IX: Breaking Waves–Asbury Park Surf Music Festival
I am flying high over Tupelo, Mississippi with America's hottest band… and we are all about to die! Ok, you got me… I'm at an Aloha Friday party on the boardwalk in Asbury Park, enjoying my second, possibly fourth Asbury Boogie (rye whiskey, dark rum, pineapple, lemon and passion fruit) and hanging with the husband and wife DIY duo of Vincent Minervino and Magdalena O'Connell.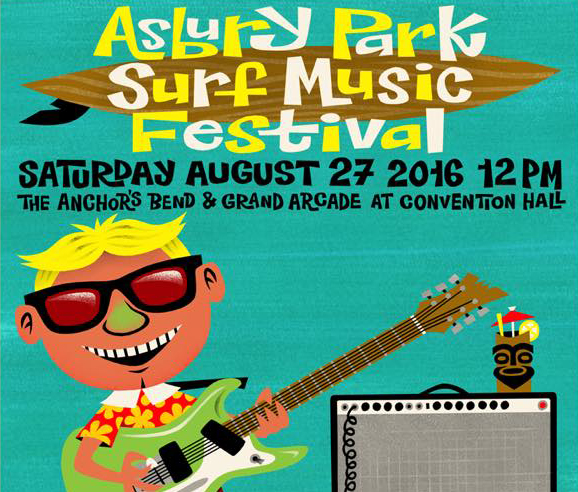 10 Questions for Magdalena O'Connell, Co-Organizer of the Asbury Park Surf Music Festival
By Matt Chrystal (WNJ correspondent)
I am flying high over Tupelo, Mississippi with America's hottest band… and we are all about to die! Ok, you got me… I'm at an Aloha Friday party on the boardwalk in Asbury Park, enjoying my second, possibly fourth Asbury Boogie (rye whiskey, dark rum, pineapple, lemon and passion fruit) and hanging with the husband and wife DIY duo of Vincent Minervino and Magdalena O'Connell. Vince's band, the Black Flamingos just wrapped up a smoking set of surf rock jams and I had planned to interview the two of them about Big Slick Pomade Co. and Lady Luck Brand, their respective lines of handmade hair products, pomades, tonics and oils that they formulate in small batches in Freehold, NJ and then ship as local as The Asbury Park Bazaar to as far as barbershops in Indonesia. Maybe, it's the tiki drinks that are swimming in my head or the twangs of the Black Flamingos still reverberating over the waves but our conversation stays on the topic of all things surf music. These two are not only purveyors of pomade but they are also dual DIY entrepreneurs as the curators of Asbury Park Surf Music Festival which will be taking place this Saturday, August 27th at the Anchor's Bend & Grand Arcade. Vincent and Magdalena have hand selected all aspects of the all-day extravaganza including the bands (like the Messer Chups from St. Petersburg, Russia), to the vendors (like DIYNJ alum OuterLimits Hot Sauce), to the specialty menu items and of course the tropical tiki drinks like the Asbury Boogie So while we may talk groomin' and greasin' on another day, it's time to pop the collar on your favorite Hawaaiin shirt and kick up your flip flops as I ask Magdalena the 10 questions about APSMF for this week's D.I.Y.N.J. Everyone loves an origin story… Soooo….
1. I usually start off asking where did the name come from, but in this case, obviously it is surf music fest in Asbury Park, NJ. So I'll ask you "why surf music and what drew you to that genre"?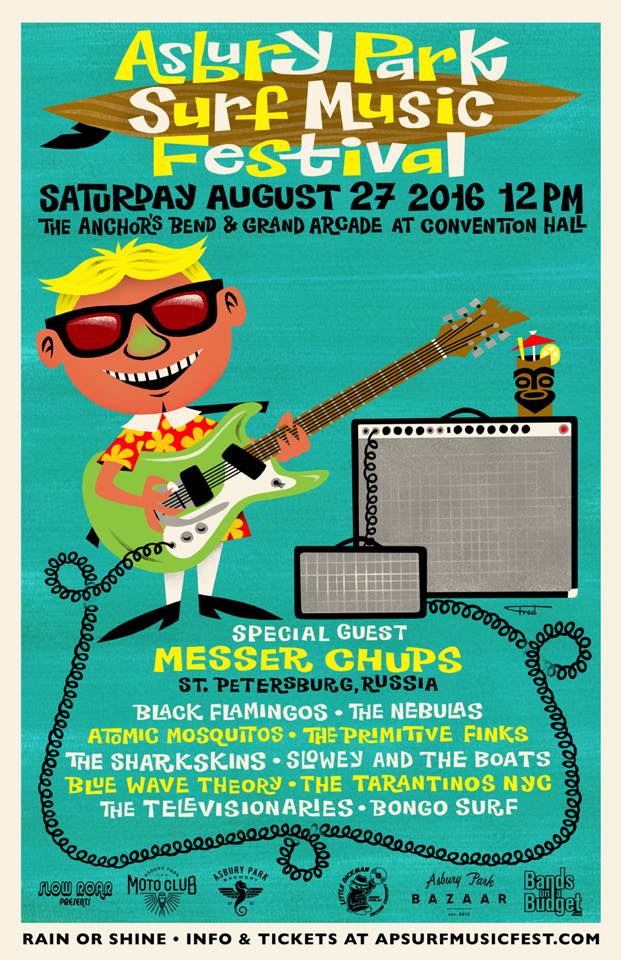 It's a style of music that is not something people actively realize they enjoy, but adding it to the background of sipping a Mai Tai with your toes in the sand, surrounded by great friends, and the silhouette of a surfboard on a surf wagon in the sunset, you have yourself a classic American summer.
2. When and how did you get started?
It was a dark, and stormy night… well, during a blizzard actually… and Vincent and I were planning our honeymoon. Our first pick was to hop on a plane and head to Italy, Livorno specifically, where the Surfer Joe's Summer Festival takes place. It's the largest surf music festival in the world, where some truly amazing international bands play. A big draw for us was the possibility of seeing Messer Chups live. We decided that we would take the trip to Italy at some point in the future, and in that moment we remembered where we live, and realized we could throw our own beach party with surf music. We have both always been drawn to classic culture, music, and style – Asbury Park Surf Music Festival seemed like such an obvious thing to do.
3. Did the idea for the APSMF originate with you?
Yes, with inspiration from other incredible events like it around the world, Surfer Joe's Summer Festival (Italy), Surf Guitar 101 (CA), Tiki Oasis (CA) and Ohana (upstate NY) to name a few. There was nothing like it in this area, and at the time there were a number of surf inspired bands playing locally. The idea came to us in the form of a concert with tiki drinks, and some vendors and cars. We immediately thought of putting the event at Asbury Lanes, and called Jenn Hampton the next day.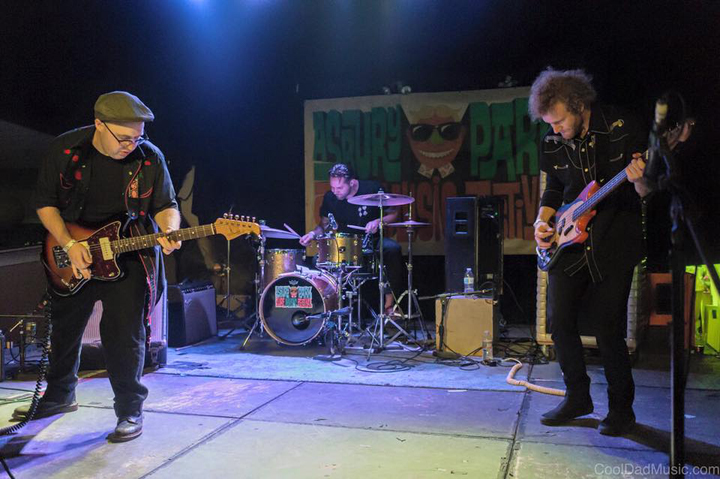 4. How has the APSMF grown in terms of size?
Our first two years of the fest saw similar crowds. We kept our costs pretty low, and hoped enough people would be as excited about the same kind of event as us. We were blown away by the group of people that showed up to each year, braving the beachgoers, traffic and parking in Asbury Park. We had so much fun! Fast forward to this year, with our new venue, we are offering up a beachfront show that is truly designed to transport you to another time. This year is definitely more of a production. We have multiple spaces for festival attendees to check out––there will be two stages for music, dancing and a custom tiki drink & food menu; a designated vendor area in the Grand Arcade of Convention Hall; and a small show of cars outside Convention Hall. Madison Marquette, Joe Chyb (Slow Roar/The Anchor's Bend) and the rest of The Anchor's Bend staff have been great about our new ideas, and have given us a lot of freedom in how to use their space.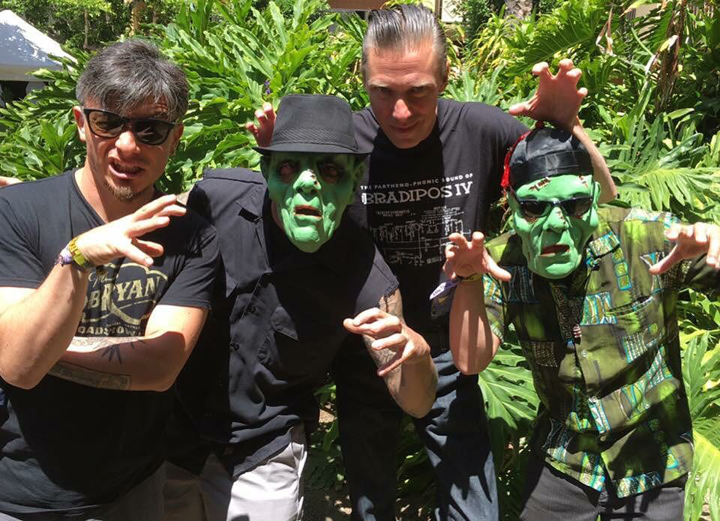 5. What does your process look like (selecting the venue, selecting vendors, bands/entertainment, drinks, sponsors, all that kinda stuff)?
Throughout this process, it has been very important to us to work with other brands and businesses, like a couple of our new-to-Asbury sponsors this year (AP Moto Club, Asbury Park Brewery). We love to support local and work with friends – that's what makes it so fun for us! This year we had a helping hand from Jenny Chyb of Asbury Park Bazaar in curating our vendors for the fest. You'll see some familiar faces from past fest vendors, like Groovy Graveyard who will also have official APSMF T's & Posters for sale.
There are so many different styles of surf music. Our band line-up this year is a great representation of surf music as a whole. Booking this year's headliner, Messer Chups, was a future goal we had when we first started, and we are so stoked to have them playing the fest in its third year. This is also their first tour in the US ever!
6. How big a role does the area/community of NJ that you operate out of play into your brand–i.e. inspiration? motivation? support? resources?
We have to say that the support from the community when we first had this idea was amazing. Jenn Hampton (Little Death Collective) over at Asbury Lanes was the first to hear about it in the winter of 2013, and was a key player in getting the fest up and running. We had a good two year run at the Lanes, and were sad to see the space close indefinitely, but are also very excited about the potential The Anchor's Bend has to offer for APSMF this year. We never imagined moving locations, but have been met with a great team over at TAB who have become just as passionate about throwing a killer beach party as us.
7a. Your brand has brought in vendors, acts and attendees from all over the Garden State and beyond. What is one of your favorite adventures or experiences related to the APSMF?
Working with Messer Chups this year has put us in touch with some really incredible people around the country putting on similar events. Not only was it very special to be a part of their first US tour, but we hope many new fans were born out of their shows. It has been great to have a larger community supporting these events, and we look forward to this network working together over the next year to bring more visibility to surf music events around the world.
7b. Any least favorites?
Happy to say it's been pretty smooth this year. Planning an outdoor festival is always a bit stressful, hoping the weather cooperates. As of right now, the weather is looking pleasant and sunny, and we can all breathe a big sigh of relief.
We have touched on the origins and evolution of the APSMF, let' shift and talk about what's going on in the future…
8. What can we look forward to in the future from you and the APSMF?
Lots! But we can only give some of it away. Our Aloha Friday events will continue to happen on the first Friday of the month through October. This will be closely followed by a Monster Mash at The Saint in Asbury Park.
We can't wait to see where APSMF goes from here, but let's get through this weekend first! (Hint: Just when you think winter could last forever we'll be warming things up with something tropical… so, don't pack up all of your Aloha shirts after the fest this weekend!)
9. In addition to the APSMF you are busy with a few other DIY ventures, right? Can you tell us a little about them?
Without getting too off topic, Vincent and I own Big Slick Pomade Co. & Lady Luck Brand, two lines of grooming and beauty products for men and women. Lady Luck is also providing the hair flowers for our guests at APSMF. We'll tell you more about that project another time.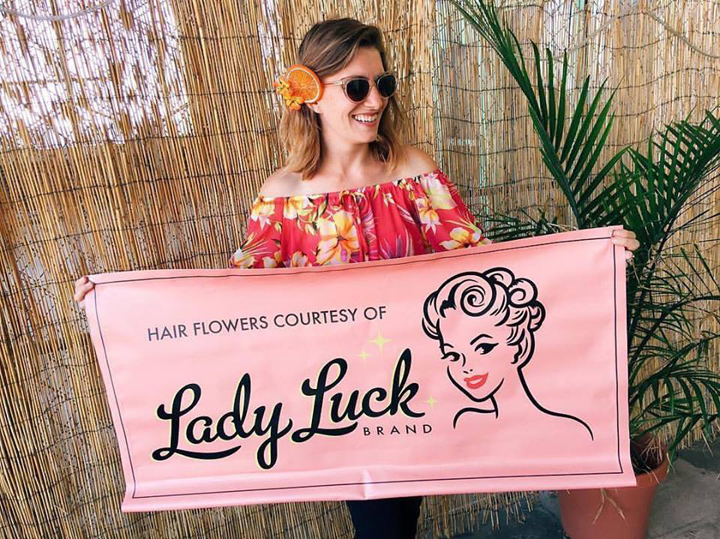 10. Back to the APSMF where can folks find you to keep up with you?
They can always visit our website (apsurfmusicfest.com), but the best way to keep up to date with local events we are throwing, or great shows to check out nearby is following the Asbury Park Surf Music Festival Facebook page (https://www.facebook.com/apsurfmusicfest/).
Our Instagram (@apsurfmusicfest) highlights adventures, past and present gigs, and tiki drink research along the way. We are always up to something, and are very excited for new events that will be happening this year with APSMF.
Thanks for the info and your time, Magdalena! Can't wait to don my sweetest Hawaiian shirt and indulge in a few more Asbury Boogies this Saturday at the APSMF! Annnnnd to our faithful readers, Stay Up, Stay Tuned and Tune In Next Time as WEIRD NJ continues to "Break Bad" with the DIY superstars that are making waves across New Jersey!