D.I.Y.N.J. – Makin Waves
Saturday, Oct. 22nd Makin Waves Rock Circus Showcase variety show is being produced by veteran NJ music columnist, Bob Makin and is set to debut at Roxy & Dukes Roadhouse. The showcase boasts a stellar lineup that incorporates up-and-coming names from the worlds of music, sideshow and burlesque.
I enjoy shows like this where I can be introduced to new acts that I might not have otherwise seen or go to a gig where I get to see weird worlds collide. All the variety breaks things up a bit and offers something fun for everyone.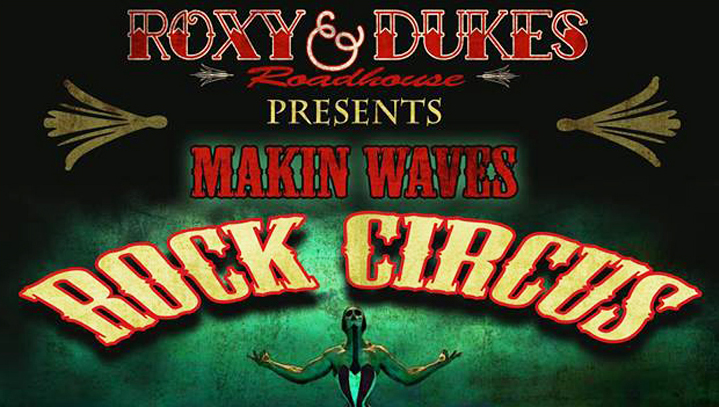 Matt Chrystal Interviews Bob & Matt Makin, the father-son duo behind the Makin Waves Rock Circus Showcase.
By Matt Chrystal (Weird NJ Correspondent)
Variety is the spice of life, right? Well if that's the case, then what could be spicier than the Makin Waves Rock Circus Showcase? The Halloween themed variety show is being produced by veteran NJ music columnist, Bob Makin and is set to debut at Roxy & Dukes Roadhouse on Saturday, October 22. The showcase boasts a stellar lineup that incorporates up-and-coming names from the worlds of music, sideshow and burlesque.
I enjoy shows like this where I can be introduced to new acts that I might not have otherwise seen or go to a gig where I get to see weird worlds collide. All the variety breaks things up a bit and offers something fun for everyone.
So yeah, I get excited when I hear about these types of shows. I get excited to go to these types of shows. Hell, I get excited to put on these types of shows. When I started producing events in 2011, whether in Asbury Park, Atlantic City or in Dunellen, I wanted to put on shows that captured the various aspects that what I loved seeing when I went to Asbury Lanes. I thought if I cram it in all into one show that hopefully the cross pollination of entertainment will bring out a diverse group of attendees. But, I also just really wanted to put on a show that I would want to see. So when I hear about events like the Makin Waves Rock Circus Showcase:
1. I want to go see it and 2. I want to know the story behind it. So with that said, I recently caught up with Bob Makin and his son Matt, who is performing with Experiment 34 at the Showcase, to ask them about the origins and expectations for the show and what it's like to be a father-son team working together to weave this tapestry of diverse entertainment.
Weird Matty C: Everyone loves an origin story… Sooo how did the idea for the Makin Waves Rock Circus Showcase come about?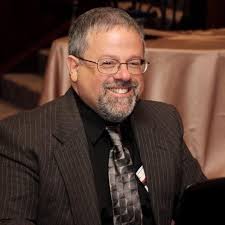 Bob Makin: I've been to many showcases in my time, so I knew that the music industry would need to be enticed to come to another one. I knew that if I put on a freak show, they wouldn't be able to resist it, like when you get stuck in traffic because everybody slows down to stare at the wreck on the other side of the highway. And what better time to do put on a freak show than Halloween season?
My friends, Jim Parks, the owner of Roxy & Dukes Roadhouse, and Adam RealMan of Coney Island USA, have had great success presenting a combination of circus sideshow and burlesque, and sometimes they combine one or the other with music. Even the imaginative Brittney Dixon at the Court Tavern has had the vision to combine burlesque and bands. But few have combined sideshow, burlesque and rock bands, at least not for a showcase in Jersey, which makes this a very unusual event that will have very little downtime between music sets thanks to the sideshow and burlesque performers. Hopefully, the many independent labels, publicists, writers, photographers, and other industry folks I've invited will be intrigued and come celebrate Halloween with us. And the participating artists will generate interest and work as a result.
WMC: And can you tell us about your role in the event?
Bob M: I'm the rock 'n' roll ring master.
WMC: Matt, your band, Experiment 34 will be playing at the event. Are you involved in other aspects of the show or will your focus mainly be on performing?
Matt Makin: We love to put on a good freak show. Our EP, 'Charismanic,' would show you that and our live show stays pretty freaky all-year round. But we'll add a little something extra to the atmosphere throughout the showcase being that it is Halloween season.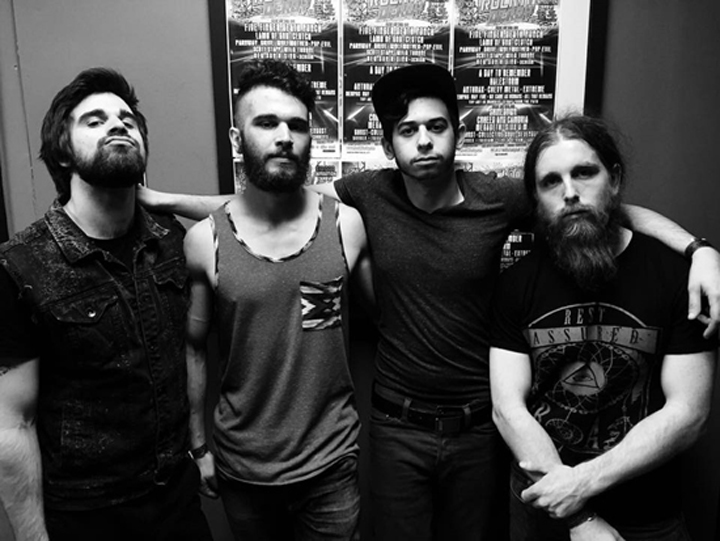 WMC: Bob, you have been a longtime music columnist and have had much exposure to all aspects of what New Jersey offers in terms of entertainment, so with that said, what went into your process for selecting the artists/acts for this event?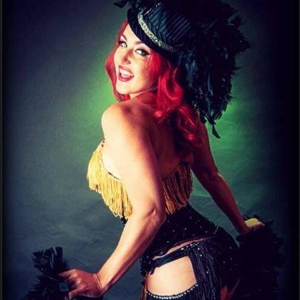 Bob M: Well, for the sideshow and burlesque acts, I left that up to Jim Parks, since he works closely with them on a regular basis. And he chose well with burlesque darling Miss Vivi Noir, the founding director and choreographer of The Noir Follies, a wonderful troupe that Jim presents the first Thursday of every month, plus the new aerialist trio Vertical Fixation, and the exotic human pin cushion Gisella Rose, who'll hang suspended by her flesh from the rafters before and during Experiment 34's set.
I adore Experiment 34 and am so proud that they have accomplished so much in such a short period of time, so, of course, I wanted to present them. I wanted The Black Clouds because they are such a great independent hard rock band, who deserve all the attention they can get. I thought I could help with that a little bit because they have a great new album, "After All," coming out co-produced by Seattle legend Jack Endino, who's worked with Nirvana, Soundgarden and Mudhoney. And they recently launched their own label and are seeking a team of consultants, so I figured I could turn some folks onto them.
The Production was recommended by Matt, and I've since become friends with them. They have this cool, sassy, theatrical trailer trash act that's kind of like Nashville Pussy in a post-apocalyptical production written by Jim Steinman , and they do a splendid cover of Roky Erickson's "I Walked with a Zombie," so they really fit the Halloween theme. And my radio-photographer friend Mike Tatick recommended one of his favorite Jersey bands, Will Wood and the Tapeworms, whose "Self-Ish" LP is one of the best local releases of the year. It's a stylishly entertaining punk cabaret concept album about overcoming addiction, and it makes an excellent soundtrack for a Halloween party. Live, it's just going to be off-the-hook!
WMC: Experiment 34 has been described as playing 'psycho funk.' Can you tell us a little more about the band in terms of sound, stage show and maybe some of your influences or inspirations?
Matt M: As far as sound and style goes, our band really comes up with it on the fly. A lot of hard work (and play) goes into trying to sound fresh and new, while keeping a vintage sound intact. We want to inspire one to live outside of their minds and explore as much as they can. Our band has a lot of various influences, which make us experimental and different. But it is our similar influences that help us to gel and keep us all on the same page. We often say that hip-hop, funk, blues, theater and metal are our main influences but experiment with whatever else we may hear.
WMC: What went into the decision to host the event at Roxy & Dukes Roadhouse in Dunellen?
Bob M: No other New Jersey venue is as perfect for the Makin Waves Rock Circus as Roxy & Dukes. The nightspot is mix of New Orleans voodoo, carnival chic, burlesque haven, and sideshow sanctuary. And it's one of the most incredibly loyal and nurturing support systems for New Jersey's best bands. The combination makes it a popular destination for performers and patrons alike.
If you've never been to Roxy & Dukes, it's Halloween there all year long. I've been there many times, and I've yet been able to take in all the unusual décor, especially the many quirky collectibles on the walls.
You're greeted by this really lifelike wax figure sitting in a chair, and without fail, I always forget and think he's a real guy, then he freaks me out again, and I take my picture with him. Imagine the funky spirit and style of a New Orleans roadhouse nestled in the suburbs of New Jersey.
WMC: Experiment 34 has played Roxy & Dukes in the past. What sets this venue apart or stands out to you?
Matt: We've played there a few times before and love it every time. Everything stands out to me. From the giant blue head to the caged side-stage, Roxy & Dukes does not come short of things to look at. You walk through the door and wonder 'what kind of strange place am I in?' I've played in places that feel like a basement, to festivals, to regular stages and a room … but nothing else feels quite like Roxy & Dukes. It's my kind of vibe. If you haven't experienced it, then you should definitely experience our experiments there at the showcase.
WMC: Matt, when most people thinking of 'working with dad on a project,' certain tasks come to mind, such as fixing a leaky roof, cutting branches or checking under the hood of a car … but what is it like for you to be involved in the Makin Waves Circus?
Matt M: We definitely have different passions then most fathers and sons. It's nice that I can tell him what's going on with the band and he's interested, because I know there are a lot of father's out there who wouldn't be and that's a shame. It should be so easy to inspire and encourage an artist.
WMC: What is your dad like in general? And how is collaborating with him on this project similar or different to interacting with him normally?
Matt M: He's a caring music lover and always will be. He always wants to hear more of whatever band it is he likes. That's definitely something I got from him. It's great to see him involved in local music again since that's what he loves most. It's not that different from our normal interaction. This is going to be an awesome show and our band always wants to be a part of something like this.
WMC: Bob, can you talk about what is like to have your son involved in the project?
Bob M: I think it's great that there's two generations of weird New Jerseyans makin' waves. I'll tell you a funny story about Matt. When he was about 8 years old, the old Borders Books had a big display of James Brown CDs as part of its Black History Month celebration. We were walking past the display, when Matt stops in his tracks, and says, 'Cool … James Brown.' It was one of the proudest moments of my life. I might not be able to fix a leaky roof, but I turned that little guy onto some great music. And now, I sure as hell can help him with his fantastic band.
The nurturing and guidance that go with writing about local music as intensely and passionately as I do always made my soul soar. But it's euphoric to be able to do that for my son and his band. He is the sixth generation in my family involved in music, and all who came before him were involved professionally, so hopefully, he will be too. Maybe the showcase can help with that.
WMC: And I'll ask you the same thing … how does collaborating with Matt on the Makin Waves Showcase compare with your everyday relationship with him?
Bob M: Matt and I have a lot of the same hobbies, especially football and aquariums, so we spend a lot of time together with that. It's been very interesting to watch the music bond we share evolve from a hobby into a career for him. The trick is to keep that from overpowering the relationship. I think once the showcase is over, we'll go back to our pigskins and amphibians.
WMC: The event is listed as a showcase and touts that many 'industry types' will be in attendance. Were these folks handpicked/personally invited and are they actively there to scout new talent or are they coming to just hang and see a show?
Bob M: About 99 percent were invited by me, the rest by the bands. I think anybody in the music industry who isn't actively scouting new talent isn't doing their job, so hopefully there will be some of that, but also it will be a good hang and a great show.
WMC: In regards to Experiment 34, does knowing that this event will have industry execs in the audience add pressure to the performance or change the way you approach the gig?
Matt M: Not really. We don't really feel much in the way of pressure. It's all about having fun for us and connecting to someone through music like so many musicians have been able to do with me. We approach every gig pretty similarly no matter who is there. Rock out, sound loud, and get whoever's there involved; big show or small room.
WMC: There is plenty going on at this show that is sure to cater and appeal to a variety of audiences but what needs to happen for you to personally feel that this show was a success?
Bob M: Before the show even has happened, it's already a success because of the amount of publicity and promotion it has been able to generate for the four bands and their musical marriage with sideshow and burlesque. I expect it will be a lot of fun, hope it will be influential, and if proves to be worthwhile financially, will continue with other shows like it.
And I'll be honest, I hope the Rock Circus brings my Makin Waves column more readers. Every Sunday, the column covers independent New Jersey arts and entertainment with an interview, videos, streams, reviews and briefs. I've been writing it on and off for 28 years. You can find it here.
Matt M: Success has many different definitions. Every time we get to play with other awesome bands, discover new music that may just be your next favorite thing, that's a success. If someone else hears our music and gets into it, that's a success. We'll be releasing some new songs soon, which we'll be able to talk about at the show, and we're hoping a lot of people there will want to hear us again, so I definitely urge everyone who can to come see it and stay tuned for those releases.
WMC: Anything else we should know about the Makin Waves Rock Circus Showcase?
Bob: I remember the very first issue of Weird NJ that Mark brought into the old East Coast Rocker before it changed back to The Aquarian Weekly. It was a photocopied newsletter. The first few issues were like that. Then it evolved into a magazine, books, TV shows, and beyond the Garden State. So I know that readers of Weird NJ really will enjoy the Makin Waves Rock Circus because it will be weird, it will be fun, and it will celebrate Halloween.
The music will be great. They're four of the best bands from New Jersey. And the sideshow and burlesque will entertain, delight, and provide non-stop action between music sets.
I'm hoping that Mark and Mark will be able to come to sell and sign copies of the new issue and other stuff, but if they can't, they'll be there in spirit. Thanks very much for helping to turn fellow weird New Jerseyans onto the show. You can find out more about it here.
The Makin Waves Rock Circus Showcase is THIS SATURDAY October 22 at Roxy & Dukes Roadhouse in Dunellen, NJ. For more info check out www.RoxyandDukes.com and MyCentralJersey.com.