Somewhere in New Jersey there is an abandoned structure housing two massive wind tunnels.  The facility was built in 1943 to test airplane propellers for WWII bombers, but is now abandoned and decayed.  In our current issue of Weird NJ magazine, Wheeler Antabanez delves into the history of the wind tunnel and interviews pro skateboarder Fred Gall about modifying and skating the full pipe.  The following is an excerpt from the full article featured in the latest issue of Weird NJ #53. Wheeler writes:
Stepping through the rear entry of the building, my first impression was one of danger.  The storm raged outside, but it was also raining in here.  Precipitation poured in from the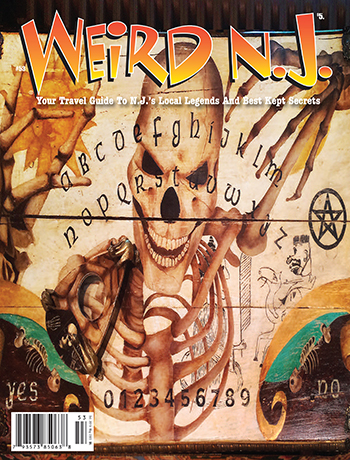 leaky three story roof and ran like a waterfall over rickety looking catwalks overhead.  The walls had some graffiti, but not as much as one might expect from a building that has been sitting abandoned.  The concrete stairs looked sturdy, so I cautiously ascended to get a better view from above.
From upstairs, the building didn't much resemble a wind tunnel, but the heavy-duty two-story crane looked pretty handy for hoisting plane engines or large propellers.  There was also an elevated holding tank, probably used as a reservoir for firefighting foam that would have been essential for aviation testing.  At the top of the stairs the catwalk led to a darkened room where rain poured in from the partially collapsed ceiling.  Six inches of water percolated on the muddy floor so I didn't get much farther that day.  Later, I discovered that this room was the control center for two massive wind tunnels.
While exploring the abandoned test facility, Wheeler began to recognize the interior of the building from one of his favorite skateboarding videos:
As I stood gazing at my surroundings, connections began to click in my brain.  I realized that I had seen this structure in one of the many skate videos I frequently watch. VICE has a recurring segment called "Can You Skate It?"  I was remembering back to an episode where they followed pro skater Fred Gall on a mission to a full pipe in an undisclosed New Jersey location.  Fred ended up nailing a few tricks for the video, proving that with a little modification and sweeping, the wind tunnel is a viable skate spot.  The resulting piece was gnarly as hell and I watched it several times trying to figure out where the full pipe might be located.  Now, here I was stumbling upon the spot without even trying.
Wheeler's fascination with the abandoned wind tunnels led him on a journey to the library where he learned the history of the propeller testing facility:
As I poked around I became curious about what type of aviation testing actually went on here.  Back at home I sent emails to local librarians to see if they had any pertinent information or old pictures.  These initial queries brought invitations from several libraries to dig through archives and pore through old books.  As my wind tunnel research progressed it led me back to the earliest successful pioneers of flight: Wilbur and Orville Wright.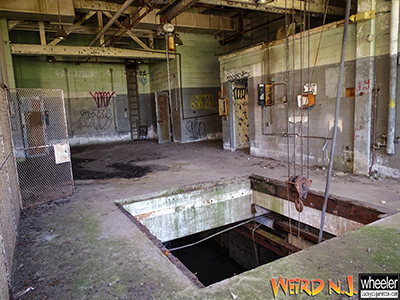 The library had a lot of information, but what really interested Wheeler was the story of Fred Gall skating the wind tunnel:
From examining the surface of the full pipe I could tell that Freddy Gall probably didn't just show up haphazardly one day for a skate session.  I knew from my own experience that a mission of this magnitude must have involved planning and reconnaissance.  Some of the seams were quick-filled with Bondo as the video showed, but others were smoothed over with concrete. This suggested a more advanced form of "spot fixing" and I wanted to get the details.  I still had a ton of questions for Fred Gall so I tracked him down for an interview.
Read the full article and interview with Fred Gall in issue 53 of Weird NJ magazine.  Available now on newsstands throughout New Jersey or you can order your copy HERE.
Visit our SHOP for all of your Weird NJ needs: Magazines, Posters, Books, Shirts, Patches, Hats, Stickers, Magnets, Air Fresheners. Show the world your Jersey pride some of our Jersey-centric goodies!