Abandoned "Voodoo Bunkers" of Sandy Hook
There is one particular abandoned dynamite bunker on a remote beach on Sandy Hook that holds some very strange and mysterious secrets.

Sandy Hook is a 6-mile long peninsula jutting from the New Jersey coast into the Atlantic Ocean at the northern tip of Monmouth County. Now a major recreational destination, Sandy Hook was for many years anything but that. It has served in many capacities during its long history, most of them military operations at Fort Hancock. The Hook's close proximity to New York City and her waterways makes this spit of land an ideal point from which to defend the metropolis and its harbors.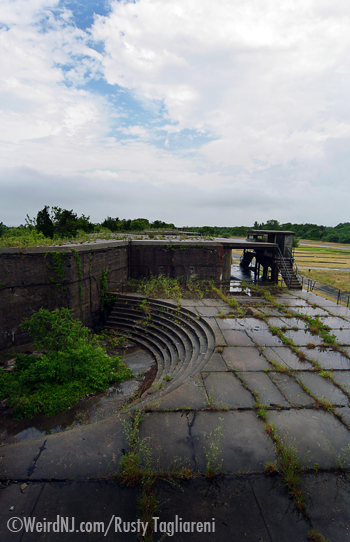 These days people flock to the Hook to enjoy activities like swimming, sunbathing, fishing and surfing. But years ago the activities on those same beaches would have been army drills and target practice with heavy artillery. Today, vestiges of Sandy Hook's military past, including mortar batteries, ammunition transport tracks and other reminders of the old base, can be found throughout the area. One very strange remnant is a particularly weird concrete bunker that Weird NJ readers have wondered about for several years now. But first, before we tell you about that, a little bit of history…
From 1874 until 1919, Sandy Hook was used as a proving ground for the military's latest experimental weaponry. During the Second World War, a nine-gun battery was constructed to keep an unblinking eye on the waterways leading to Manhattan.  This enormous fortification was intended to keep the harbor area safe from attack by enemy ships and German U-boats. During the Cold War the Hook was the site of a surface to air Nike Missile base.
The Hook was demilitarized in the mid-1970's and handed over to the National Park Service. Unfortunately, with only enough funding to maintain isolated corners of the facility, most of the complex has fallen into a state of dire disrepair.  The once stately houses of Officers' Row now look like a dilapidated ghost town.  The battlements of the old fort, now merely a labyrinth of concrete ruins, lie crumbling along the shoreline sand dune, bearing silent witness to a battle that was never fought here.
Vines of poison ivy climb the rusting radar towers of the former missile base, where the control rooms, once a buzzing hub of state of the art military technology, are now as quiet as a tomb, the switches and knobs of their control panels covered in a layer of dust.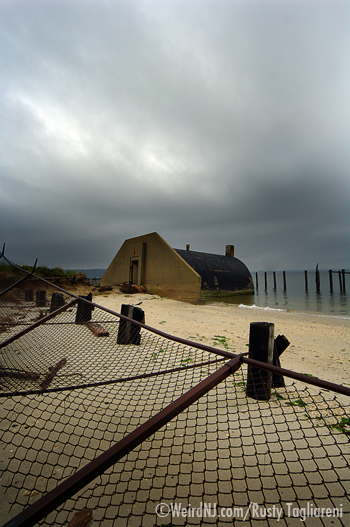 Perhaps the strangest and most curious sights to be seen among these post wartime military relics can be discovered along the beach on the western side of the Hook, where the waters of the bay lap against an area of seldom visited shoreline. Here you will find enormous arch-toped concrete structures, each with a single doorway leading inside. They rest askew at the water's edge, foundering in the soft sand that cradles them. Though you'd never guess it to look at them today, these massive oddly shaped structures were once a vital part of the Fort Hancock's arsenal. This is where the dynamite for the gun batteries was stored, far enough away from the batteries themselves that in the event of an explosion, the guns, shells and other ordnance would not be destroyed. The massive munitions bunkers were once buried beneath tons of sand with only their single doorway exposed. But time and innumerable tides have changed the Sandy Hook shoreline over the years, patienly wearing away at the western beaches. Now, these huge concrete storage bins, which were once underground, lay prostrate like beached leviathans, fully exposed to the open air and ebb and flow of the salty bay.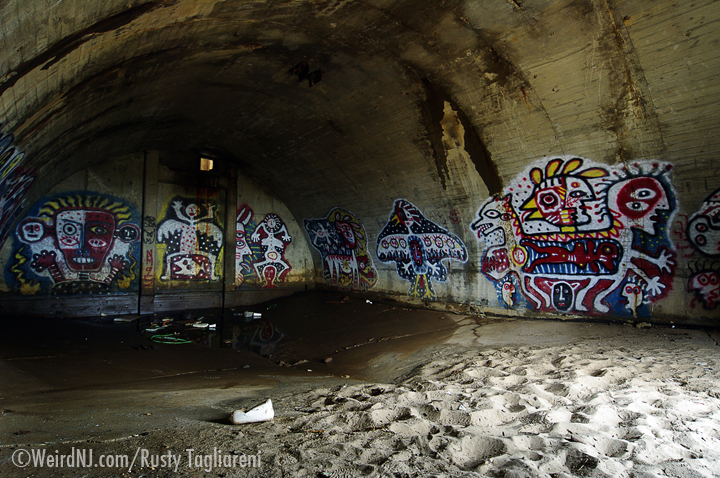 Crossing over the darkened threshold and entering the bunker you are transported into a dark cavernous space, its sandy floor littered with the flotsam of decades of high tide debris. As your eyes adjust to the darkness of the cave and begin to trace the curve of the high arched ceiling down to the waterline you will see that the concrete walls are adorned throughout with brightly colored, primitive looking murals reminiscent of ritualistic tribal artwork. These eerie amorphous characters, spray-painted in bright primary colors, depict a variety of human and animal hybrid creatures; there are canine bodies with human heads, and vice versa, winged bird-men, and three-headed deer-like creatures. Many of the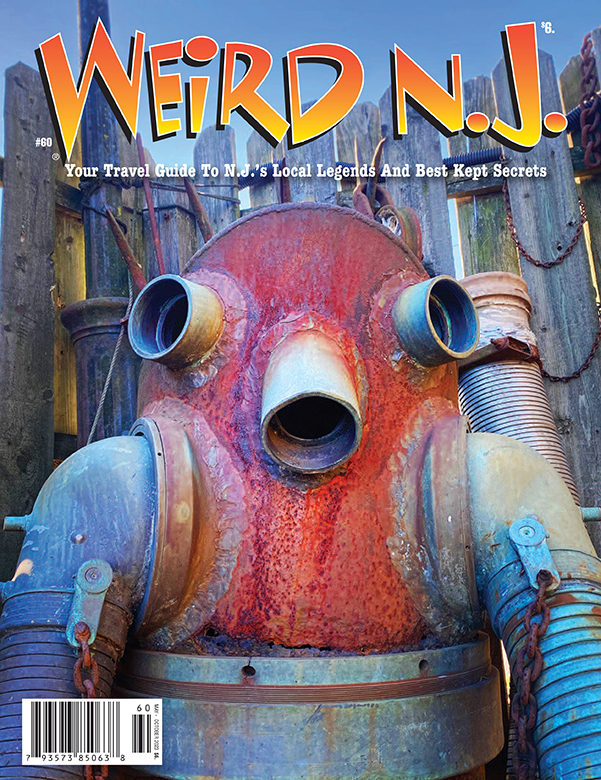 characters display other living creatures trapped within their bellies, as if having been recently devoured.  Several of the images bear a striking resemblance to primitive tribal ceremonial masks, while other seem more reminiscent of the abstract work of Pablo Picasso.
It is definitely a weird scene! But what do all these anthropomorphic pictograms mean? Are they symbolic of something spiritual or metaphysical that we just don't understand? The fact is that we don't really know––perhaps the only person who does know is the artist who emblazoned these works on the walls of this isolated place. Many readers of Weird NJ magazine have speculated that the painting are voodoo related and were perhaps created in this lonely location for the secret rituals that could be conducted here. What we do know for sure is that the murals have been here for many years, and they are certainly not the handiwork of some common graffiti tagger or vandal. They are unquestionable the work of an accomplished artist, whether he or she is naïve or trained is a matter for artistic debate.

Weird NJ first published photos of this strange gallery nearly ten years ago, and to date nobody has yet stepped forward to claim credit as the creator of this bizarre menagerie. Until they do these unusual paintings will remain a mystery. But their presence here, in this odd historic structure on an isolated windswept Sandy Hook beach, make this bunker one weird place indeed––both inside and out!
Take a VIDEO TOUR  of the Voodoo Bunkers of Sandy Hook with Weird NJ.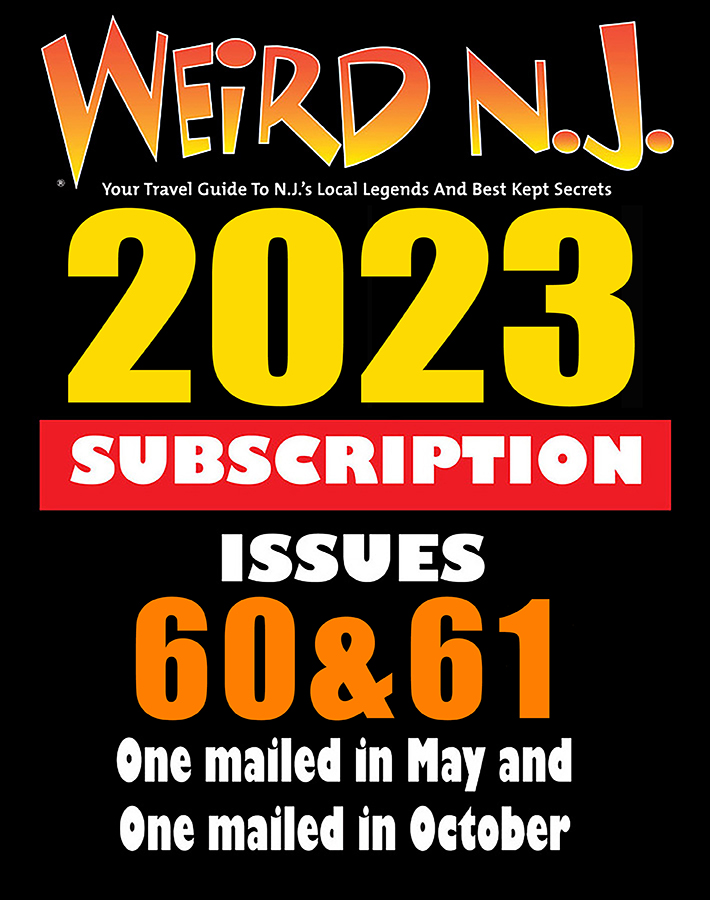 The preceding article is an excerpt from Weird NJ magazine, "Your Travel Guide to New Jersey's Local Legends and Best Kept Secrets," which is available on newsstands throughout the state and on the web at www.WeirdNJ.com.  All contents ©Weird NJ and may not be reproduced by any means without permission.
Visit our SHOP for all of your Weird NJ needs: Magazines, Books, Posters, Shirts, Patches, Stickers, Magnets, Air Fresheners. Show the world your Jersey pride some of our Jersey-centric goodies!

Now you can have all of your favorite Weird NJ icons on all kinds of cool new Weird Wear, Men's Wear, Women's Wear, Kids, Tee Shirts, Sweatshirts, Long Sleeve Tees, Hoodies, Tanks Tops,  Hats, Mugs & Backpacks! All are available in all sizes and a variety of colors. Visit WEIRD NJ MERCH CENTRAL. Represent New Jersey!