Murder By Death Shines at the Stanley Hotel
There has been no shortage of stories surrounding the one hundred and seven year old landmark that is the Stanley Hotel in Estes Park, CO. Dating as far back as 1911, most of the stories revolve around its otherworldly inhabitants, who are back from the land of the dead. Heck, the hotel's website even provides a rundown of their most famous ghosts.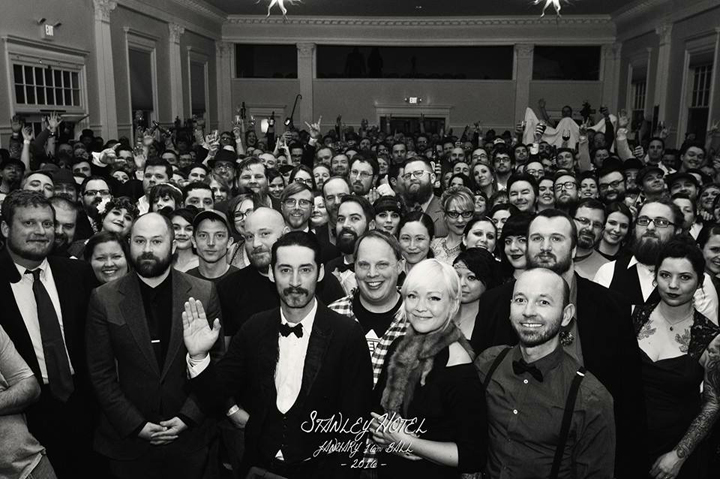 The Weird NJ Interview by Matt Chrystal
There has been no shortage of stories surrounding the one hundred and seven year old landmark that is the Stanley Hotel in Estes Park, CO.  Dating as far back as 1911, most of the stories revolve around its otherworldly inhabitants, who are back from the land of the dead. Heck, the hotel's website even provides a rundown of their most famous ghosts. They are portrayed as friendly, albeit noisy, apparitions who are merely vacationing at the "Disneyland for spirits."  And then, of course, one of the most notable stories from the hotel's haunted history conjures up images of the farthest things from friendly floating travelers. When most people picture the Stanley Hotel, their minds usually fill with visions of hallways a wash with blood and a decaying corpse residing in the bathtub of room 237. This all thanks to author, Stephen King, whose overnight stay in 1974, in the reportedly empty hotel, supposedly spooked him so much, that it became his inspiration for The Overlook Hotel in his 1977 novel, The Shining.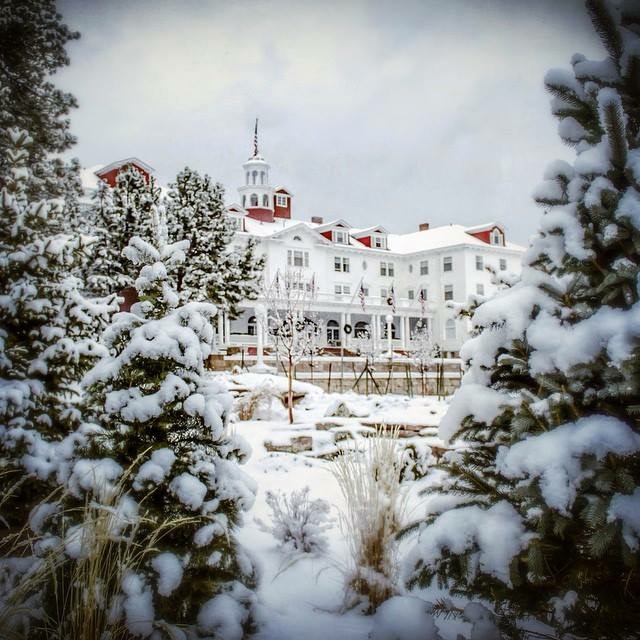 Estes Park, CO is about fifty miles from Denver, overlooks the Rocky Mountains and is home to about six thousand residents. But things have not died down in this small, snowy out of the way town. These days there is a whole lot more activity and sounds than ever in the Stanley Hotel, but this time is definitely credited to those in the land of the living.

In 2014 , the baroque-roots-rock band, Murder By Death put on a series of concerts, more like Shining inspired theme parties, at the Stanley Hotel. Each of the three nights brought in huge crowds of attendees ready to fill the hotel and have a whole weekend full of music and fantasy. The band returned to do three night runs in January of both 2015 and 2016 which rejuvenated the hotel and changed the way the hotel looked at business (As of this writing, the hotel has a regular schedule of various performers and will soon be undergoing a huge renovation to include a museum and film studio). 
I got a chance have a conversation with Murder By Death's lead vocalist/guitarist, Adam Turla and ask him how it came about that Murder By Death, a country-punk band from Indiana got to shine at the Stanley Hotel. We also got to talking about his experiences inside the haunted halls of the Stanley Hotel in regards to all things normal, not so normal and maybe even… paranormal.
Weird MC:  In 1909, F.O. Stanley, opened his hotel, and it came complete with a concert hall, which was rumored to be a gift to his wife Flora. The hall was not utilized for concerts, well concerts as we know them, until 2014 when Murder By Death became the first band to rock the building.
Playing a historic, haunted hotel is a pretty cool concept and everyone loves an origin story… so could you tell us how it all came to be?
Adam Turla: I had heard about the hotel for a while. In 2010, I dreamt up the idea of doing an event there. I was really not sure what that would entail. We have had a couple ideas and concepts for us doing special event shows but some of them basically require us being more popular than we are.  So for this one, I reached out to a friend, who is a big promoter in Denver, which is about an hour and a half from Estes Park, and I said "Hey listen, I want to do this formal ball/concert at the Stanley Hotel."

He said he loved the idea and that he would go pitch it for me. And somehow we managed to pull it off. The idea was to create something that is more than just another show… sure, putting on another show can be great thing but there is more opportunity out there then just showing up somewhere and playing well. 
The deal is this, if you are going to take an enormous risk and put in the enormous amount of work that it requires to do concept shows then you need to know that there is an audience for it out there.
So you were confident going into this, that there was an audience for this kind of "concept show?"
In the last two years, the band has attracted more people. The amazing part about that is that the kind of fan really has not changed all that much. We still have not hit the mainstream, so it really is just like a cult following. Our fans are closer to moviephiles and comic book fans. We get people who like different genres of arts and media rather than the typical fair-weather pop fans that a lot of bands get. We have been really lucky. And that's the thing about growing, when you like how things are going but you still want to expand your art, you don't want everything to change. You kinda just want the good things that are part of it to just stay the same.

Each year, all of the Stanley Hotel shows have sold out instantly, with attendees coming from all over the country. You mentioned that you were aware that MBD's fan base had grown… but did you expect that kind of reaction?
When we first proposed it, we were like, "This is a faraway place! Are people going to want to buy tickets if they have to travel all the way here?" We thought we might get a few because it's a different type of thing and maybe we would get a few more who like to travel. It did not occur to us that it would be so well received or just how many people would be into it. It exceeded all of our expectations.

The first year, we put tickets on sale for two nights with limited capacity and it sold out instantly, so we added a third night and that sold out instantly. Then for the next year 2015, we upped the capacity by 50% for each of the three nights and again they all sold out instantly. This year we decided to do it again, so we increased the capacity but we tried to keep it comfortable. We don't want people cramped or to make them feel like sardines. It's supposed to be a vacation weekend for people, people get engaged there and all kinds of stuff. And people really love the haunted element of it with the ghost tours and the paranormal investigators.
Since you brought up the paranormal aspect… The supernatural side of The Stanley Hotel is well known to be the inspiration in Stephen King's novel, The Shining, and there have often been reports of strange, some say ghostly activity floating about the hotel. Are you a believer in paranormal activity? Where there certain things you were hoping to happen when you went there? Say perhaps, Flora Stanley's specter sitting in on piano for a number or two with the band?
I am a lover of strange stuff. I don't feel that it's a matter of believing or not believing. For me, its like, "That sounds great! Sign me up! I'm gonna go check it out!" It was just really interesting to me and yeah, there was some crazy shit there and that was more than I thought I'd see or hear or experience. I loved it. More than anything, I am just a fan and if there's something strange in there, then I am interested in hearing about it.

I have read that during the first run of shows in 2014 that you did not have any otherworldly experiences but how about during the following runs?
We went on a six hour ghost hunt with all of this gear on and with these paranormal investigators as our guides. It was wild.  There's an area that we use a our green room in the concert hall… which they say is the most haunted spot… yes, of course, we had to choose the most haunted room… and that is always a little harrowing to think about when you are the last one in the room… so anyways, our stage manager was left by herself in there when the light in the room just burned out, she freaked. Then she went out of the room only to find that the hallway was pitch black too. That was creepy. I mean yeah, it's not too crazy but it is still something.

Also, there is a door that goes to these caverns under the hotel with all these pipes down there, and eight of us are sitting near there and the door just starts slowly opening and closing on its own. That was wild. We then heard a huge crash that shakes the room, everyone went crazy. We were all wearing all this ghost gear and jumping around. The one investigator leaps up, thinking someone slammed a door somewhere. These guys hope to find strange things that can't be explained. He is doing a lap around the place looking for anyone and of course, there is no one there. Then we find this big door that was propped open by a big heavy rock and somehow the rock just moved down the hall on its own.  So, it's just stuff like that, where I just don't know what happened. Could it have been the wind? Maybe. There were a few fun stories like that.
When I informed my editor, Mark Moran that I would be talking with you about "The Overlook," he told me that he would definitely like to take a big-wheel for a spin around the halls. Did you attempt to recreate any scenes from the Shining? Maybe get lost in the hedge maze?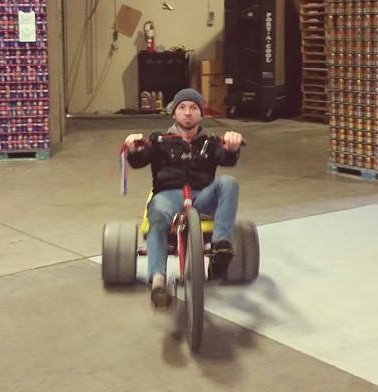 We actually did go around the maze, which was cool. On the way up to the Stanley, we stopped at the Oscar Blues Brewery and they gave us a free tour and they hooked us up with lots of beer for the shows. They have this adult sized big-wheel there, so we took it down to their giant hallway that's just stacked to the ceiling with beer on both sides. We took a photo of our drummer, Dagan, riding down the hallway on the big-wheel saying "Come drink with us!" That was our best recreation.
Speaking of recreating scenes from The Shining, you requested that attendees dress up for the shows… was that so that you could take the infamous black & white group photo as depicted in the final shot of the film?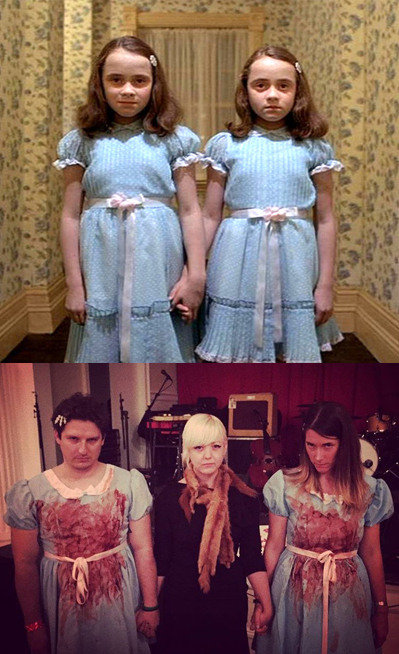 I think it enhances the experience.  Nobody dresses up for anything anymore. I think its fun to do something different. This was us throwing a formal party with us as the house band. A party where guys dress up in suits and tuxes and girls in 1920's flapper dresses, everyone just looks awesome. The whole point of these weekends is to do something different, to get out there, to take a trip, to do something crazy.  Just go have an interesting experience and meet some new people.

That's the really cool thing, people come out and make new friends and they say "let's meet up in a year," or they meet up at our shows or they meet up to see other bands they like. It really pushes the community element of it. This is for entertainment. It's for fun.

MBD performed two hour sets per evening. Did anything different go in to crafting the setlists for these event as opposed to how you normally plan?
There's a vast list of material. We are the only band playing each night so we try to give the best shows we can possibly give. We use it as an opportunity to pull out some songs that we haven't played in a while but plan on playing on tour. We are able to get our confidence back on some material and we get to do it in an atmosphere that's very fun. That is always enjoyable.
In addition to being infamous for the supernatural, the Stanley Hotel is also pretty famous for spirits of another kind… as they serve up flights of all different brands of whiskey. Did you have any close encounters of that kind?  I'm guessing that based on the opening tracks of your album, Good Morning, Magpie ("Kentucky Bourbon," "As Long As there Is Whiskey..") that you may be into that sort of thing.
Oh yeah! Of course. In fact, on the last night (of the last run), one of the bartenders got me the best whiskey they had. It was twenty year old Japanese bourbon called Yamasaki. So, at the end of the weekend, I got to enjoy probably the best drink I have ever had, and that was a really nice gesture.
It was announced recently that the Stanley Hotel will undergo a $25-$35 million renovation to add a horror themed museum and film school with a board that includes none other than, legendary filmmaker George A. Romero. In your opinion, does this take away from the authenticity of the hotel? Does it take away from the cool factor or does it add to it?
It's hard to say whether it will make it better or worse… it's not like I am overseeing the plans. But with that being said, I think it sounds cool. It will give them same attention.  It's interesting and crazy, the owner of the hotel did a recent interview with the Denver Post and they actually credit Murder By Death for the revitalization of the hotel. That is crazy to me. I had a cool idea and people were into it but apparently our events totally changed their business and that s is awesome. I am really happy for them.  It is a cool place with great vibe. Great people work there, they do a good job creating a fun place. I love the city and I love the community there. It's an interesting place and I wish the best for them.
And does it affect whether or not you will do another run of shows there?
I don't know what things will look like with the new venture but I can definitely still see us doing more shows there. I don't see anything wrong with it. We decided to do it again and again because people kept asking if and when we would be doing it again.
So it sounds like if the audience is up for it then you are up for it…
Honesty, our audience feels as good as ever. A lot of them listened to us when they were younger and now they are grownups who make sure they get a babysitter so they can come to a show. And when they come out to see us on Wednesday night then need to take off from work on Thursday morning. And as far as shows go, The Stanley Hotel shows are the most interesting thing we have done so far in our careers.

It's a fantasy weekend… yeah, it's a little nerdy… but it's awesome.

Another installment of Matt's Interview with Adam Turla focuses on Murder By Death's music and Spring 2016 Tour and is currently available on www.CoolDadMusic.com
Murder by Death are coming up on the East Coast stretch of their Spring 2016 which will be making stops at Irving Plaza in NYC on April 15th  and Rough Trade in Brooklyn on April 18th. The band has announced that they will be going on a hiatus after this tour, so make sure to catch them while you can!
The Garden State Beard and Mustache Society will be holding their 5th Annual Beard and 'Stache Competition at The Stone Pony on May 14th, and there are rumors of a CoolDad Stubble category.