Santa's Devilish Little Helper, the Belznickel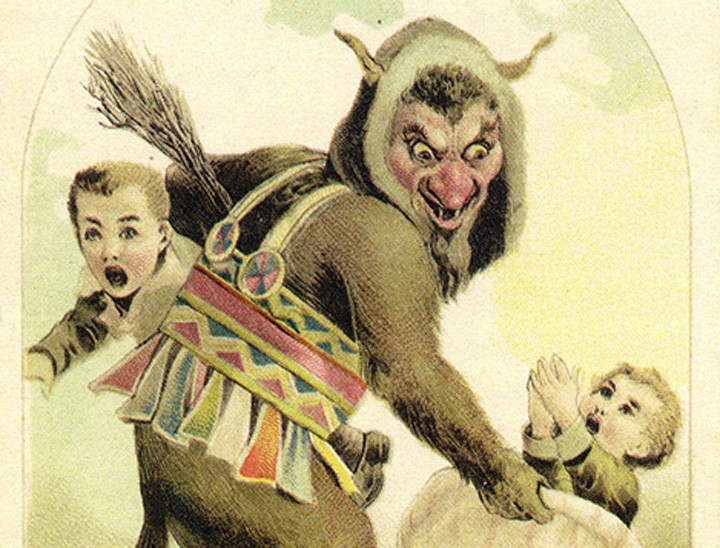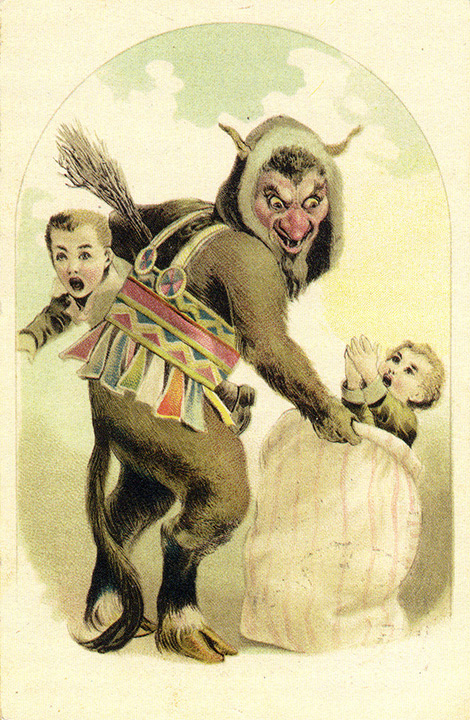 There's no greater hero in a child's mind than that jolly old elf who comes down the chimney on the night before Christmas. But in a smattering of Pennsylvania Dutch communities throughout Pennsylvania there's another winter visitor who's probably not quite as high on the childhood "nice" list. On the night before the Feast of St. Nicholas (on December 5th), many residents of German descent warn their children of the impending visit of the Belznickel. And he isn't usually carrying a sackful of goodies.
The Belznickel is basically the Mr. Hyde to Santa's Dr. Jeckyll, the Anti-Claus, if you will. Clad from head to toe in fur and rags and wearing a hideous mask, he's not interested in rewarding the good kids. He's all about punishing the bad ones. To this end, he carries a chain that he rattles outside the door on the eve of St. Nicholas, ready to tie up transgressors. He tucks a switch or whip made of birch branches into his belt ready to whack them. He may have a treat or two about his person, but more often than not, it's to lull his victims into a false sense of security.
This may seem a bit harsh for holiday fare, but in the days before Xbox, it may have taken a little more than the promise of a few small treats to get your children in line for the holidays. There's nothing like the threat of punishment to propel borderline naughty kids onto the "nice" list.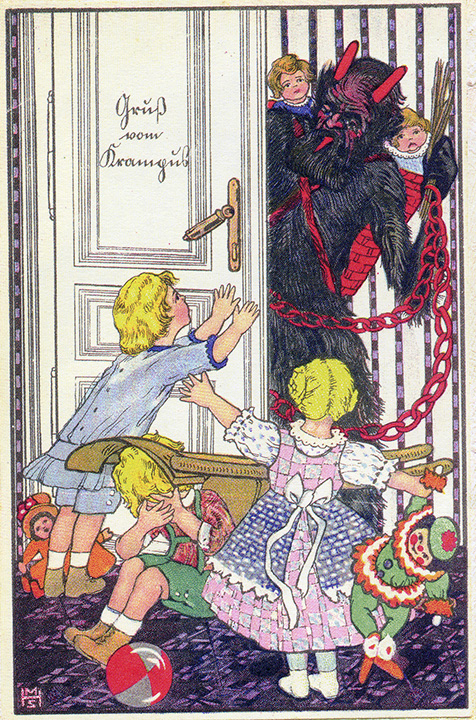 In fact, the Belznickel is only one remnant of a whole cast of nasty characters associated with the run-up to Christmas in older European traditions. Various other regions in Germany and Austria celebrated a threatening Santa sidekick called the Krampus, a hideous devil with a lolling tongue of Gene Simmons proportions. Compared to him, the Belznickel is positively benign.
In his heyday, Belznickel often made his appearance at small house parties, usually shortly after an uncle went outside "to take care of the horses."  A motley masked figure would rattle the windows with the butt of his whip and clank his chains to alert the people inside of his presence. He'd come in, and either mock-threaten the youngsters or make them recite their catechism or some other lesson they had learned. If they succeeded, they would sometimes get a treat. But mostly, they were sternly warned to keep in line for the visit from the real gift-giver three weeks down the line. Nowadays, the tradition of the Belznickel has largely died down except in a few small communities of diehard German ancestry. But his public appearances are rare: He's not exactly a character people want to be photographed with at the mall.
So next St. Nicholas Eve, if you hear chains and whips rattling at your windows, batten down the hatches and don't open the door. It could be the Belznickel, a real nightmare before Christmas, if there ever there was one! –Thanks to Weird Pennsylvania author Matt Lake for this article.
This story is an excerpt from Weird NJ magazine, "YourTravel Guide to New Jersey's Local Legends and Best Kept Secrets," which is available on newsstands throughout the state and on the web at www.WeirdNJ.com. All contents ©Weird NJ and may not be reproduced by any means without permission.
READ MORE WEIRD NJ CHRISTMAS STORIES HERE.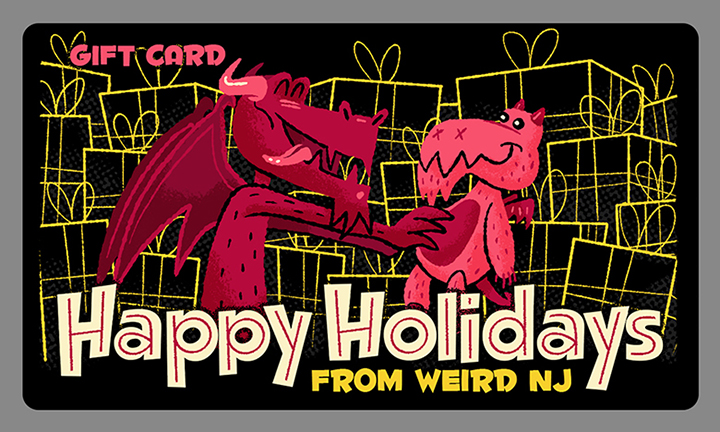 This Holiday Season give the gift of weirdness with a Weird NJ Gift Card in the amount of your choice.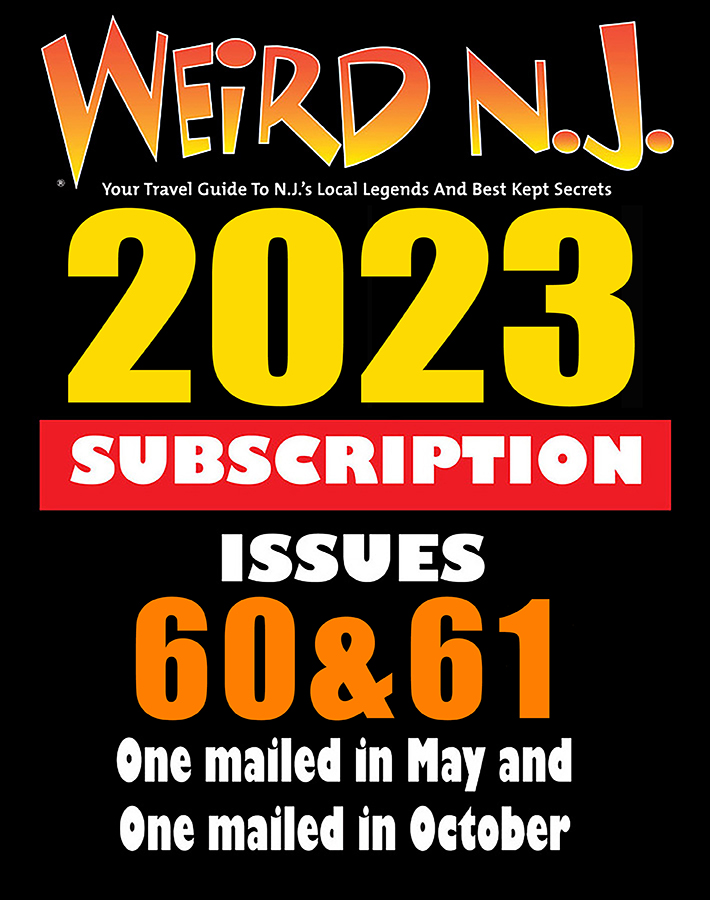 Subscription issues will be mailed in MAY and then again in OCTOBER of 2023. Subscription order do not include any issues that are currently available. Current and recent issues can be purchased HERE.
Visit our SHOP for all of your Weird NJ needs: Magazines, Books, Posters, Shirts, Patches, Hats, Stickers, Magnets, Air Fresheners. Show the world your Jersey pride some of our Jersey-centric goodies!

Can't find just what you're looking for? Try visiting our Store Frontier shop!

You'll find all of your favorite Weird NJ icons on all kinds of cool new Weird Wear, like Tee Shirts, Girls Tees, Sweatshirts, Long Sleeve Tees, Hoodies, Unisex Tanks, Kids Tees, Tie Dyes or Onesies! All are available in all sizes and a variety of colors. Represent!