Asbury Park's Tillie and Calico, the "Evil Clown" of Middletown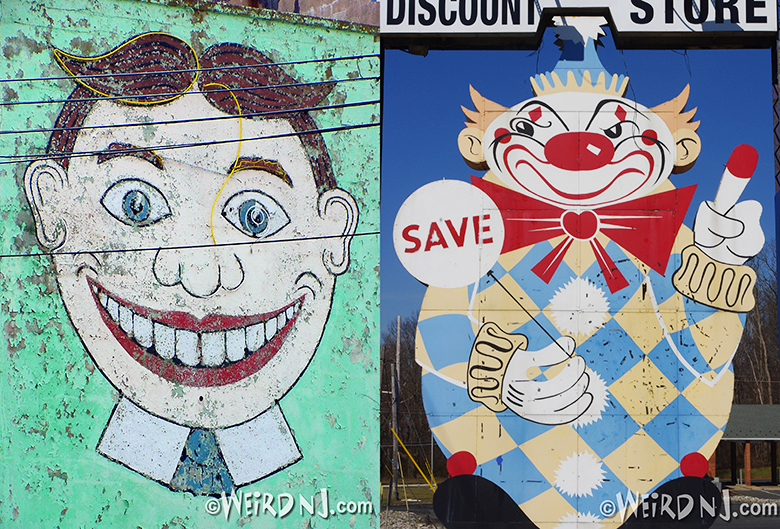 He's been a familiar roadside fixture to motorist traveling along Route 35 in Middletown since 1956, but the brightly colored clown known as "Calico" has such a beguiling look about him that drivers still scratch their heads in wonderment at the sight of him.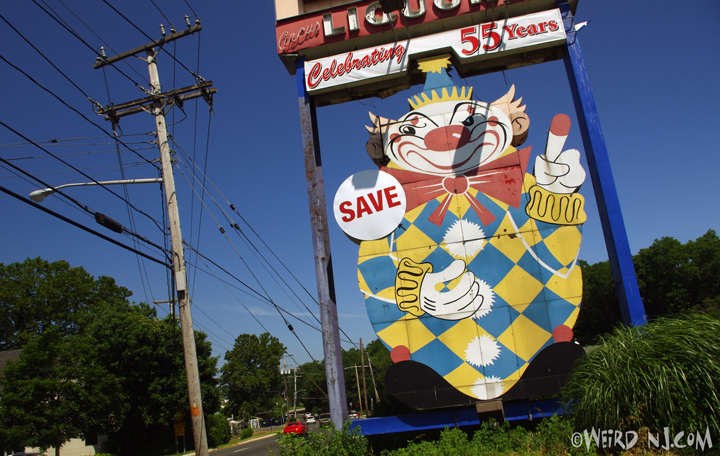 The 30-foot-tall steel sign, which once rotated on a motorized spindle, was originally built to advertise Joseph Azzolina's Food Circus store (the predecessor to today's Foodtown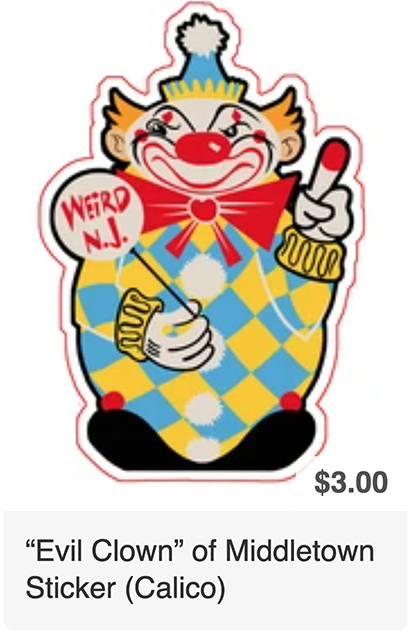 supermarket chain). The giant clown's slyly sinister grin and blood-red tipped index finger have earned it the nickname the "Evil Clown of Middletown" in popular culture.
The moniker was perhaps first coined by local author Doug Kirby, of Roadside America fame, who grew up in the area and remembers marveling at the odd icon from an early age. For many years now the former Food Circus market has been reappointed as a liquor store, so the once obvious conceptual connection of the clown character has long since been lost. Today nobody is really sure just what local sign painter Leslie Worth Thomas, of the Road Ad Sign Company, was thinking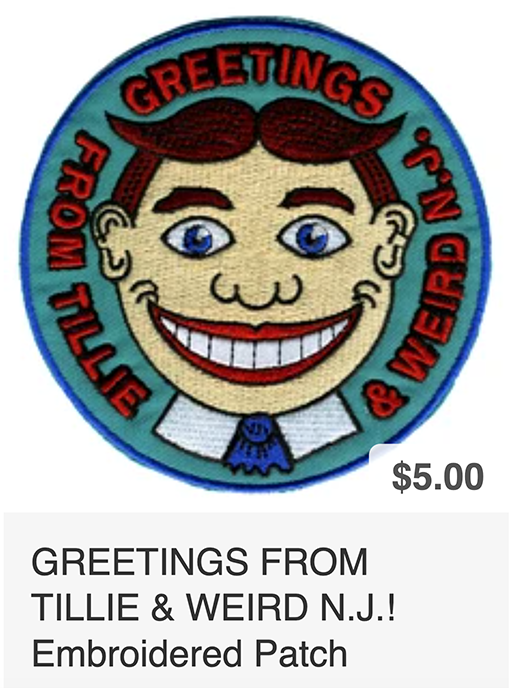 when he dreamt up the image of the of sneering harlequin, which seems to be wagging his finger disapprovingly at passing cars. If in fact it is a finger at all––some have speculated that it is actually either an ice cream cone or a cigar. In any case, chances are we will never know for certain, as Leslie Thomas died in 2003 at the age of 90, leaving us with not just one, but two enigmatically smiling New Jersey faces to ponder.
The other one being the manically grinning visage of Tillie, which once gazed down from the façade of the Palace Amusements building in Asbury Park.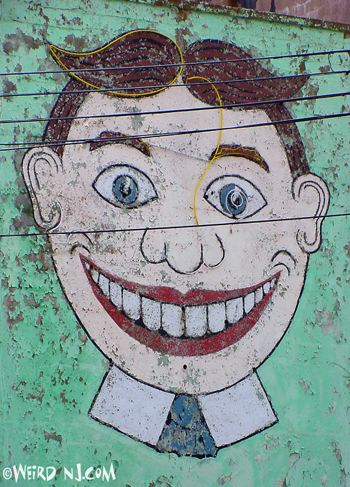 Clown images such as Calico and Tillie have a long history of being employed as advertising vehicles for popular shore attractions. The closest clown kin to Calico is undoubtedly the Circus Drive-In restaurant clown in Wall Township, which features an equally deranged character on its roadside sign, while Coney Island and Atlantic City both featured Tillie-like faces on their boardwalk amusements piers.
According to Bob Crane of the Save Tillie Foundation, Tillie, with his swooping hairdo and Cheshire-cat grin, was originally inspired by the image known as the Steeplechase fun face, which first appeared at Coney Island in 1897. The image glared out from the glass facade of Steeplechase Park, was used as a symbol on rides, on tickets and as an advertising logo until the 1964 closure and ultimate demolition of Steeplechase Park.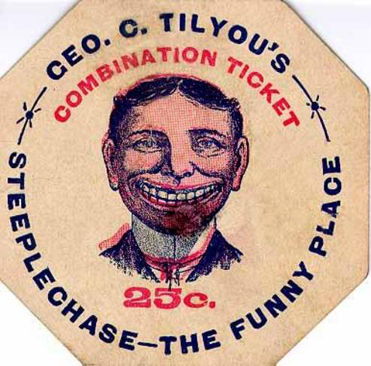 The Asbury Park image, which Thomas painted around 1950, is related to the Steeplechase face by stylistic similarities, but much more.
The name "Tillie" is shorthand for Tilyou, the family name of the father of Coney Island's amusement park, George Cornelius Tilyou. Furthermore, there are strong familial resemblances between Tillie and the photographs of George C. Tilyou and his brother, Edward J. Tilyou, who may have been the model for the caricature. Prior to his death, Thomas confessed that he could not remember whether he designed the face himself or if Tillie's likeness was supplied by the client, Central Amusement Corp. of Asbury Park. Almost certainly though, whoever designed Tillie intended it to be an homage to the Steeplechase fun face, mimicking the image as closely as possible without upsetting the Tilyous (who were known to threaten legal actions against copycats––even though the Steeplechase Park image was never protected by a trademark.)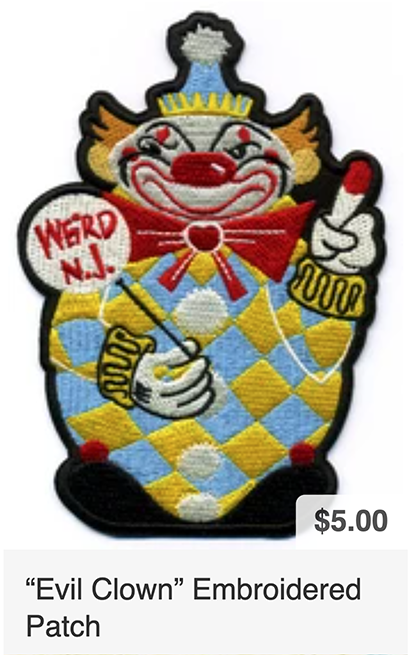 The Evil Clown has not always been popular with some residents of Middletown, especially when years of exposure to the elements had faded the once bold primary colors of Calico to drab aged pastel hues. There was a period in the early 2000's when it seemed as if the sign was doomed to be dismantled, as a new "town center" development plan threatened its existence. Ultimately though, the project was shelved and today the clown still stands tall, looking just as menacing as ever.
The original Food Circus site is now home to Spirits Unlimited and also the corporate headquarters of Food Circus Super Markets, which continues to own and operate locations in the area. In the spring of 2011 Joseph Azzolina Jr. had the clown cleaned, renovated and repainted, and vowed to preserve the Evil Clown as a unique symbol of Middletown pride. These days most Middletownians have embraced old Calico with a kind of nostalgic fondness as the town's unofficial mascot, just as Tillie has stayed an enduring symbol of Asbury Park, even nearly a decade after the demolition of the Palace Amusements building.

The preceding article is an excerpt from Weird NJ magazine, "Your Travel Guide to New Jersey's Local Legends and Best Kept Secrets," which is available on newsstands throughout the state and on the web at www.WeirdNJ.com.  All contents ©Weird NJ and may not be reproduced by any means without permission.
Visit our SHOP for all of your Weird NJ needs: Magazines, Books, Posters, Shirts, Patches, Hats, Stickers, Magnets, Air Fresheners. Show the world your Jersey pride some of our Jersey-centric goodies!

Now you can have all of your favorite Weird NJ icons on all kinds of cool new Weird Wear, Men's Wear, Women's Wear, Kids, Tee Shirts, Sweatshirts, Long Sleeve Tees, Hoodies, Tanks Tops,  Tie Dyes,  Hats, Mugs & Backpacks! All are available in all sizes and a variety of colors. Visit WEIRD NJ MERCH CENTRAL. Represent!