Get Your Motors Running for… T.R.O.G. – The Race Of Gentlemen
Imagine you're standing on a beach. The summer has just ended and the sunbathing crowds have all returned home, their memories of another vacation season gone by still warm in their minds. But the beach is by no means deserted—quite to the contrary, in fact. A phalanx of rumbling metal machines form in a line before you on the sand. Their engines growl and roar like pent up animals waiting for their cage door to be sprung open.
A serpentine rollercoaster and gigantic spinning Ferris wheel rise up from the edge of the sand dunes to your left. To your right, the brilliant expanse of the glistening ocean is almost blinding. You turn once more to the line of cars before you as if in a dream. Suddenly, a checked flag flies before your face and there's an explosion of furious noise as the cars come off the line, their tires throwing sand high in the early Autumn  air. The race is on!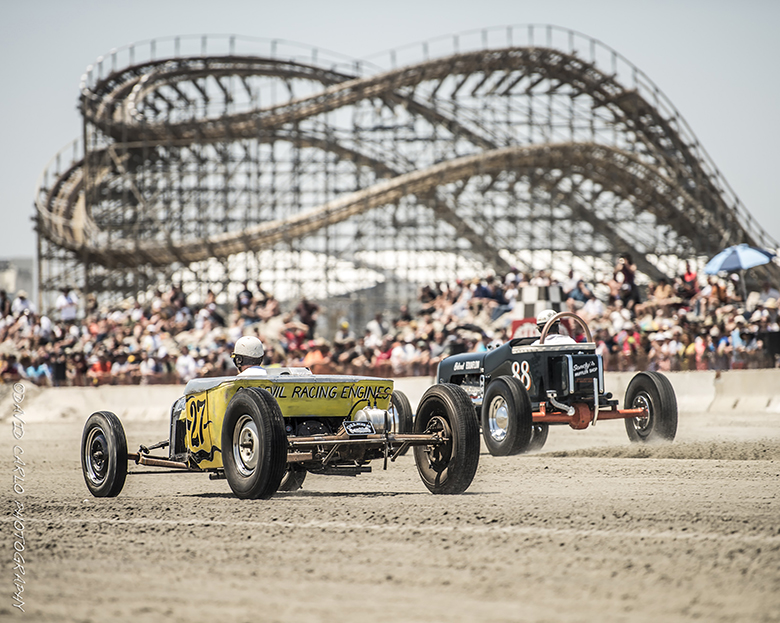 Everywhere you look you see hot rods and roaring motorcycles cutting through the sand. But there's something not right about these wild rough riders, something very out of the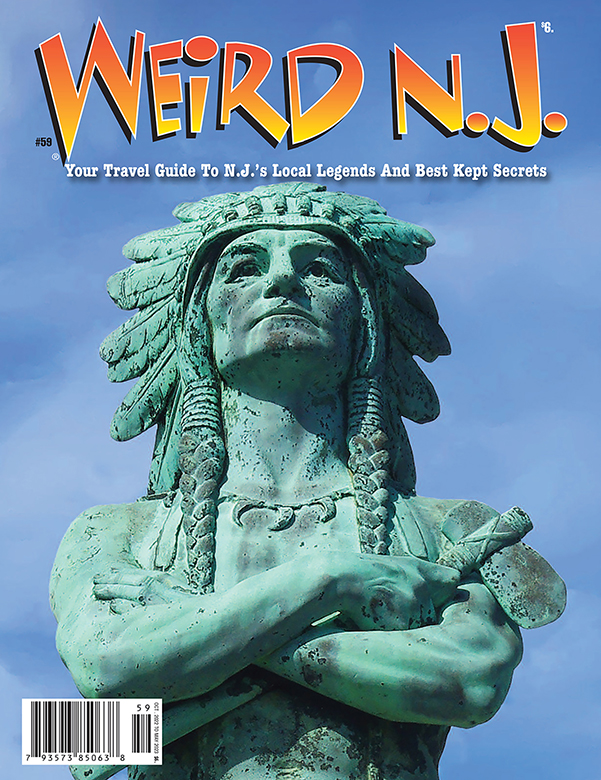 ordinary. Their machines are all from a bygone era, vintage yes, but certainly not custom car show vehicles. These rods and Harleys are from another time altogether, a time way before most of us were born. And the men driving them seem to be from a different age as well, dressed more like Marlon Brando's character in 1953 film The Wild One than any speedster of today.
Who are these guys, you wonder, and where the hell am I? It's a weird scene indeed. But this isn't taking place on Daytona Beach in 1947 or the Bonneville Salt Flats. This is taking place right now and it's happening on the sandy shores of New Jersey. Welcome to T.R.O.G.: The Race of Gentlemen.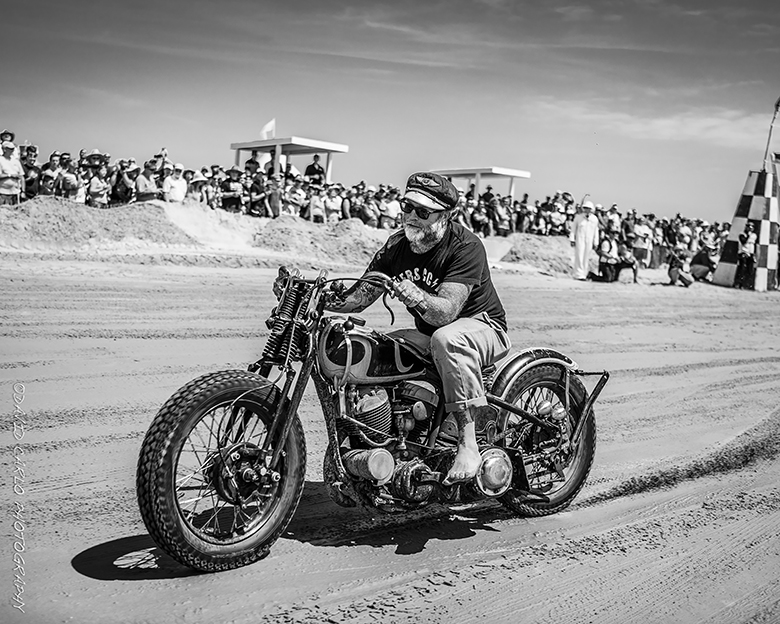 The Race of Gentlemen is actually a series of events that are the brainchild of one Meldon Van Riper Stultz III, who is 52 years of age. If we were to describe Mel physically, as an automobile, we might say something like,
"A compact and sturdily constructed model, built for speed." He's not a tall man by any means, yet he possesses a powerful countenance, and an energetic disposition. He comes from a family that has been in Keyport, "Gateway to the Jersey Shore," for four generations. When he was old enough, Mel joined the Marine Corps, and after serving, came home to realize that Keyport just wasn't big enough for him anymore.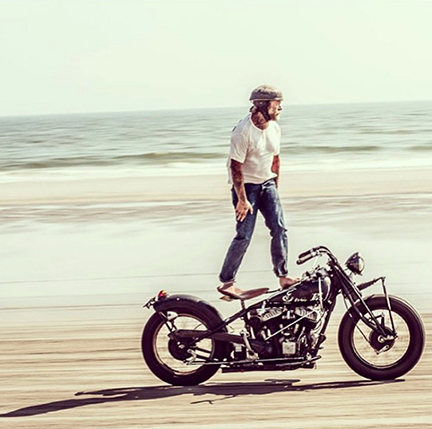 He relocated down to Asbury Park in the 1990s, before the economic resurgence of the town, where Mel and his friends lived in the abandoned buildings and showered on the deserted beach. He was a gigging musician in punk rock and hardcore bands at the time and loved Asbury Park because that's where the venues to play were located. After he began to realize that a career in music might not be in the cards for him, he says he needed a new hobby and began to get involved in hot rods—vintage hot rods, 1930s Fords, mostly.
"I basically jumped in by buying a car, not knowing how to actually work on it," He remembers. "But that's what the fun part was, the learning curve. Finding information and trying to figure it all out, talking to old guys who I've always got along with and I find more interesting."
He built his first hot rod, a 1930 model A Ford sedan, in a boarded-up building off Cookman Avenue.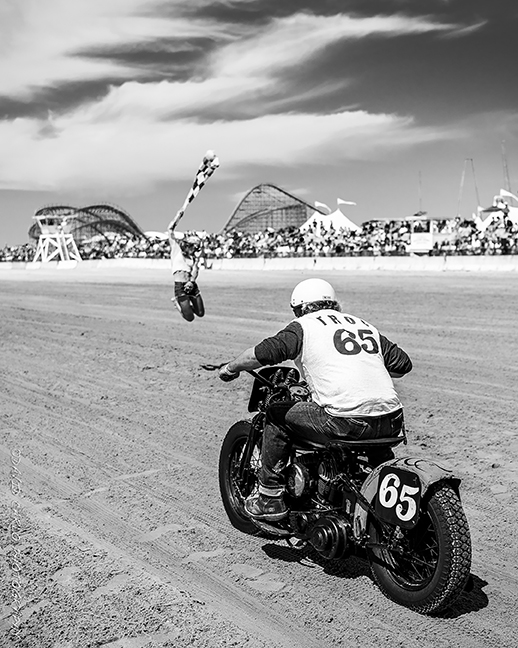 At the time, he and his friend were living in the backside of the rundown Casino Building on the south end of the boardwalk. This was after the carousel had been removed from the adjoining Carousel House and the space was being used as a skateboard park. One of Mel's friends had been running the Casino Skate Park in the darkest days of Asbury Park when all kinds of alternative attractions were popping up to try to draw at least some people back to the once bustling seaside resort town.
"It had a phenomenal halfpipe, the largest on the East Coast." Mel recalls. "Lots of people came in from all over. That was kind of during the time of the Warped Tours and so bands would set up in the middle of town and take over. We were basically there to kind of show them where to party. We were hanging out with all the crazy professional skaters and punk rock bands like Murphy's Law. It was really interesting to live there."
Weird NJ met with Mel earlier this year to discuss how a young man goes from basically being a squatter living in an abandoned building in Asbury Park to becoming the multi-faceted entrepreneur, impresario and raconteur that he is today. We found that the course was anything but a straight line.   Mel and his friends started organizing shows of their own, music and art. It was a loose-fitting underground collaborative of weirdos from Asbury, Red Bank and Belmar, which began a buzz around the area that something cool was going down. One of the places they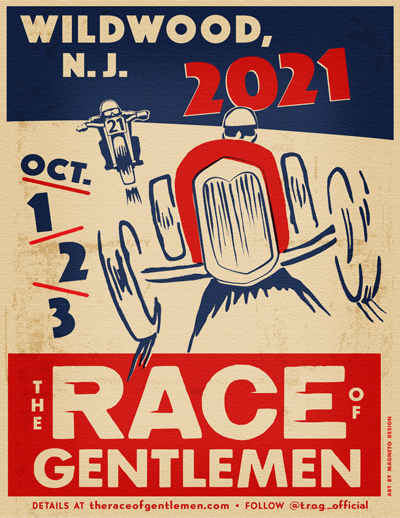 began to throw shows was at was Asbury Lanes, when it was still a bowling alley with the original owner since 1961.
"Sometimes, wanting to take a break from what we were creating, we would go bowling. And we were the only guys in there. It was literally a group of nine of us. The guy looked at us all kind of crooked eyed because we had neck tattoos or beards or whatever. His name was Ralph Ales, and we got to know him and he warmed up to us pretty quickly. He was real sweet.
"I threw my first car show next to the Wonderbar, which wasn't the Wonderbar at the time. It was just a just a blank canvas, of sorts, and it was called the Jalopy Jump and Jive. And it was based on rock and roll, hot rods and motorcycles, and art. And that was a pretty good success for the area. People really dug what it was I did there. And, I have lots of friends far and wide, and everybody came in for it. And everybody thought, man, there's just as a cool place to be."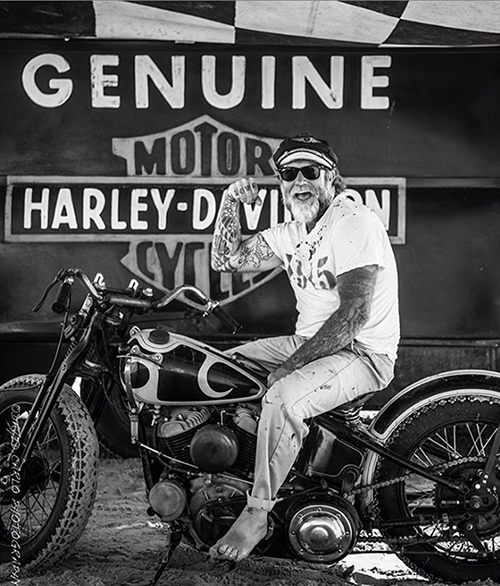 After that first show other local bars started asking Mel to do a night at their clubs because they could see he knew how to throw a party. But he didn't want to just "do a night" a random bars—he had grander venues on his mind.
Mel: The Drag Years
Mel began working on bars in town and had tremendous success with transforming them into places where people wanted to hang. His first was a joint near the corner of Cookman Ave. and Bond Street in Asbury Park which he called the Oddfellows Lodge.
It was a bare brick room that Mel had given the look and feel of an antique service station garage, with hand-painted signs and gas station props. The decor was augmented by paraphernalia from secret societies, like the Oddfellows, Mummers, Skull and Bones, and old Masonic stuff.
"I created what I named Motor Speedway. I created props that looked like they should be there: old hand-painted advertisements, car oils, all this is Harley Davidson stuff. I built a movable bar out of an old dumpster because I didn't want to have to corral people behind a fence to drink. So, we got inventive. We built this radical old building with a corrugated metal roof and old beams, and then I made these giant barn doors that slid open so the whole place was wide open.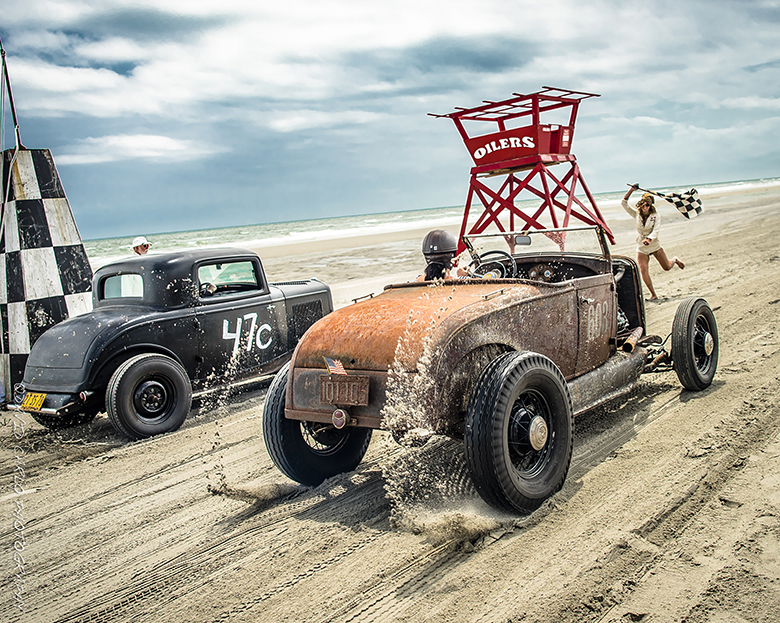 "Then basically I went to town promoting the shit out of this the way I did everything else, screaming from the rooftops, 'Be there or be square!' And you know, I started bringing in bands like Los Straightjackets and put them right on the drag strip.
"We were drag racing cars and bikes. The funny thing is that the world has really never raced cars and motorcycles together. You either go to bike events or you go to car events. I was like, what the fuck? Why would they not go hand in hand? Motor Speedway was that: hand in hand bikes and cars—send two cars down, send two bikes, and a bike against a car. Yeah, it was like it was a pure rock and roll, man."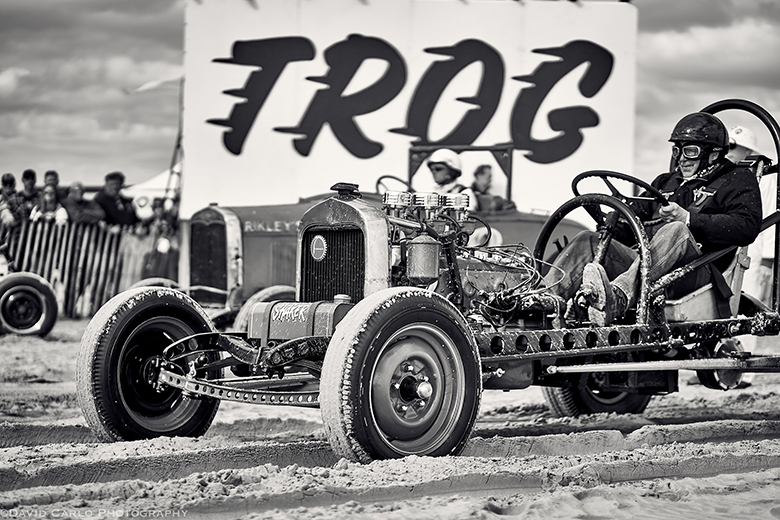 The Birth of T.R.O.G.
Mel and his friends now had a place to race and were calling themselves a hot rod club. Only problem was they didn't have a name. Then they discovered a book called The Birth of Hot Rodding, about the early hot rodders and their experimental and sometime death-defying ideas of how to supe up a car. It features the hot rod builders of the Bonneville Salt Flats Race Track in Wendover, Utah. The salt flats were first used for motor sports in 1912, but become truly popular in the 1930s, and they're still setting new land speed records there today.
"Man, and me and my friends, we're loving this book." Mel remembered. "We'd sleep and breathe it."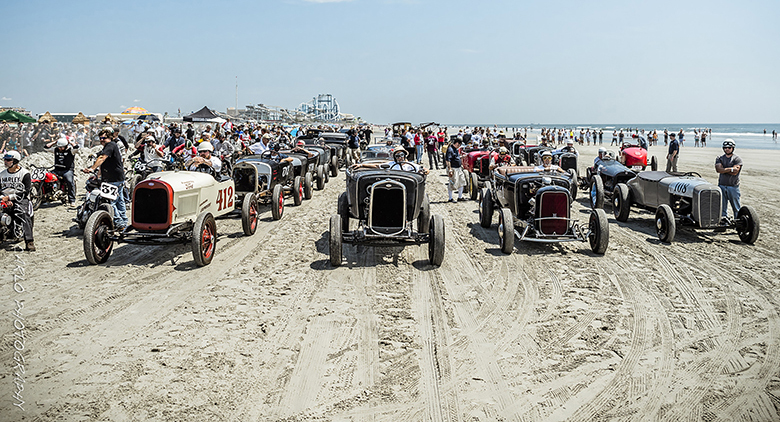 Gentlemen – Start Your Engines!
Although it's received a lot of attention recently, The Race of Gentlemen still seems to be something of a secret society. When Weird NJ first tried to contact them, we noticed that the T.R.O.G. website had almost no information, unlike most modern sites, which usually offer a mission statement and copious contact options. There was no sales pitch, or anything that could be construed as brand marketing. According to Mel, that was very much a conscious decision.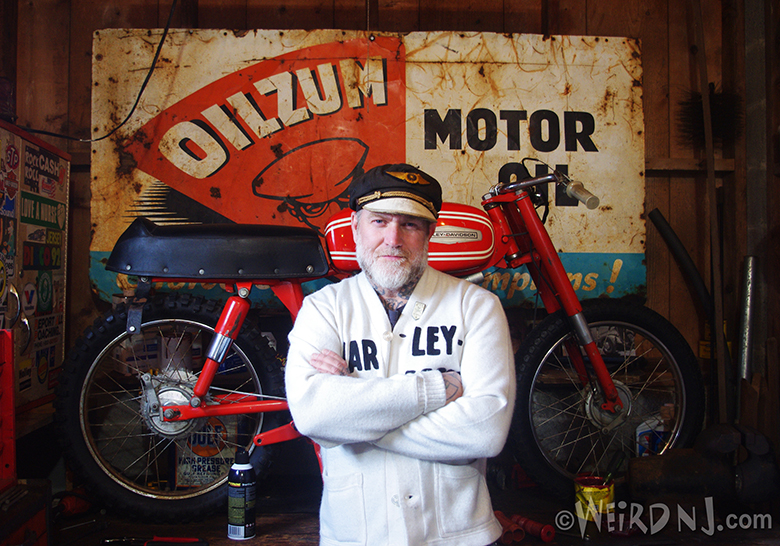 "I hate the word brand, and unfortunately that's where I am now. I sit in actual corporate meetings with 14 heads and they're like, 'We love your brand.' And I'm like, I'm not a brand, I'm me, and this is just what I create. Whenever I see something weird I have to figure out how we're going to build it, because I like weird, I just always liked weird. So, I seek it out and weird follow finds me. So, yeah, all that weird shit's mine. It's super fun stuff."
"Everybody wants The Race Of Gentlemen—this city wants to race, Brazil wants it, California wants it, Texas… But I don't want to water it down, you know? I don't want to sell it out."
The Race Of Gentlemen 2021 will be taking place Friday, Saturday and Sunday, Oct. 1, 2 & 3 on the beach in Wildwood, NJ. To purchase tickets go HERE.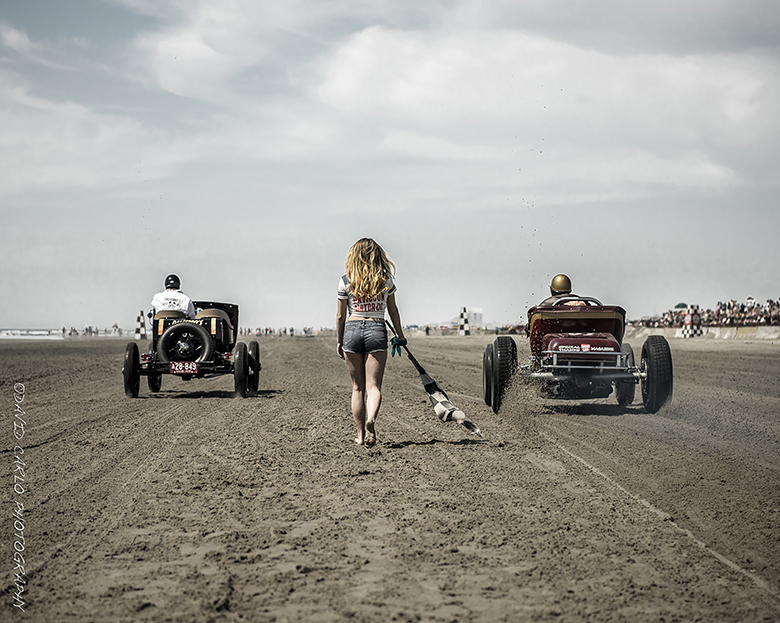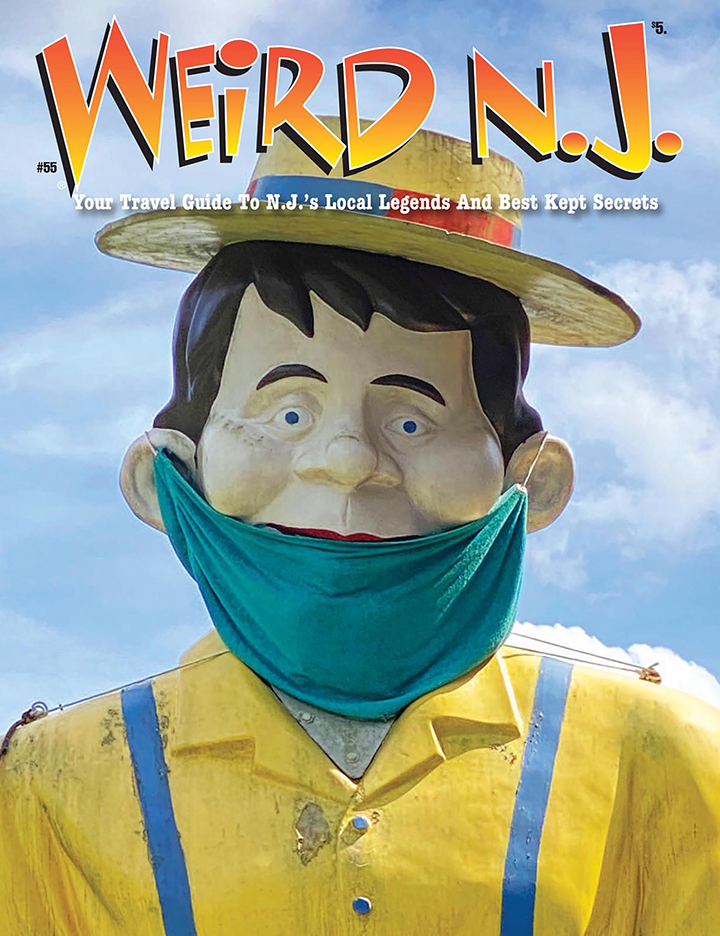 This story is an excerpt from issue #55 of Weird NJ magazine, "Your Travel Guide to New Jersey's Local Legends and Best Kept Secrets," which is available on newsstands throughout the state and on the web at www.WeirdNJ.com. All contents ©Weird NJ and may not be reproduced by any means without permission. Photos courtesy T.R.O.G.
Weird NJ can be ordered through our Web Site, Amazon Store, or Facebook Shop. It can also be found at hundreds of shop around the state and beyond. To find a store near you that carries Weird NJ go to this LINK.
Visit our SHOP for all of your Weird NJ needs: Magazines, Books, Posters, Shirts, Patches, Hats, Stickers, Magnets, Air Fresheners. Show the world your Jersey pride some of our Jersey-centric goodies!

Now you can have all of your favorite Weird NJ icons on all kinds of cool new Weird Wear, like Tee Shirts, Girls Tees, Sweatshirts, Long Sleeve Tees, Hoodies, Unisex Tanks, Kids Tees, Tie Dyes or Onesies! All are available in all sizes and a variety of colors. Represent!