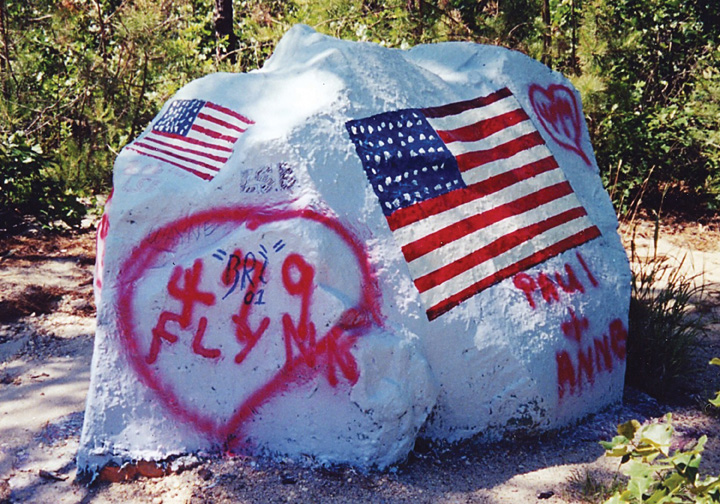 New Jersey's Most Painted Rock
I can't remember exactly when I first saw the Painted Rock on Route 539. It was probably when my family and I started driving to Atlantic City instead of taking those terrible buses. Maybe twenty years ago or so. I do remember that it was painted purple. It was sort of a "halfway point" for me, and looking out for it made the trip seem shorter. Then, each time we passed it on our way to A.C. or my cousin's house in Barnegat, it was painted differently! So I started taking my camera along on each trip. It is usually decorated for every holiday and occasion.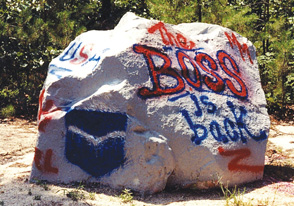 One time it had a regular white envelope with the words "Welcome home Marilyn" written on it. Inside the envelope was a handful of dirt! The Rock celebrated the return of "The Boss." It even had a strange (alien?) diagram next to the symbol for infinity on it once. On another occasion, it was painted one thing on the way down, and something different on our way back!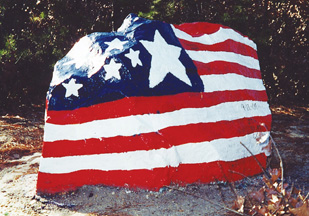 But since 9/11, it's been, in various forms, an American flag. I've never seen anyone painting it, though. It's a great mystery and a great landmark!
To find it when traveling on Route 539 South, look for mile marker 20 and then the sign for the Greenwood Wildlife Management Area. The Rock is on the right just before the second guardrail. If traveling north, it's about six miles north of Route 72 on the left side of the road. –Susan Ortiz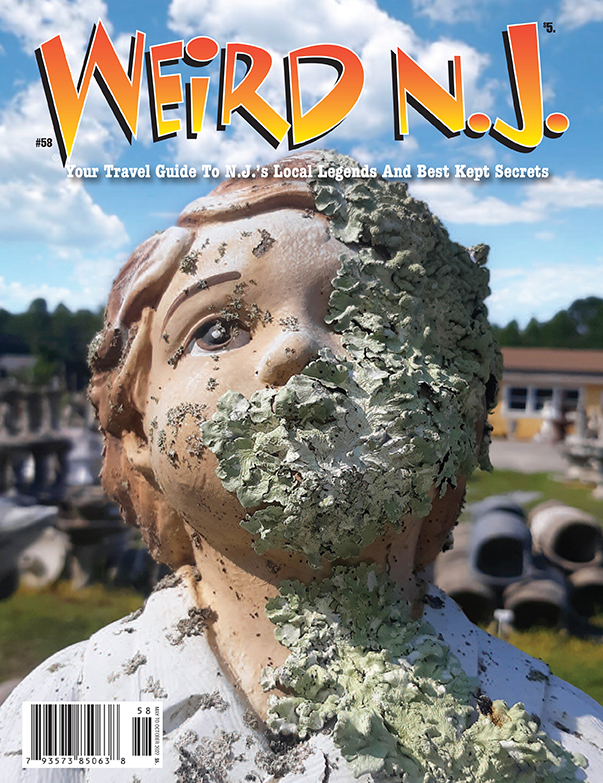 Legends of the Rock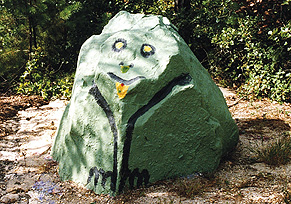 There are a few stories concerning this rock and they all begin the same way. The legend says that rock was originally a jetty stone. It was being transported to a jetty building project. The stories then part ways at this point. Either it fell off a truck during the 1930's on its way to Barnegat or it fell when the truck carrying it (along with the other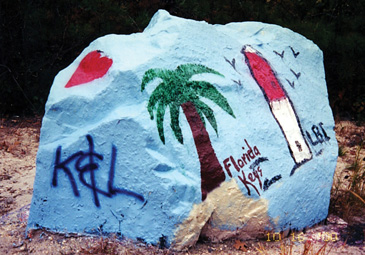 stones) overturned. This second story is set in the 1960's and the truck was on its way to a jetty project near Tuckerton. One other report has the year set during the 1970's.
Next, there is a story stating that the original painters of the rock were from a local fraternity. I am not from the area but I don't know of any colleges or universities that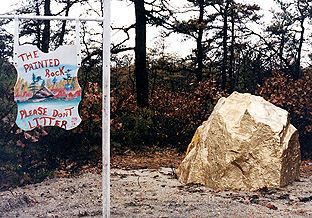 were close enough for the fraternities to care. The latest painter's identity is a matter of fact and documentation. His name is Edward Gillesheimer of Cedar Glen Lakes. He retired after owning a paint shop in the area. Several years ago he started painting the rock to cover over graffiti by the local youths. He has been painting it and people have left little messages around the rock in appreciation. He has painted it in different motifs according to the month, season or special occasion. The latest motif is in the form of an American flag and has "9/11/2001" painted on it. –Todd Hansell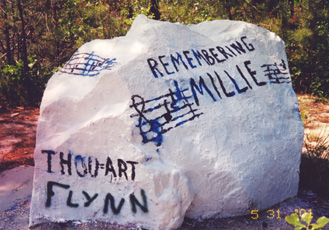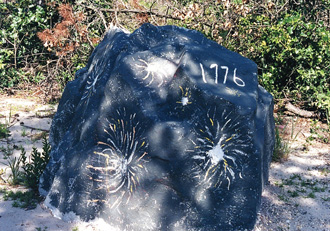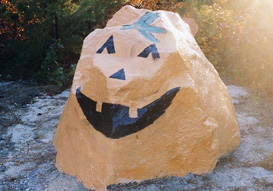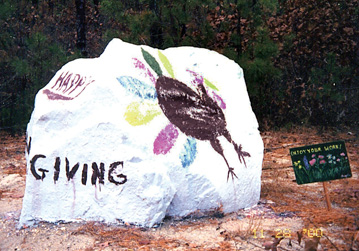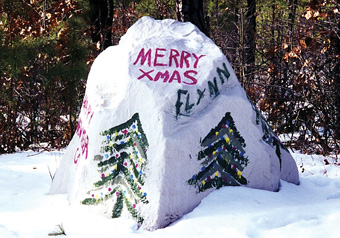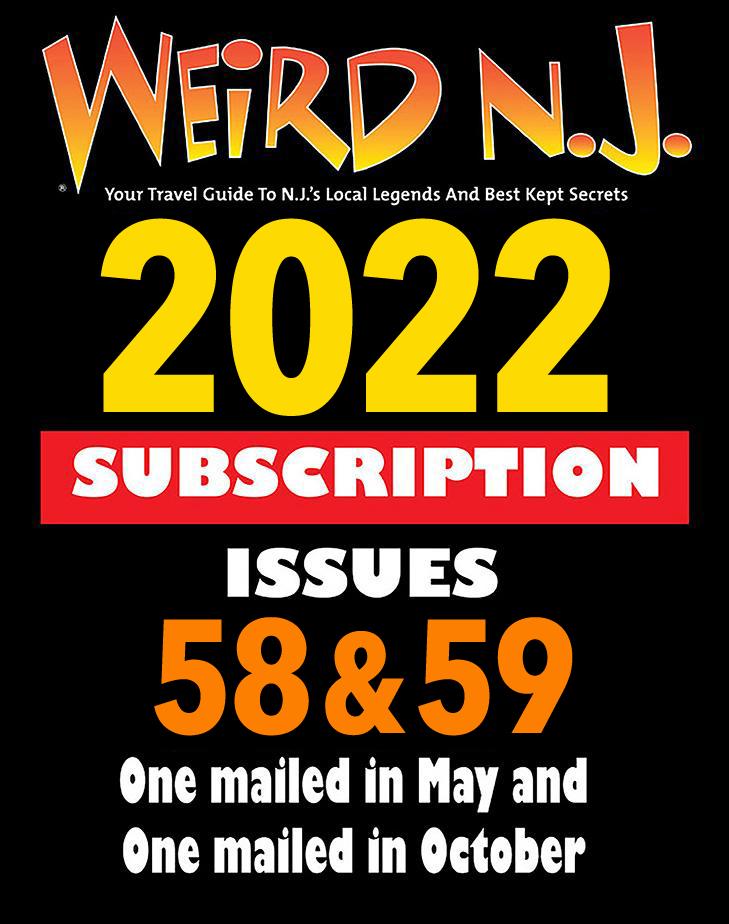 The preceding article is an excerpt from Weird NJ magazine, "Your Travel Guide to New Jersey's Local Legends and Best Kept Secrets," which is available on newsstands throughout the state and on the web at www.WeirdNJ.com.  All contents ©Weird NJ and may not be reproduced by any means without permission. Photos by Susan Ortiz.
Visit our SHOP for all of your Weird NJ needs: Magazines, Books, Posters, Shirts, Patches, Hats, Stickers, Magnets, Air Fresheners. Show the world your Jersey pride some of our Jersey-centric goodies!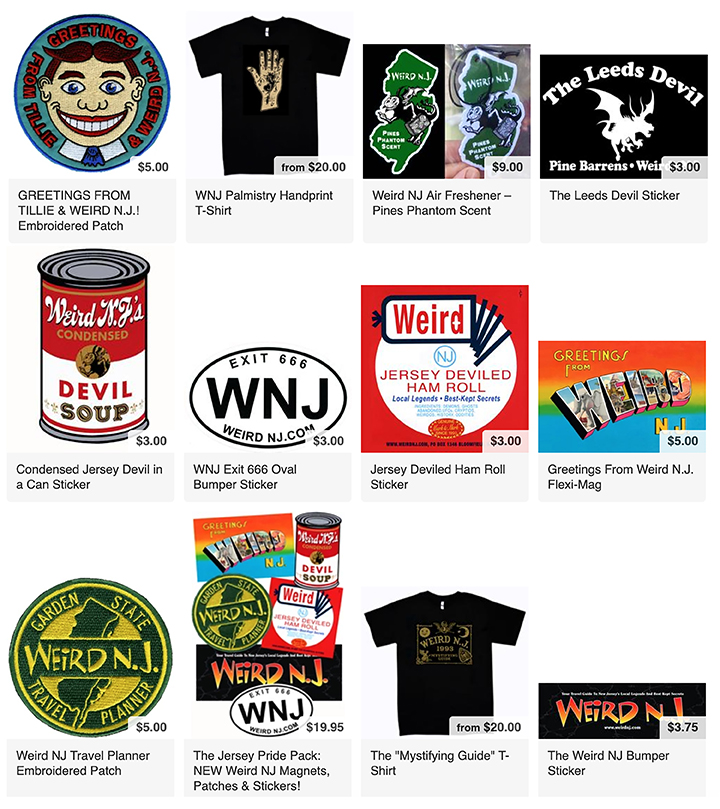 Visit our SHOP for all of your Weird NJ needs: Magazines, Posters, Books, Shirts, Patches, Hats, Stickers, Magnets, Air Fresheners. Show the world your Jersey pride with some of our Jersey-centric goodies!