The Brick Midget House of Brick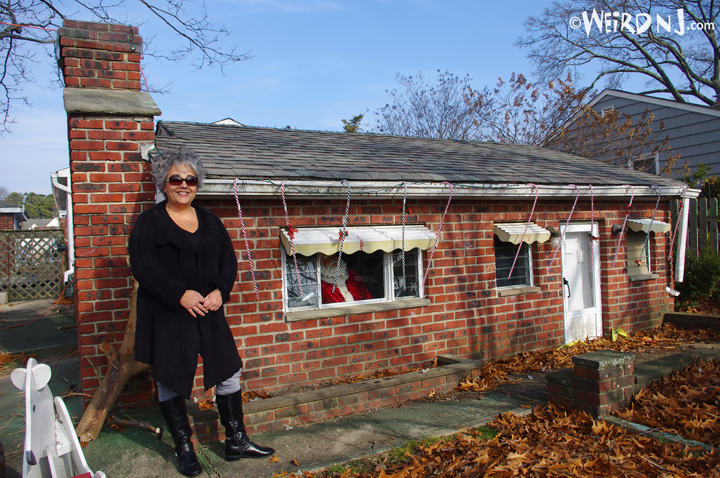 Anna Jones, owner of this diminutive dwelling in Brick.
For Sale: Charming cozy ranch style brick cottage in Brick, NJ, located on a spacious lot near the water. One bedroom, one bath, dine-in kitchen, living room with working brick fireplace, and an outdoor pool. Note: Prospective buyers should not exceed three and a half feet in height.
It's not everyday that a house like this one goes up for sale––that's because there just aren't too many fully functional houses around that happen to be scaled down to one quarter size of normal building codes. But this year the legendary "Brick Midget House of Brick" was placed on the market by its owners. And no, contrary to popular belief, they are not little people. Matt and Anna Jones purchased their corner lot home in Brick back in 2000, and located in back yard was something quite unique: a completely operational miniature house outfitted with all the amenities of their new full-sized home––running water, electricity, even a fireplace. According to Anna, the cottage was built back in the 1960s by the former owners as a playhouse for their grandchildren. Inside was everything that you expect to find in a regular home, it was fully decorated with scaled down furniture: tables, chairs, a bed, wood paneled walls, tiled bathroom with shower, kitchen cabinets and even a tiny upright piano.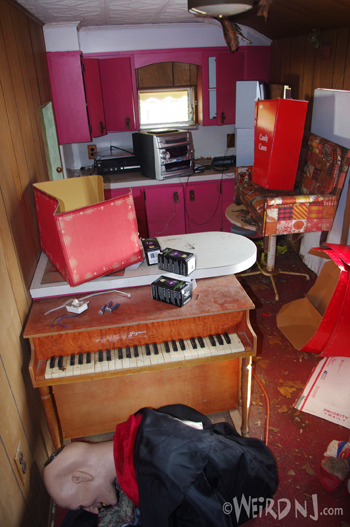 At the time, the Jones's thought it would be fun to have the diminutive dwelling in their back yard, but as the years passed they would come to realize that the odd little novelty, while an interesting curiosity, did have its drawbacks. As unbelievable as it may seem, Anna told Weird NJ, "Unfortunately, people come and steal from it. We had all these little wooden flowers in the window, and during the summer when we had the little windows open, people would stick their hands right in and I kept noticing flowers missing. They've stolen my front door. There was a hazing and the kids from one of the colleges kicked it in, took the door and left. I have a little replica soda table from the 50s in there and they stole one of the chairs."
The tiny house has long been a fixture in local lore and has attracted the curious from far and wide, many of whom are convinced that it is actually occupied by a family of little people.
"People think that midgets lived here and say that up at the Stop and Shop Plaza, there used to be a circus." Anna told us. "My son was just at a dentist's office the other day up in Shrewsbury and when he told the hygienist that he was from Brick she said she had friends that just moved here and that they lived in a neighborhood where there were midgets, because they saw this little house. You see, people don't think it's my house, because it's on its own lot. So they just think it's a separate entity."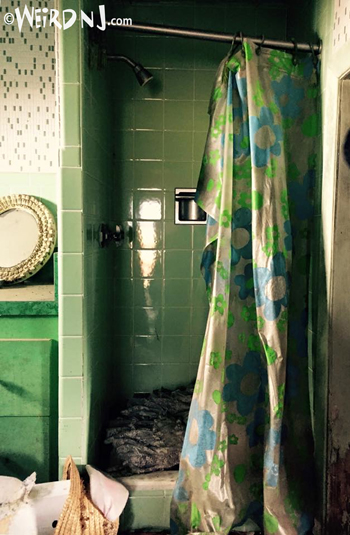 We asked Anna how her children enjoyed having the miniature abode in their back yard and if they played in it when they were growing up.
"We wanted them to, but I didn't think it was safe for them because I never knew what was in there from the night before."
She says that late night visitations by unwelcome guests have not been uncommon and the police have even been called buy neighbors to break up parties that were going on on the property unbeknownst to the Jones's.
"We would find used condoms in there, someone threw a Jack Daniels bottle through the front window. That costs $400 every time that gets broken and needs to be replaced. Most of the people that come have all good intentions––they want to take a picture, and I don't have a problem with that. But then you get the ones that have to go that extra step and steal something from in there. The ones that are destructive are the ones that ruin it for the ones that are honest."
So this year the Jones's decided to test the waters of the real estate market and see if they could sell the unique little domicile.
"I can't afford to keep it up." Anna lamented. "When Sandy hit this was all under water. We had $78,000 of damage in our house. I can't subdivide the lot, so if somebody wanted to buy this, they'd have to excavate it and pick it up and take it. So if some eccentric person has nothing better to do with their money…"
Sandy was not kind to the smaller house either and much of the interior was damaged. The lagoon located just across the street rose and swept right through the playhouse, buckling walls and waterlogging the tiny furniture. Now dead leaves and other debris litter the wall-to-wall carpeted floors. Still, the Jones's do take the time and effort to decorate the little house for most holidays, Halloween and Christmas especially. But Anna admits, "We've scaled down a lot, we used to do so much more, but they'd steal it, they'd just take it. It's sad, because they don't respect our property."
Though not currently listed with any realtors, Anna has posted the sale on her Facebook page and has had some interested parties inquire about it.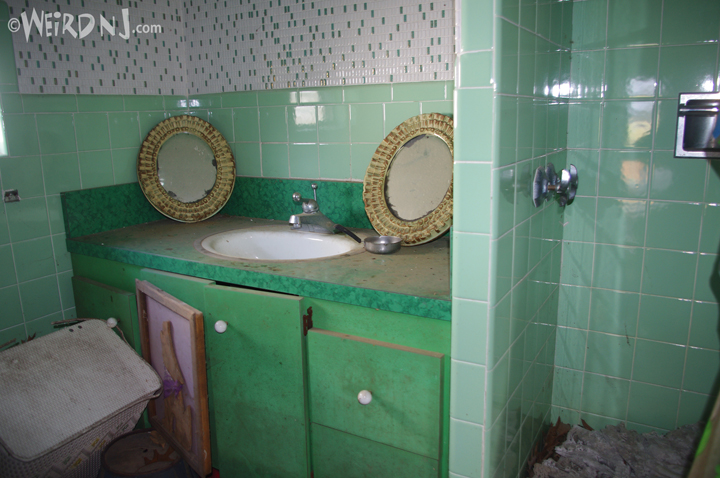 "So what's the asking price?" We wondered.
"We're no sure, we haven't really come up with a concrete number yet. I listed it on one of those garage sale auction sites and set the starting bid at $10,000. But people have to understand that to excavate it and move it is not going to be cheap. Water lines have to be capped, because there is running water to it. I'm not an engineer, so I'm not sure of all that that would entail."
But unlike the house itself, the sum will not be a small one, because as Anna tells us, "This is America, and I have bills to pay!"
"Aren't you going to miss it if it does sell?" We asked. Without a second's hesitation, Anna responded, "Absolutely not. I haven't been in there in a while because Hurricane Sandy went in there for me, so it was filled with water. Now I don't go in there…too many bugs."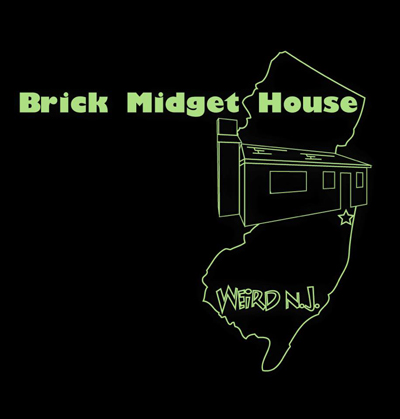 Though Anna tried to convince us that she wouldn't miss her tiny house should it be sold to the highest bidder, we know she still holds a deep affection for her weird New Jersey landmark. She has recently cleaned up the interior and had even had T-shirts made proudly displaying the famed house superimposed over the outline of the state and emblazoned with the "Brick Midget House" moniker and Weird NJ logo. We know we will be wearing ours with pride!
The preceding article is an excerpt from the latest issue of Weird NJ magazine, "Your Travel Guide to New Jersey's Local Legends and Best Kept Secrets," which is now available on newsstands throughout the state and on the web at www.WeirdNJ.com.