A Christmas Vacation Engagement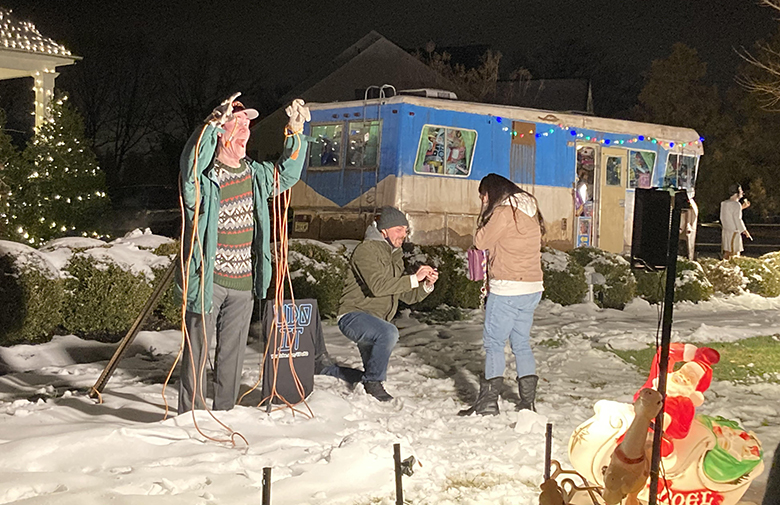 A little bit of that old Christmas magic, courtesy of Weird NJ and the Harbaugh family, the Griswolds of New Jersey…
Greetings Weird NJ!
I just read your article about the Griswolds of New Jersey. I am happy to say that I just visited last night, in what ended up being a very special night. My brother Nick Dodd, of Stratford, proposed to his girlfriend Rachel Cubler of Blackwood on the front lawn right in front of Clark!
Nick and Rachel are huge fans of the movie and had already planned on visiting the house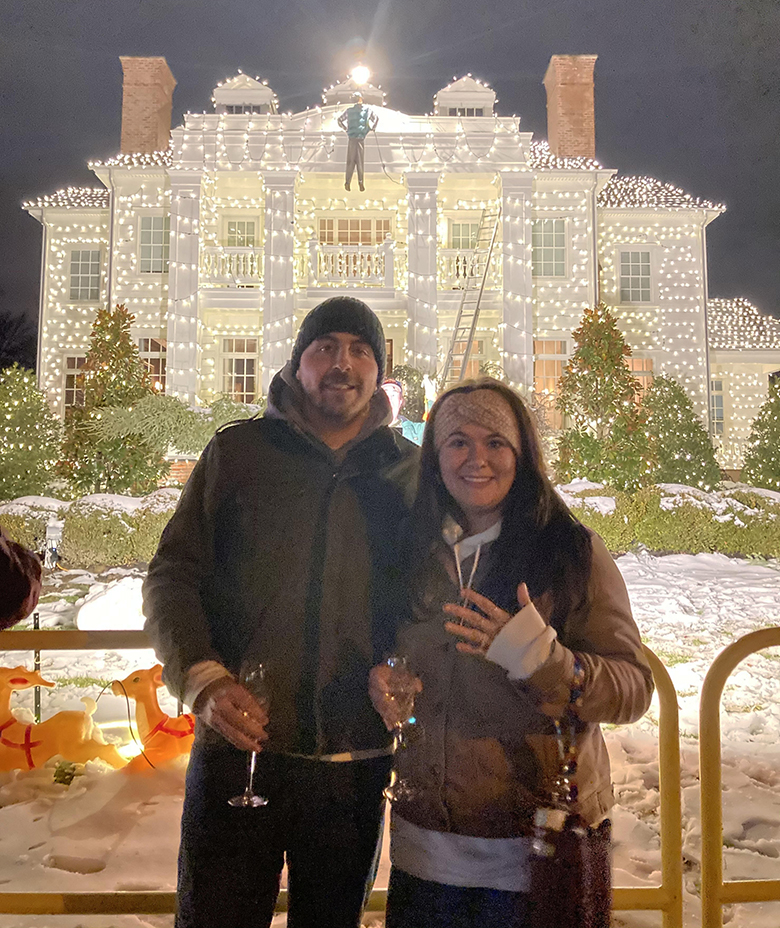 with some family. Nick contacted Mr. Harbaugh the morning of, who came up with a great plan. Upon arriving with Rachel and her family, Nick pretended to take a work call and stepped away. Little did Rachel know that Nick was climbing into the back of the station wagon being driven by Mr. Harbaugh. Once in front of the house, Nick emerged from the backseat, hopped the bushes and got down on one knee, to a much surprised Rachel. Her answer was "yes!" and there was resounding applause from those watching from the sidewalk. But the fun didn't stop there…
Mr. Harbaugh presented the happy couple with a bottle of champagne – straight from the family truckster! The family and friends then took several pictures around the Griswold house. It couldn't have been more perfect. I'd like to thank the Griswolds of New Jersey for making the engagement a night to remember!
Sincerely, Jeff Dodd – resident of North, South, AND Central NJ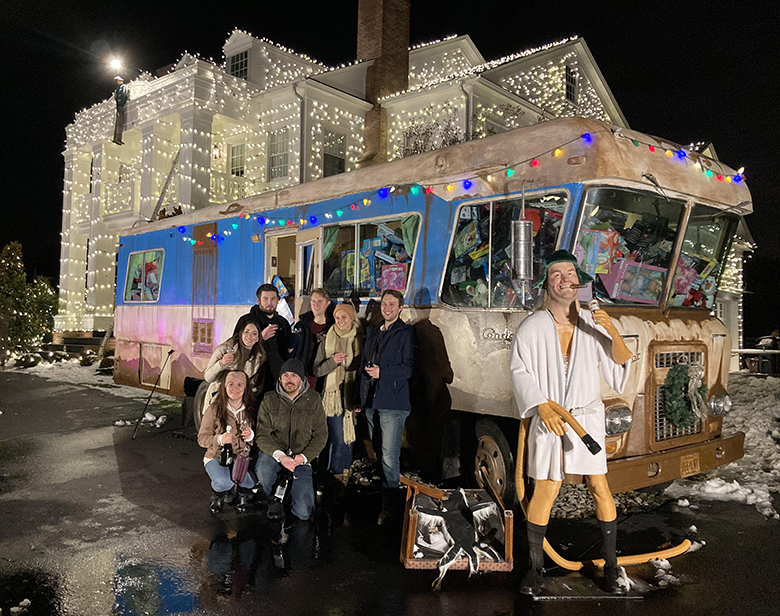 Christmas Vacation with the Griswolds of New Jersey
Most folks know the movie "Christmas Vacation", the comedy starring Chevy Chase that has become something of a holiday classic since its debut in 1989. The film was the third installment in National Lampoon magazine's "Vacation" film series, which also featured Beverly D'Angelo and Randy Quaid. In the movie Clark Griswold (Chevy Chase), is determined to have a "fun old-fashioned Christmas" with his entire family…then hilarious mayhem ensues.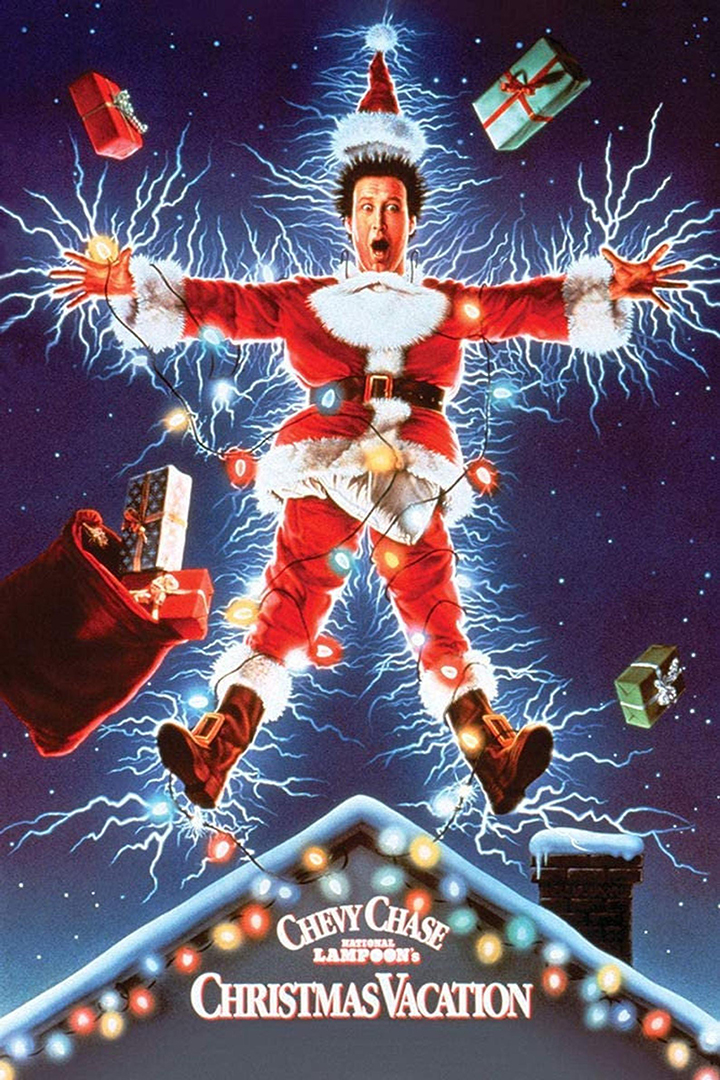 In recent years the film has inspired one New Jersey family to create an annual "Christmas Vacation" themed display on the front yard of their Gloucester County home. It all started with lights, but quickly grew into a full-scale homage of the movie, complete with an RV, a station wagon, animatronic mannequins and an enormous Christmas tree. The past couple of years the Harbaugh family, who have become known as the "Griswolds of New Jersey," have not only replicated the characters from the film in mannequin form, they've embodied them themselves, and along with other live actors, recreating scenes from the movie!
The family says they were stunned the first time they realized what a big audience of die-hard "Christmas Vacation" fans they were attracting from not just their own area, but even outside of New Jersey. And they're amazed by the ever-growing abundance of love and support the display has generated from the community for their annual toy drive. The Harbaughs maintain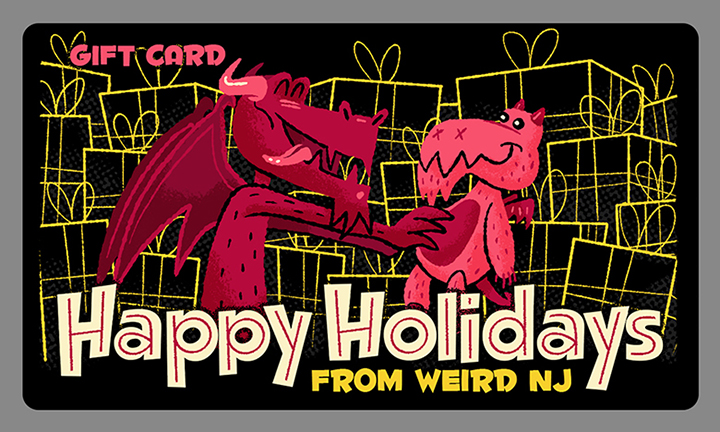 an ongoing relationship with the charitable organization Toys For Tots, and through the public's generous donations they've managed to fill their RV to the brim with toys for families in need of a little extra help during the holidays.
Weird NJ spoke with Steve Harbaugh recently to ask him some questions about his extraordinary display.
Weird NJ: Obviously, you're a big fan of "Christmas Vacation," Steve, but how did this concept of the tribute display to it all get started?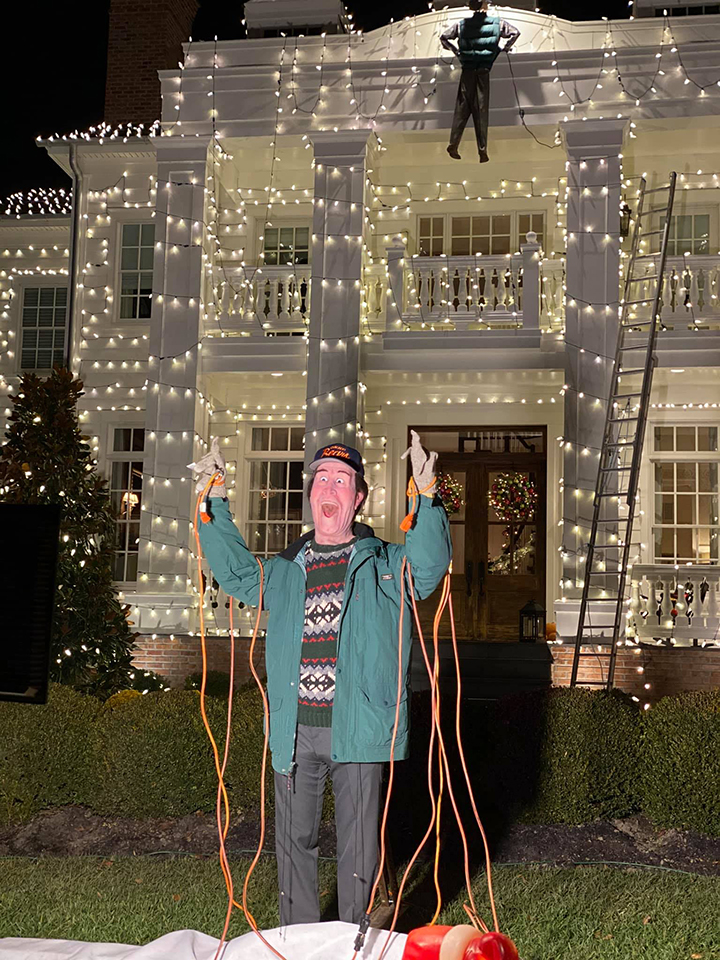 Steve Harbaugh: It all started with just lots of lights, then we added the rented RV. And we had a ton of traffic. People were coming from as far away as Allentown and Edison. And I said to my wife, 'This is crazy. Why don't we make use of it? Wouldn't it be cool if we were able to fill that RV with toys?' So, we linked up that year with Toys for Tots, and we filled that RV twice that first year. We got almost 4000 toys.
In the film, Clark covers his house's exterior with 25,000 twinkle lights, which fail to work at first, as he has accidentally wired them through his garage's light switch. When they finally come on, they temporarily cause a citywide power shortage. True to form, Steve Harbaugh has an animated mannequin Clark reenacted that very scene.
Your mannequins actually have life-like faces that look just like the characters in the movie. How were those made?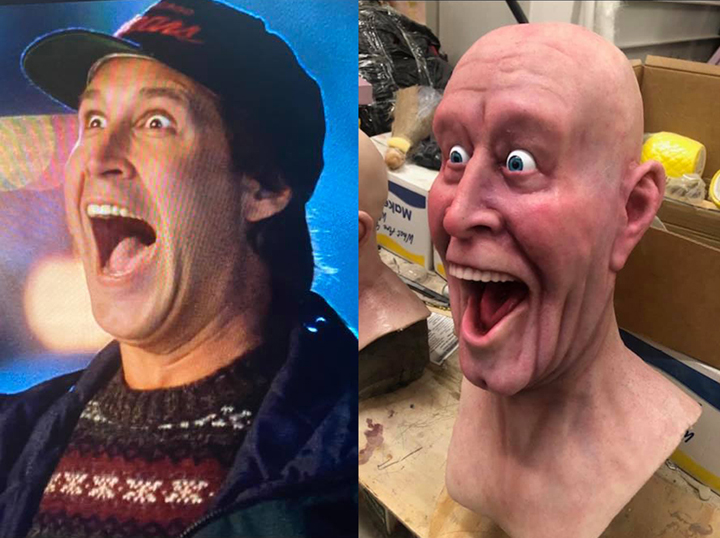 So that was tricky. The first year I had a mannequin, I was taking those mechanical deer that you would buy at Lowe's or Home Depot and taking the motors out. And I kind of made Eddie (Randy Quaid's character) just have his hand going up and down. Then I actually went on a Halloween website and I found a guy to make me the heads. He made Clark for me this year where he's just plugging in the lights.
One of the central features of the display is the RV camper with the figure of Cousin Eddie standing by it in his underwear and a bathrobe drinking a beer. In the film, Clark is standing on the front lawn admiring his lights when his wife's redneck cousin Eddie arrives unannounced in an RV with their children, Rocky and Ruby Sue, and their Rottweiler dog, Snots. Eddie later admits that they are living in the RV, as he is broke.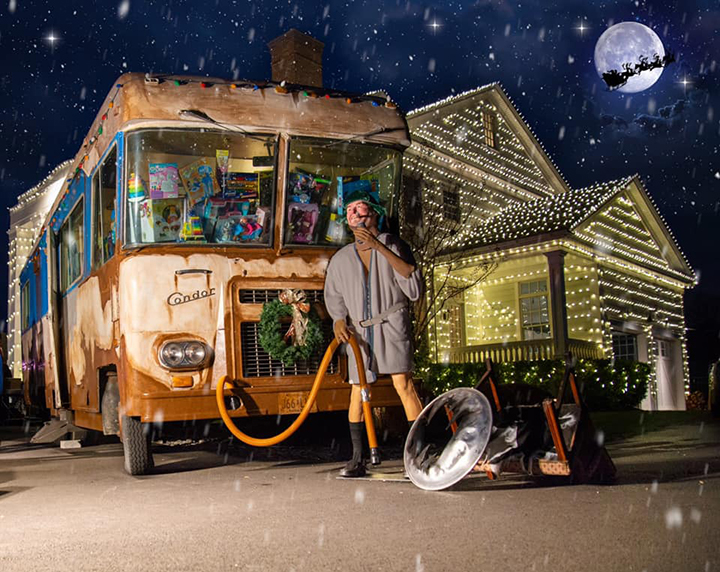 The RV and station wagon you have on display look exactly like the Griswold family's from the movie. Where did you find those?
When we got these diehards Griswold fans down here last year, I went online in search of that 1973 Ford Condor. A guy out in California had two of them, he actually does a similar display. So, he gave it to me at a great price. We painted it to look like the movie. It runs great, I take the kids to school in it. We'll run around town and we deliver toys with it, we'll go buy toys in it with the money that we collect.
Last year, I bought the station wagon off of Facebook marketplace from a guy in Wisconsin, 900 bucks, bought it had it shipped out here. But we had to put the contact paper on the sides to simulate the woodgrain.
So where do you store all this stuff when it's not on display?
Fortunately, I own a storage facility, so I parked vehicles in the back. But the cool thing is the RV has so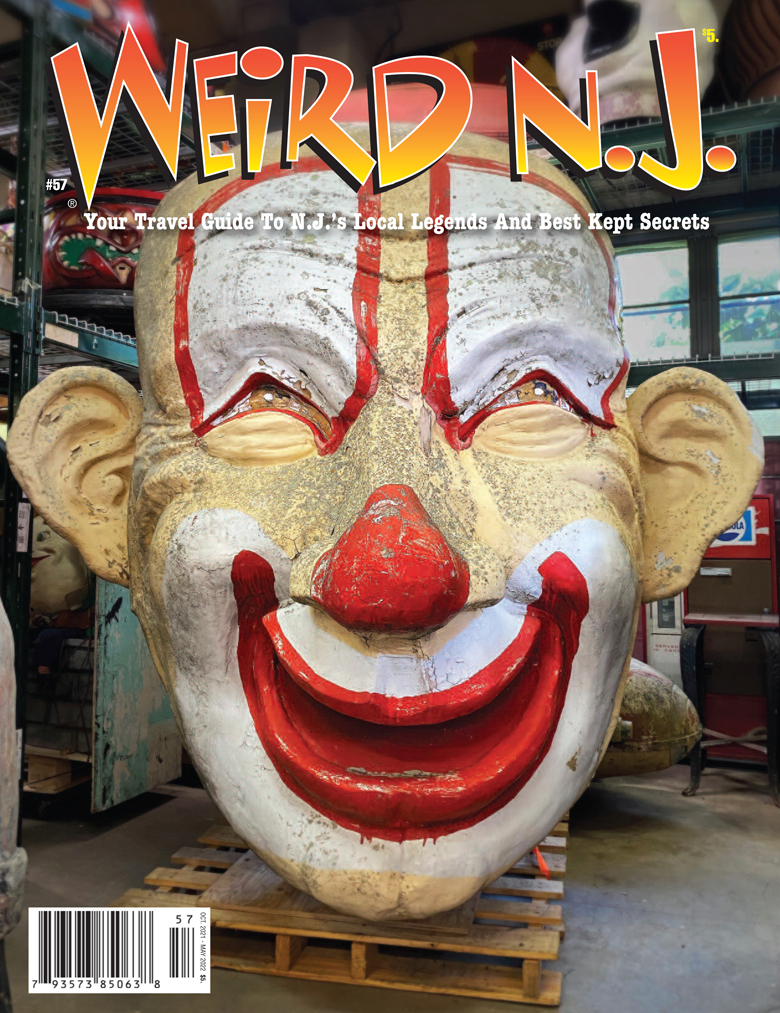 much room we not only use it for toys during the collecting, we can also store all the lights, the mannequins, all that you see is fits in there.
In one scene of the film, Clark gathers his wife Ellen (Beverly D'Angelo), daughter Audrey, and son Rusty and drives out to the country to find a Christmas tree. After walking through the snow for hours, Clark finds the largest tree he can, then realizes that they didn't bring any tools to cut it down. So, they uproot the tree and drive home with it strapped to the roof of their car. 
What about the Christmas tree? It's massive and the roots are still attached! Where did you get that?
That's a fun story. We went down to the Christmas tree farm to get that huge 22-foot-tall tree with the roots at all. The guy working there got the chainsaw out to go cut it down and I was like, 'NO, NO, NO! We got to rip that thing out of the ground!' So, they get a Bobcat over there and they rip it out. When I went this year and they're like, 'Oh, he's back. We know what to do – gotta get the biggest tree, just rip it out of the ground.'
The past couple of years you've feature not just mannequins playing the parts of characters from the movie, but also some living re-enactors. Who are these folks?
Mostly family and friends, neighbors who just showed up. I dress as Clark, my wife will get dress up as Ellen. That's the fun part, it's goofy, you're having a great time. And it's a huge draw. And we have a Cousin Eddie, my buddy Tim Jennings, one of my best friends. I never thought he looked like Eddie, I didn't see it, you know, because you see him every day. But he came out one night in costume and he was an instant hit.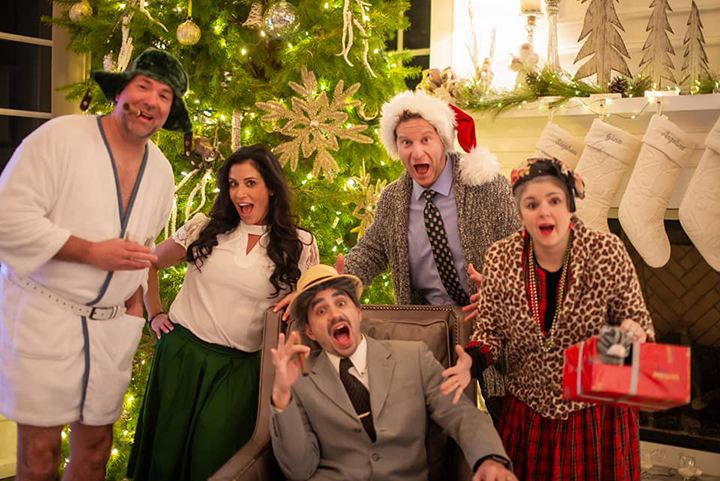 When the NEWS comes out for live reports we'll dress up. We've done a lot of national things for broadcast. But we can't do it as much this year because of COVID. We ended up putting up a fence just to keep everybody safe, because we have the two characters Clark and Cousin Eddie out there, and everybody wants their pictures in front so there's a big line. So, we kind of limited that.
You're still getting a tremendous amount of donations for you cause though, even in the midst of this pandemic, aren't you?
And our donations went from 4000 a couple of years ago to 9000 toys last year. Early on I set a goal for this year of about 12,000 toys, and then I thought, you know what? I don't think there's any way we're going to be able to do it just with people not being able to. I have a picture from last year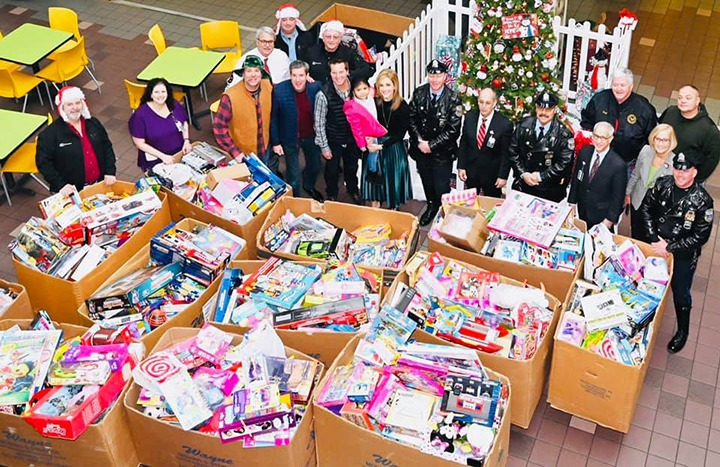 on December 8, and the RV was full, exactly what it is today. So, we're like five days ahead of schedule. Which is comforting because Toys For Tots and all these places are down. But more importantly, the demand is higher this year, obviously with COVID. We got 300 toys donated last night, it took me a half hour to bring them all in in the bins and put them in the RV.
That really is inspiring. How do your neighbors feel about all the attention?
Well, I don't think if it wasn't for charity, they wouldn't be as receptive. But they're awesome, they've all been good. Very, very supportive. And you know, I respect them too. We've been turning the lights out a little bit earlier this years to kind of keep it at a minimum. We only have eight houses here (on this cul-de-sac), all very close.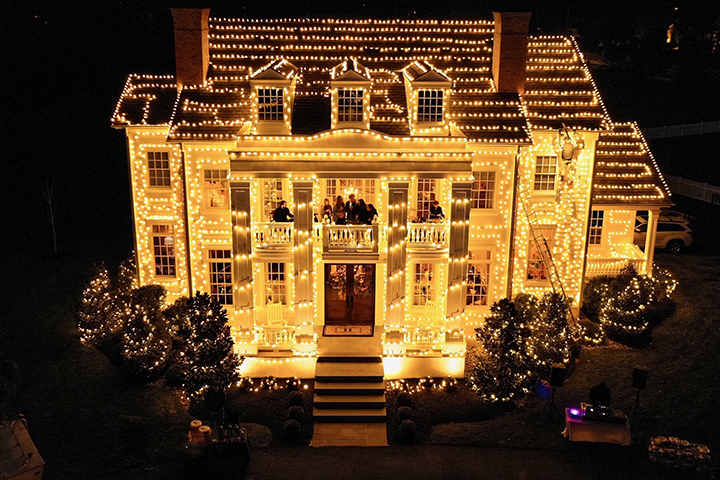 So how long does the display stay up? How long can people continue to drop off toys?
Until January 1. Then the toys go to Toys For Tots and the Children's Hospital in St. Christopher's hospital. A good portion of the toys go to Kelly's Kids – Bob Kelly from Fox 29, we linked up with him and his charity. One of biggest places they donate to is St. Christopher's Hospital in Philadelphia. They need toys all year round.
It's become such a such a spectacular display. Where can it possibly go from here? You've even had Chevy Chase himself congratulate you on this display and give it his blessing! Is there a next level?
I'm a perfectionist. So, when you pull up and those big lights out there, I want it to look like you pulled up on a movie set and everything be as accurate as it can be. And it's for the people, these diehard fans, people that get an RV, to give these diehard fans a good experience. We're getting people from the Bronx, New York, which is two hours away. I've gotten people from Virginia Beach, which is four hours away. Ontario, Canada, which is I don't know how many hours!
I have people laugh hysterically. I have people cry constantly. They'll say this was their father's favorite movie, or somebody who isn't here any more, and they'll just thank me. The number one word is 'spirit' out in that front yard. There's just a Christmas spirit out there. And it shows with all the giving and the toys and it's fun.
The next level? I'll give you a little tease. We have a production crew that's been following me and we're going to be getting bigger. And it's definitely going to be expanding from just this toy drive. We've got some really, really special things in store. So, stay tuned!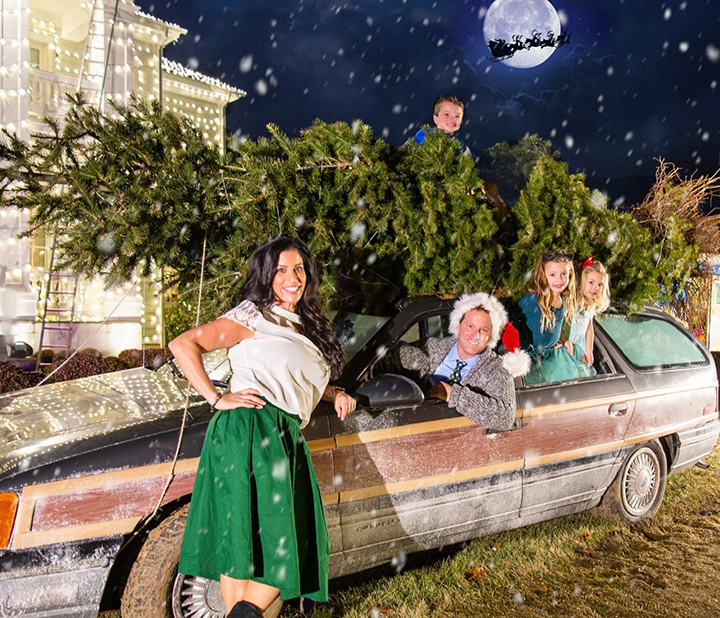 The Griswolds of New Jersey invite you to join them on their journey by visiting their display from now through January 1st. You can check out their upcoming web series to get to know the Harbaugh family and get a behind-the-scenes look at how they put their annual display together. If you'd like to make a donation to Toys For Tots, please use this Amazon link to pick out a toy for kids up to age 12 and send it to the Harbaugh's address at 503 Legends Court, Mickleton, NJ 08056.
This story is an excerpt from Weird NJ magazine, "YourTravel Guide to New Jersey's Local Legends and Best Kept Secrets," which is available on newsstands throughout the state and on the web at www.WeirdNJ.com. All contents ©Weird NJ and may not be reproduced by any means without permission.
READ MORE WEIRD NJ CHRISTMAS STORIES HERE.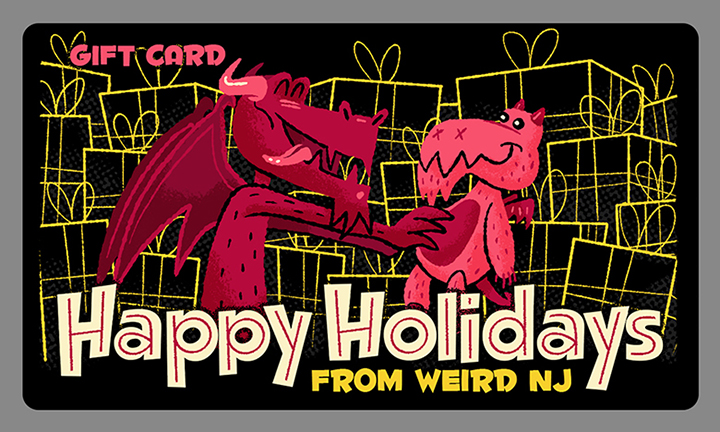 This Holiday Season give the gift of weirdness with a Weird NJ Gift Card in the amount of your choice.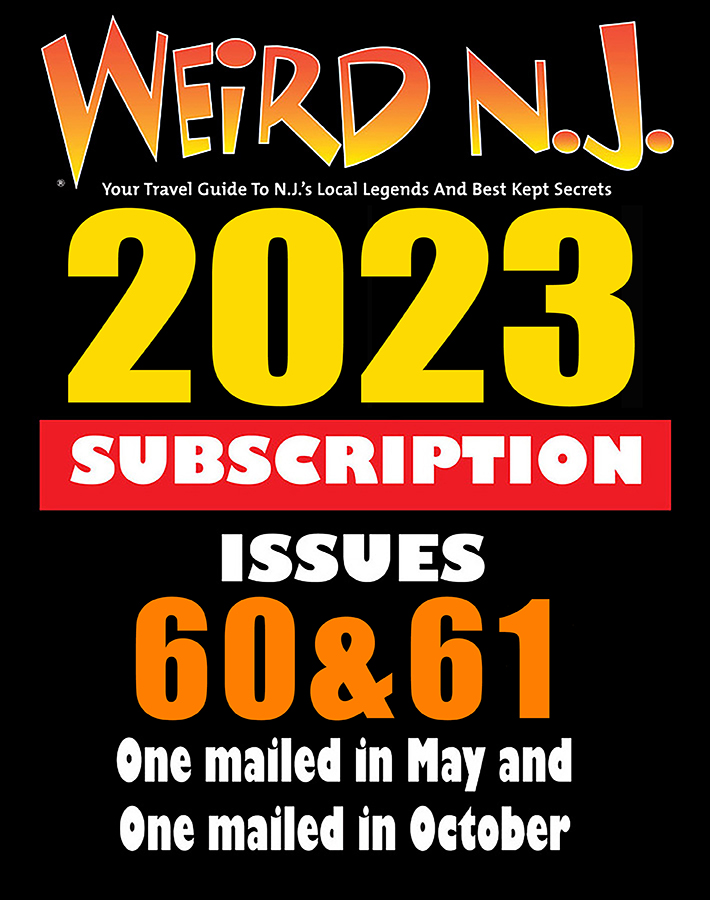 Subscription issues will be mailed in MAY and then again in OCTOBER of 2023. Subscription order do not include any issues that are currently available. Current and recent issues can be purchased HERE.
Visit our SHOP for all of your Weird NJ needs: Magazines, Books, Posters, Shirts, Patches, Hats, Stickers, Magnets, Air Fresheners. Show the world your Jersey pride some of our Jersey-centric goodies!