2021: A Creepy Little Christmas in Manalapan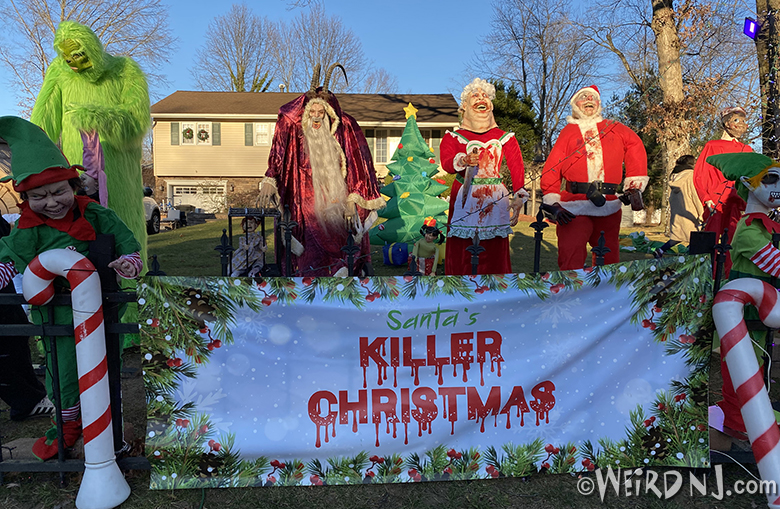 While Halloween is without a doubt the time of year most associated with all things creepy and scary, Christmas too has a long history of horror in popular culture. Generations before slasher films like Black Christmas and Silent Night, Deadly Night terrified Yuletide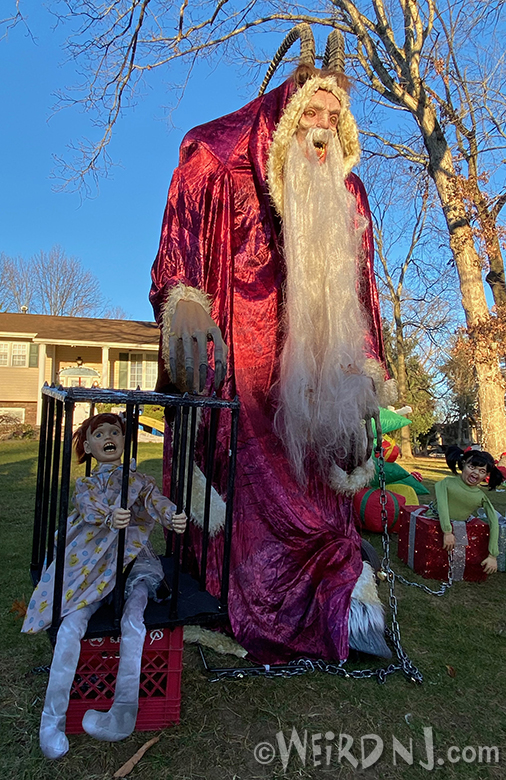 audiences in theaters, tales of the cruel Krampus were causing kids to not sleep so snug in their beds at night in some cultures at Christmastime.
So perhaps it's not unprecedented for a certain private home in Manalapan, NJ to decorate their property, not with the usual seasonal fare, but instead with more of a focus on fear than Christmas cheer. Oh sure, all the familiar characters and imagery associated with the season are here; Santa and Mrs. Claus, elves, reindeer, a snowman, etc., but they're all represented in decidedly different ways than you're used to seeing them.
There's an 8-foot-tall green Grinch that dangles a screaming little girl menacingly in his claw. A giant horned Krampus has a child imprisoned in a small steel cage. A nightmarish Bumble, the abominably snowman from beloved holiday classic Rudolf the Red-Nosed Reindeer, is eating the bloody brain from the head of a shackled corpse.
St. Nick's blood-soaked beard and Santa suit make him look more like a maniacal cleaver-wielding murderer than a jolly old elf. And speaking of elves, two demented looking ones seem to be trying to tear a young girl limb from limb!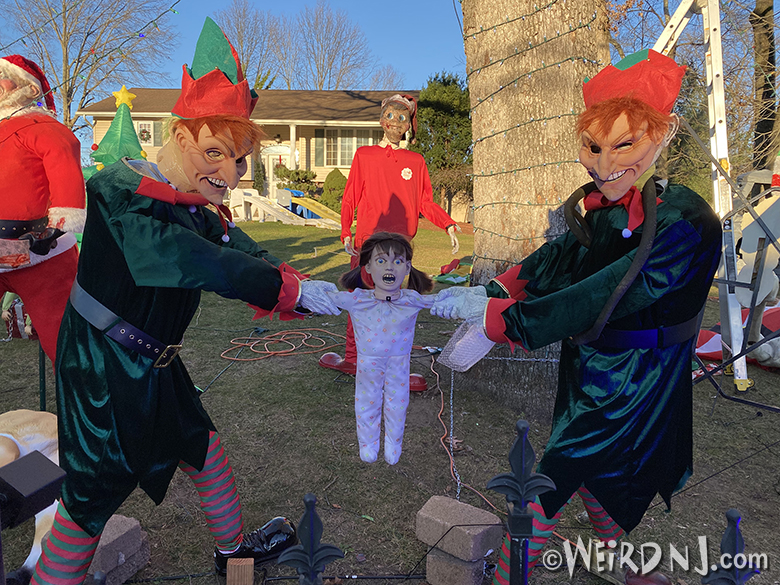 But don't be too afraid, according to Kris Campbell, the homeowner who created the horrific holiday scene, it's all done in good fun. Weird NJ met with Kris in mid-December to speak with him about his somewhat less-than-traditional display.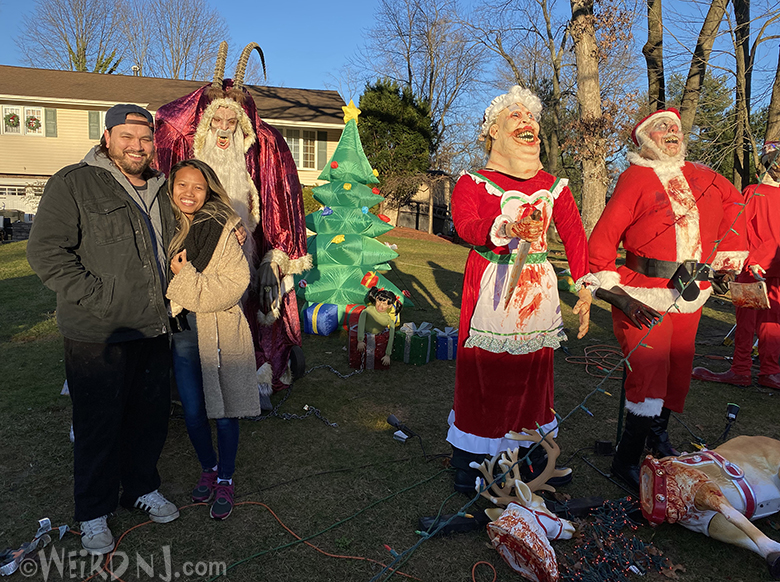 "Usually, we go big," Kris explained. "The last few years, we've done the typical Christmas thing –we've done a Winter Wonderland, where it was a whole walkthrough. So, we've always stuck with the Christmas trail, you know, that everybody does, like whatever's typical. I always wanted to do something a little bit darker, like a nightmare before Christmas.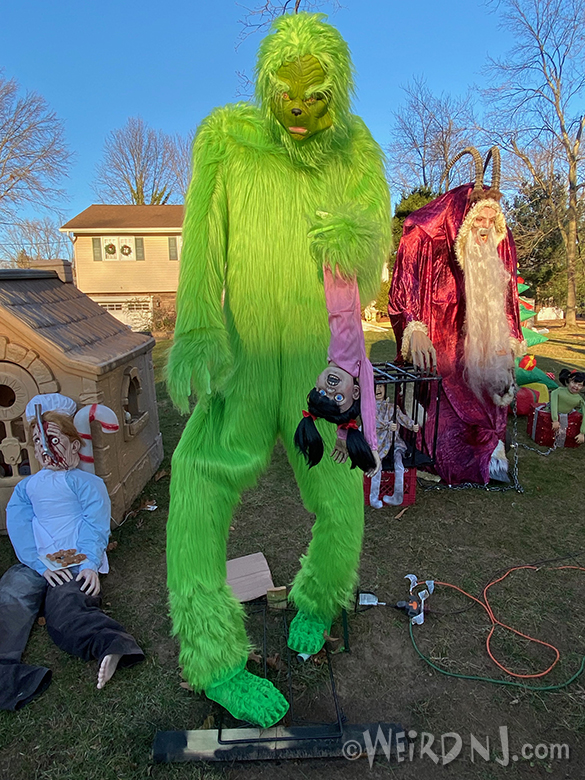 "So, I did the Grinch first. And then he came out just a little bit more…dark. And then I just had this idea where I took a lot of my Halloween props, like these clowns, and just redecorated them as Christmas."
Perhaps not surprisingly, Kris, who says he grew up on this kind of stuff, 'goes pretty big' for Halloween too, with a 30-foot Haunted House. But there's no denying that this is a very unorthodox, and perhaps a bit disturbing, for a Christmas display. We wondered if Kris ever had any problems with the neighbors or anyone else being offended by it?
"Most of the neighbors have loved it. And they look forward every year to seeing our new spin on it. So, we always try to be a little creative. But he admits, "We've had a couple of 'Karens' that have told us on Facebook that we're sinners and we're ruining Christmas."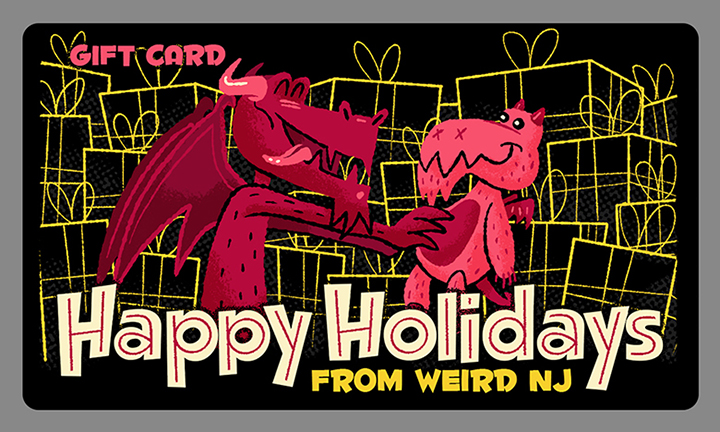 Does your display scare any of the little kids who come by, or do they get a kick out of it?
"We're shocked that the little kids love it the most. The only ones that don't like it are our own kids! It's pretty funny."
Kris's wife Rachel is also not a big fan.
"I get scared really easily," she admits, "really easily. I'm not really big into Halloween movies or Halloween or haunted houses. But he loves Halloween, so I'm not really surprised by this."
So, you're supportive?
"Yeah, of course. Definitely. He worked very, very hard on this and he planned it and he's been thinking about it. He's very creative and I'm happy that he did it. I don't love it but I can see all the hard work and effort."
We asked Kris if he encourages people to stop by and visit?
"Yeah, I wish more people would look up close," Kris says with pride. "Because most drive by so they miss the detail. Every Friday night we have a live Krampus and he comes out and gives the kids a choice of chains or candy canes. 'Are going to be locked up, or get a candy cane?' So far most have chosen the candy. A few have actually chosen the chains – that was a bad girl. She was older."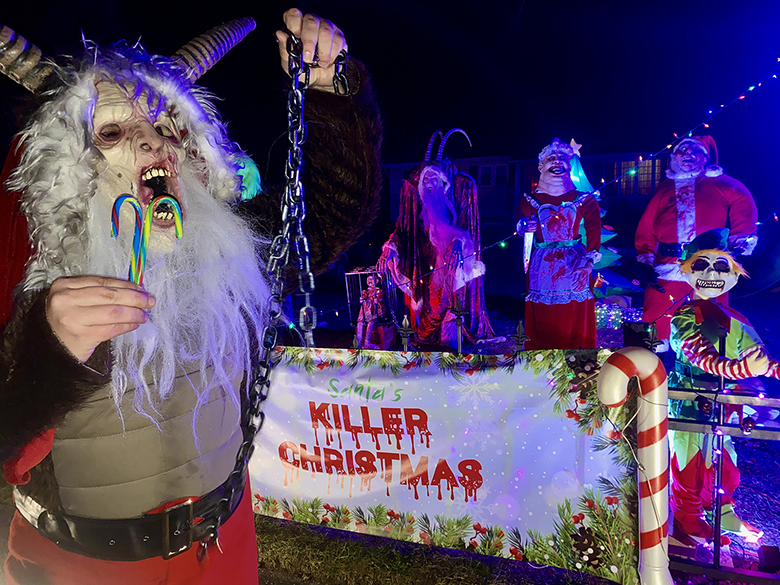 The Campbells' Killer Christmas display is located on Heather Drive in Manalapan Township, where they'll be spreading the Christmas fear throughout the holiday season.
The preceding article is an excerpt from Weird NJ magazine, "Your Travel Guide to New Jersey's Local Legends and Best Kept Secrets," which is available on newsstands throughout the state and on the web at www.WeirdNJ.com.  All contents ©Weird NJ and may not be reproduced by any means without permission.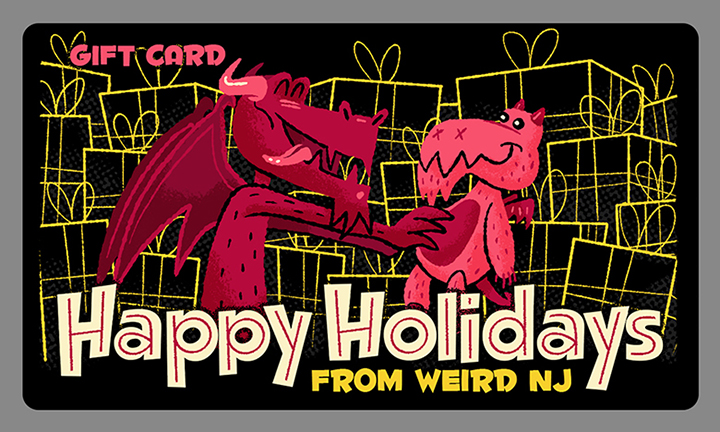 This Holiday Season give the gift of weirdness with a Weird NJ Gift Card in the amount of your choice.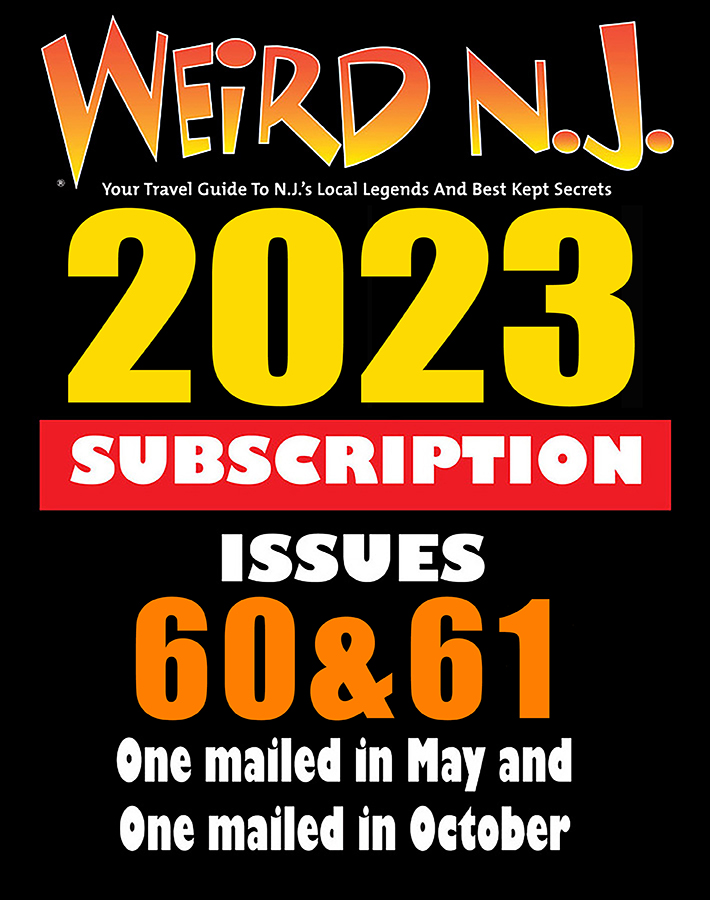 Subscription issues will be mailed in MAY and then again in OCTOBER of 2023. Subscription order do not include any issues that are currently available. Current and recent issues can be purchased HERE.
Visit our SHOP for all of your Weird NJ needs: Magazines, Books, Posters, Shirts, Patches, Hats, Stickers, Magnets, Air Fresheners. Show the world your Jersey pride some of our Jersey-centric goodies!