The Haunted Burlington County Prison Museum, Mt. Holly
Built in 1811 by the young architect Robert Mills, the Prison was one of his first designs, and was considered state of the art. Mills went on to direct the design and construction of the US Treasury Building, the US Patent Office, and the US Post Office, as well as the Washington Monument in Baltimore, and the National Monument in DC. No small potatoes.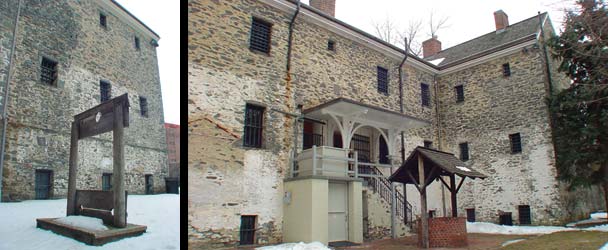 By Kate Philbrick
They say Burlington County Prison is haunted. And I agree. It would be out of the ordinary for a place like this to NOT be. Besides, there's photos, videos and audio tapes to prove it.
Currently operated as a museum, this impressive stone structure sits on High Street in Mount Holly and waits as patiently as a spider for visitors. It has been investigated by ghost hunters, and also featured on TV, when such a group explored after hours. Orb photos and EVPs (disembodied voices recorded on tape and only heard when the tape is played back) indicate that something still walks the prison halls. I have worked there as a volunteer and have my own stories to tell. But first, the obligatory historical background.
Built in 1811 by the young architect Robert Mills, the Prison was one of his first designs, and was considered state of the art. Mills went on to direct the design and construction of the US Treasury Building, the US Patent Office, and the US Post Office, as well as the Washington Monument in Baltimore, and the National Monument in DC. No small potatoes.
The Burlington County Prison was in constant operation from 1811 to 1966. At the time of its closing it was the oldest continually used prison in the United States. Among its "alumni" was a man named Albert DeSalvo, who was passing through Jersey and arrested on lewd and indecent exposure charges. He later 'graduated' to notoriety as The Boston Strangler. Reading the old volumes of arrest records is entertaining. There's a colorful lot of prisoners, crimes, and punishments to peruse.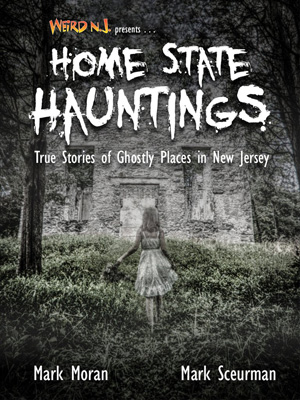 Another character to have made his mark in Burlington's, and New Jersey's, history was the excellent detective Ellis H. Parker—who sounds like a Sherlock Holmes. Mike Reilly, chief guide at the museum, can fill you in on the details of Parker's exciting life.
The early laws of NJ required that prisoners convicted of capital crimes had to be executed by the county in which they were convicted. Except for two of the earliest executions in the 1830s (one of which was a woman, the other a young man named Joel Clough), public hangings took place in the prison yard, on gallows erected for each event. The first two mentioned were carried out on public lands at a crossroads a few miles from the prison, and from contemporary accounts, drew quite a crowd. According to records, Joel's body was later buried in the prison yard in a corner where a large tree now grows. It is believed his ghost is the principle haunt.
Besides the executions, other violent deaths took place at the prison. During the 1920s some inmates managed to escape, making their way through the lowest level. They encountered a trustee near the kitchen and murdered him. A few decades later practically the same scenario occurred, with a second guard being killed in the same corridor.
The last execution to take place at Burlington County Prison was a double bill in March of 1906. Two men, Rufus Johnson and George Small, were executed just two months after their crime. They had murdered an English-born governess at a refuge for homeless children in Moorestown. Consequently, the crime had been solved within days by the aforementioned Detective Parker.
Joel Clough had been arrested and convicted of the stabbing death of a woman in Bordentown—apparently she had jilted him. Though he managed to escape, the 29 year old Clough was quickly recaptured and confined to the Death Cell on the upper floor of the prison. A brochure given out at the museum describes the maximum security cell this way: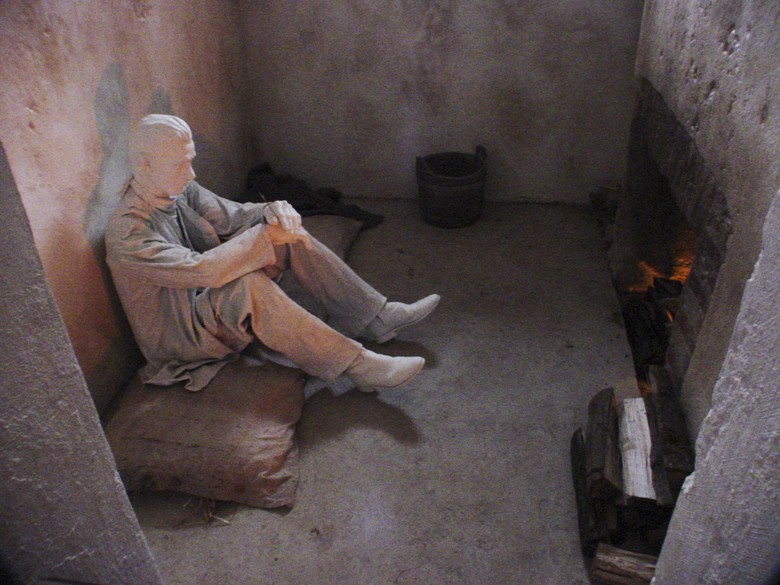 The "dungeon", or maximum-security cell, was in the center of the top floor. That location was carefully chosen to prevent escape by digging, to minimize communication with criminals in the cell blocks, and to ensure constant surveillance by guards making rounds. This was the only cell without a fireplace. It is flanked by niches for guards or visitors and has one very high, very small window and an iron ring in the center of the floor to which the prisoner could be chained. As one might expect, tradition states that this cell is haunted.
Policy of the time was to chain the condemned to a ring on the floor, naked. Accordingly, Joel's spirit has been heard moaning and languishing there, and electro-magnetic indicators (used in ghost hunting) routinely register a "hit." The Death Cell, complete with its metal ring, and all the "accommodations" at the prison, welcome inspection, and in many cases prisoner graffiti has been preserved on the walls.
My own experiences with ghostly doings at the prison have been interesting. Besides the occasional creepy sense of being watched—when I am the only (living) person on a particular floor or wing, I've captured some orbs and anomalies on film. But of particular note was the interference encountered when I visited on July 26th, the anniversary of Clough's execution. I set my tape recorder under the large tree, at the far corner of the prison yard, hoping to get some EVP activity, at Joel's reported burial site. After four minutes sitting in silence and reading, there was a loud click. The machine had turned off by itself. I examined the recorder, which had never done this before, and started it again. Three minutes later, it turned off again. Despite checking batteries, which were fresh, and loading a new tape, I encountered the same problem three more times, at intervals of 2-4 minutes. It started to drizzle, so I gave it up and went inside. Consequently, in all the time since that event, I have never had any further trouble with the machine.
The Prison Museum is an ideal place to spend an afternoon, and a dismal rainy day is perfect. There are interesting artifacts on display, and helpful guides to fill you in on prison life. Sometimes a former resident (one of those still living) takes time to stop in and reminisce. It's an interesting chunk of slightly morbid New Jersey history worth a look, and while soaking up some education, you could just run into a ghost or two. Give Joel my regards!
For hours of operation, call the Burlington County Parks Department, (609) 265-5858.
We are very proud to announce the release of Weird NJ's very first true eBook, "Home State Hauntings: True Stories of Ghostly Places in New Jersey" for your iPad, Kindle and Nook tablets.
This Internet story is only an excerpt of the information we have published on this subject. For the full story we suggest you refer to past issues of Weird NJ Magazine.  To keep up to date on this story and all the other weird goings on in the state subscribe to Weird NJ and we'll deliver it to your door. If your local book seller, newsstand or convenience store doesn't carry Weird NJ, just tell them to call us toll free at 1-866-WEIRDNJ and we'll be happy to stock your favorite store for you.