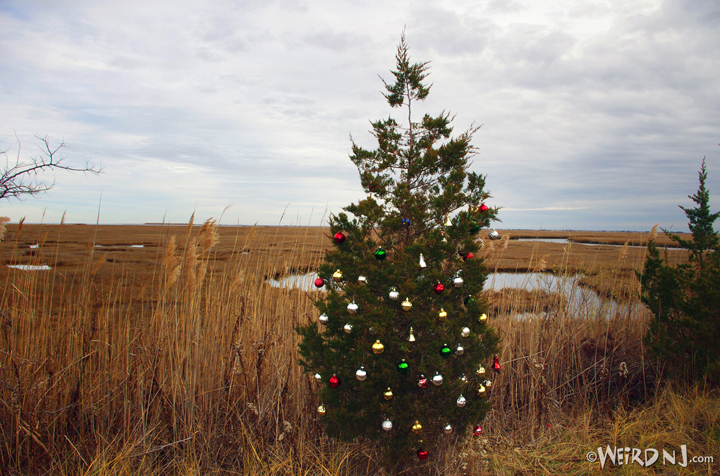 There's a desolate five-mile stretch of narrow asphalt known as Great Bay Boulevard located in Tuckerton that leads southeast from Mystic Island across an expansive salt marsh. Along its route it crosses one-lane wooden plank bridges over meandering creeks, which only allow traffic in one direction at a time (not that you'd be likely to encounter any vehicles coming in the opposite direction). The road leads to, well, nowhere really, except at its very conclusion where the Rutgers University Marine Field Station is situated at the end of a boardwalk pier that extends hundreds of yards out over the marsh. It is an isolated place to be sure, especially during the winter months, when the frozen, windswept landscape can seem as bleak as the Arctic tundra in the far reaches of the Yukon.
But it is here, somewhere along the barren and featureless expanse, that you will find an unlikely symbol of warmth and greeting during the holiday season: A fully decorated Christmas tree. It's a surprising sight to see in the middle of nowhere: an evergreen shrub standing there in all its verdant beauty, its red, silver, gold and green ornaments gleaming brightly against the backdrop of a steely grey winter sky. Far across the marsh to the north, Story Island and Goodluck Sledge can be seen in the distance. To the south, past Whirlpool Point and across Newman's Thorofare, the ruins of the long abandoned fish factory on Crab Island can be seen rising on the horizon. It's place that locals commonly referred to as the "Stink House" during its days of operation processing menhaden for oil and fertilizer, and you can well imagine why.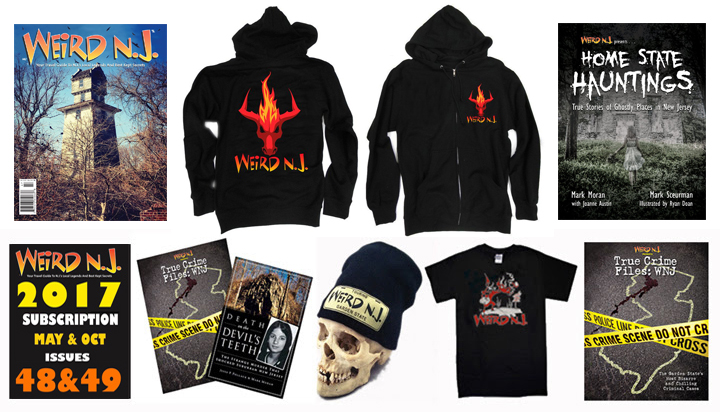 This holiday season give that hard-to-shop-for person on your shopping list the gift of weirdness with a 2017 subscription, one of our Wicked New Hoodie, a Special Issue, Skull Cap, T-Shirt or any of our other great stocking stuffers. All available through our Web Site or Amazon Store.
So who decorates this proud little pine shrub each year, why, and for whose benefit? The only people Weird NJ saw on this very less-traveled road when we visited on a frigid day last December were a few duck hunters afloat on the water in their reed camouflaged skiffs. Other huntsmen hunkered down in the tall grass of the vast meadow who remained unseen but could be heard in the distance shooting at their quarry, their shotgun blasts echoing across the seemingly infinite Great Bay. We couldn't ask these men if they knew who brought the holiday spirit to this unlikely place. So we'll just have to assume that the Tuckerton tree is another unexplainable Christmas miracle.