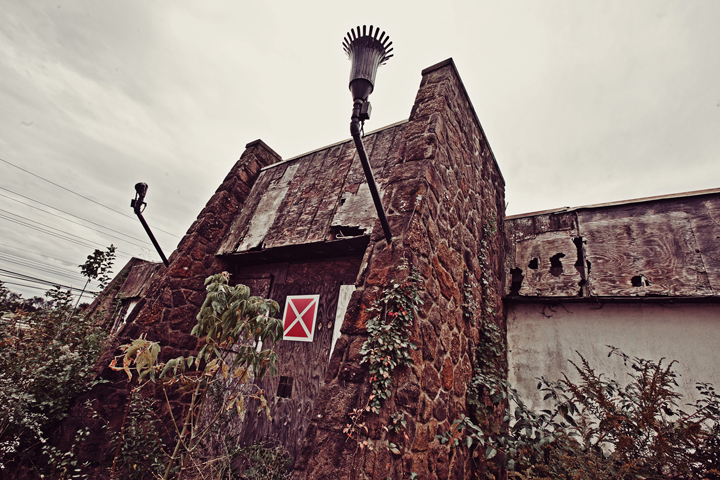 Photos by Josh Blaine / joshblaine.com
It sat abandoned for nearly two decades, a sprawling single-story building surrounded by the sea of an aged asphalt parking lot with grass and tall weeds growing up through its myriad of cracks. Inside the darkened, boarded up building lie the remnants of horseshoe shaped liquor bars, swanky Naugahyde cocktail booths, red shag carpeting and wood grain paneled walls. Orange and yellow cushioned chrome barstools lay scattered across the checkered floor before the fire-damaged stage, beside the pop art mural of soulful sisters dispensing hearts and groovy records to the beholder. Brocade red velvet wallpaper rises to the waterlogged drop ceiling panels and pink fiberglass insulation, abloom with fuzzy black mold. It's a time capsule from a different age, when this place was one of the most storied music clubs in New Jersey's Rock and Roll history. A forty foot long mural painted behind a plushly padded green pleather bar, depicts the celestial night sky above the curve of planet Earth. In its infinite cosmos floats a single spacecraft amongst the heavenly bodies, its retrorockets firing into space. Welcome to the Satellite Lounge.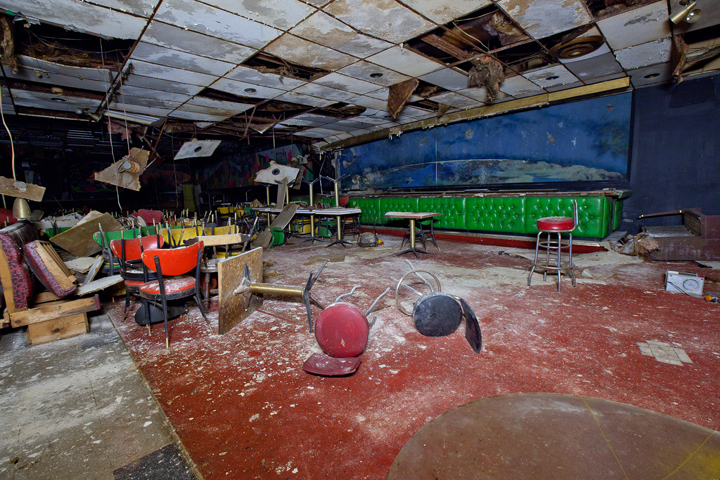 The Satellite Lounge, located at 79 Wrightstown-Cookstown Road in Cookstown, was once known as the largest bar in New Jersey, and was a major venue for both regional and nationally known rock acts from the 1960s through the 1990s. Bruce Springsteen and the E Street Band, Kiss, Chuck Berry, Ben E. King, The Platters, Jay & The Americans, Sly & The Family Stone, Steppenwolf, Molly Hatchet, and The Young Rascals were just a few of the bands that performed at the club. Located on the outskirts of the Fort Dix Army and McGuire Air Force bases, the Satellite could accommodate as many as 2,000 people, and was well known for offering live music well into the wee hours of the morning.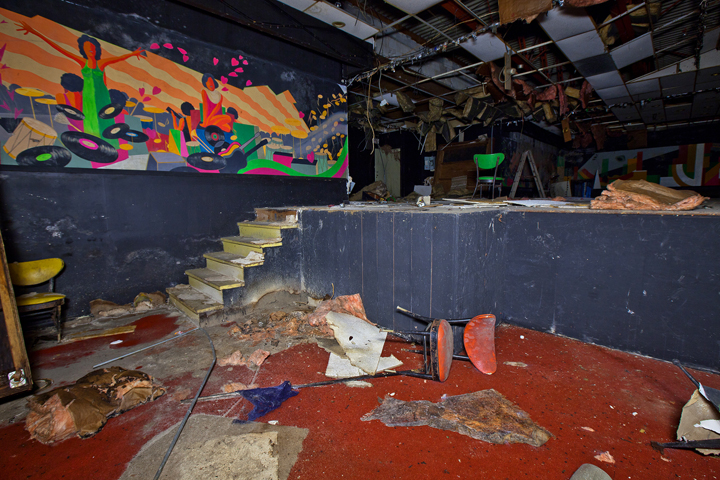 The owner of the Lounge, Carlo Rossi, was born in Philadelphia and was a World War II Army veteran who served in Burma, China and India. At one time he operated two bars in Northeast Philly – Carlo's Circle Club, and the Club Rossi, before he relocated to the rural Burlington County town of Cookstown (part of New Hanover Township) in 1965 and purchasing the Satellite Lounge. Mr. Rossi, who by all accounts was a "colorful character", was a Republican elected to the New Hanover Township Committee in 1977 and a member of the township's planning and zoning boards, where he served for nearly two decades.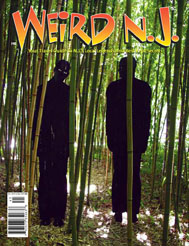 Read the full story and see more photos in Weird NJ magazine issue #45, which is on newsstands throughout the state now, and available in all Barnes & Noble and Books-A-Million stores.
Stories abound about Mr. Rossi's various interactions with the bands that played in his club over the years, one of the most famous in local lore being the time that he shot out the sound system during a performance by the band Foghat. As the story goes, he had repeatedly told the band to turn down their volume, then finally emerged from his office enraged and brandishing a handgun. He then proceeded to shout out the band's amplifiers.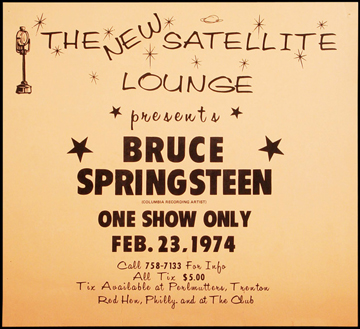 The other most infamous tale that looms large in Satellite Lounge lore is about the time that Bruce Springsteen and the E Street Band performed there on February 23, 1974. Springsteen, who had just fired his drummer, Vinnie "Mad Dog" Lopez a few days before for punching out the band's road managed before a gig in Kentucky, wanted to postpone the Satellite gig until the band had time to rehearse a replacement drummer. The Boss asked the band's manager, Mike Appel to reshedule gig until after the band had a chance to go over the material with new drummer Ernest "Boom" Carter. Appel thought nothing of asking Rossi to postpone the gig, until he got a personal call from Carlo himself.
Rossi refused to cancel Springsteen's Satellite appearance, because he knew the show would be a big moneymaker. Appel tried to reason with him, using the gas crisis going on at the time as an excuse why the band could not make the gig. Appel recalls what happened next in a March 2012 issue of South Jersey Magazine entitled "The Birth of Bruce" by Randy Alexander:
"Rossi gets on the phone with me and says, 'Listen, Bruce has gotta play my place on the date I decided on. And if you don't do what I say, I'm gonna give Bruce 'the kiss' in Asbury Park.' I was stunned. I mean, did that guy just tell me what I think he told me? I called Bruce right away and said, 'Hey, Bruce: Not for nothing, but I just got a call from a bad dude and I think he really means business. We really have to watch what we do and say here.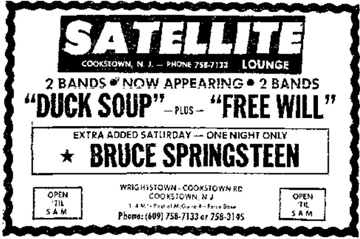 "In the meantime, the guy calls back and gets my brother, Steve, on the phone and after the call, Steve comes over, and says to me that Carlo has threatened both of us with death threats, too. I call back Bruce. 'What do you wanna do?' He says, 'Oh dammit, tell him we'll play.'
"We go down there, and it's a giant place and the place is mobbed. One of Carlo's henchmen calls me over and says, 'Listen, just in case you thought that was an idle threat, let me tell you a little story about Carlo…"
Springsteen himself recounted the event just a few weeks latter in a radio interview conducted in Houston, Texas, in which he said:
"We just got a new drummer, he'd only been with us about four days and we were gonna cancel out the gig because we weren't ready, and Carlo calls up my manager and says, 'Tell 'em to get down here,' and he said he's gonna kill me if I didn't come. So we called up these cats we know, Tyrone and Rock, and these cats run another place, they run this joint called the Erlton Lounge, which is like another little chapter, you know, about 25, 30 miles up.
"We said, 'Tyrone, man, this cat Carlo, he's gonna kill Bruce unless we…you know.' And Tyrone says, 'Be there. Go.' And it's funny because a week before…this band Foghat played there and [Rossi] came out and he told them to turn down, and they didn't listen to him. He came up again and told 'em to turn down, and they didn't listen to him. So the third time he comes up, he says, 'I told you guys to turn down,' pulls out a gun and shoots the amps. That's a true story…pulls out a gun, blows the amps away, right. So I was there on Saturday night. But yeah—Satellite Lounge, don't ever go there."
So the gig went off as planned to a packed house and Rossi was so pleased with the performance and the turnout that afterwards he arranged for the band and crew to fill their gas tanks in the middle of the night for their trip home.
"He opened up a gas station that was closed," Appel told South Jersey Magazine. "We drive out to the middle of nowhere to a Gulf station, and all our cars are following a state trooper. And the state trooper opens up the station and gives us free gas!"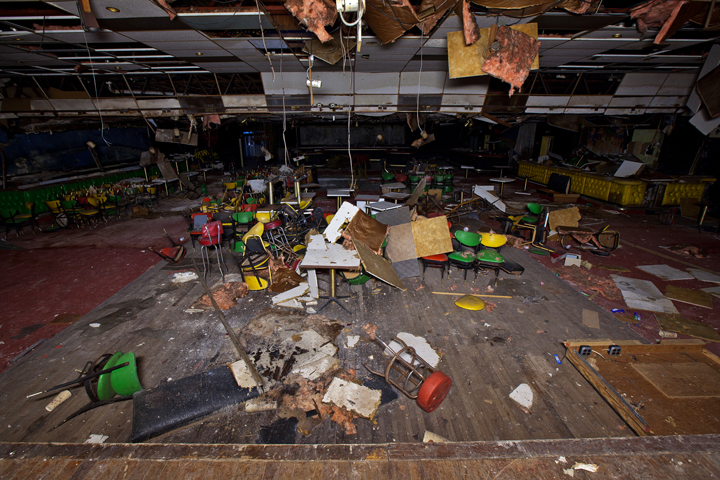 In the 1980s the Satellite Lounge became a haven for heavy metal bands like Anthrax and Twisted Sister, who played their very first gig as a band there way back in 1974. Twisted Sister's Jay Jay French recalled the place in a May, 2013 interview with the Aquarian Weekly:
"We were a copy band, plain and simple. We played Mott The Hoople, Lou Reed, David Bowie, and Rolling Stones songs if my memory serves me… At the Satellite Lounge, we played six sets a night—9 p.m., 10 p.m., 11 p.m., 12 a.m., 1 a.m. and 2 a.m. 40 minutes on, 20 off. We didn't have enough songs so we repeated the first two sets for the last two sets. There was nobody in the room, maybe 30 or 40 people.
"The Satellite Lounge was a massive converted bowling alley and we were dressed in full transvestite gear. This was the first time I was dressed up like a female impersonator. I was kind of throwing up backstage thinking, 'Oh my God, am I going to get killed?' But there weren't many people in the audience, so that was OK on a Tuesday or Wednesday night. Friday and Saturday night was 'show band night.' The first weekend was Little Anthony And The Imperials.
"So we went on at 9, 10, and 11, then Little Anthony went on at 12 and 1. Then we went back on at 2 and 3, ending at about 4 a.m. That was fairly standard for the bar scene back in the day. It was a different time. Remember, the drinking age was different back then and the clubs were much larger. It was a whole different scene."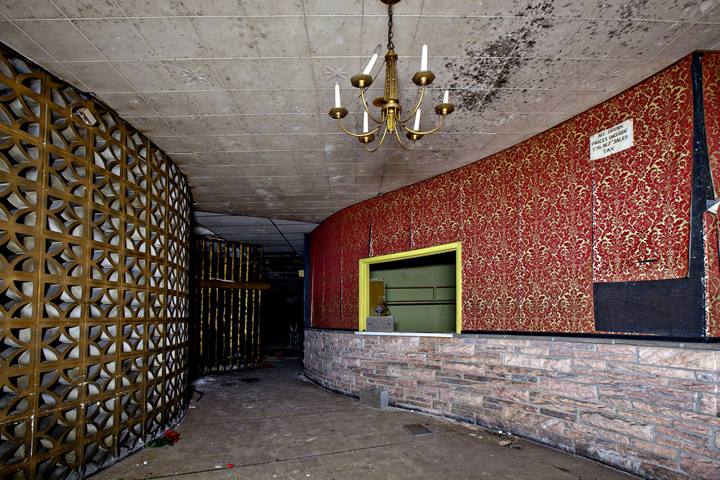 If you search the Internet you can find several anecdotal remembrances of the Satellite Lounge from former patrons and employees, about the place and its owner. Here are a few we found on a very entertaining Blog page called Macks Truck of Wisdom (mackstruckofwisdom.blogspot.com):
"There always were many stories floating around about him (Rossi), which he claimed were false. Generally the bands couldn't stand him, or understand him for that matter, since his voice was messed up from his former 4-pack a day habit. I was one of the few people who could understand a damn thing he said."
"I played at the Satellite several times in the early 1980s and always had a fun (and interesting) time. I actually got along very well with Carlo (and his German Shepherd), although I think everyone in the band seemed at least a little intimidated by him. He did habitually take bands into his office and yell at us, but I eventually became comfortable with the routine. In addition to the famous amp-shooting rumor, other alleged stories of legend included Carlo taking an axe to someone's guitar amp and that the dressing rooms were bugged."
"Carlo Rossi? Like a Godfather to me as my band The Sterling Brothers open the place in the early 60's along with The Monkey Men (a Trenton band that actually set up an animal cage on stage and played inside it). My good friend, legendary guitarist Roy Buchannon also played opposite us. We both, at one point, actually joined and then left The Monkey Men. Lots of work, putting up that cage! Carlo was a lot to handle… He did have guns for sure, a hot temper, but beneath all that was a genuine character."
"As a military officer assigned here in the early 1990s, I discovered this old wreck of a building just out riding around. By this time my husband and I had become "urban explorers" which is another word for people who like to explore abandoned buildings. Trust me, it's not too hard to get into the building and on the inside it looks like it just closed the night before. It is like time stood still. There are still glasses and beer cans on the tables. All the furniture appears to still be there (or it was when we were there). The horseshoe shaped bars still intact. Big mural behind the stage. Dressing rooms dinky and deplorable."
"Once Carlo made a near fatal mistake of trying to cheat Jerry Blavat (a popular Philly disk jockey known by the nickname, "The Geator with the Heater") out of pay after a gig. Jerry pulled a gun and shot at Carlo. He was so scared he paid Jerry double. DON'T CROSS THE GEATOR…He's the real gangster!"
Carlo Rossi operated the Satellite Lounge until suffering a heart attack in 1990. He died four years later in October, 1994 at the age of 70. After his death the Satellite was closed and the building fell into disrepair. Fire broke out in the long defunct rock club late one night in February of 2013. The blaze was later deemed 'suspicious'' by the town's fire officials, who investigated whether a fire was deliberately set, according to an article in the Burlington County Times. It took firefighters about two hours to bring the blaze under control because as a safety precaution crews could not enter the building because it has been abandoned for so many years.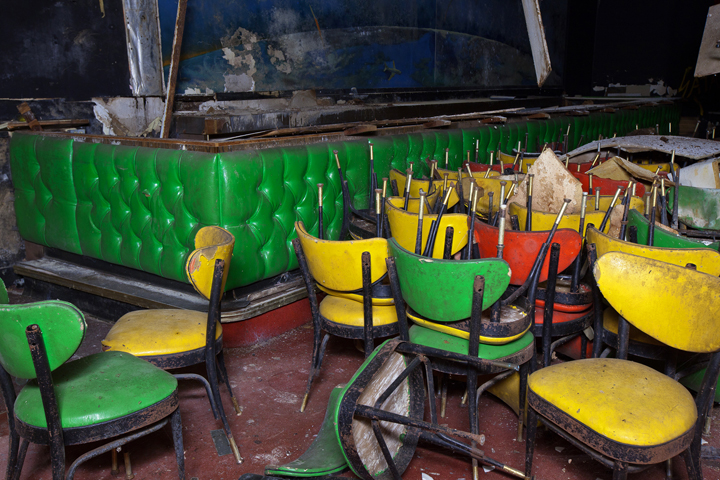 At the time this article was written, the dilapidated carcass of the former Satellite Lounge still stood, surrounded by farm fields, a storage facility and newer housing developments. The building was recently razed. Gone forever now from the NJ landscape is last vestige of the days of gigantic rock clubs, catering to huge crowds, which stayed open until dawn. Nothing but a pile of charred and weathered rubble remains as a reminder of the club, which once bore witness to a thriving musical scene, and one of our state's most legendary and notorious nightspots.
The preceding article is and excerpt from the brand new issue of Weird NJ magazine, #45, which is available now on newsstands throughout the state and on the web at www.WeirdNJ.com.
Photos by Josh Blaine / joshblaine.com