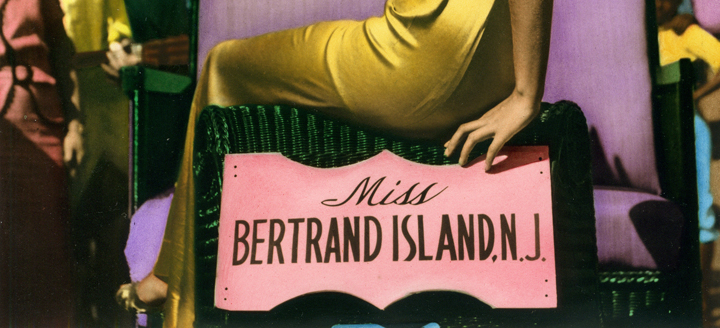 While New Jersey is famous as the home of the Miss America Pageant, the state's reputation for producing a beauty to hold the title itself has been dubious at best.  Only twice has contestant from our state gone on to be crowned Miss America. One of these two women only served as Miss America for a few months (Suzette Charles, of Mays Landing, took over as Miss America for Vanessa Williams after she was dethroned when her pornographic past came to light.)  The only other Garden State beauty to ever don the crown and hoist the scepter would become famous not for the tenacity with which she sought the coveted title, but for the lengths to which she would go in order to pretend she never won it at all.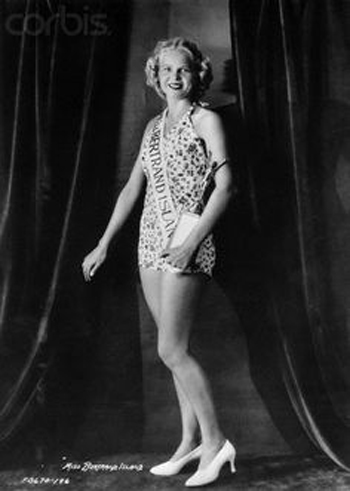 Bette Cooper wound up being a 1937 Miss America contestant purely through chance. The 16-year old Hackettstown resident was at Lake Hopatcong's Bertrand Island amusement park with a few friends when they saw a notice soliciting contestants for the "Miss Bertrand Island" contest. After chiding from her friends, Bette entered on a lark. She was stunned when she won, and even more stunned to be informed that her victory automatically entered her into Atlantic City's Miss America pageant.
Bette's family was conservative and religious, and the initial impulse from her parents was that they should remove her from the running. After discussing the matter, however, they began to realize that their daughter didn't stand much of a chance at winning.  Bette's parents decided that the occasion would be nothing more than a perfect excuse for a family vacation at the Jersey shore.
When Bette arrived in Atlantic City, she was introduced to her escort for the week, Louis Off.  Louis was a 23-year old pilot from a prominent Jersey Shore family who, due to weather, was grounded for the week. He lent his services to the pageant later than most of the escorts, and only Bette and one other contestant remained without a chaperone.  As fate would have it, the two hit it off immediately. As the week went on they happily spent the days together in a playful, flirtatious relationship. They were happy leaving the spotlight to the higher profile competitors. There was only one problem – as the contest went on, the innocent country bumpkin from the hills of Hackettstown was excelling. She won the evening gown portion of the contest. She sang "When the Poppies Bloom Again" during the talent portion of the contest and the press took notice. Her youthfulness, her blond curls, and her candy sweet singing voice led them to compare her to Shirley Temple.
A few nights before the final judging, Bette and Louis decided to get out of the spotlight for a few hours. They left Atlantic City and had dinner at Harry Streyer's restaurant in Somers Point. They talked about many things, and Louis asked the young girl what she would do if she won. She brushed it off as inconceivable. He told her point blank that she had a chance.  As the story goes, he also told her he wasn't interested in sharing the fame at all and that if she won they would never be able to have a relationship.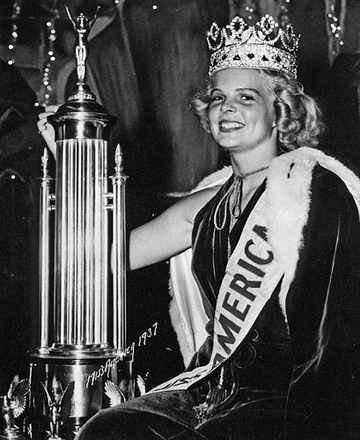 Bette did win the completion, was crowned, and spent the next few hours in a whirlwind of sensational ceremony and media hoopla. When she finally returned to her hotel room, the teenager broke down in tears. Her parents realized that their girl was in over her head, and weren't sure what to do.  They turned to the man who had served as the girl's confidante and protector all week.
Shortly after two that morning, Louis Off was awakened by a call from Bette's father. Louis rushed to the Lafayette Hotel and to the Coopers' room. He was not surprised at the frantic state he found the bewildered family in. The more world wise Off knew that the girl was going to be meticulously scrutinized by the press, that she was going to be sent around the nation for a year of appearances, and that she was on a very basic level out of her league. He knew that they had to act immediately and explained his plan to the girl's family.
Within minutes, the brand new Miss America was whisked away into the night.  Louis had some friends who had a small motor boat docked nearby, and he and the girl hid within it. They sailed out into the sea, and docked a stone's throw from Atlantic City's famous Steel Pier as dawn was breaking.  There they remained there in secrecy until the boardwalk crowds dispersed. Panicked pageant officials were expecting Bette at her first press conference that morning, and when she didn't arrive on schedule they were annoyed, to say the least. When it became clear that she wasn't going to arrive at all, and worse, that she was nowhere to be found, a public frenzy erupted. Various theories about her whereabouts spread like wildfire. Had she been kidnapped?  Had she and Louis Off eloped? Local police officials gave grandiose assurances that the girl would be saved. Walter Winchell reported on the radio that the couple was married in Maryland. Throughout the day teams of people participated in manhunts, combing the area, looking for any trace of the girl.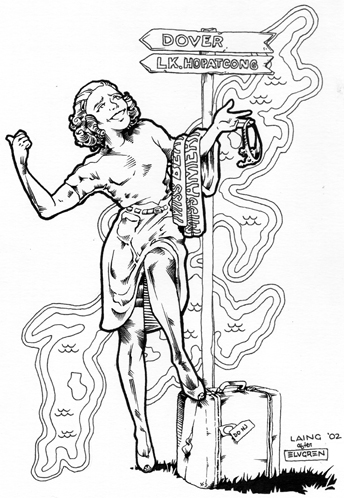 As night fell so did the public's fervor.  None of the police, press, or public witnessed the small motorboat as it returned to its dock that night. None of them saw the young man and small girl who emerged from it.  None of them saw them climb into a car and head out of Atlantic City.
At midnight, that same car pulled up to a small house in Hackettstown and Bette was home again.  She gave Louis, who went above and beyond his duties as her escort, a quick hug. Louis showed her to the door and drove back to South Jersey.
Eventually pageant officials realized Bette's whereabouts and visited her home. She insisted upon a much lighter schedule than planned for her so that she could attend Centenary College in Hackettstown and graduate the following year. They gave her winnings and prizes and convinced her to do a few public appearances.  After those appearances, she disappeared from the public eye forever. This led pageant officials to have future contestants sign agreements as to what was expected of the winner. No other contestant was crowned Miss America in her absence, though several participants from that year have made claim to the title throughout the decades.
Bette and Louis never hit it off romantically. She would eventually marry a wealthy man and move to Greenwich, Connecticut. Louis Off would marry too and from time to time over the years would hear from Bette. Cooper has long shunned any connection or involvement with Miss America ever since. Today she lives a quiet life in Connecticut and is the earliest and oldest Miss America title-holder still living. A soft-spoken person of polite cordiality, Bette still refuses to talk to reporters, the Pageant staff and refers to her time wearing the Miss America crown imply as "the incident."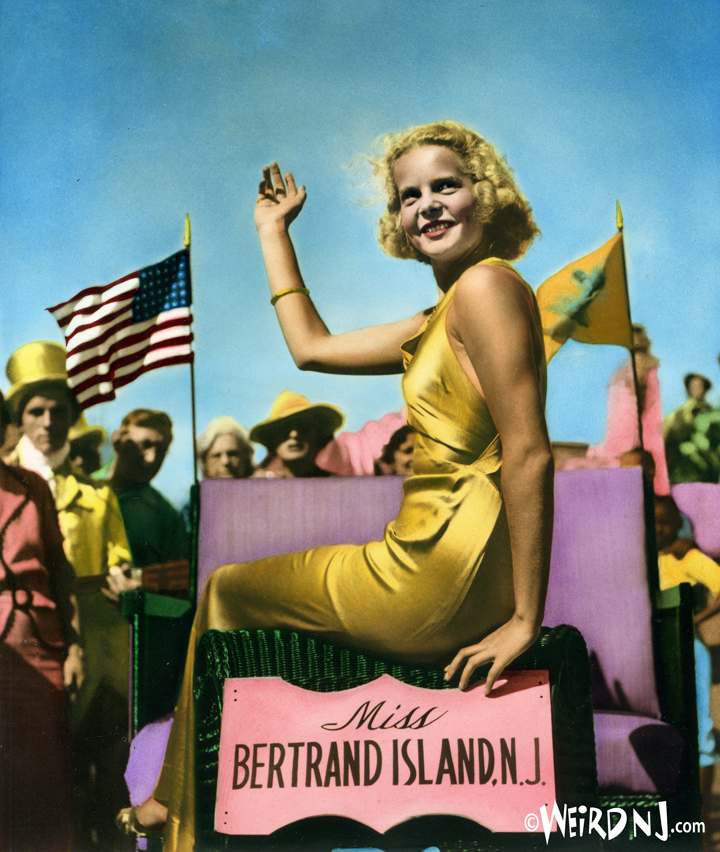 An audio story told by Mark Moran with sound collage by Clay Pigeon. One of a series of Waking Weird episodes which can be heard broadcast live every Monday at 8:39 am (EST) at WFMU FM and WFMU.org. Hear the program archives at www.wfmu.org/playlists/WA. Hear more audio stories at weirdnj.com/weird-news/weird-nj-audio-stories.
The preceding article is an excerpt from Weird NJ's special issue "Local Heroes, Villains and Artists", which is available through our web site and our Amazon Store. Weird NJ magazine, "Your Travel Guide to New Jersey's Local Legends and Best Kept Secrets," is available on newsstands throughout the state and on the web at www.WeirdNJ.com.