Deathstyles AC's Performing Pets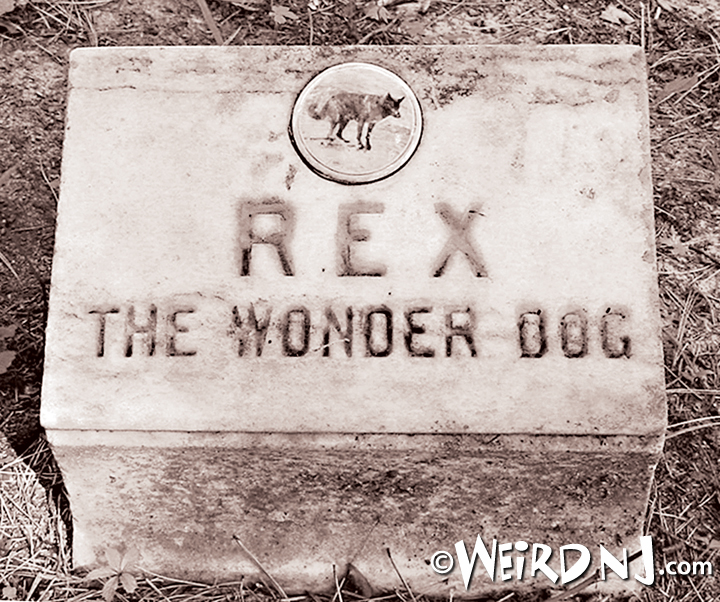 It's not unusual to find the occasional cemetery coexisting with homes in suburban New Jersey neighborhoods; it's the byproduct of human history combined with an ever-growing living population that sucks up every remaining spot of Garden State real estate. It IS unusual, however, for that neighborhood burial ground to be the eternal resting place of not humans, but pets. Such is the case in Linwood, where in 1918 Clara and Glen White converted two acres of farmland into an eponymous final resting place for furry and feathered family members. Clara-Glen (or Clara Glenn) Cemetery definitely filled a need: According to writer Judy Branin, it holds the remains of over 3,000 dearly departed dogs, cats, horses, monkeys, rodents, birds and other animals.
Clara-Glen hosts the pets of both "regular" people and famous people, but rather than focus on the humans, we'll focus on some of the animals themselves.
Like Parradiddle Ben, whose tombstone is designed to look like a curtain-bedecked theater and at one time featured an enameled photo of the pup, nicknamed "Parry," at center stage. Parry lived 12 show-biz-filled years, according to his epitaph, though what he actually did, we still can't figure out.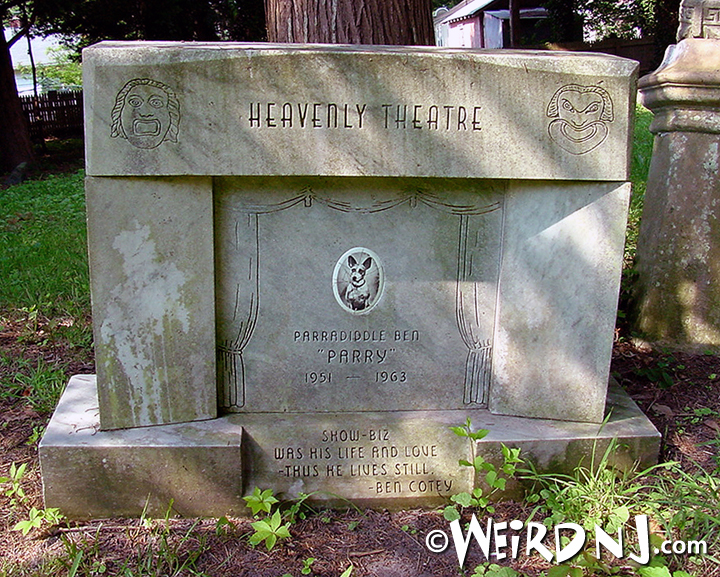 We do know what the mutt Night Life was good at: getting around Atlantic City in cabs (the cabbies all knew him) and guiding the tipsy safely across the street from the watering hole at which his owner bartended. Night Life was so popular among the locals that when he died in 1959, people took up a collection for his funeral, which a local newspaper called the biggest send-off ever held in AC. It took five hours for all of the people wanting to pay their respects to pass by the dog's white, satin-lined casket. He had six pallbearers and 20 cars followed the hearse that took him to Clara-Glen, where a local newspaper publisher read the eulogy.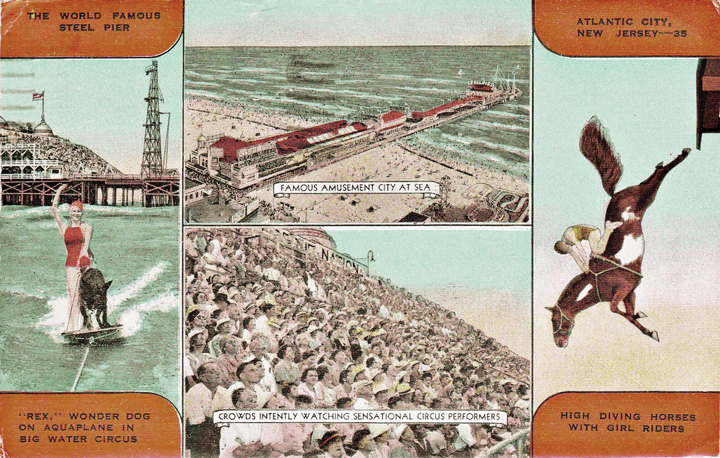 Wonder what makes Rex the Wonder Dog so wonderful? In Tales of South Jersey: Profiles and Personalities, we learn that it was his prowess as a water-skier. Rex was part of the water show that performed at Atlantic City's Steel Pier in the 1930s and 1940s. Instead of using actual water skis, Rex stood on an aquaplane—which somewhat resembled a jet-ski—that was pulled by a boat. Rex could ski right along next to humans, and one skiing partner was Arnette Webster French, who also rode the Steel Pier's famous diving horses and was sister to fellow gravity-challenging equestrienne Sonora Webster Carver (whose life was made into the movie Wild Hearts Can't be Broken).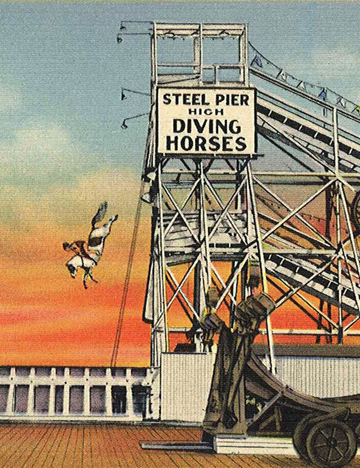 One of the Steel Pier's diving horses is also supposedly interred at Clara-Glen, but it's a grave that nobody seems to be able to find. Tales from South Jersey names three candidates—John the Baptist, Red Lips, and Klatawah.
It is rumored that Petey the Pup from the Little Rascals comedies is buried at Clara-Glen, but nobody has ever found a headstone for the dog with one be-ringed eye. Pete DID appear in New Jersey: The Tribune-Herald out of Waco, Texas published an interview with area resident Ted Lucenay — the son of Pete's trainer, Harry Lucenay — in which he confirmed that his father would bring Pete to the Steel Pier in Atlantic City to meet with fans and pose for pictures with them. There is some controversy over Pete's final resting place, and the proximity of Clara-Glen to the Steel Pier might have led some to assume that it was a natural choice for Pete, who died in 1946 of old age. Ted Lucenay, who died in December 2004, knew where Pete the Pup is buried, but he wasn't telling the Tribune-Herald anything at the time of the interview.
Mina, a former New Jersey resident who now heads up the Texas Hauntings Society (texashauntsociety.com), visited Clara-Glen with her mom in 2006. While there, she said the two spoke with a gentleman who lived along the property and said he was the Whites' son. His mother, he told them, created a plaque as a temporary holding place for pets who had pre-planned funeral arrangements: after the pet died, the plaques were replaced with headstones. In some cases, the plaques remain though the owners never had their pets buried there.
According to the book Images of America: Linwood, NJ, the Whites sold the cemetery to Alex and Agnes Miller in 1955, who continued to make it available to grieving pet owners. It's possible that Agnes is the owner described in an undated clip from the Atlantic City Press who expanded her duties into funeral director territory. She'd bring a deceased pet into her basement and while listening to mournful music, measured it to determine the size of the casket needed. After placing the pet in a refrigerator that was "large enough to store three animals," she'd build a custom casket that she'd paint a "soothing pink." This she would line with rubber and then with satin in colors that complemented the gender and coloring of the pet, adding a feather pillow to finish. After retrieving the pet from cold storage and arranging it in the casket, she'd load the casket onto a small tractor and bring it out to the cemetery, where a hole had already been dug. The article doesn't say, but family members could probably join Agnes as she lowered their pet gently into the ground and say a prayer for it.
In addition to being empathic, Agnes was also thorough. Though she doesn't identify Agnes outright, Judy Branin wrote that the same owner who conducted elaborate pet funerals also took pictures of each pet in its coffin and kept track of pet interments on index cards. After the Millers gave Linwood the property in 1986, the Historical Society went through the cemetery records and found that that the owner had attached the funeral notices of pet owners to the appropriate index cards.
Today, the city of Linwood maintains the cemetery, and different accounts state the last burial took place as late as the mid-'80s or early '90s. There has been some vandalism since 2001: headstones have been knocked over, and the photographs of Rex the Wonder Dog and Parradiddle Ben that were embedded in their headstones were chipped out by souvenir-hunters. Hopefully, the individuals responsible will be reincarnated as fire hydrants right outside of the Westminster Kennel Club.
The preceding article is an excerpt from Weird NJ magazine, "Your Travel Guide to New Jersey's Local Legends and Best Kept Secrets,"which is available on newsstands throughout the state and on the web at www.WeirdNJ.com.