The Parkway Plot of Noah Cherry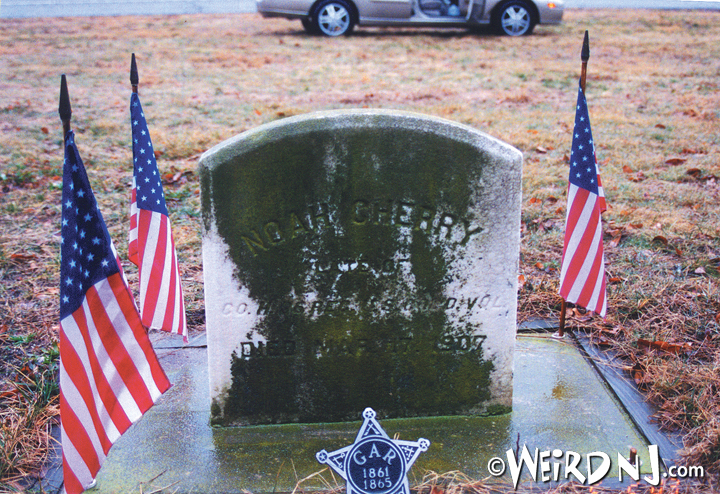 If you're heading southbound on the Garden State Parkway, at around mile marker 16, look for the grave of Noah Cherry, and African American Civil War veteran who was born in North Carolina 1831 and died in New Jersey in 1907.
A reader named Terry told us that Mr. Cherry might be the same person as Earnest A. Cherry, who was a farmer and founding landowner in Whitesboro, a planned "Negrotown" that was founded in 1900.  Whitesboro itself was named after one of its founders, George White, a Reconstruction Congressman from North Carolina who sold shares in the planned community to other African Americans, mostly from North Carolina and Virginia.
But Noah might just be Noah, as a December 16, 1973 article in a local newspaper claimed. According to the article, Noah was a former slave, and a private in Company H. 36th Regiment of the U.S. Colored Volunteers during the Civil War. The reporter tracked down a woman who was related to Mrs. Wiley Jane Williams, "a distant relative of Cherry's who knew him during his last years." Mrs. Williams had written a recollection of Cherry that tells so much about the man buried beside the Parkway.
He was one of the men, she wrote, "Who marched with General Sherman to the sea." He first arrived in Whitesboro from North Carolina in 1903, built a small frame house on Main Street, and sent for his family. He helped Mrs. Williams' father with hog butchering and he loved to sing in a "clear baritone voice," especially a hymn by Issac Watts that he'd sing to the tune of "Auld Lang Syne."
He once almost died from mistakenly inhaling turpentine, and for a few hours actually appeared dead, but he revived, much to the happiness of everyone. And there's a supernatural story attached to his real death in 1907, as Mrs. Williams wrote:
One night Uncle Noah heard a loud sound at his door…(but) whatever it was…had left and was going through the darkness across the field in a great whirlwind and was shouting so loudly that it was deafening, "Lazarus Laws, Lazarus Laws, Lazarus Laws, Lazarus Laws!" It was a mournful, wailing, unearthly sound.
Noah Cherry didn't know what to make of it, but that night, Mr. Lazarus Laws died. Soon after, both Cherry and the man who lived in the house the shouting thing was traveling toward died.
Noah Cherry was buried in the "old graveyard" and his body and that of a few others stayed there until 1955, when construction on the Parkway intruded and the graves were moved. The newspaper story mentions the presence of a second gravestone belonging to General S. Askew and one for another Askew family member, but those were gone in 1973 and definitely not there today, though the grave of Noah Cherry still is.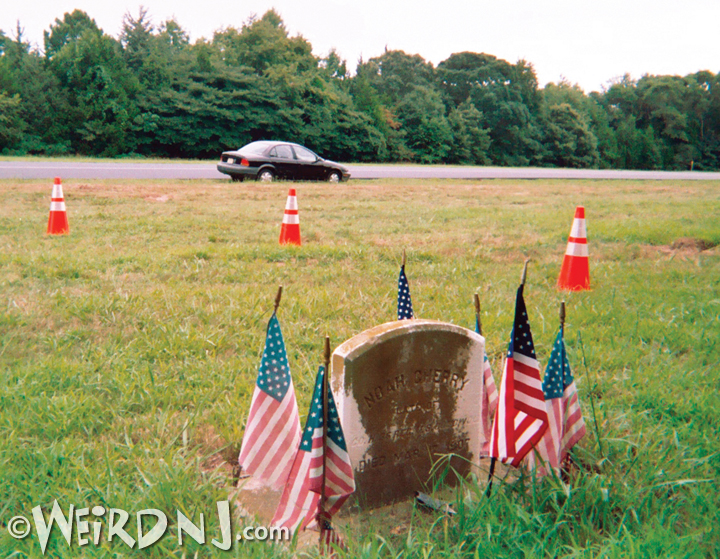 The preceding article is an excerpt from Weird NJ magazine, "Your Travel Guide to New Jersey's Local Legends and Best Kept Secrets," which is available on newsstands throughout the state and on the web at www.WeirdNJ.com.