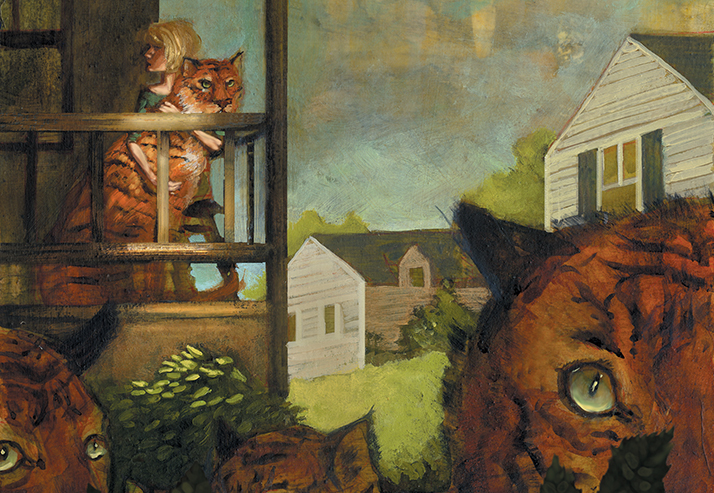 Playing Cat and Mouse with the Tiger Lady of Jackson
During a New Jersey winter, wildlife sightings are not uncommon. Deer abound throughout our state, and even bear and coyote can be found in certain portions of New Jersey. However, the winter of 1999 yielded an encounter with an animal that made the township of Jackson look more like the jungles of India than the suburbs of the Garden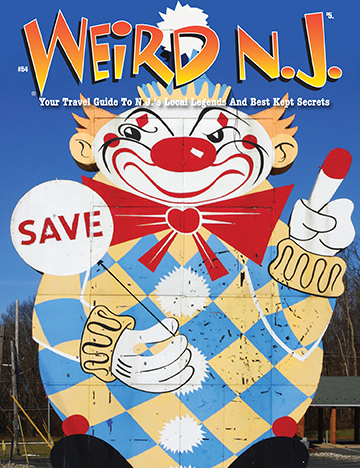 State. On January 27, police in the heavily wooded township began receiving calls stating that a 450 pound, nine foot long tiger was roaming around in the area of Wright DeBow Road.
When it was realized that the reports were not hoaxes or exaggerations, officials quickly took action. It was soon determined that there was in fact a full grown Bengal Tiger on the loose among the 40,000 residents of Jackson. A cat-hunt, so to speak, ensued, and heat sensors, night vision equipment, and a helicopter were deployed in order to find the beast. Eventually, an airplane utilizing infrared technology managed to track down the runaway cat. Once located (five and a half hours after the initial report), the tiger was tranquilized by authorities. The massive animal did not seem to be affected by the anesthetics though, so police were forced to shoot it in order to protect local residents from the angry and confused feline's wrath.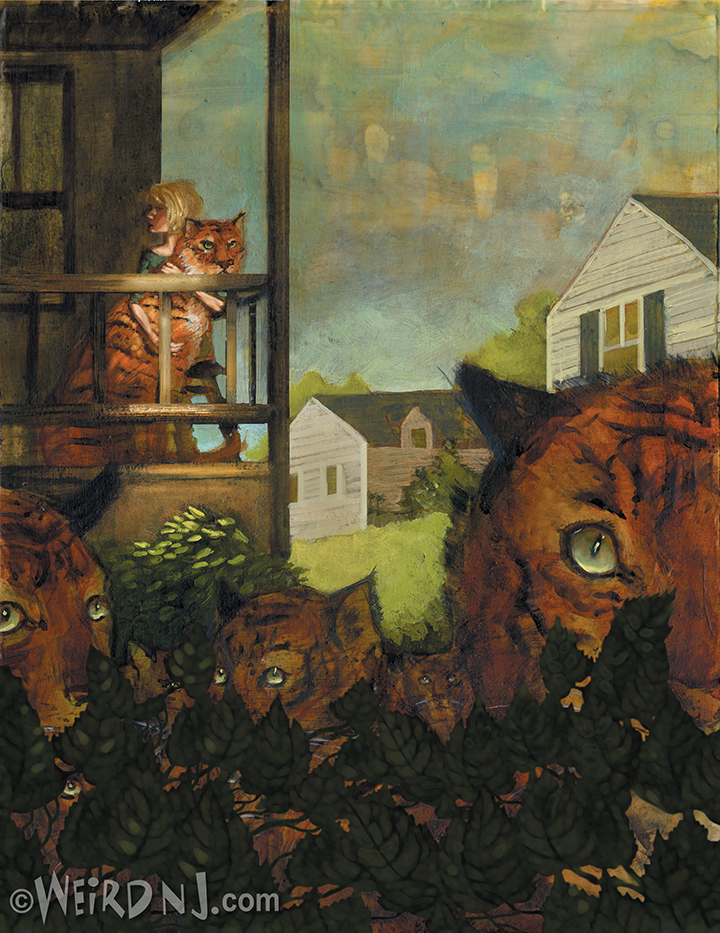 While the death of the majestic orange and black animal might seem to close this case, it merely opened up a whole new can of worms. Residents were terrified, having been told not to leave their homes all day, and authorities were understandably miffed, being that they had just had a standoff Indiana Jones would be proud of. The question on everyone's mind was simple: Whose tiger was this?
There were only two possible answers. Either the beast had escaped from the Six Flags Great Adventure Theme Park's safari, or it had come from the nearby Tigers Only Preservation Society, a tiger reserve just over the town's border with Millstone, which was run by the reclusive Joan Byron-Marasek, known to locals as "The Tiger Lady."
The answer quickly became clear, even though both parties accused each other. Six Flags was able to account for all of their animals, while Byron-Marasek was elusive. In their initial investigations, authorities discovered a few holes in the fence containing her exotic cats. A preliminary count of her animals only accounted for eighteen of the twenty three cats Byron-Marasek claimed to own. When authorities attempted to further search her ten acre property on January 29, the Tiger Lady would not allow them access, and refused to call off the dozens dogs she had protecting her property. The only way police could safely enter was by utilizing a large steel tube loaned to them by Six Flags. Authorities were forced to seize the Tiger Lady's property, and her tigers. Jackson Mayor William Allmann told reporters that night that, "She's kind of confusing." As the whole state would subsequently come to learn throughout continued news coverage, that was quite an understatement. Continue reading below…

Back From The Dead! Out-of Print Issues of Weird NJ Now Available for Your Favorite E-Reading Device!
Our digitally formatted publications contains the exact same pages that were once featured in our print magazines. They have not been modified in any way for these ePubs. Get them all for your iPad or Kindle device.
As details about Byron-Marasek were revealed to the public, her nickname of the Tiger Lady seemed to be more and more appropriate. Formerly an animal handler for the Ringling Brothers and Barnum & Bailey circus, the Tiger Lady's lifelong dream was to create a wildlife preserve to house her animals. She was known to have something of an obsession with endangered species, and took it to a level most animal activists never approach. One neighbor told the Star-Ledger on January 31, 1999 that, "She once told me, 'I eat on the run and I gave up sleep years ago. I don't sleep. The tigers need me.' She always said, 'I love animals more than I love people.'" The Tiger Lady truly was running her compound out of love for the animals it housed. Byron-Marasek only gave educational tours of her property, never advertising or looking for fame.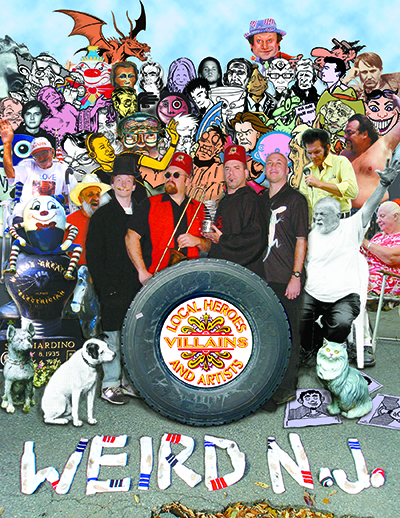 While the Tiger Lady never looked for fame, infamy certainly did find her. Her story made the rounds on major news shows in New York, and was front page news for a week following the incident. Jerseyans chimed in on both sides of the fence, condemning both her inability to control her animal, and chastising officials for killing the beast. Tiger experts, however, said that it was a necessary act. Ron Tilson, a director of the Minneapolis Zoo, told the Star-Ledger that, "That tiger was a walking time bomb and could have killed someone at any time. Tigers are enormously dangerous, particularly to small children. My only question is why they waited so long to kill the poor beast."
Environmentalists defended the Tiger Lady, noting that the preserve had been in operation for thirty years without any prior incidents. The only complaints received before the runaway tiger were regarding odors. They also noted that despite the substantial evidence that the runaway tiger did belong to the Tiger Lady, no truly conclusive evidence had been offered.
Many Jackson residents simply enjoyed the attention the incident brought to their town without choosing sides in the blossoming battle. Those who took part in the hunt bragged about it, especially to the many non-residents who descended upon the town in hopes of catching a glimpse of a tiger or two. Some local businesses even took advantage of the attention by hanging "The tiger was here" signs in their storefront windows.
While this sort of hype eventually died down, the political repercussions of the 1999 escape still raged on. Government officials attempted to work with the Tiger Lady, but her reclusiveness and anti-authority stance led to repeated problems. Eventually the government reached their limits of tolerance when it was discovered, upon a surprise visit, that Byron-Marasek was still breeding tigers, even though she was mandated by law to separate her male and female cats. The government began legal proceedings which would strip her of her exotic animal permit, and she continued to fight back. She even got a license from the state of New York to move the tigers up to a pre-existing horse stable. However, Byron-Marasek failed to mention on her application the entire situation in New Jersey, leaving out the part of the story where her tiger escaped and had to be killed by the New Jersey police. Although the application does not ask for background information, Hamptonburgh town clerk Diane Fortuna said that, "…while she might be promising a well-maintained operation, you can't just bring 24 Bengal tigers here. We have zoning laws…". During the New York license dispute, the Department of Environmental Protection and the Tiger Lady were still clawing at each other's throats. The government was attempting to relocate Byron-Marasek's 24 Bengal tigers to a preserve in San Antonio, Texas, although her lawyers challenged this move, claiming that the sanctuary was not a safe environment for the animals.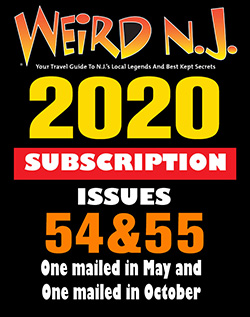 The Tigers Only preserve made headlines again on October 11, 2002 when one of the tigers in the compound attacked Jan Marasek, Joan's husband. The seventy year old man was feeding chickens to one of the tigers when the beast attacked and injured him. He was hospitalized for ten days but suffered no permanent injuries. Bill Sleight, an acquaintance of the couple, told the Star-Ledger that, "If the animal really wanted to hurt him, Jan would have been dead. There's no way that little 70 year old guy would have gotten away."
The government eventually won the battle over the tigers, and in November 2003, they were sent to the preserve in San Antonio, Texas. According to an Asbury Park Press story from December 2019, the last of the tigers died there in January 2019, and the land that the Tigers Only preserve was located on was slated to become an industrial park.
Illustration by Tamara Pellek.
The preceding article is an excerpt from the Weird NJ special issue "Local Heroes, Villains and Artists of Weird NJ," which is available on the web at www.WeirdNJ.com. All contents ©Weird NJ and may not be reproduced by any means without permission.

Now you can have all of your favorite Weird NJ icons on all kinds of cool new Weird Wear, like Tee Shirts, Girls Tees, Sweatshirts, Long Sleeve Tees, Hoodies, Unisex Tanks, Kids Tees, Tie Dyes or Onesies! All are available in all sizes and a variety of colors. Show the world your Jersey pride in some of these Jersey-centric goodies. Represent!